So you had your blog all set up, poured your heart into creating awesome content, published numerous articles, and all you're getting are – crickets.
If this is you, fret not, for it is a norm, especially during the infancy stages of any website. So long as you follow the path taken by established bloggers and seasoned website owners, you will get there.
Here in this post, I will detail the main method I use to get traffic to my website.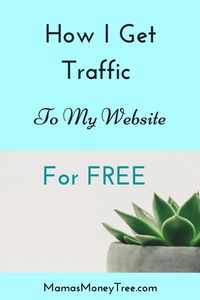 And it's not any kind of traffic. It's the most highly sought after – free organic traffic.
It won't be easy, but hey, it's free! It's also a long term strategy to build your blog or online business that is going to pay you dividends for many months and years down the road.

If you're ready, let's go for it!
(If you have not created your own website yet, here are the 5 compelling reasons to do so.)
---

Why Organic Traffic
Why is everyone clamoring for organic traffic? What's all the hype with SEO (search engine optimization) about?
Well, not all traffic is equal. Would you rather have 1,000 visitors on your website just browsing absent-mindedly and doing nothing much, or 100 visitors who found you when they were searching for some information or help related to your niche?

1. Search intent
Organic traffic that lands on your site through the SERPs (search engine results pages) will very likely pay attention to what you have to say, simply because they were the ones actively searching for something that you happen to have.
And the search engines actually showed one of your posts near the top of their search results, because out of the thousands of websites out there, yours is among those few seen to possess the most valuable content that will provide the exact answers to the search query.
That, in itself, carries a ton of weight.
The trust level that your audience has for you will be high, as they can sense that you are the authority in the niche. And they will be prepared to consider your recommendations.
That is how you will be able to monetize your website too – when people know, like and trust you enough to take up your recommendations. Nothing beats targeted organic traffic.

2. Zero cost
Who doesn't like anything that's free?
Especially when the alternative can cost you an arm and a leg?
Paid traffic, if done right, can work to give you a high ROI (returns on investment), no doubt about that. But it takes a steep learning curve, during which you have to be prepared to sink in thousands of dollars (at least) that gives zero returns.
I see it as tuition fee – when you are just starting out on paid advertising, those campaigns you run will give you data, which you must learn to interpret and finetune your advertising campaigns with. If you lack the skills to do this, you can go for many months in the red, until your funds dry up.
Why subject yourself to a high-risk traffic method when there is a zero-cost method you can tap on right away?
When I started out, my strategy was to work hard at getting free organic traffic, and start earning consistently before I would consider venturing into paid traffic to scale up my online business.
Now, I'm just happy with the way things are – monetizing my sites with free organic traffic, without having to take any risk with my earnings.

3. Do the work once, reap the rewards forever
This is another beautiful thing about organic traffic.
At the beginning, it can be hard work creating authentic, genuinely helpful content, in order to establish yourself as an authority in the niche.
But the time and effort you put into every single piece of content is going to pay off dividends down the road, as those are your assets that are here to stay forever.
Once your blog starts ranking on the search engines, and you maintain the credibility of your website, you will enjoy a continuous stream of targeted traffic for a long time, so long as those keywords keep ranking.

Is there room for social traffic then?
Yes, social traffic plays a part in getting you the first trickle of website visitors when it is still brand new. But you should never try to be everywhere (Facebook, Instagram, Twitter, Youtube, etc.) at once.
It takes time and effort to engage your audience meaningfully, no matter which platform you use. It's not simply about the number of followers and likes.
So give careful consideration to where your target audience might be, and where they will be the most engaged. Then immerse yourself on that ONE platform to interact with people there, with the top priority as helping them. This will allow you to build up a fan base that will be happy to check out your website.
Too often, bloggers try to maintain a presence everywhere. They tend to either become overwhelmed, or do not realize that a bit of hustling on numerous platforms will not get them anywhere near channeling all that energy onto one.
Over time, as you get established, you can definitely choose to put your eggs in more than one basket, to reach a wider audience.
In fact, with my very first blog, I did zero hustling on any social platform, and my traffic took off once it moved up the ranks on search engines. That is the power of content and SEO.
Let me show you how my traffic built up in the next section.

Tempering Your Expectations
Since organic traffic is free and so highly targeted, you can be sure everyone is going after it. And yet there are only 10 seats on page 1 of the search results.
So be prepared for this to be an uphill task. But I can assure you, when you get there, it will be so worth it.
If someone like me without any background in website building, internet marketing or SEO can do it, then I believe ANYONE CAN.
This is the organic (only) traffic growth trend for my very first website: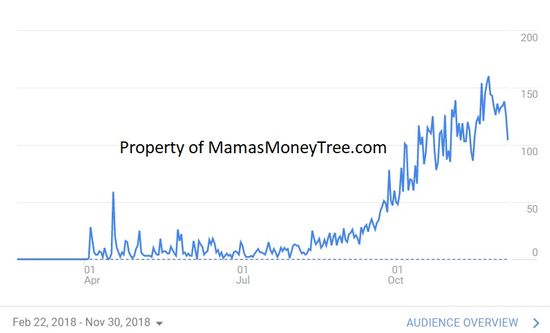 I bought the domain in February 2018. The first one and a half months I had zero traffic. Remember I wasn't hustling on any social platform at all.
In April, the first trickle of visitors came in. It fluctuated around an average daily of 10 (or maybe less) all the way until August.
In October, there was quite a dramatic growth, and daily visitors surged past the 100 mark.
I know this is nothing, but at that time, it really felt like I was standing at the top of the world.
I was living proof that SEO worked. Someone like me who knew nuts about building websites could actually get thousands of people landing on my blog every month. I was ecstatic, and it was then that I knew I'm in this for good.
There is no secret formula. I'm going to show you the trodden path taken by countless successful website owners and online business owners.
So that you will find your own way there too.
But before that, I want to point out that it took my first website 8 months to take off. If I had been more impatient, and had given up from the lack of any results earlier, I wouldn't be here writing this piece today.
Every niche, every market, and every website is different. Some people see results in a faster time, some (like me) take longer.
The thing is to follow a proven path – learn the ropes and take consistent action. And have faith in the knowledge that you will get there too.
So are you ready for the meaty stuff now? Let's get to the nuts and bolts of the SEO business.

Content is King
If there is only one takeaway you glean from this article, let this be it – content is king.
Search engines serve their users. That is the purpose of their existence. They want to meet the demands of their users, so their customers would keep coming back whenever they have questions to be answered.
Thus they will only serve up the best content that is authentic, original and can answer a question completely without the user having to search anywhere else.
That is why for any blogger or website owner, CONTENT IS KING.
But, at the same time that you create awesome content, you do not want to spend hours writing an article that nobody will be searching for. So before anything else, always do your keyword research thoroughly.

1. Keyword research
If getting traffic to your blog is important for you (as opposed to simply blogging for leisure), then you need to research the keyword for every blog post before you write it.
The tool I use is Jaaxy (check out my detailed review here), which is included for free in the premium membership of an awesome all-in-one training platform that I found when I first started blogging.
Covered in the training, I learnt how to use Jaaxy to find high search volume and low competition keywords. This was pivotal in bringing my blog posts up the ranks and seeing the first organic visitors to my site when it was still brand new.
Until today, this is the only keyword research tool I have ever used, and I can't be more grateful for it.

2. Keyword placement
After you've found your low hanging fruit – the high search volume, low competition keyword, you would then place the exact keyword, word for word, as part of your blog post URL slug, as well as within your title.
For the URL slug, keep it minimalist. It should be short and sweet, preferably with just your targeted keyword, along with one to two other important words (at most).
While for your blog post title, you will want to make it sound as catchy as possible, to improve the click-through rate to your article, with your targeted keyword as a part of it.
Near the beginning of your blog post content, include the targeted keyword one time.
If there is a chance, include it again in one of the headers.
And that's it! For the rest of your blog post, write naturally, offering as much value as you can, covering the topic related to the keyword as completely as you can.
Be mindful about keyword stuffing (putting the keyword many times throughout the blog post), it's an outdated SEO strategy that doesn't work anymore.

3. First-class content
Type your targeted keyword into the search bar on the search engines, and take a look at some of the posts that are ranking high for it.
NEVER COPY their content, but get inspiration from them.
See the kind of extent to which they answer the question, and aim to provide even more value than them.
Consider if there are some aspects of the topic that they have not covered. Check out the authority sites that they link to, and consider if linking to them will add credibility to your post.
Make sure you conduct a thorough research of the topic, as you want to provide only the most accurate and updated information. You should definitely articulate your unique viewpoints about the topic, if relevant.
In gist, aim to be better than the best. This way, every single one of your blog posts will be geared for the top positions.

There are many other factors to getting your blog posts ranked. But take care of the above essential items when creating your core content, and you'll be off to a strong start.
Next, we will look at the elements of a website's infrastructure that will encourage the search engines to rank it.

Website Infrastructure
User experience on a website is a major consideration when it comes to ranking by the search engines. They do not want to send their users to slow websites, or those that are not secured.
Here's a quick look at some of the critical factors that can influence the success of your blog.

1. Site speed
In this information age, and times of distraction, people will not wait for more than a couple of seconds for a website to load.
You may have the best content on your site, but if it doesn't load fast enough, nobody wants to see it.
So what can you do to make your website load with a lightning fast speed?
There are a number of things you should watch out for, some of the most important ones being:
– server issues: though this is usually out of your control, what you can do is to choose a reliable hosting service provider with excellent customer service that is willing to work with you to bring up your site speed. Wealthy Affiliate is my recommended choice for this, providing hosting for 10 websites within its premium membership.
– compress your images: we often do not need images in their original sizes to get a decent resolution displayed on a website, so taking this step will ensure your site speed does not get weighed down by unnecessarily huge images. Kraken Image Optimizer (a free WordPress plugin) does a good job of this.
– plugins: the number and type of plugins we add to our sites may slow things down considerably, depending on how their programming had been done. So try to keep things as lean as possible, by installing only plugins that are absolutely necessary.

2. Site security
SSL, which stands for Secure Sockets Layer, is an important protection towards your website visitors, ensuring that the data they enter on your site does not get intercepted by those with malicious intent.
I would trust a website with an SSL certificate way more than one without.
Easily recognizable by "https" at the start of the URL, as opposed to just "http", SSL certificates can add an extra cost to website owners, depending on the hosting service provider that you subscribe to.
Wealthy Affiliate, my top choice for hosting, learning and all the tools you need (all in one place), provides free SSL certificates with its hosting service.

3. Navigation
Have you ever landed on a website that looks so cluttered it gives you a headache? With ads, blinking billboards, call-to-action buttons, and a hundred and one items on its numerous menus to click on?
If your website visitors do not have a pleasant experience navigating your site, chances are they will not engage, and it will show through their bounce rate, as well as time on page.
The search engines will pick up these cues, and the website's ranking on search results will be affected.
So it is paramount to put yourself in the shoes of a visitor landing on your blog. Get people you know to visit your site and provide their frank feedback, so that blind spots can become more obvious to you.

Hold on to your website visitors

It isn't easy to get targeted traffic to any blog. You don't want hard-earned visitors to just browse around your website for a few seconds and click away, never to return again.
Hence you should make it easy for your readers to stay in touch, by providing a subscription form and offering some lead magnet, so that you can collect their emails to build your own email list.
You may have heard of the saying: the money is in the list.
Your readers who are willing to provide you their email addresses are already half sold, because of how you had connected with them.
Further engage this highly targeted audience through conversation, by offering lots of value for free, helping wherever you can, so that when an offer comes along, they will be ever-so-ready to buy from you.
Here is a blog post explaining how to do email marketing the right way.
To build an email list, you will need an email autoresponder, which is yet another cost.
Traffic should always be the top priority when building a website. No one is going to sign up onto the email list if nobody is landing on the blog.
So it is not cost-effective to subscribe to an email autoresponder too early in your blogging journey, since it would start incurring monthly costs even if your email list is empty.
On the other hand, you also do not want to start building your list too late, as that can mean putting money on the table to just let precious targeted audience slip away.
From my experience, an email autoresponder service will become cost-effective when you start to get consistent daily traffic in 2 digits and up.
ConvertKit is my #1 recommendation for email autoresponder service provider. It is what I'm personally using right now, and I can't be more happy with them. Check out my detailed review of ConvertKit here.

Pinterest is a search engine too!
When it comes to Pinterest, many people think of it as a social platform.
To me, it is more of a search engine, albeit one that has some social elements to it. That is why it is worth a special mention.
On Pinterest, people look for pins in topics that they are interested in, and pin them onto their boards so that they can find the blog posts that the pins are linked to, for reading and referencing at a later time.
So if you can get your pins showing up in feeds or in search results, you will get very highly targeted traffic for free, just as with the other search engines.
The nature of this type of traffic makes it worthwhile to invest time and effort onto this platform, especially if pictures and images are a very relevant and important part of marketing for your niche.

Concluding thoughts
I hope this post has provided you with the clarity and confidence you need to chase after free organic traffic.
It is tough, but it can be done, and is definitely worth the hard work!
---
And for reading all the way to the end of the post, I believe you have it in you to make this work. Here is your FREE PDF Guide: 4 Simple Steps to Making Money Online. Fill in your details to claim it:

Feel free to comment below to share your experience with getting traffic to your website, we love to hear from our readers!
---