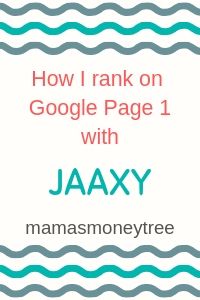 If you are here checking out: Is Jaaxy a scam? Is it going to be your springboard to great rankings on search engines? You are definitely at the right place.
Because I am using Jaaxy myself, so I am in the best position to give you the insider view of it.
Using the right keyword research tool is an essential step in your website building and online business that cannot be taken lightly.
It can make or break all the effort you put into building up your empire.
In this article, I will provide an in-depth review of Jaaxy, walking you through how exactly it works, its features, its pricing plans, and showing you the results with ranking that I have achieved, through Jaaxy alone.
Without further ado, let's dive right in now!
---
Jaaxy Review Summary

Product: Jaaxy
Creator: Kyle and Carson (they also own the #1 platform that I highly recommend for making money online)
Product type: keyword tool
Price: Free (starter trial), or $49/mo (Pro), or $99/mo (Enterprise)
Scam / Legit? : Legit
Recommended or not? : Yes, strongly recommended
Jaaxy is a more than a keyword research tool. It is able to help you brainstorm for long tail keywords, save your keyword lists with their research data for future use and reference, track your site ranking, analyse your competition, and look for affiliate programs in your niche.
It is an indispensable tool used by many of the top internet marketers.
I have never lived without it since the day I started my online businesses.

Read on for the detailed review of Jaaxy, and why I can't live a day without it.
---
What is Jaaxy?
Jaaxy is a keyword tool.
A keyword research tool, chosen carefully, is any internet marketer's best friend. Anyone having anything to do with setting up their own business on the internet has to have a keyword research tool, without which they are just blind.
Even YouTube videos that you upload need to be search engine optimised through proper keyword research.
Unless you are a blogger who is just writing for its therapeutic effect, or detailing your family life for the next generation to reminisce about, or simply for leisure, without any intention of anyone else ever finding your content, otherwise it is a must to do your keyword research properly.
Just as I start writing every post, I take a few minutes to go on Jaaxy to carry out my keyword research.
This step is so crucial that it can make or break your online business. Jaaxy has helped me attain the ultimate goal of every website owner: to get ranked on Page 1 of search engines, and get a flood of free organic traffic.
Well, you may ask, how do I know it really works?

Does Jaaxy really work? Or is Jaaxy a scam?
I know for sure. Because with Jaxxy alone, I was able to rank in position 1 (not just page 1) with a number of posts on my other site.
But I won't be showing those results here, as I prefer to keep my different businesses separate. I have not touched that site for months now, and the free organic traffic I get is still creeping up every single day, along with my earnings.
So when keyword research is done right, you are actually building up a passive income stream for yourself.
I know I promised to show you some results, so here it is, from one of my posts in this site: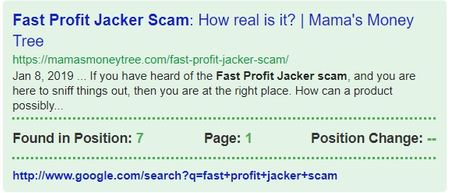 I know it's not position 1, but 7. I'm happy that it's even on page 1, given that this website is barely a couple of months old at the time of this writing.
So, my definite answer is: YES, Jaaxy does work.
Let's step right in now and see how exactly it can work for us…

Inside Jaaxy…
How do we do Keyword Search?
The main function of Jaaxy is its keywords search. So how do we even begin interpreting the data here?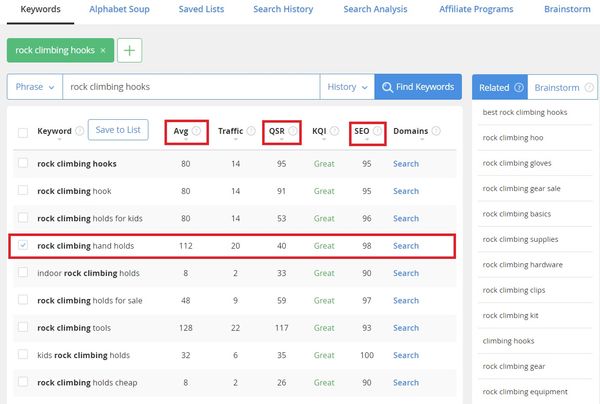 For illustration purposes, say my website is around my hobby of rock climbing. And I want to write a technical post about rock climbing hooks.
So I enter just that into Jaaxy keyword search: rock climbing hooks.
The first line of the result shows my original keyword. Pay attention to the 3 parameters in the small red boxes:
AVG represents the total search volume in a month (and in case you're curious about it, 'traffic' stands for the number of organic visitors you can expect to get per month, if your post ranks on page 1). So you want AVG to be as high as possible.
QSR stands for your competition, number of websites with the exact keyword as yours. This has to be as low as possible.
SEO is representative of the combined effect of search traffic and competition. It gives a result between 0 to 100, the higher the better.
So if your website is relatively new, going for low competition keyword is the most important factor that can start to get you ranking well.
Forget about monthly search volume in the thousands, as you can be sure those will have very high competition too.
A good criteria to follow is this:
AVG of more than 100 (but still not as important as keeping QSR down), and
QSR of less than 100 (but of course if you can find even lower QSR keywords, it's even better)
That's it, as simple as that.
So back to the rock climbing hooks example above, the 4th line of the results that I have boxed up in red is in fact a much better keyword to target than my original one.
Because the QSR is so much lower, and search volume is higher too.
I also want to point out the column on the right, titled 'related' and 'brainstorm' are there to give even more ideas related to your niche. That's on top of the alphabet soup that I'll be showing you right below.

Alphabet Soup
If you are really running low on ideas for topics in your niche, go for the alphabet soup. That's what it literally is, it churns out anything and everything related to your niche, from a to z, that people commonly search for.
The list shown here is just for letter 'a' for rock climbing. With this tool, you will never run out of ideas for the rest of your life!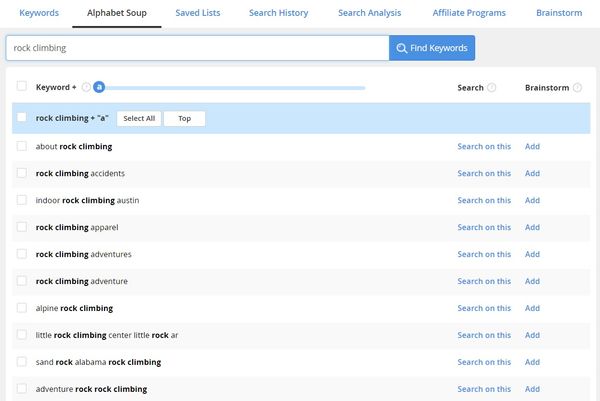 Saved Lists
This is another feature that I use a lot in Jaaxy. Sometimes when I have an 'aha' moment, and get certain inspiration, I jump right onto Jaaxy to do my keyword research for a few posts, whether related or not, and then save them for future use.
I really love this feature, because with it, I don't ever have to whip out my notebook to manually record down the keywords.

Site Rank
As you have seen above when I showed one of my posts in position 7, Jaaxy is capable of checking on your posts' ranking, once you enter the keyword that you want to check the ranking for.
It is also able to provide rank tracking over a period of time, so you know how your ranking has trended over time.

Search analysis
This part allows you to analyse your competitors' websites. Take a look at this using the same rock climbing niche as an example.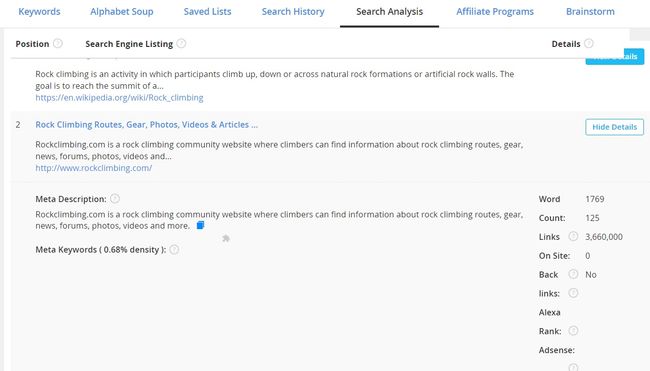 The first on the list is Wikipedia, so we'll skip to the 2nd in line. It looks like more of a community for people who love rock climbing, rather than an informational website. There is a forum too, hence the large number of links.
You can join this forum to interact with people there, add value, help out with their questions, and possibly find a chance to link to your own website when making reference to some content there.
So with this feature in Jaaxy, it allows you to figure out the sites within your niche that are driving the market, that have a large pool of engaged audience.
You should of course also go on their sites to see what they are doing right, and get inspiration from there.

Affiliate programs in your niche
The last feature that I want to talk about in Jaaxy is its ability to find affiliate programs related to your niche.
This is very helpful, and will save you lots of time otherwise going on search engines to find these programs yourself.
Now that you have seen how powerful Jaaxy is in getting your posts ranked so that you get tons of free organic traffic sent to your site, thus generating a passive income stream, we'll take a look at its pricing plan.

Jaaxy's Pricing Plan
You should always go for the free starter trial, to see for yourself how easy it is to use Jaaxy, before deciding to go for any monthly subscription.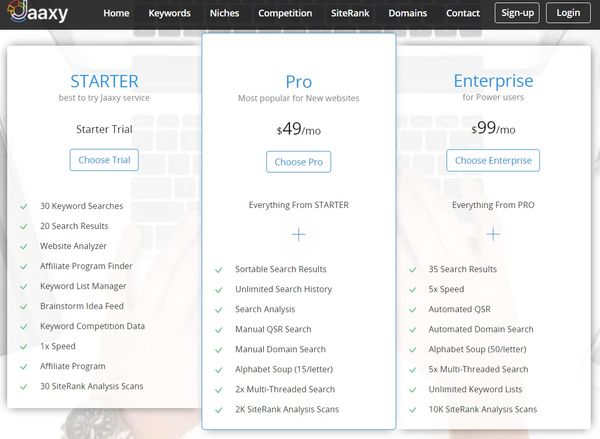 Try it out for yourself here, type in a keyword related to your niche that you want to search:

Here, I also want to show you something that probably no one has told you about.
If you become a member of Wealthy Affiliate (which has the same owners as Jaaxy), you get a different, privileged pricing plan for Jaaxy, which is in fact a much better deal!
There is an added option of 'Lite', which is totally free once you become their premium member.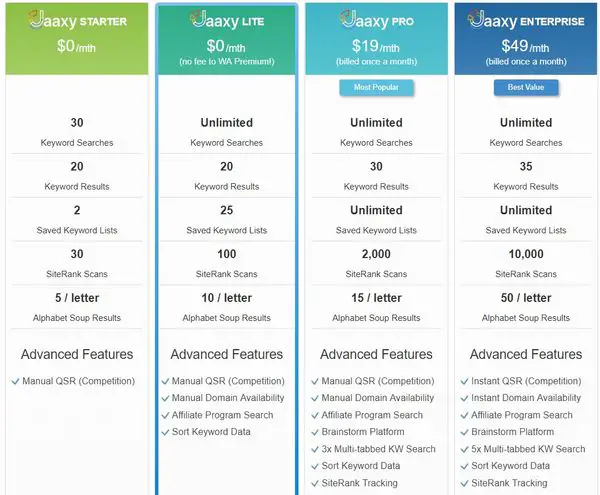 Wealthy Affiliate has a free starter members area too, this is not a free trial, but a free members area, where you can remain as a free member for the rest of your life if you choose to, there is no end period, since it is not even a trial.
It is through Wealthy Affiliate, this all-in-one platform which has training, tools, and the most genuinely helpful and supportive community, that has spurred me to push myself in my online businesses, and taught me everything I know today, from scratch.
With the same philosophy as Jaaxy since the owners are the same, Wealthy Affiliate encourages everyone to sign up as free member first, to check out the platform for yourself, make sure it is the real deal that you are looking for, before making a single payment.
I have never seen anything like this, that's why they have been around since 2005!
What's more, they make it totally zero risk for you, by not requiring any credit card details. You get 10 lessons on affiliate marketing, and 2 websites of your own, totally FREE. Check it out now:

One last point I want to make before ending off this post: Jaaxy is a tool, not a get rich quick scheme.
Do not expect to instantly rank on page 1 the moment you start using it.
There are so many other complex factors when it comes to search engine optimisation, keyword being just one of them.
And of course your website's authority is another very important factor for ranking. So if you are totally new, the search engines do not trust you yet, since so many websites come and go, they want to be sure you are here to stay before they will start serving your site to their users.
But you can be sure that as long as for each and every post, you use Jaaxy to do the keyword research properly, and consistently build up quality content on your site, you can be assured that in time to come, when you gain the trust of the search engines, they are going to reward you big time for all these effort you put in.
All these and more, I learnt on Wealthy Affiliate. It has changed my life, I hope you will take the first step to building your online income too.
---