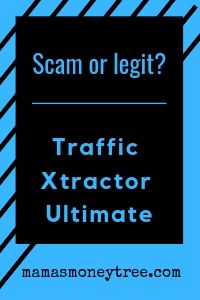 If you are here checking out what is Traffic Xtractor by Art Flair, you have probably received their promotional materials in your inbox, or seen their sales page somewhere on the internet.
Kudos to you for doing your due diligence and sniffing things out, without simply taking what they say at face value.
So, what exactly is inside Traffic Xtractor that can rank you on Page 1 of Google and YouTube in minutes, and get you as much free traffic as you want with just a few clicks of your mouse?
Is it another outright scammy useless product that targets newbies in the internet marketing scene, or is it finally some great tool that will get you the much sought-after free organic traffic from search engines? We dive right in to uncover exactly how it works, and whether it is worth your time and money.
In this article, I will provide an in-depth review of Traffic Xtractor Ultimate, through the following sections:
---
Traffic Xtractor Ultimate: Review Summary
Product: Traffic Xtractor Ultimate
Creators: Art Flair, Declan Mc, and Alex Krulik
Product type: Keyword tool for YouTube videos
Price: $25.90
Scam / Legit? : Legit
Recommended or not? : Not recommended
Traffic Xtractor teaches about finding and using low competition keywords to help your videos rank on YouTube, which will also possibly rank on other search engines like Google. The method taught is a good and legitimate one, but the thing is, it has been easy to rank videos on YouTube all along, as long as you know basic SEO stuff.
Keyword tools are in abundance, and you actually do not need this product in order to rank your videos well on YouTube. If you are paying for any keyword tool, there are much higher quality ones out there, including some that allow you to analyse your competitors' YouTube channel and videos, like this recommended one which is much more comprehensive in terms of its functions and features.
Solely relying on YouTube videos does not build a rock solid foundation for your online business, as the YouTube channel does not belong to you. Having your online asset is the most important thing when starting out an online business, as it allows you to build branding and your own style around it, build an email list, have a 'storefront' on the internet where people know where to find you, other than some 'borrowed' channel.
Check out how I lay the rock foundation for my online income:

Read on for the detailed review of Traffic Xtractor Ultimate, and why I do not recommend it.
---
What is Traffic Xtractor
To answer the question: what is Traffic Xtractor, let's first look at the sales video and landing page: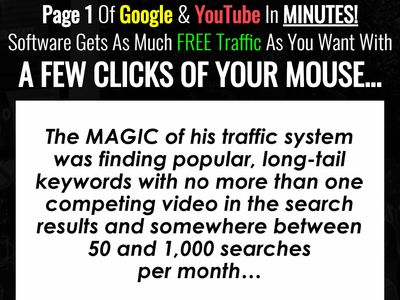 Basically they teach you to find long tail keywords which have low competition, with high monthly searches, so that you can rank your videos easily on YouTube, which will also appear in search engines when people search for that keyword.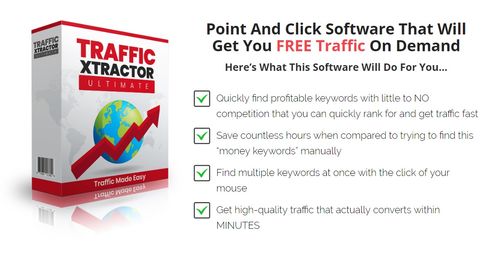 Then you get free organic traffic to your YouTube channel (oh yes, you must have your own YouTube channel to start with, in order to upload your videos onto YouTube), which you can then monetise by sending visitors through your affiliate link to purchase some products that you recommend. And you earn a commission when they make the purchase.
Sounds great!
When you purchase Traffic Xtractor, you get 8 training videos along with some case studies, and of course the keyword tool. The content in the 8 videos include:
Getting started with Traffic Xtractor
Creating videos with VideoScribe
Uploading your video onto YouTube
Powerful backlinks for your videos
Local marketing (part 1)
Local marketing (part 2)
Troubleshooting
Bonus SEO training
Yes, the training seems rather helpful. But these days, it's so easy to find great information on the internet, all for free! It's just a matter of following through, to make it work for you. See this article by one of my idols, Brian Dean: How to rank YouTube videos and you will see what I mean.
Free organic traffic is always the best
In fact, I am using free organic traffic to make my online income too. Because that is also the most highly targeted kind of traffic. People who are looking for stuff related to the keyword get sent to your video, which should provide the perfect match to what they are looking for, since you used the same keyword in your video too.
So chances are, they will be more likely to take up your recommendation, and buy the product through your affiliate links.
Then what is the problem with Traffic Xtractor, since the method they teach is such a great one?
It takes time to build up your rankings
Whether in YouTube or in Google, or any other search engines for that matter, you don't just rank instantaneously the moment you upload your very first video. It doesn't work like that. So the way Art Flair makes it sound is rather misleading: rank your video on page 1 in minutes. Yes, this can happen for very mature and established video channels or websites, but never for completely new ones.
You have to build up your content and authority, in order for any search engine to trust you, and start to rank you. And when you get your first trickle of viewers, the engagement they have with your videos must also prove that they find it relevant and helpful. If people exit your videos in the first minute or first few seconds, and it's the same behavioural pattern for most of your videos, then it would be pretty hard to go anywhere with the search engines rankings.
So it's not as simple as using a few minutes to create some video, put in the low competition keywords, get onto page 1, and get a flood of free traffic who will earn you instant commissions. Definitely not the way they make it sound.
Low competition keywords usually means low searches
Well, there may be people who create and upload videos just for the fun of it, for socialising, or as a past time. But you can be sure there are many others who are trying to monetise their YouTube channels. So they would be doing their SEO (search engine optimisation) properly, and looking to rank their videos too.
Besides low competition, you also need high search volume for that keyword that you are targeting. Otherwise, it's not worth your time and effort to product a video that ranks on page 1, and yet not have any traffic coming in at all, because there was nobody searching for that keyword to start with.
So it's also about knowing your niche market well enough, and identifying trends. If you can see an emerging sub-sector of your niche, and jump on the wagon at the right time when there is still relatively low competition, but searches are on the rise, then you would be in a much advantaged position.
You don't need Traffic Xtractor Ultimate to look for keywords
There are tons of established keyword tools out there that are trusted by their hundreds of thousands, or even millions of users. I use Jaaxy, the free version totally caters to my needs, so I have never looked further.
There are many expert marketers who are using SemRush, but of course they pay a subscription fee for it, as it has many advanced features, including detecting backlinks, of not just your site, but even your competitors'. So it allows you to really analyse your website's standing very well.
If you talking explicitly about YouTube, then this product that I have reviewed before is the most comprehensive in terms of its analysis capabilities, it's not just about finding keywords.
Build the foundation when you are just starting out 
In fact, the most successful people earning big money on the internet do not solely depend on a YouTube channel. The mainstay of their online business is always a website. After having established their own website, some of them may start building up their own YouTube channel, to capture another source of free traffic. Or some people then build upon the social media platform that they are most comfortable with, to expand their exposure and gather a larger following than those who already know their website.
So when you just start out trying to make money online, do not be distracted by seeing how people are doing it big on FaceBook, YouTube channel, Instagram, or Pinterest, etc. If you probe just a little, you will find that everyone who is successful online has their very own website.
So if you see somebody's skyscraper and try to start yours in the clouds, at the same level as theirs, without any effort on building up your foundation from the ground, it's just not going to work.
Learn the proper way to build up a sustainable online income here:
---
Pros of Traffic Xtractor
1. Real owners
Well, at least we know the owners are real people. Art Flair is a name that is well known in the internet marketing niche, and has been launching digital products, most of which I do not see enough value to recommend (some of the recent ones are Speedly and Profit Robot).
2. 30 day money back guarantee
This basic refund policy is in place, for people who are dissatisfied with the product.
3. Legitimate free traffic method, with some value to the keyword tool and training
Yes, the free traffic method taught is legitimate, and in fact the best way to get traffic to anything that you are doing online. There is also value in the keyword research tool, as well as the training. But it's not something that you really need, as there are free tools out there, or much more comprehensive ones if you are prepared to pay.
Cons of Traffic Xtractor
1. You don't really need it
There are tons of free keyword research tools out there. Go find the one that speaks to you. If you are looking for advanced features like analysing your competition in more details, then get one with a paid monthly subscription.
But I would suggest using some free keyword tool if you are just starting out your online business. When you start to make money from free traffic, then you can invest in a paid tool, to bring yourself up that few rungs above your competitors.
2. Not minimum effort like what it is made to sound
You really won't rank in a matter of minutes, if you are totally new to this. If you have tried creating and uploading videos on YouTube before, you will know what I mean. This Traffic Xtractor is not going to bring up your ranking instantly. Even with proper keyword research, going for low competition and the low hanging fruit, you still need time to establish your channel, and tell the search engines that yours is the real deal, over so many others who are just trying things out, and disappear as fast as they appeared.
3. Upsells
These are the pricey upsells that you will be bombarded with, right after you make the front end purchase, as you get funneled through their sales campaign, even before you have a chance to try out the product.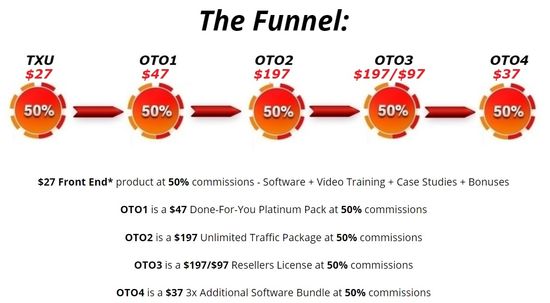 ---
But I do not recommend Traffic Xtractor, mainly because you really do not need it.
If you have not started building out the foundation to your online business, then I strongly recommend this awesome all-in-one platform, that includes training, tools, and community, to get you starting on owning your very own website, which is in fact an online property that everyone trying to make money online must have.
See how I started from scratch, knowing zero about any techy stuff related to setting up websites, to now earning my online income through a few sites. If I can do it, anyone can too. It's free to start, so there's nothing to lose. You don't even need to provide any credit card details. You get 10 free lessons, and 2 free websites of your own! Take the first step now, click on the blue button below:

---