Welcome to my ConvertKit review (2020).
I did lots of intensive research before making the difficult decision in the first quarter of 2019. I have been using it for almost one and a half years now, despite ConvertKit prices being on the high side compared to other email autoresponder services.
And I dare say, I have never regretted it one bit.
This is the best email autoresponder that I know (I have tried out a couple of others before). What it has done for my business has surpassed the monetary cost incurred by way more.
In this post, I bring you behind the scenes for a tour of its features and their capabilities. I will show you some statistics of my own, so that you can see why I'll be sticking with it for a long while. At the same time, I want to be very transparent about its limitations so that you set realistic expectations, and take these into consideration prior to purchase.

Without further ado, let's dive right in now!
---

ConvertKit Review Summary

Product: ConvertKit
Product type: email autoresponder service provider
Price: 14-day free trial, then paid plans that start from $29/month (for up to 1,000 subscribers)
Rating: 4.7 out of 5
Recommended or not? : Strongly recommended if nurturing audience relationship is a focus in your business, and segmenting can help you cater to their different needs.
ConvertKit is an outstanding email autoresponder with versatile automation rules and a visual builder that allows you to target content that meets the specific needs of your audience.
With a landing page builder, it means you do not even need a website to start collecting emails. In terms of deliverabiity, it outperforms many other autoresponders. Combined with the best support team, it was an easy decision for me.
As for its limitations, some users find its email templates and forms too basic, though these are non-issues for me, since it is my preference to keep things really simple.
---
---

What is ConvertKit

ConvertKit was founded by Nathan Barry in 2014, so it is a relatively young company, compared to the many more established email autoresponder service providers.

How did it make it so big in such a few short years, and actually have the most famous creators and bloggers like Pat Flynn, Gretchen Rubin, Tim McGraw, Carrie-Anne Moss, and many thousands more use its services for their email marketing efforts?
Well, there were a couple of things that stood out for me about ConvertKit as I was doing my window-shopping into the best email autoresponder for my one-man-operated business.
Firstly, it was their training. The tutorials, blogs and other resources that were publicly available made me feel like I already knew how it all worked, before I even signed up. Once inside, the explanatory videos helped me navigate the automations, rules and email sequences like a pro.
Secondly, many established bloggers whom I look up to are using ConvertKit in their email marketing, including those in various health, parenting and lifestyle niches that I follow closely in my personal life.
That was a big factor in my decision, as I knew I wanted to grow my business the way they did – offer the best content, and add value to my audience so that they are engaged and stick around forever.
Lastly, they are an awesome team that puts customers' needs at the forefront. I could feel it with every interaction with them. They walk the talk with their vision, mission and values: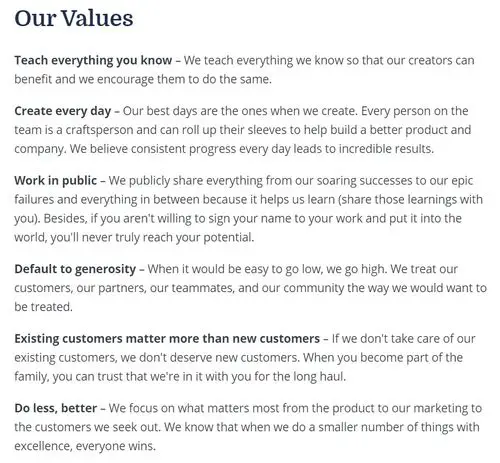 Features and Capabilities of ConvertKit

Sign up forms and Landing pages
You can see examples of the sign up forms at work on my website. Currently I have one form that pops up 30 seconds into my readers' landing on the site, and another one that shows up upon readers' exit intent.
You can place static forms on the sidebar, or in any posts or pages you want.
I have kept my forms extremely simple, because that is my style. You can always include images to your own needs and liking.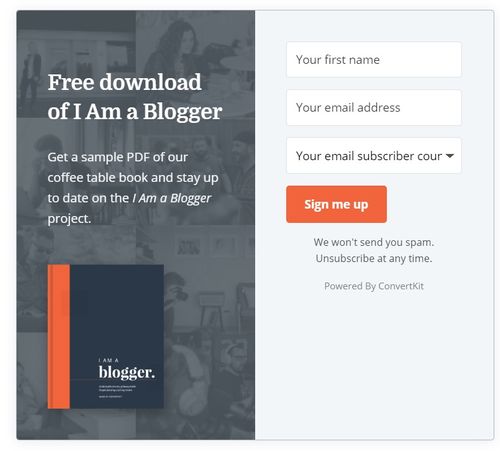 Forms and landing pages also allow you to incorporate a lead magnet that incentivizes your audience to sign up onto your subscribers list.
You can even begin to tag and segment your readers from the moment they opt in, by creating different forms for each category of your content, so that you give readers only what they are interested to know.
I also tag and segment my audience based on the links they click inside the emails that I send out, so that I can better cater to their needs.
Tagging and segmenting audience is a powerful feature of ConvertKit that I rely heavily on. If you know how to work it properly, you can even have subscribers from different websites owned by you all managed in one ConvertKit account.
Its landing pages templates are fully responsive, so they look good on all devices. You will be able to start getting sign-ups even if you do not have a website yet.
Within a few minutes, and without having to know a single line of coding, you can set up a landing page to showcase your services or products, and allow your audience to get to know you better.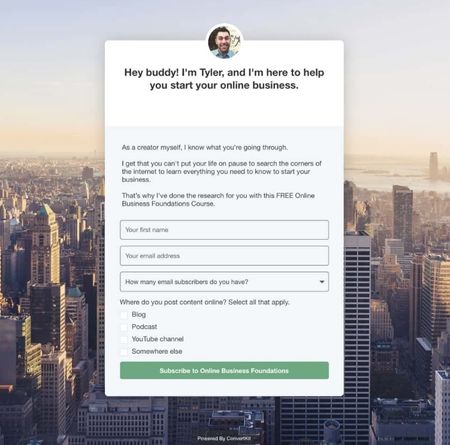 Landing pages can also be used to offer freebies, notify your audience of an upcoming launch, or get sign-ups onto your own email course.

Rules and visual automation
Rules and automation allows you to send targeted content at the right time.
Triggered by an event, you can have the system automatically take an action. It could be placing your reader onto an email sequence, or tagging them, or having them enter a different sequence, etc.
With carefully thought-out custom paths, you can build your funnels by connecting events, actions and conditions. This creates your subscribers' journey to best meet their needs.
For instance, all your subscribers can first go through a welcome sequence. From how they engage with your emails, you can choose to tag them differently, which may then put them through different sets of email sequences – a sales funnel for some relevant product (if they have indicated an interest by clicking on some link), or informing them about the product with more relevant blog posts linked in your website.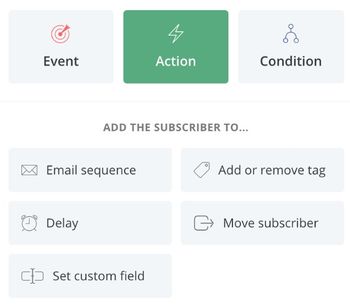 ---
---

Email designer
The email designer in ConvertKit is simple yet powerful.
The basic elements are there – you can add an image, a video, HTML code, quotes, personalization fields, etc.
It has many similarities to the block editor inside WordPress' Gutenberg editor.
The one aspect I like the most is how I can add CTA (click to action) buttons, which I believe increases the click rate drastically. You can use your brand color that your audience already identify with, hence strengthening your brand identity.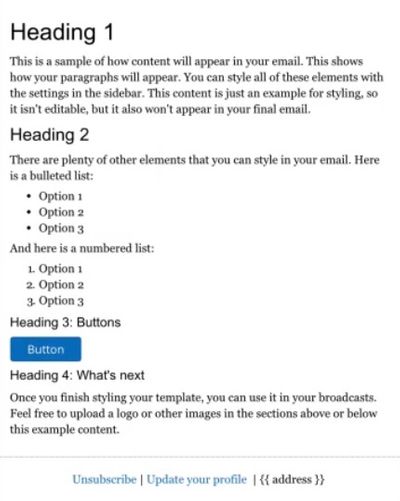 Integrations
ConvertKit integrates with a wide array of platforms, allowing your business to run seamlessly in the background once everything is set up.
Some of the big ones include Shopify, Crowdcast, and Teachable.
For instance, if you are selling a course on Teachable (a platform that helps creators build and sell online courses), a customer's purchase can trigger an automation on ConvertKit.
As another example, when someone attends your live event or webinar on Crowdcast, you can set the integration algorithm to tag this attendee on ConvertKit, which you can then follow up with an email sequence comprising a sales funnel.
Zapier integrates with ConvertKit as well. This opens up many possibilities, including adding new leads from a Facebook ad onto a ConvertKit form, adding a PayPal customer to a ConvertKit tag, and so on.

ConvertKit's Pricing Plans

Free Plan
ConvertKit has recently introduced a Free Plan, which is a fantastic way for you to test out the platform and its capabilities.
It is completely free.
With this, you can create unlimited landing pages and forms, send a confirmation email (with lead magnet) with each opt-in, as well as send email broadcasts to 1,000 subscribers. There is no limit to the number of email broadcasts that you can send.
What is lacking in the Free Plan are the automation functions, which means your audience won't be able to receive a welcome sequence (apart from the confirmation email) according to when each of them joins your subscriber list.
If you happen to be selling something in an email broadcast, and there are very new subscribers who just joined your list, it may seem very abrupt and may not make such a good impression.
Thus the Free Plan gives you an inside look at the ConvertKit dashboard, so you can try your hands at creating landing pages and forms. But it will not work as a long-term solution to nurturing a trusting relationship with your audience.
For this purpose, the Complete Plan will make the cut.

Complete Plan
The Complete Plan starts at $29 per month for up to 1,000 subscribers. As your number of subscribers increases, the price increases too.
Once on the Complete Plan, you will get access all the features and functions available on ConvertKit, the only difference in the various pricing tier being to account for the different number of subscribers in your account.
What makes this an even sweeter deal is that ConvertKit offers a 14-day free trial of the Complete Plan, so that you get to try out its complete features, all for free, before deciding if it is really the best email autoresponder for you.

What makes ConvertKit stand out from the rest?
1. Landing pages
Many email autoresponders do not provide the functionality of landing pages. This means that to collect emails without a website, you would need to purchase a separate landing page builder. With ConvertKit, this is well taken care of.
2. High deliverability
ConvertKit is well known for its high deliverability. There is no point putting in all that time, effort and money into email marketing if the emails get thrown into the spam folder and never reach their target audience.
For the month of April 2020, ConvertKit's delivery rate was 98.9%. Check out its report.
3. No limit on number of emails
For some email autoresponders, even with their paid plans, you are limited on the total number of emails that you can send out to your subscribers each month. With ConvertKit, I am very happy to inform you that there is no such limit. So just go ahead to write as many emails as you need to, without worrying about busting any limit.
4. Awesome support team
ConvertKit's support is ultra responsive. They typically reply to my emails within hours, and messaging (within the dashboard) in a matter of minutes, though it does depend on your time zone. This makes me put my trust in them wholeheartedly, so that I can focus my attention and energy on building my business.
5. Bonuses
They may even spring a surprise on you, like the newbie challenge they threw my way when I first signed up to their paid plan. If I could hit a certain number of subscribers within a certain timeframe (I can't remember the details now), I would get 50% off my first month's subscription. Which I did!

My own results with this email autoresponder

When I first embarked on email marketing for my website, I had no idea how to read the reports and what constituted a successful email marketing campaign.
So I tried to look around for some figures and benchmark, and I think this reflects what is generally accepted as good and bad: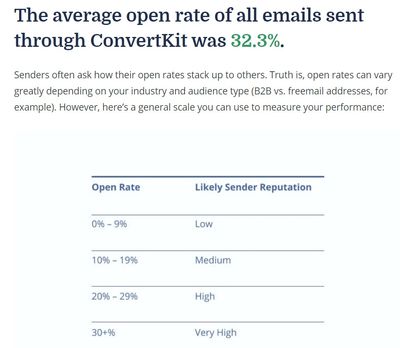 As for my own numbers, here they are: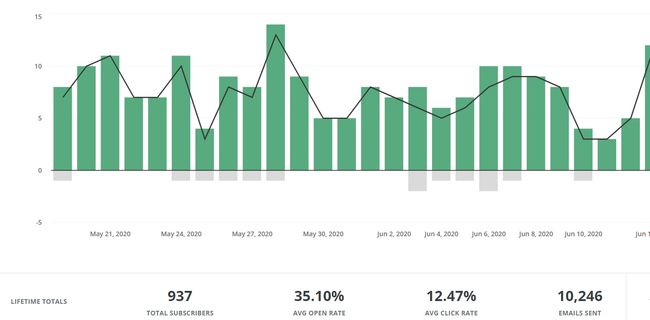 The total number of subscribers does not actually reflect the true picture, since I make it a point to regularly clear my list of subscribers who hardly interact with my emails.
But take a look at the open rate, it is something I am rather proud of. The click rate is considered high, too, in the email marketing realm.
And I attribute these results to ConvertKit's infrastructure that brings its delivery rate way above the norm, as well as how its email designer helps me focus on what really matters: the way I speak with and connect to my audience, through the text in the emails, rather than any flowery peripherals.
On good days when I get high traffic on my site, there can be as many as 50 sign-ups onto my email list.
I am humbled that my readers give me their trust, and want to hear from me. Without ConvertKit, I know I wouldn't have been able to understand the needs of my audience enough to give them what they want.

Limitations of ConvertKit
1. High cost
I have to admit that ConvertKit comes at a higher pricing than others in the market. I do think the investment is well worth it, though.
You have to be sure this is what you want for your business – segmentation of your audience so that you can build a long term relationship with them, and sending targeted emails at the right timing to the right people. This is what ConvertKit does the strongest in.
2. Basic email template
Its email designer is really very much text-focused. Personally I love it, but I do see others grumble about it. If you are looking for fanciful email designs, I'm afraid you won't find it here.
3. Jump in pricing tier
To minimize my costs, I try to keep the number of subscribers within the limits for a certain pricing tier. But there were days when I inadvertently missed checking on the figures, and it went slightly above.
I would learn during the next billing cycle that my account had been automatically upgraded, even though I exceeded the number of subscribers by a few, and over just a few days, after which I would have cleaned my list for the numbers to go back down, below the limit.
It happened twice, and the billing team was very prompt in responding and providing the refund when I wrote in to explain that I was intending to keep within a pricing tier.
No harm done here, just a bit of hassle on both sides which could have been avoided if there was some warning and grace period before the account was actually upgraded.
---
---

Is ConvertKit for you?
Yes, and no.
Yes, ConvertKit is for you if you are looking to create a long term business, establish yourself as an authority in your niche, by building a huge base of supporters who love your authenticity in engaging them and offering genuine help.
No, ConvertKit is not for you if you are looking for a quick fix, or if you just want to splash your affiliate links all over your emails without considering whether they are the best deals for your audience, or if those products are what they need in the first place.
I hope this ConvertKit review has been useful to you.
To see how I grew my affiliate marketing business from scratch, and how anyone can do it too, check out an awesome training platform, which is also my all-time #1 recommendation:
Learn more about content marketing here (apart from using emails).
And for reading all the way to the end of the post, I believe you have it in you to make this work. Here is your FREE PDF Guide: 4 Simple Steps to Making Money Online. Fill in your details to claim it:

If you have any concerns or questions regarding this ConvertKit review, do comment below, and we will start a conversation from there.
---