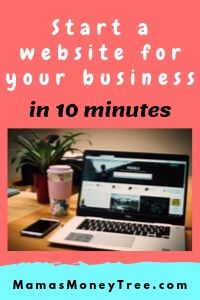 If you own a small business, or are thinking of starting up one, this could be one of the burning questions in your head right now: How to start a website for my business?
It doesn't have to be complicated at all, especially with the technological advancement in the website building process.
In fact, you do not need to know a single line of coding, to build professional-looking and beautiful websites.
I run several affiliate marketing businesses, and all my websites (including this one) were set up from scratch within minutes.
No joking!
And this is the platform where I got started, feel free to check it out:

---

Why you need a website for your business
The entire world (almost) is online. If you are not, you lose out.
It's as simple as that.
Whether you are in the service-based industry (doing freelance writing, graphic designing, providing tutoring, teaching yoga or meditation, doing plumbing, towing, roof works, running a food outlet, a restaurant, providing accounting services, law consultancy, etc.) or selling products, it does not matter.
You need a website. Period. These are the immense benefits that a website will reap for your business:
Branding
A website exudes the brand and the messages that you want to portray about your business. It could be the first contact a potential customer makes with your company.
What goes on your site is completely within your control. It is up to you to build trust with your audience, and nurture the relationship so that they have the confidence to give your service or product a try, and come back as repeat customers.
Basically with a website you can do whatever you need on it, to get your business off the ground.
International audience
Having an online presence allows your business to transcend all physical barriers. Even if you are not currently serving customers outside of your local region, a website will still expand your market reach locally.
Marketing
Social media marketing will be within your grasp once you own a website. There are so many things you can do, like running some discounts, collecting visitors' email contact on the site for email marketing, linking up with other businesses that complement yours, etc.
You become 'searchable'
People who are actively searching for your business are traffic that you cannot afford to lose, because they have strong buyers' intent, and are so ready to convert, once they find you.
Other ways of monetization
A website is powerful because you have the freedom to monetize it whatever way you want, on top of your core business.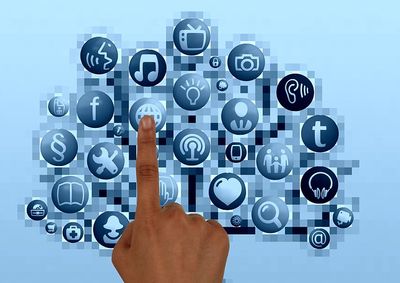 You can allow advertising networks to place ads on your site if you want.
Or you can go into affiliate marketing. For instance, your core business could be running yoga classes. You can blog about stuff, and recommend products that would be useful to your clients, like books, yoga mats, etc. When people click through your affiliate links on your website to buy those products, you earn a commission.
---

Start your website with these main steps
1. Choose a platform
This has to do with the nature of your business.
If your business is service-based, or content-heavy
If you are running some classes, then you will be providing information about those classes, with options to sign up, call or email to obtain more details, etc. In that case, a content management system (CMS) is what you need.
You will also need a CMS platform if your business is content heavy. For instance, if you are a freelance writer, then you would probably be blogging about stuff on your website. Or if you are an affiliate marketer, blogging and writing product reviews will be the core of your business.
The most popular CMS is WordPress, used by the majority of content-driven websites. On your own, it can be rather complicated to navigate the installation of WordPress.
But with the all-in-one platform that I'm recommending, it doesn't get any easier. I'll come to that part in a bit.
If you intend to run an online store
If your business involves selling physical products, then an ECommerce platform is what you need.
My #1 recommendation for this is Shopify.

2. Choose your hosting provider
This is where you 'park', or 'house' your website, where everything connected to its files, data, storage space, operating system, internet connectivity, etc. will be placed.
You want a reliable hosting provider that will respond to queries and technical issues promptly.
When things happen, like being unable to log in, you certainly do not want to be left stranded, without access to your website back office, for a few hours at a time!
I had written a more detailed post about how to choose the best hosting provider.
When looking at the companies that solely provide hosting services, I would recommend HostGator.
Still, nothing beats the all-in-one platform that I'm personally using. Read on to find out more.

3. Choose your domain name
Your website domain name is like the address of your home, except this is an online address, which will allow people to find your business in the vast space that is the internet.
These are some tips for choosing your domain name:
– short and easy to remember so that your customers can just type it out to find you
– check that it has not been copyrighted or used as a trademark by others
– avoid numbers and intentional misspelling, unless absolutely necessary
– do not use words that tend to be misspelled by many people
– avoid hyphens
The last tip: use a .com domain, as it tends to give your website more authority.
I have another post if you need more information about choosing a domain name.
Domain names can be bought through registrars like GoDaddy, NameCheap, etc. The price depends on the specific domain name that you choose, but typically costs about $15 per year.
Again, my favourite all-in-one platform allows you to purchase your domain name from within it.

4. Choose your design
Everyone wants their websites to 'wow' and be truly impressive. There are so many themes out there, it will probably take a fussy website owner days to make the perfect choice.
For a start, there are actually many free themes that are wonderful. In fact, website visitors tend to prefer simplistic and minimalist designs, without too many distractions and neon lights.
To me, theme support is of utmost importance, because I get utterly frustrated when I am faced with technical issues that cannot be resolved quickly. The support for some themes are non-existent. So dig around a bit before making your decision.
Read about what really matters in a WordPress blog theme.
Then again, it is so easy to change your website theme anytime, so don't let this worry you too much at this stage.
As you get more comfortable on your website, and understand what you want to customize, you can start to explore the paid themes and choose one that caters to your needs.
---

Putting them all together
Now that you have your website platform, hosting, domain name, and website design, it is time to bring on the final act, and put them all together.
I hate to tell you this, but this is the part that frustrates the heck out of many people, especially those who are not tech-savvy.
The process involved in loading the website platform onto the hosting server can be quite a nightmare.
If I were to do this on my own, I wouldn't be here writing about setting up my websites in a matter of minutes. I would most likely be banging my head on the wall even after many days.
Now, I want to finally show you the all-in-one platform that I had been muttering about throughout this post:
---

Wealthy Affiliate all-in-one website solution
Wealthy Affiliate is a training platform for aspiring affiliate marketers, who earn an online income by sending traffic from their own websites to companies that offer the products or services that their readers are looking for.
On top of the training, Wealthy Affiliate is a one-stop solution for any website owner. It is a hosting and domain platform, allowing you to set up your website in a matter of minutes, with just a few clicks of the mouse.
This is what it looks like: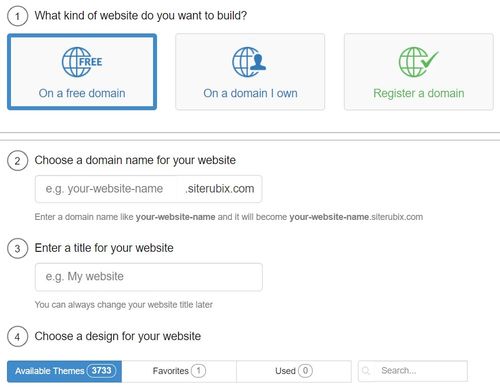 The website builder is an integrated part of the system, so you do not have to load your website platform onto the hosting server, it's all done at their back end.
With this, I do not have to fuss about the technical aspect of website building. All my energy and attention can be focused on content building, and growing my online business.

---

What is included in the Wealthy Affiliate membership
Hosting for 50 websites
You will get to host
– up to 25 websites of your own domain on the Wealthy Affiliate hosting platform,
– along with another 25 free websites that are on the SiteRubix domain (which is the domain run by Wealthy Affiliate). You do not have to pay for these, as they are not your own domains.
SSL certificates
All your sites built on the Wealthy Affiliate platform will get SSL certificates, which the search engines love, and keep your website visitors' data safe at the same time.
Domain email
With an email that ends with the same domain as your website, it adds professionalism and credibility to your communications with your clients and other external parties.
Site speed
People bounce off a slow site within seconds, so you do not want to leave your site speed to chance. The technology in Wealthy Affiliate takes care of this important aspect of your visitors' experience, improving engagement and giving you better rankings in the search engines.
Site support
I cannot sing enough praises of their site support team that runs 24/7. They typically respond within minutes of me raising a ticket, and will see through to the closure of the case. Impressive is an understatement.
Daily website backups
This is done on the back end, automatically. Though of course you can definitely do a manual back up regularly, onto your own computer, if you want.

Price for Wealthy Affiliate membership
The monthly fee is $49 (first month goes at a discounted price of $19).
But if you pay for the yearly subscription, it works out to be $30 per month, which is a very reasonable price, considering the number of websites that you can potentially build, plus all the support, tools and features you will be getting.
The best thing is, there is a free starter membership, where you can go right in to try out the website builder, using 2 free SiteRubix websites (not your own domain).


When you are amazed by how easy it is, you can then take up its paid membership and go on to build your actual business website on your own domain.

No hidden cost or any upsell
Wealthy Affiliate is a completely transparent program. There is nothing else inside the platform that requires you to pay a single cent. Once you take up its paid (also called premium) membership, you get access to everything inside.
Just to make things clear, the cost of buying your website domain (the $15 per year thereabouts) is separate of the Wealthy Affiliate membership, as it is equivalent to owning an online property.
It is yours – the website that you pay for your own domain cannot be taken from you, even if you decide not to host it on the Wealthy Affiliate platform anymore, anytime in the future.

Table of comparison – free starter vs premium membership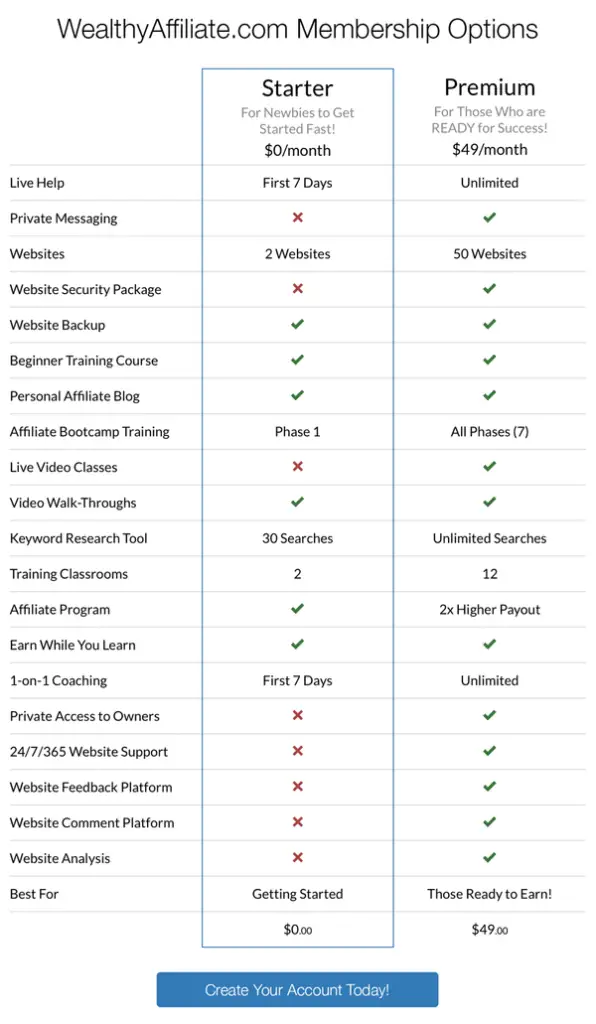 As you can see, the affiliate marketing training is also a core element of Wealthy Affiliate. So if you have the chance, I strongly encourage you to go through it.
You can use the affiliate marketing business model to supplement your main business, or it can be a separate business altogether, forming another income stream for you.

Affiliate marketers all over the world are building full time income and beyond, just by doing this.
There's another option, if you have the budget, and would like to hire the experts to start the engine for you, consider Human Proof Designs.
And for reading all the way to the end of the post, I believe you have it in you to make this work. Here is your FREE PDF Guide: 4 Simple Steps to Making Money Online. Fill in your details to claim it:


If you have any concerns or questions regarding setting up a website for your own business, do comment below, and we will start a conversation from there.
---