If you are considering setting up an online store, you have to check out Shopify Website Builder reviews, to understand the eCommerce platform fully before you take the plunge.
Welcome to my Shopify review.
Does this company live up to its promises, or is it more hype than anything else?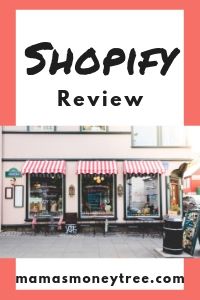 Is this still the best eCommerce platform around? What are its features, are they going to meet all the needs of your online business? What are the pricing plans available?
Most importantly, what are all its cons, besides the pros that everyone knows about?
We will answer these questions and many more, in this honest and in-depth review of Shopify.
Without further ado, let's dive right in now!
---
Disclosure: If you subscribe to Shopify through my referral link, I will earn a commission at no extra cost to you. Thank you for your support for Mama's Money Tree.
Product: Shopify
Creators: Tobias Lütke, Daniel Weinand, and Scott Lake
Product type: eCommerce platform for creating your own online store
Price: free 14-day trial, then monthly subscription at $29, $79, or $299.
Scam / Legit? : Legit
Recommended or not? : YES, if you are trying to build an online store
Shopify is a website builder with eCommerce features and apps that allow you to create an online store, selling your own products or doing the dropshipping model.
In my opinion, it is still the best eCommerce website builder around, with an awesome inventory system, customer-friendly interface, and robust management tools that will grow alongside your store as you scale up your business.


Read on for the detailed review of Shopify, and why I say it is still the best eCommerce platform around.
---
What is Shopify
Shopify is a one-stop solution for any budding entrepreneur to build an online store, without having to know a single line of coding.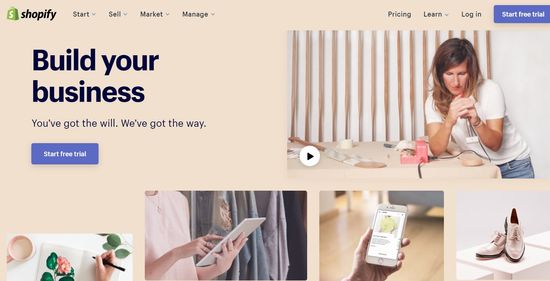 It is newbie-friendly, such that you do not need to engage a website designer or developer.
It does take a bit of a learning curve at the start, but it's nothing too techy. Once you get the engine running, your store will be ready to greet its first customers.
Shopify hosts your websites, and is an SAAS (software as a service) solution, which means you pay a monthly fee to use the platform, rather than owning it.
With its selection of beautifully-designed templates, as well as powerful apps that help you customise your store into something that speaks your brand, and meets every aspect of your business needs, it is top-notch in its field.
(If you are undecided about whether you should create your own website, see the 5 compelling reasons here.)

How Shopify was birthed
In 2004, the owners of an online store, called Snowdevil, selling snowboards were frustrated with the limitations of the software side of their store.
Hence they set about developing an eCommerce platform to serve the needs of online store owners, and Shopify as we know it today was created in 2006.
Over the years, demand for and growth of this company has been massive. Shopify businesses all over the world have made over $100 billion in sales.
Now, let's take a look at the tools and features that make this eCommerce platform the giant that it is.

Shopify Tools and Features
Integration with other platforms
Shopify allows for integration of your store with various giant platforms out there, like Facebook store, Instagram shop, Amazon, and eBay.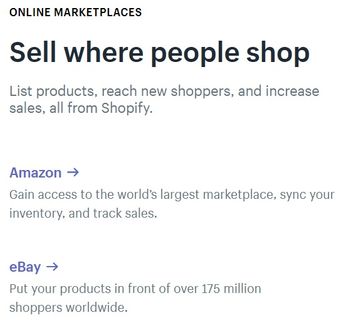 This positions your business out there to different groups of audience, depending on your customer base.
You do have to know each platform well, though, in order to maximise the potential.
For instance, Facebook does not allow selling of digital products. Only physical items can be sold in the shop section of a Facebook page.
Moreover, when you integrate your Shopify store with your Facebook page, your customers can only purchase one item at a time, as there is no option that allows adding to cart.


Payment gateways
Use Shopify Payments, its very own payment gateway, to do away with any transaction fees.
If you use any other payment gateways (there are more than a hundred to choose from, including PayPal, Stripe, Amazon Pay, etc.), a transaction fee will be imposed, the exact amount depending on the Shopify plan you choose.
The more expensive the Shopify plan, the lower will be the transaction fee imposed, going from 2% right down to 0.5%.
The thing is, Shopify Payments is only available in certain countries: Australia, Canada, Germany, Hong Kong SAR China, Ireland, Japan, New Zealand, Singapore, Spain, United Kingdom, and United States.
So if you are outside of these countries, you will not have the option of using Shopify Payments, and you do have to take the transaction fees into consideration when contemplating this eCommerce platform.

Partnerships for shipping
Shopify has partnered with a few huge shipping companies, and integrated the shipping aspect of your business into your online store, so that it saves you the hassle of sourcing for shipping vendors on your own.



Out of the box, you can be linked up with DHL Express, UPS, USPS, and also Canada Post.
The shipping features on Shopify allow you to manage customers' addresses, print labeling if required, and track the delivery part of your order fulfillment with ease.
Shopify allows for dropshipping too.

Abandoned cart recovery
This feature is really great for boosting up your revenue.
Almost three-quarters of customers tend to abandon their cart due to changing their minds at the last minute, or requiring more time to decide, or because of some interruption to their check-out process.
An automated email (you can choose to send it manually too) sent to customers who had abandoned their cart at your store, with a link to their abandoned cart, will serve to close sales that would otherwise have been lost.
You have the option of sending the email at 1 hour, 6 hours, 10 hours (recommended), or 24 hours after cart abandonment.


Point of Sale
This is a fantastic hardware application of Shopify that allows you to sell not just from your online store, but at a physical location, like a physical storefront, a stall, etc.
It allows your inventory to be updated to reflect point-of-sale transactions, so you do not have to manually adjust your stock in the online store each time a sale is made physically.
Depending on your business needs, there are other hardware applications that can be purchased, like barcode reader, receipt printing function, etc.

Ease of use and interface
The user interface in Shopify's dashboard is clean and beginner-friendly, not overwhelming at all.



It is intuitive and straightforward, I believe anyone without any experience in setting up online stores can get started on Shopify and progress to build out their own eCommerce business.

Apps store
There are so many apps in the Shopify Apps Store for you to choose from, to do any job that is not included on the Shopify platform itself.
There must be more than a thousand of these apps, ranging in their functions, from social proof and email marketing to SEO (search engine optimisation) and inventory management.



Some apps are free, while others require a fee.
Not all are without bugs, though. So before you install any app, be sure to carry out due diligence, check out users' reviews, so that you do not get caught off-guard.

Blogging in Shopify
This is an important aspect of any online business, if you want to build up a consistent stream of free organic traffic from the search engines onto your online store.
If you do not blog consistently to create quality content to engage your audience, it would be very difficult to rank your store in search engine results, and you would have to rely much more heavily on paid traffic, paying for ads to drive potential customers to your store.
The blogging function in Shopify is quite basic, and cannot compare with what you can do with WordPress, but of course that uses a totally different business model altogether.
At least you are able to blog on Shopify with its built-in tool, and I'd strongly suggest you make use of it fully, as free organic traffic is too precious to forego.
If you have your own WordPress site, there is a very affordable Shopify plan that allows you to merge a 'buy button' onto your site, bringing an eCommerce element to your blog.
I will be discussing this in greater detail, under the section on Pricing Plan.


Shopify Themes
There are 10 free themes provided by Shopify, as well as many other paid themes that range from about $140 to $180.
I find them all very modern looking and clean.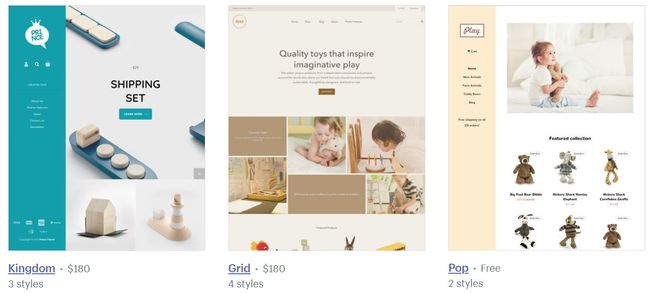 The themes are all mobile responsive, so you do not have to worry about your mobile users not having a great shopping experience.
You can change the theme for your Shopify store any time, but bear in mind that you would have to do some formatting of some content, layout, and stuff like that.

Shopify Inventory Management System
Product categories
The product categories function in Shopify is fantastic for sorting and grouping your products, especially if you have a large number of them.
It is useful to plan out how you want to categorise them at the onset, so that you tag each product appropriately, or give them titles that contain specific words, that will allow you to manage them systematically right from the start.

Product variants
Shopify allows for 100 variants on any single product that you can work with, which is a neat way to specify the details, like colour, matt or glossy finish, and so on.
However, do note that for each variant, there are only three parameters that can be specified, which can be somewhat limiting.

Product images
It is recommended that you size each image to the desired dimensions or aspect ratio, and keep it consistent across all your images, before you upload them onto your store inventory.
This will create a more orderly look and feel to your store, rather than a haphazard one, whereby images are all of difference sizes.

Shopify Support
Shopify's live chat and phone line are available for 24/7 help and support, which is awesome.
The only issue is that users tend to not get the help they need when it comes to technical problems, so it could be the case that their support staff are not their tech guys. Which is a shame, because it does affect customers' satisfaction.


Cons of Shopify
There are definitely not many cons, considering so many other aspects of an eCommerce platform are top-notch on Shopify. There are just these two that are worth mentioning:
Reporting
Reporting functionality is limited in Shopify, unless you are taking the more expensive monthly plans ($79 and upwards).
Otherwise, you will be expecting a very bare, non-customisable report that does not provide much-needed useful details like traffic source, customers' activities in your online store, breakdown of sales, etc.
Custom field and file uploads
There are stores that sell personalised products, like T-shirt printing, mugs, jewelry, or any other gifts and souvenirs of this nature, that require customers to either provide their input for text, or upload a picture file to be printed onto the product.
Unfortunately, Shopify does not do quite well in this aspect. Whether you want your customers to type in a line of text, or upload an image, you will have to use some coding, or pay for apps to do the job for you.

Shopify Pricing Plan
Basic Shopify – $29/month, all the basics you need for starting a new business.
Shopify – $79/month, includes everything in Basic Shopify, plus gift cards and professional reports.
Advanced Shopify – $299/month, includes everything in Shopify, plus Advanced Report Builder and third party calculated shipping rates.
Apart from these three main plans, there is Shopify Plus for huge stores, where the fees are in the range of about $2000/month, negotiable.
And then there is Shopify Lite at $9/month, which is a great way to incorporate eCommerce onto your blogging website, if you already own one, and would like to sell some products without the need for a full-fledged online store.
It is good for people who are more comfortable running their business on some platform other than Shopify, for instance, WordPress.
It simply creates a 'buy now' button on your website, so that you have the option to sell things to your readers directly from your site.

Driving traffic to your online store
You can have the most beautiful and well-stocked online store, with great quality products, and efficient shipping.
Ultimately, it is critically important to know how to drive traffic to your store, without which you will not be getting any sales.
Blogging can work to bring in search engine traffic, but it takes time to see results, which you would likely have very little of, considering how eCommerce businesses tend to be very time-intensive by nature.
Most owners of online stores use paid traffic to bring in business to their stores, but that is a completely different learning curve on its own, that you have to be ready to embark on.
Having taken all these factors into consideration, are you ready to set up your online store now?


If I can have your permission, I'd also wish to show you my favourite business model, which is the exact method that I am using to earn my online income.
If you have any concerns or questions regarding this Shopify review, do comment below, and we will start a conversation from there.
---