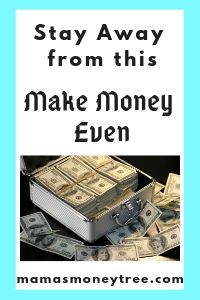 Welcome to my Make Money Even review.
What exactly is this program that claims to teach you to make a killing with advertising and affiliate marketing?
Is it something legit? Or is there something they do not tell you?
We will answer these questions and more, in my honest and in-depth review of Make Money Even, so that you can see through its veil to uncover what lays beneath the hype and promises of instant earnings.
Without further ado, let's dive right in now!
---
Make Money Even Review Summary
Product: Make Money Even
URL: makemoneyeven.com
Creator: "Martin"
Product type: MLM program
Price: $10 + upsells to higher levels of membership
Scam / Legit? : I'm not comfortable with saying this is legit, neither is it an outright scam. I will leave it to you to decide for yourself.
Recommended or not? : NOT Recommended
Make Money Even is not the affiliate marketing program that it claims to be. It is in fact an MLM (multilevel marketing) program, that has a tinge of being a pyramid scheme, depending on how we determine the existence of a retailable product in this program.
It works more like a massive recruitment scheme than anything else, that I would really try to avoid, as there is no value in what it is offering, besides the hope of earning by promoting itself.
Real affiliate marketing works in a much more solid way, which is exactly how I am making my online income. Check it out:


Read on for the detailed review of Make Money Even, and why I do not recommend it.
---
What is Make Money Even
To find out what is Make Money Even, let us first take a look at its home page.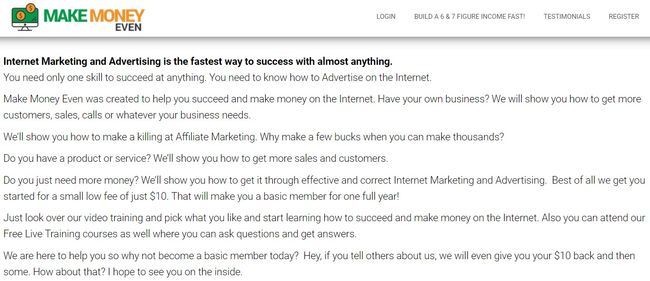 At first glance, it sounds like possibly some training that teaches internet marketing and advertising, maybe along with some element of affiliate marketing.
They try to make it sound like the program can be applied to whatever business you are in, with whatever products you are selling. For a small fee of just $10, you get a full year as a basic member.
Unfortunately, the truth is far from that. It unravels when we dwell into the earning opportunity with Make Money Even itself.
It becomes clear that this program is in fact an MLM (multilevel marketing) scheme.

Compensation Plan of Make Money Even
According to their compensation plan, you make $5 for every referral you bring into the program, who pays $10 for the basic membership. But there is a twist to this.
This is how it looks like, the convoluted plan that I will try to explain in very simple terms.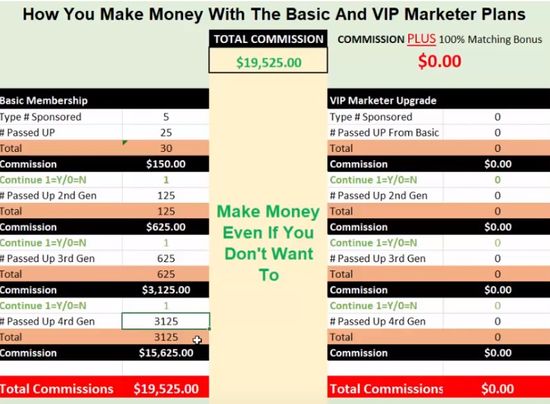 Basically, for the first 10 members that you refer, every alternate member goes up to your sponsor (the person whose referral link you joined through).
So you make $5 for each of the 5 members, while your sponsor makes $5 for each of the other 5 members (who then belong to your sponsor's downline).
In a similar fashion, for the people who fall under your downline, they will pass up 5 of their first 10 referrals to you, making you $5 each, as well as having them join under your direct downline too.
With this logic, and if things work according to plan (which is the crux of the issue here), your commissions are going to just keep growing and growing even if you do nothing after bringing in your first 10 referrals.
You are going to Make Money Even if you don't want to!
How cool is that?
And after the first 10 referrals, only every 5th person will get passed up to your sponsor, so you get to keep most of your referrals as your direct downline, reaping the rewards of your hard work.
From what I can see, Make Money Even is essentially a massive recruitment scheme, that has very little value outside of promoting itself as a make money opportunity.

Where will referrals come from?
I don't think anyone will be trying to invite their friends and family to join the program, though I may be wrong.
The bulk of the referrals would have to come through internet marketing. Advertising, to be more exact, as what they have said on the home page of Make Money Even.
This would incur a high-risk cost.
So it is not just a matter of $10. The more referrals you try to get, the more money you have to spend. And for advertising, there is no guaranteed returns.
Especially if you do not have any experience, you have to be ready to pay for a steep learning curve. This is not something you can learn off a textbook.
Advertising is something you learn while you do. This means you have to launch a marketing campaign, analyse the results, tweak some parameters, run another campaign, and the cycle continues, until you have spent enough money to gain the experience to increase your returns on investment.
In the meanwhile, as you learn, it may cost you anything from hundreds to thousands of dollars, depending on how aggressive you choose to be in those campaigns.
This is something that is not transparent to you as you go through the sales video and website of Make Money Even.

Guess who the biggest winner is?
Yeah, of course, it's definitely Mr Martin!
He transfers the risks to all his members, because they are the ones paying for advertisements to promote his program.
He is in a sure-win position, as he pockets $5 for every person who joins as a basic member, regardless of whose downline that person ends up with.
Of course, as the owner of the program, it is expected and reasonable for him to be making the most earnings.
The biggest issue I have with this program is the focus on recruitment, with no product that is of much value to its members outside of promoting the program itself.
And the reliance on paid traffic, which has got very high risks to a beginner in the internet marketing space, that is not made known explicitly.
Instead, people are led to believe it is such a low risk opportunity, with only a $10 investment.

To make some serious money online…
I guess everyone starts off wanting to make it rich fast. It's a very natural thing, that's just human nature. I wasn't spared of all the temptations on the internet too.
But when I realised those empty promises are only going to make other people rich, and not me, I stopped looking for shiny objects.
I found a dull-looking object, but I knew in my heart that is the real deal. From then on, I have never looked back.
I am now working full time from home, growing my internet business, and making an online income. I started from scratch with zero knowledge in this area. If I can do it, you can, too.
Here's a peek into my earnings on a recent day:



That's almost $200 in just one single day. It's nothing to boast about, though, as it's just a small fraction of its full potential. I just wanted to show you the possibilities.
Check out this training platform that provides all the resources, tools, along with an entire community of aspiring as well as already successful online income earners. The best part is, you get to start for free:
---
To round up this article, let me recap and summarise the pros and cons, before I finally make my conclusion.
Pros of Make Money Even
1. Possible to make money with this
Yes, it is possible to make money with Make Money Even, if you are an experienced marketer, you've had success before with paid traffic, and you know where to find your targeted audience who will buy into this program.

Cons of Make Money Even
1. Exploits the ignorant
From the misleading sales materials, people who do not know the real story behind this opportunity would think that it is such a low risk investment.
The truth of the matter is, if one does not spend money to advertise and bring in targeted traffic, there is no way to profit off this.
2. You may suffer a loss
If you are an inexperienced marketer, you would likely suffer losses as you climb the learning curve which is paid traffic.
---
Is Make Money Even Scam or legit? 
I hesitate to call it a scam, since it is possible for some people to actually make money off it. But I'm not sure about its legitimacy, as there is no real product to the program, and there is a strong focus on recruitment into the MLM scheme.
It is similar to these programs: Too Damn Easy, GoFounders.net, Club Cash Fund, and 8 Figure Dream Lifestyle (which is under investigation by the FTC), to name just a few.
---
Recommendation
The internet these days is abound with vast opportunities, but it is also a breeding ground for dishonest people to exploit others.
To make some serious money online, it is not difficult, provided you know where to look.
I trust that you will know a real deal when you see one.
It is what I want to show you: the path that I took to make my online income.
This real deal does not promise instant results, but instead provides the knowledge and lifelong skills required to grow a successful online business, which is exactly what I have done. Check it out by clicking on the button below:


And for reading all the way to the end of the post, I believe you have it in you to make this work. Here is your FREE PDF Guide: 4 Simple Steps to Making Money Online. Fill in your details to claim it:


If you have any concerns or questions regarding this Make Money Even review, do comment below, and we will start a conversation from there.
---