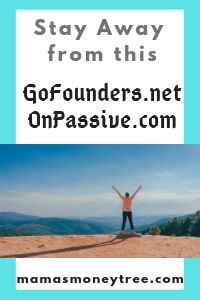 If you are wondering what is GoFounders.net, you are not alone.
Many people are wondering about this peculiar product that has been in its prelaunch phase for the longest time too.
Welcome to my GoFounders.net review. It is actually the sales website for an MLM company called OnPassive.
Shrouded in secrecy, with no information available to the public about any kind of details, and yet with loyal supporters who fiercely defend it, this program doesn't bode well.
In this article, I will be presenting what I have managed to uncover about OnPassive.com, a.k.a. GoFounders.net, while at the same time offer my honest opinion about it, so that you can make a better informed decision than what they intended.

Without further ado, let's dive right in now!
---

GoFounders.net Review Summary
Product: GoFounders.net, which leads to the MLM company OnPassive
URL: https://gofounders.net/
https://onpassive.com/
Creator: Ash Mufareh
Product type: MLM (multilevel marketing) scheme, without any solid products for retail
Price: $97 upfront, with monthly fees in the range of $25 to $500
Scam / Legit? : It's not been launched, so I can't be sure. But it is highly suspicious.
Recommended or not? : NOT recommended
GoFounders.net is the sales platform that funnels people to the MLM company OnPassive. It has been in the prelaunch phase for the longest time, more than a year now, since the domain for OnPassive.com was registered in mid 2018.
And yet they claim to have already gathered more than 32K members. Where has all their membership fees gone? If they are members, they must have paid the upfront fees, but the program has not launched, so they have not started earning.
I have never seen anything like that, and I absolutely do not trust this program.
---
---

What is GoFounders.net (a.k.a. OnPassive)
Usually, the first thing I would do to find out what is GoFounders.net is to get onto its home page.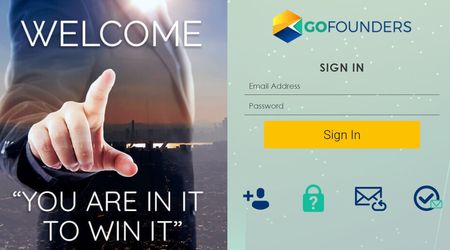 Unfortunately, there is no information that I can get from there. So I tried the OnPassive.com website instead, and look what I found.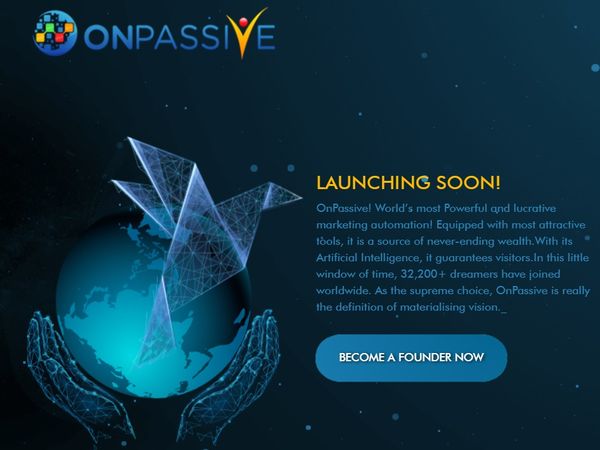 This prelaunch status has been there for the longest time, since a few months back when I had wanted to write a review about it, and I realized there wasn't much information to go from, so I decided to just hang around and wait until its official launch, when things are clearer.
To my surprise, when I recently just checked back again, it is still "launching soon", which is definitely not a good sign.

What exactly is GoFounders.net?
Despite the lack of information, I tried to put various pieces of the puzzle together, and these are what I gathered:
Who is Ash Mufareh
He is quite a notorious figure in his own circle. Well, he also has fierce supporters, because in any MLM scheme, ponzi or not, it is always the first wave of people who join that will reap the most out of the exploitative program.
Ash Mufareh had quite a number of shady products under his belt. Dating back almost 9 years ago, he launched AshMax, which is some matrix scheme.
He was also linked to TelexFree and PayDiamond, both of which had shut down. And now, OnPassive is his next baby.

On their Facebook page
In a video on their Facebook page, they claim to be the marketing solution for all internet marketers, with their fully automated, completely done for you system.


It is also a 100% fully automated traffic generator, which recruits and sells for you, along with proprietary marketing tools built in for you.
Next, they say it is a four-tier, self-perpetuating 3×10 matrix system, which provides you unlimited and fully-automated hands-free income for life.
As far as I can tell, this reeks too strongly of a pyramid scheme. There is no real product here, unlike legitimate MLM companies which do have lots of retail products that people can purchase.
To protect themselves, OnPassive will claim the marketing tools to be their products, and that those can be the solutions for any online business.

How exactly does OnPassive work
Once you pay to become a member, you get automatically cycled into their matrix system, for which you have to pay recurring fees, and are promised commissions as the matrix fills up automatically, when more people sign up, or through people whom you directly refer onto the system.
Schemes like that add no value to society, and it is my opinion that OnPassive is such a scheme. Such pyramid schemes are not legitimate.
Yes, the first wave of members will make money, that is why his followers will protect his program with their lives. But where does this money come from?
At any one time, there will be a largest group of people who newly join the scheme, and will be losing the most money because of the upfront fee, as well as the recurring fee for cycling, for which they would not have recouped yet, as the positions are still waiting to be filled.
This means that at any time the scheme becomes saturated and recruitment slows down, the entire structure will collapse, if it had not been shut down by the authorities yet.
The founders and their followers make their way to the bank to cash in their earnings, their extravagant lifestyle supported by the vast majority of unknowing members who are just honest people trying out an opportunity.
---
---

More red flags about GoFounders.net
The OnPassive.com website was registered in June 2018, more than a year ago.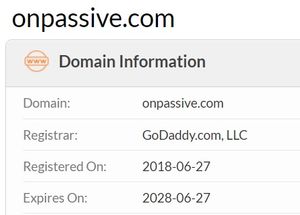 The GoFounders.net domain was registered on the last day of August, 2018.
Their Facebook page was set up just last month, on 21 June 2019.
I really can't tell what's happening here, but even if it launches now, it would have been one whole year since its websites were registered.
Either they're on to something really big, or it is going to die a premature death even before it gets launched.
Either way, this is not a good time to join GoFounders.net or OnPassive. In fact, no time is a good time for such a scheme.
Even if you really do make money, it will be at the expense of ordinary folks, misled into thinking this is such an easy get-rich-quick scheme, not understanding the huge risks involved.
My gut feel about OnPassive is no good, so I'd strongly advise you to stay away from it.

The proper way to make money online
I guess everyone starts off wanting to make it rich fast, and by doing little work. It's a very natural thing, that's just human nature. I wasn't spared of all the temptations on the internet myself.
But when I realised those empty promises are only going to make other people rich, and not me, I stopped looking for shiny objects.
I found a dull-looking object, but I knew in my heart that is the real deal. From then on, I have never looked back.
I am now working full time from home, growing my internet business, and making an online income. I started from scratch with zero knowledge in this area. If I can do it, you can, too.
Here's a peek into my earnings on a recent day:



That's almost $200 in just one single day. It's nothing to boast about, though, as it's just a small fraction of its full potential. I just wanted to show you the possibilities.
Check out this training platform that provides all the resources, tools, along with an entire community of aspiring as well as already successful online income earners:
---

To round up this article, let me recap and summarise the pros and cons, before I finally make my conclusion.
Pros of GoFounders.net
1. You may possibly make some money if you have the right skills
It is possible to make money, despite such schemes being not legitimate.
And I can't stop anyone from engaging knowingly in exploitative activities, it all boils down to how one chooses to live a life of integrity and moral values, or not.
Those who succeed at this have to be the experienced internet marketers, who know how to get tons of targeted traffic to their referral links.
Most people outside of Mufareh's group of loyal followers lack the skills and knowledge to make it work for them.
Further misled into thinking this is some easy get-rich-quick fix to their money problems, they simply become the next pawn placed onto the matrix, generating income for the so-called founders – those who know how to play the game well.
Steel yourself against such dubious schemes, by equipping yourself with the knowledge and expertise that will make it work, but channel your newfound wisdom into promoting legitimate and honest programs instead.

Cons of GoFounders.net
1. You risk losing all that you put in
If you do not know how to reach the masses so that you can recruit enough people into the program, you risk losing whatever you put into the scheme.
2. If it really is a pyramid scheme, then it is not even legit
From what I can see, my personal take is that this is going to be a pyramid scheme, if it ever launches.
If it doesn't launch, then it is daylight robbery.
3. As you earn, many others are suffering
Even if you really make money out of this, it has to come out of the pockets of many other people who do not know how to recover from their initial investments.
---

Is GoFounders.net Scam or legit? 
I can't tell for sure right now, but I'd strongly advise staying away.
It seems very similar to some other programs I have reviewed, like Infinity Traffic Boost, Infinity Residuals, Cents for Freedom, and Club Cash Fund, to name just a few.
---

An Alternative
There are too many honest ways to make an income online, while adding value to other people's lives.
I want to show you the method I am using.
It will not work for everyone, but I encourage you to at least take a look.
It requires hard work and commitment, and is for people who are prepared to take the time to lay a strong foundation for an online business that can eventually replace their 9 to 5 job.
This real deal does not promise instant results, but instead provides the knowledge and lifelong skills required to grow a successful internet business. Check it out:


And for reading all the way to the end of the post, I believe you have it in you to make this work. Here is your FREE PDF Guide: 4 Simple Steps to Making Money Online. Fill in your details to claim it:


If you have any concerns or questions regarding this GoFounders.net review, do comment below, and we will start a conversation from there.
---