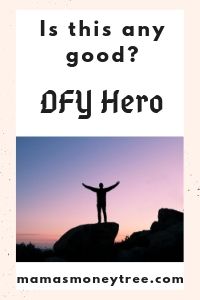 Heard of this newest product that had been launched very recently by Cindy Donovan, and wondering what is DFY Hero? I was equally curious, so I set out to figure out what it is all about, and whether it can really help you with your online business.
Welcome to my DFY Hero review.
In your search, you would have come across all the raving reviews by its affiliates, just putting out the sales pitch and trying to take a bite off the pie.
Here, I'm not promoting it, so you can be assured of my honest and in-depth review, aimed to help you make a better informed decision, so that you can see for yourself all its pros and cons, which its affiliates will never tell you.
Without further ado, let's dive right in now!
---
DFY Hero Review Summary
Product: DFY Hero
URL: https://getdfyhero.com
Creator: Cindy Donovan
Product type: Done for you websites
Price: $47 for 20 sites / $97 for 100+ sites
Scam / Legit? : Legit
Recommended or not? : It depends on what you need, but this is not for me.
DFY Hero is a suite of done for you websites, which you can use for your own online business. They look very professional and well done, but the major issue I have is that they are cloud-based, hosted on DFY Hero's server.
This means you do not own the websites. They can be taken down from the servers any time, due to whatever reason, then all your effort in building up your website would have gone down the drain.
Personally, I do not use anything that is done for me, because I like to have control over all aspects of my own business, so that I can make it work for myself in the most optimised way possible.
Check out how I establish my websites, with my #1 recommended training, tools and resources platform:



Read on for the detailed review of DFY Hero, and why I will not use it for myself.
---
What is DFY Hero
To find out what is DFY Hero, let us first take a look at its home page.



The 100+ done for you website designs actually cost $97. The standard account gets you 20 website templates for $47.
These websites are fully cloud based, and you do not need your own domain names or hosting, as they will be hosted on their server.
Not that these are good points. In fact, later on I will explain in greater detail why I do not like these supposed 'goodies'.

How does DFY Hero work
You can supposedly get things set up and running in 3 simple steps: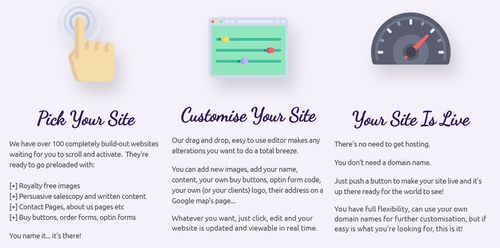 1. Pick your site from the templates available.
2. Customise your site, by editing the text, adding buttons, logo, forms, etc.
3. Your site is live, by just pushing a button. No hosting or domain name is required.

Why DFY Hero is not made to work for you
Now, DFY Hero is actually a plugin that runs on WordPress. So essentially, you are still running a WordPress site, except that you are paying for some designs that are done for you, and you do not own the websites. To me, this is a big thing.
You do not own the websites
Being hosted on their servers simply means that the websites that you will be creating do not belong to you, and you have no control over their fate.



Should one day the team behind DFY Hero decide that they cannot afford to provide free hosting for their customers anymore, there goes all the effort in building up your business.
And the fact that they can tell you that you do not need your own domain, instead of encouraging you to have one, tells me they prioritise their own sales more than your welfare.
Without your own domain, your sites will be living under the subdomain of dfyhero.com. It does not give your sites sufficient authority and credibility. You will also be at a lower footing in search engines, as they prefer sites with their own domains.
What's more, it will be difficult to build out your own brand, if you do not have something as basic as your own domain. So I really do not have a very good opinion of DFY Hero.

Traffic is not addressed
Though there is traffic training in the bonus, with websites that are not self-hosted and do not have their own domains, you will not be able to get the most precious form of traffic – free organic traffic.
This is traffic from search engines, that are looking for what you are promoting. If your website is established and has gained the trust of the search engines, it will be ranked high on page 1, and you will get unstoppable free traffic without having to pay a single cent on advertising.
With these done for you sites, plus the fact that the sales page makes it seem like everything is so easy, and that you do not have to do any work, you will never get ranked in search engines, no matter what they claim about this being your traffic generating blog.



Unless you are using these sites just to complement a brick and mortar business, without the intention of driving traffic to the business through the websites, then it should work for you.
But if you are hoping to use the website to create an online presence and thus drive fresh traffic to the brick and mortar business, then you would need to find your own traffic sources, whether it's through email marketing, social media traffic, or advertising.
What I can tell you is, I'm using free organic traffic to all my websites, and it is the best, not just because it is free, but mainly because it is so highly targeted.
My site shows up when people are searching for things. And because my content is built to answer their questions, my website visitors see the value I am providing, and learn to trust me.

Why you really do not need DFY Hero
WordPress has so many free themes that look professional
This website that you are on right now is using a free theme from WordPress, at the time of this writing. I may change it up in future, but for now I love it.
There are too many free themes in WordPress, hundreds and thousands, that are beautiful and professional-looking, all offered for free.
Why should you have to pay for some templates that may not have customer support follow-up months down the road, when the hype of the new product fades off?
On WordPress, you can easily identify themes that have great support, and are regularly updated. After using some free theme that you really like, you can then decide to upgrade to their paid version, for greater customisation to suit your needs.
You would then be buying something for which you had a chance to try out the free version, you would understand how well it has worked for your business needs, and the kinds of tweaks you need to make, to get exactly what you want.

Building up your own website is not as tough as they make it sound
Look at how complicated Cindy tried to make it sound, just to make you buy her DFY Hero.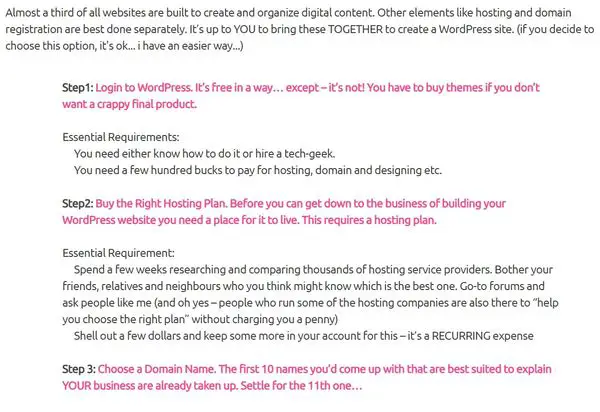 WordPress free themes are not crappy at all. They just lack the kind of customisation people would like, to really reflect their own taste and preferences.
If you compare a paid WordPress theme to this DFY Hero, I would say WordPress themes are much more value for money. Since DFY Hero has all its websites done for you, you cannot expect the same level of customisation as those paid themes.
And the way she talks about hosting and domain names is trying to convince you that you do not need those. Unless it's a company that has been around for years, otherwise I wouldn't just trust anyone with hosting, what more a product that is surrounded with this amount of hype.
Believe it or not, I had this WordPress site set up and running within minutes. And in 3 simple steps: choose a domain name, choose a website title, and choose a theme.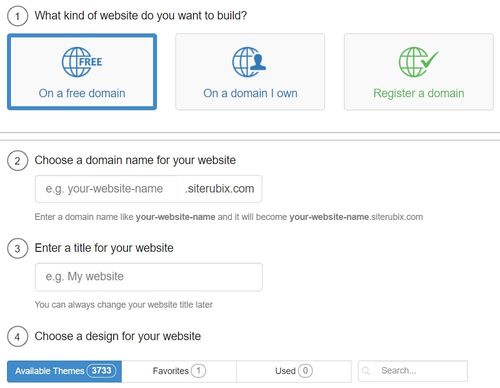 It is really nothing technical at all, when you find the right tools and resources. Wealthy Affiliate is the platform that allowed me to do this as a breeze. It is free for starter members.


The proper way to make money online
I guess everyone starts off wanting to make it rich fast, by doing as little work as possible. It's a very natural thing, that's just human nature. I wasn't spared of all the temptations on the internet myself.
But when I realised those done for you stuff are only going to make other people rich, and not me, I stopped looking for shiny objects.
I found a dull-looking object, but I knew in my heart that is the real deal. From then on, I have never looked back.
I am now working full time from home, growing my internet business, and making an online income. I started from scratch with zero knowledge in this area. If I can do it, you can, too.
Here's a peek into my earnings on a recent day:



As you can see, more than $100 a day is very do-able. And this is not even at its maximum potential yet, I'm still growing this business every single day.
Check out this training platform that provides all the resources, tools, along with an entire community of aspiring as well as already successful online income earners. The best part is, you get to start for free:
---
To round up this article, let me recap and summarise the pros and cons, before I finally make my conclusion.
Pros of DFY Hero
1. Real owner
Cindy Donovan is a real person, willing to stand for her product. I bought one of her earlier products before, to review it. It wasn't great, you can view my review here. Didn't live up to its hype too.
2. 30 day money back guarantee
This basic refund policy is in place, for people who are dissatisfied with the product.
3. It could be what you need
Depending on your circumstances, this DFY Hero could serve your needs well, then go for it. If you have your own traffic sources that you can drive effectively to these websites, or you are not even looking at driving fresh traffic to the sites, then it can be something that looks really professional, and can impress your existing customers.

Cons of DFY Hero
1. Just some templates that you really do not need
That's my personal take, that the templates in WordPress themes are good enough, they look beautiful and professional too.
2. Not able to get organic traffic to DFY websites
Since these websites are not self-hosted, and may not have your own domain names, it is difficult to gain the trust of the search engines.
The bottomline is: to get into the good books of the search engines, you simply cannot get around the hard work that is needed to create original, authentic and helpful content that your website visitors will love. Search engines will reward you for that.
3. Not self-hosted is no good
If you are not paying for hosting or domain name, then the websites are not your online property. They can be taken from you anytime.
4. Upsells
Just like any other product that is made to dig deep into your pocket, DFY Hero is no different. Right after purchasing the front end product, you will be bombarded with pricey upsells, even before you have a chance to try it out.
Upsell 1: $47 – Agency startup kit
Upsell 2: $17 per month, or $197 one time payment – Templates Club
Upsell 3: $97-$297 – Resellers License
---
Is DFY Hero Scam or legit? 
DFY Hero is definitely a legitimate product, since it will deliver its website templates. How much it will help your sales and traffic is another story altogether.
To me, I have not much use for it, just like these products that I have reviewed: NewsProfixPro, DigiProduct Lab, and Goodwill, to name just a few.
---
Recommendation
The most sustainable traffic for any online business is always organic traffic from the search engines. It takes time to build up enough credibility for the search engines to trust your site.
But once you reach there, there is no stopping the traffic that will land on your site, bringing in huge commissions.
To get your website ranked, the concepts and ideas are very simple. What is not simple is the grit and determination to keep going at it, keep creating unique content that will help your readers.
The fact that you landed on here is proof that this works.
Now, I want to show you a real deal. It does not promise instant results, but instead provides the knowledge and lifelong skills required to grow a successful online business, which is exactly what I have done. Check it out by clicking on the button below:



And for reading all the way to the end of the post, I believe you have it in you to make this work. Here is your FREE PDF Guide: 4 Simple Steps to Making Money Online. Fill in your details to claim it:


If you have any concerns or questions regarding this DFY Hero review, do comment below, and we will start a conversation from there.
---