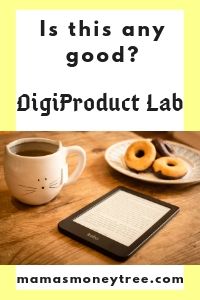 If you have heard of this newest product and are wondering what is DigiProduct Lab, how will it help you earn money, or is it going to be a total waste of your own time and money, then you have landed at the right place.
Welcome to my DigiProduct Lab review.
As you try to search for reviews on DigiProduct Lab, you would have come across all those raving reviews by its affiliates. If you just take a quick look around their websites, you will come to realise they sing praises of each and every product that they write about.
These people do not make money using those products they review. They simply ride on the hype of each new product launch, to mislead people into buying done-for-you, quick solutions that promise to earn you the big bucks fast, but never live up to expectations.
Here, you will be assured of my honest and unbiased in-depth review of DigiProduct Lab, as I am not promoting it. We will examine exactly why this seemingly easy short cut will not work for you.
Without further ado, let's dive right in now!
---
DigiProduct Lab Review Summary
Product: DigiProduct Lab
URL: http://digiproductlab.com/warrior/exclusive/
Creators: Glynn Kosky, Leigh Kosky, and Rod
Product type: software that creates ebooks as a lead magnet for email marketing
Price: $25
Scam / Legit? : Legit
Recommended or not? : Not recommended
DigiProduct Lab is basically a software that creates ebooks for you, so that you can offer them as freebies to your audience, hence building up an email list, which you can then promote other products to.
This is a legitimate method, which many bloggers and internet marketers have been using for years. But frankly, you do not need DigiProduct Lab to do this job, since it is not difficult at all to convert your own materials into an ebook, unless you do not have your own content, then it wouldn't be right to use others' content with this software as well.
If you do not want to waste anymore time and money on products that do not serve you well, check out my #1 recommendation on making money online:



Read on for the detailed review of DigiProduct Lab, and why I do not recommend it.
---
What is DigiProduct Lab
To find out what is DigiProduct Lab, let's first take a look at its sales page:



Using digital products as lead magnets to obtain people's emails, so as to build your own email list, which you can nurture and build trust, so that your subscribers can see how you add value to them, and may eventually buy stuff from you, is not a new concept at all.
Everyone online is doing it, including on my site. It stems from the idea that we should always give first, by providing value, giving advice and information freely, before potential customers will learn to trust us.
Now, let's see what exactly we will get from the software.

Creating the ebook with DigiProduct Lab
To create the ebook, you could possibly use articles from the library within DigiProduct Lab. The thing is, when you zoom in within your own niche, chances are higher that you may select the same article as another person also using DigiProduct, and send the same content to the same potential customer.
That would be the easiest way to break trust, I suppose? If you want to make money online, and yet are not willing to put in the work involved that will get you to success, your audience will be able to tell, how authentic you are, whether you put their needs first, or are only concerned with making money the fast and easy way.



Alternatively, you could create your ebook from any URL of some website whose content you like. What? Really? I was flabbergasted when I saw this.



This is definitely not good. To actually tell people that they can take the content off any website, how different is that from stealing? What is the world coming to?
This is the one thing I simply cannot accept of DigiProduct Lab. They can't just teach people to do wrong things just to make life so easy for their potential customers that they would buy their product.
Doesn't this reflect on their character as well? If they can say it's alright to do something wrong, just to get your money, would you trust that their product would add the most value in your interest?
One thing I like (probably the only thing), though, is the templates for the ebook cover that you get to choose from. Those are quite nicely designed, so it saves you the time and hassle of coming up with your own from scratch.

Landing page to send your traffic to
So how are people going to know that you are offering your free ebook? Within DigiProduct Lab, you can also design your landing page for sending your traffic to. On this landing page, there is a field to capture your audience's email address, which they would have to fill in if they want to get the ebook.
If you have your own website, you would place this landing page in there. If you do not have a website, you could possibly put the URL link to this landing page on any social media platform, forum, etc. where you think you could get traffic.
However, do be mindful that putting your link all over the place on a platform where you have not established yourself can be frequently seen as spam, getting your social media account banned, or kicked out of the group, or something to that effect.
And without a website, you do not have a chance to build rapport and trust with your audience. You would be seen as just a salesperson trying to get their money. After collecting their emails, you could then follow up with things that you want to promote.
But you cannot expect people who do not know you to buy things from you right away. That is why a website is the premise for any online business' strong foundation.
Each time you send an email to your list, with your own website link at the bottom of the email, your customers can keep coming back to your site to interact with your content, and learn to trust you more and more.
So frankly, I do not see any need for this DigiProduct Lab, since it is with a few clicks that I can convert my own content into a digital ebook, a PDF file, for my readers to download and consume in their own time.
There is nothing technical about making an ebook. What are much more critical are things like your traffic source, the quality of your autoresponder, and the effectiveness of your entire email campaign.

The proper way to promote to an email list
To me, the business model is a very simple one. You need your very own website, and then you need organic traffic landing on your site.
Organic traffic is traffic coming from search engines. When people search for keywords related to your niche, search engines will pull out websites that they believe will answer the users' questions in the most complete and authentic way.
So if you can create content on your site that earns the trust of search engines, you will be in for some unstoppable organic traffic, completely free.
Organic traffic is the most valuable, because these are people actively searching for something that you are promoting. What it means is that they are ever ready to buy, if you can gain their trust.
On your site, visitors interact with your content. If they like what they see, they may provide their email address to get onto your subscriber list, and at the same time get your ebook freebie to try and learn more from you.
This, in my opinion, is the best way to build a list, because the relationship is grounded on trust.
On the other hand, if you simply throw your landing page all over the internet, without a website, there is zero chance for engagement, and people who get onto your list just to get that freebie will very quickly unsubscribe the moment you follow up with your email campaign to try to sell them things.

How to gain organic traffic
This is where it gets tough, because I have to be frank with you that free organic traffic is the best, and yet it is the hardest to get. The idea is simple, but the work is not easy. It takes time, grit, and lots of perseverance.
I am doing it the free organic traffic way. That is how you landed here. I do not have to spend a single cent on advertising to get people to land on my site. Neither am I currently using any form of social media marketing.
The traffic to my site is 85% organic, 10% from my email list, and the remaining 5% through social media sharing, not by me but by my website visitors.
It took me months to build this up, but I wouldn't do it any differently if I had to do it all over again. This is the way to go, because it lays a rock solid foundation for my business, the rewards will come after I put in all this hard work.
I am now working full time from home, growing my internet business, and making an online income. I started from scratch with zero knowledge in this area. If I can do it, you can, too.
Here's a peek into my earnings on a recent day:



As you can see, more than $100 a day is very do-able. And this is not even at its maximum potential yet, I'm still growing this business every single day.
Check out this training platform that provides all the resources, tools, along with an entire community of aspiring as well as already successful online income earners. The best part is, you get to start for free:
---
Pros of DigiProduct Lab
1. Real owners
The creators of DigiProduct Lab are real people, able to stand for their product, which is something, considering how some lousy ones dare not even make an appearance.
2. 30 day money back guarantee
This basic refund policy is in place, for people who are dissatisfied with the product.
3. You will get your software that does what it does
Yes, you will be able to create your own ebook in seconds, using your own content (this should be the way to go), or taking articles from the DigiProduct Lab library (this is legal, it's an alright method because those have private label rights),
I hope you never go down the path of using something you find off the internet and placing the URL in DigiProduct Lab to make it into your ebook, that would be unethical.

Cons of DigiProduct Lab
1. You really do not need a software to create an ebook
It is just a few clicks to convert your content into a downloadable PDF file, so you really do not need any software at all.
2. Traffic will not be targeted unless you have your own website
Look at how DigiProduct Lab teaches you to drive traffic: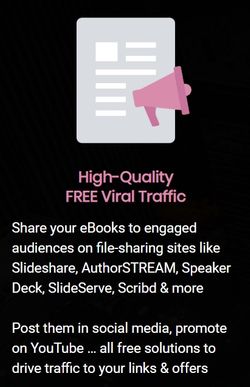 These are not targeted sources at all. Ok, people may grab your freebie simply because it is free. But once you start selling them stuff through your email campaigns, most of them will be running as fast as they can, as they do not know you at all.
3. Upsells
Just like any other product that is created to dig deep into your pocket, DigiProduct Lab is no exception. Right after you buy the front end product, before you even have a chance to try it out, you will be bombarded with pricey upsells.
Upsell 1: $67 – Unlimited edition
Upsell 2: $97 – Automated traffic
Upsell 3: $67 – Done for you products and funnels
Upsell 4: $47 – List builder funnels
Upsell 5: $67 – Bonus builder app
Upsell 6: $197 – License rights
Personally, I dislike upsells, because they use such marketing tactics that make you feel like you would be losing out on maximising your profits if you do not get those upsells.
---
Is DigiProduct Lab Scam or legit? 
DigiProduct Lab is definitely a legitimate software. But that doesn't mean it is of any use to you. If it were so good, these product creators will not have to launch one product after another, each time claiming that it would be the last software you will ever need.
Some of their more recent previous products include Commission Shortcut, xPress Funnels, and Traffic Multiplier, to name just a few.
---
Recommendation
Do not take easy shortcuts, or any done for you systems, because those are not meant to work for you, but for their creators.
Your success is in your own hands. It is up to you to build it up.
I want to show you one proper way to go about making money on the internet, that I believe is the best, that I am personally using and seeing great results.
This real deal does not promise instant results, but instead provides the knowledge and lifelong skills required to grow a successful online business, which is exactly what I have done. Check it out by clicking on the button below:



And for reading all the way to the end of the post, I believe you have it in you to make this work. Here is your FREE PDF Guide: 4 Simple Steps to Making Money Online. Fill in your details to claim it:


If you have any concerns or questions regarding this DigiProduct Lab review, do comment below, and we will start a conversation from there.
---