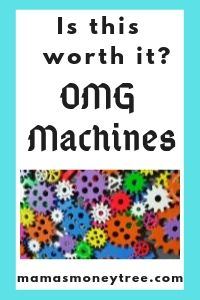 Exactly what is OMG Machines, that sounds so scammy? You'd be surprised that this turns out to be rather solid training, despite its name that sounds completely out-of-this-world.
Welcome to my OMG Machines review.
OMG here actually stands for One Man Gang, meaning that after taking this course, you will be well-equipped to run an online business all on your own.
The power of SEO (search engine optimisation) is seriously staggering, something not to be trifled with. It is exactly what OMG Machines teaches its students, and with an even more staggering price tag.
Join me in this honest and in-depth review of OMG Machines, as I show you what the training is all about, so you can decide for yourself if this is worth the thousands of dollars.
Without further ado, let's dive right in now!
---
OMG Machines Review Summary
Product: OMG Machines
URL: https://omgmachines.com
Creators: David Mills, Mike Long, and Greg Morrison
Product type: SEO (search engine optimisation) training and building your own websites for affiliate marketing, or help clients run the SEO aspect of their businesses.
Price: $7,999 or 12 months installment of $699 each.
Scam / Legit? : Legit
Recommended or not? : Not recommended, though their training is superb, price is exorbitant. There are much more affordable options out there.
OMG Machines is about getting free organic traffic to your affiliate websites through SEO. This is the best way to do affiliate marketing, I have seen its power, because this is exactly how I'm doing it.
I know it works, because it is working for me, without having gone through OMG Machines' training.
The affiliate marketing training that I did also focuses on SEO, at a much more affordable price. Check out my review of it by clicking the button below:


Read on for the detailed review of OMG Machines, and why I do not recommend it.
---
What is OMG Machines
To find out what is OMG Machines, let us first take a look at its website.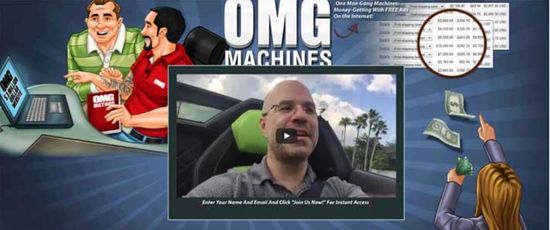 Lots of Hype
My first impression of its marketing materials and sales tactic is that of fluff. Lots of it. With all the earnings claimed to be made by them and their students.
I do not doubt these at all, I know what they teach really do work. But not everyone will be able to reach that level of success, so I do not like this kind of hype that they are using to get new customers to purchase OMG Machines.
In any legitimate business model, there will be some geniuses who attain ridiculously fantastic results, many others who are mediocre, and yet others who do not persevere long enough to see the success they wished for.
Ultimately, OMG Machines still makes the disclaimer, just like every other product. At the bottom of the homepage, in tiny print, they state that those earnings are non-typical.

What you get inside OMG Machines
Besides comprehensive video training which is the core of what you should cover, as a beginner, there are live webinars, over the shoulder training, hot seat coaching, etc. when you join OMG Machines.
Content is being updated and added regularly, with the support of a community that will keep you inspired and pressing on even when the going gets tough.
And yes, it will get tough, no kidding. Do not let anyone trick you into thinking this is an easy way to get rich.
If you think you're paying $8K for the easy way out, then forget it, this will not work for you, neither OMG Machines nor what I'd be recommending as the much more affordable option.
But if you are prepared to put in the hard work, then continue to read on so as to decide for yourself which program suits your needs better.

The main skills and knowledge taught in OMG Machines
In gist, these are what you will be learning:
Using SEO to rank your affiliate websites in search engines
I firmly that this is the way to go if you want to do affiliate marketing.
Organic traffic from search engines is the most targeted and sought after kind of traffic, not just because it is free, but also because these people are actively searching for what you have to offer.
When you show up to answer the questions they have, they will be more ready to take up your recommendations, and purchase products through your affiliate links.
That is how you can earn your commissions.
Use your SEO knowledge and skills to be a consultant
If you can see yourself helping clients to run the SEO aspect of their websites, as the specialist, then OMG Machines will also cover all the details that you need to know, to get started.
eCommerce and Dropshipping
Though quite a different model from affiliate marketing and SEO consultancy, it is also possible to make money with eCommerce, if you learn from the right people, and stick with what you do until you see results.

Pros of OMG Machines
There are many pros to this top-notch program, run by some of the most successful internet marketers who will not hold back in what they teach you.
1. Established founders who are huge successes in their own rights
Mike Long, Greg Morrison, and David Mills are the best experts in their own specialties, coming together to truly add value to their students.
They are great people, of great character. I do respect them, though I'm not prepared to buy or promote their product.

2. They have customers' interests at heart
Apparently, this program's opening is seasonal. When there are sufficiently many students, they would close the sign up page, so that they can focus on the new batch of students.
That's definitely a plus point, and I do not think it is anything similar to those fake scarcity tactic that we see a lot of, in those lousy, scammy programs (like 30 Day Success Formula, China Cash Clone, and Too Damn Easy, to name just a few).

3. Training is top-notch
The core training teaches solid stuff about ranking your websites through SEO. Then you have all the other aspects of the program that pack it to the brim.
SEO is something that will keep changing, as the internet landscape changes. You can't rely on techniques that are even 2 years old, things that worked 2 years ago may be causing your rankings to suffer today.
Hence it is ultra important to have product owners who are at the forefront of developments in whatever areas of internet marketing that they are teaching, in order not to fall behind times.

Cons of OMG Machines
1. Over the top pricing
Needless to say, this is the biggest factor that would make anyone think twice, thrice, and many more times about joining OMG Machines' program.
Despite all the good words I have said about it, I will not promote it, because I do not believe it is worth that kind of price, knowing there are equal world-class quality training on SEO that does not cost an arm and a leg.
2. Hyped up marketing materials
These guys behind OMG Machines are fantastic people, and it really makes me wonder why they have to resort to all that hype on their sales pages, in order to get people joining their program.
3. No refund policy!
This is another big thing. No refund for an $8K product?! No trial?
What if after going through the training, you discover this is too much work for you, and you decide to take a different business model altogether?
A refund of a certain percentage within the first month, say, would make it much more palatable. Unfortunately, that is not to be.
So if you are going for this, it will be a huge upfront investment, plunging right down into the depths without any idea how much oxygen there is in the tank.

If you are still keen to join OMG Machines
I have presented everything I know about OMG Machines very frankly.
If you think this is for you, and you have the extra cash to make it happen, then let me direct you to someone whom I think you can benefit from, by joining through his affiliate link.
Jeff Lenny is a highly successful affiliate marketer who is promoting OMG Machines, and from what I know, he offers some bonuses to people who sign up with his link. But don't take my word for it, do check it out for yourself, before you actually sign up.


There is zero benefit to me by channeling you to his page (he does not even know who I am).
Only because you landed on my site, it is my responsibility to give you the best.

Finally, for those who are still unsure, let me unabashedly pull you in this direction:

The world-class SEO training that is totally affordable
This is the training that I took, that has opened my eyes to the wonders of what free organic traffic can do for a business.
And I will never get enough of this, because I know it works.
Among all the programs and platforms I have seen, in reviewing them on this website, Wealthy Affiliate is still the big winner, hands down.
They teach simple yet powerful concepts and ideas, with step by step guidance on any technical aspects of things, such that a complete beginner can follow through.
And a complete beginner, that's what I was, when I first started out.
I recognised the real deal that Wealthy Affiliate is, the moment I tried out their free starter membership, which got me 2 free websites.
A few days later, I took up their paid membership, which was such a no-brainer to me, seeing the kind of value I was getting.
And the rest is history.
I am now working full time from home, growing my internet business, and making an online income.
I will be upfront with you: this takes time to work. And if you work for it, it will work for you.
Here's a peek into my earnings on a recent day:



That's almost $200 in just one single day. It's nothing to boast about, though, as it's just a small fraction of its full potential. I just wanted to show you the possibilities.
Check out this training platform that provides all the resources, tools, along with an entire community of aspiring as well as already successful online income earners. The best part is, you get to start for free:
---
And for reading all the way to the end of the post, I believe you have it in you to make this work. Here is your FREE PDF Guide: 4 Simple Steps to Making Money Online. Fill in your details to claim it:


If you have any concerns or questions regarding this OMG Machines review, do comment below, and we will start a conversation from there.
---