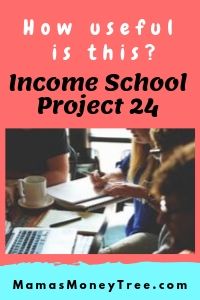 What is Income School? Is it legit training for building up an online income, or is it to be thrown in the dumps, together with all those useless formulas and secrets?
Welcome to my Income School review.
You have found a real deal. This is a solid training program that teaches its students how to set up a website, get traffic to it, and then monetize it.
It is great stuff!
So join me in this honest and in-depth review of Income School, as I show you the extent of content covered in there, especially its flagship Project 24, and share why I think you should go for it if you can afford it.
Without further ado, let's dive right in now!
---
Income School Project 24 Review Summary
Product: Income School Project 24
URL: incomeschool.com
Creators: Ricky Kesler and Jim Harmer
Product type: training on monetizing with niche websites
Price: $499/year for the first year, $199/year subsequently
Scam / Legit? : Legit
Recommended or not? : Yes, recommended
Income School Project 24 is solid training that teaches you to set up niche websites, get traffic to them, and monetize the sites.
It takes some hard work, and patience to get results. But there is no short cut around this if you want to make a serious income online.
It is great for beginners and experienced internet marketers alike, because there are different strategies that cater to different groups of people.

---

What is Income School
To find out what is Income School, let us first take a look at its website.



It is essentially a training platform, that consists of its core training of 60 steps called Project 24, along with other services like Immersion Program (a 4-day in-person program to transform your site into a profitable business), and private coaching based on an hourly rate.

Who are Ricky and Jim?
Ricky and Jim are two friends – internet marketers who have built very successful niche websites that are earning them a great online income.
And they want to share all their experience and knowledge with people out there who are also trying to achieve a passive income through the internet.
I find them to be very sincere people, who add a touch of light-hearted humour to their course.
At least I know for sure they are teaching great stuff, because the training platform I learnt from (not Income School) are teaching the same principles, and it has worked for countless successful internet marketers, including my own sites.

What is in Project 24?
Project 24 is named as such, from the idea that you should give yourself 24 months to see success with your niche websites.
I love this, because it sets the right expectations from the onset. It may not take you that long, or it may take you longer, no one can tell for sure. There are too many factors involved, like niche selection, traffic method, conversion effectiveness, etc.
But one thing is for sure: You can't fail so long as you do not give up.
This is the right path. If it doesn't lead you to success, then it may not be easy to find anything else that will.

60 Steps
In this core training of the program, the first 5 steps get you set up with your WordPress website. If you want to make an online income, owning a website is something you cannot get away with.
The rest of the 60 steps revolve around content creation, some SEO (search engine optimization), promoting on Pinterest and Youtube.
Following these 60 steps closely will allow the roots of your niche website to spread deep and strong into the ground, giving you a solid foundation to build an empire out of it.


Other courses in Project 24
'60 steps to a successful site' is the most important course that you will need to cover in detail. There are other courses that complement this, which are equally great, and you should prioritize them according to your needs. They include:
How to choose a profitable niche
SEO
Social media marketing
Email marketing
Hiring writers
Monetizing your site with ad networks
Success mindset
and more…
The great thing about Project 24 is that these courses are not stagnant. Ricky and Jim will update them, or add new ones, as and when a need arises.
This is ultra important, in the ever-changing landscape of internet marketing.

Podcast
Ricky and Jim have an established Youtube channel, where they share their knowledge very freely and generously.
But for the members of Project 24 only, the most valuable podcasts are made exclusive.
New content will be added, to provide the latest strategies and techniques, for stuff like SEO, marketing, monetization, etc.

Community
The pivotal role that a supportive community plays in one's internet marketing journey cannot be stressed enough. It is the reason why I am still an active member on the training platform that I began my online journey with.
All the inspirational success stories, real struggles of real people, a conglomeration of like-minded budding entrepreneurs who are there for one another – these are what will keep you going when things get tough.
Without the community aspect, you wouldn't be reading this because I would have given up long ago, long before I could get a glimpse of success.
Hence the active and buzzing community inside Project 24 adds tremendous value to the program.

Will Project 24 work for you?
You just need to spend a bit of time on my website to know that out of the hundreds of programs that I have reviewed, I only give my thumbs up to a handful.
I am not one who blindly write raving reviews just to earn a commission, without sparing a thought for the value it would add to my readers.
I only recommend solid products that will provide a good grounding for anyone just entering the internet marketing space, as there are too many scams and crappy programs online that just try to dig into your pockets unethically.
So, yes! Project 24 is one of your best bets, if you want to find success with making money online.

---
To round up this article, let me recap and summarise the pros and cons, before I finally make my conclusion.
Pros of Income School Project 24
1. Real owners who are successful in doing what they teach
As Ricky and Jim continue to build out their own niche websites, they share their strategies and techniques alongside it. And by the fact that they are so transparent with sharing their websites, it says a lot about their integrity and trustworthiness.
2. Solid training, grounded on sound concepts
Everything that they teach in Project 24 is the way that any niche or authority website should be built and run. There is no 'secret formula', 'money-making machine' kind of get-rich-quick nonsense.
3. Reasonable price
They could have easily charged more with this course, but they did not. Elsewhere, for the kind of value offered, training programs could go up to a few grands.
But I totally understand that $499 is not a small amount. If you read until the end of this post, I will be showing a much more affordable alternative to Income School Project 24.
4. Community
The community aspect of any training platform cannot be stressed enough. This is especially valuable if the coaches are often in there as well, answering questions, contributing to discussions, etc. And it is precisely what Ricky and Jim are doing.
5. Content is up to date
A dead ebook or video training that does not evolve is no good. Things change at lightning speed on the internet. It is easy to get left behind and implement outdated strategies if we do not follow teachers who frequently update their content.

Cons of Income School Project 24
1. Not enough focus on using keyword research to get free organic traffic
Currently, I am getting almost all my traffic to this website from search engines. I do not dabble in any form of paid traffic (at least not yet).
This is accomplished by finding low competition keywords to base my content around, coupled with effective SEO techniques to earn the trust of the search engines, thus getting the site ranked high in search results.
This way, I never have to promote my website at all, on any social media platform, forums, etc. My readers will do the promotion for me, when they find my content helpful.
What is taught in Project 24 does not really focus on the keyword research aspect, which is something pivotal to how my websites get ranked.
2. Just a training platform, without the tools and infrastructure
What I mean by this is that Income School does not provide the infrastructure for you to launch your websites. Hence when it comes to the technicalities of building a site, you still have to figure things out for yourself.
3. There is no free trial, and no refund
Considering $499 is no small sum, I think it would be nice if they could offer some free trial, with limited access to their training, so that people get to at least see some of the content for themselves, and gain a better sensing about it, before investing the money.
---
Is Income School Project 24 Scam or legit? 
Income School Project 24 is not just legitimate, it is awesome, a rare gem, in fact.


See also: Grant Cardone University, The Super Affiliate Network, and ClickBank University.
---

A cheaper alternative to Income School Project 24
If you are not ready to invest $499 at one go, let me show you a cheaper alternative, which definitely does not pale in comparison.
It is the training platform that got me started on my online journey as an affiliate marketer. This program is called Wealthy Affiliate.


It lives by the same principles as Income School – that it takes lots of grinding at your website if you really want to build an online income.
At a much more affordable price of $49/month (discounted price of $19/month for the first month), or a yearly payment which works out to be only $30/month, this is much lighter on your pocket.
What's more, Wealthy Affiliate is not just about training.
It is also a tools and resources platform, with hosting and domain services, that allow you to build your websites from scratch in a matter of minutes, due to the power of the website builder integrated into the system.
Here is a comparison table between Wealthy Affiliate and Income School Project 24:


And for reading all the way to the end of the post, I believe you have it in you to make this work. Here is your FREE PDF Guide: 4 Simple Steps to Making Money Online. Fill in your details to claim it:


If you have any concerns or questions regarding this Income School review, do comment below, and we will start a conversation from there.
---