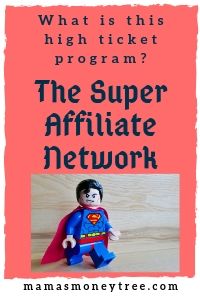 Many people have been buzzing about the Super Affiliate Network scam in the recent days. Is it real? What are the controversies about? Why are there such polarised views on this program?
Welcome to my Super Affiliate Network review.
I'm glad you are checking this out, before deciding whether to purchase the product or not. You really can't be too careful, with the myriad of offerings on the internet these days, it is not easy to find the best program that will lead you to the success in building an online income.
In this article, I will provide an in-depth look into this high ticket program, and contribute my own honest, unbiased views about it, that I hope can help you make a better informed choice than before you landed on my site.
---
The Super Affiliate Network Review Summary
Product: The Super Affiliate Network
URL: https://thesuperaffiliatenetwork.com/
Creator: Misha Wilson
Product type: affiliate marketing program
Price: $47/month for Basic Membership Plan, $2497 for Pro, and upwards of $12K for Maui Intensive Mentoring
Scam / Legit? : Legit
Recommended or not? : It depends on what you want, and your skill set.
The Super Affiliate Network has great affiliate marketing training at the basic membership level. It can be useful to educate yourself. But to go beyond that, many people will start to find the prices exorbitant, and it is actually a pay-to-play program, if you want to promote it as an affiliate.
At the core of how it runs, it is very similar to an MLM (multilevel marketing) scheme. So I do not recommend it as a business opportunity.
If you are interested to learn about and make money from affiliate marketing, check out my #1 recommendation:




Read on for the detailed review of The Super Affiliate Network, and why I think it is alright as an educational program, but not as something to promote as an affiliate.
---
What is The Super Affiliate Network
To find out what is The Super Affiliate Network, let's first take a look at the information presented on its home page.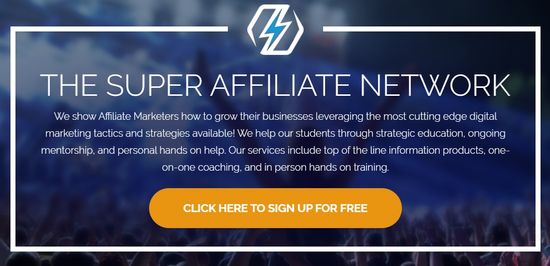 Touted as a program that includes informational products, one-on-one coaching and hands on training, one of its main focus is also its own affiliate program, where members can choose to promote SAN (The Super Affiliate Network).
Its informational products are mainly internet marketing strategies geared towards paid traffic, including Solo Ads, email marketing, and other forms of advertising to get traffic to your affiliate marketing business.


Who is Misha Wilson?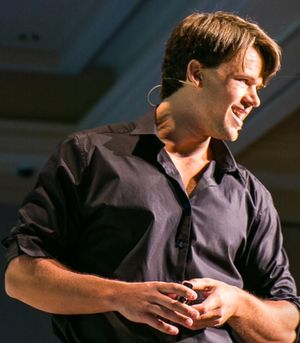 The founder of SAN is a very young and successful internet marketer, one of the best known traffic and conversion experts. He is a multimillionaire, and is a real person, who is not stingy in teaching all the great strategies he knows that has helped bring his company to such a huge success in a matter of a few years.


Pricing Plan for The Super Affiliate Network
This part can get a bit confusing, because there are various membership levels, with different pricing options, as well as some products that are included in the higher levels, but not the lower ones.
Let's get this part sorted out.
Basic Membership Plan: $1 for a 7-day trial, followed by $47/month. OR $37/month without taking the $1 trial. This gives you a three-week bootcamp on internet marketing. You can get the Solo Ad Success Formula for $97, and Super Affiliate Monthly Newsletter for a one-time fee of $47.
Pro Membership Plan: $2497, for access to the Mastermind Facebook group, as well as more advanced lessons, sales funnel templates and tools, and support.
Maui Intensive Mentoring Course: $12,497, for a 4-day course with Misha's personal team, taking place in Maui.
As you can see, the cost beyond the Basic Membership sees a huge leap, and becomes unaffordable for many people.
Now, let's examine in more detail what you will be getting with each product and membership.


The Super Affiliate Network Basic Membership
This is essentially a three-week bootcamp course, which is the heart of SAN's training. It gives you very relevant and applicable ideas and strategies that you can use even for your own business.
You will learn email marketing, building your own email lists, how to sell to your customers, how to automate your sales funnels and campaigns, the millionaire mindset, and lots more, all covered in 21 modules, one per day.
This means you will need a minimum of 3 weeks to complete the course, which also means you can't just pay for the $1 trial for 7 days, and expect to be able to learn everything there is to pick up inside.
But you can choose to take up the $37/month plan without trial, and complete the course within the first month. This is a very affordable option, and something I would recommend doing, to get the most out of SAN at a very reasonable price.
You would be learning the trade from one of the most successful marketers out there, but bear in mind this is not a get rich quick scheme, it requires you to put into practice the skills and knowledge, with some hard work, and lots of luck if you are a complete beginner.
Why do I say that?
It is because SAN's training mainly teaches paid traffic methods, something that I personally do not recommend if you are a complete beginner to internet marketing or affiliate marketing.
Solo ads and email marketing are legitimate traffic methods. Solo Ads is about buying other people's email lists, and sending your campaigns through them. Firstly, you can't be sure the list is targeted, even if the list owners say so.
This means you could be paying hundreds and thousands of dollars, all to be washed down the drain, if you do not know the industry and market players well, and do not know what you are doing. This is a heavy upfront investment, even before you start making any money, which puts you into a hole that you have to dig yourself out of.
Paid traffic is generally an easier method because it can get you results fast, provided you have already gone through the steep learning curve, by paying while you learn to master this art and science of paid traffic. It is very risky for beginners.


The Super Affiliate Network Pro Membership
From here onwards, you will start to sense the core business behind SAN. It is not simply an informational product. It is actually big on making money for itself. I mean, I really wouldn't pay $2.5K even for the best program in the world.
Yes, you get tons of additional modules, like Authority Hacking, Magnetic Selling Machine, etc. which are quite robust and great, legitimate training, though their names sound rather scammy.
You will experience much more coaching and support, for instance through the Mastermind Facebook group, as well as tools like templates, sales copies, etc.
But, still…


The Super Affiliate Network Maui Intensive Mentoring Course
It just got worse, hasn't it? $12.5K for 4 days? This is really over the top. But I believe there are actually people who would pay for this, though they must be few and far in between.
The incentive structure is built in place to entice those who can afford to part with their 12 grand to take it up, with the hope of earning commissions that can cover this cost, and more.
What do I mean by that? Read on to learn more…


The Super Affiliate Network is a high ticket program
High ticket program does not just mean it is expensive. It also means you need to buy a ticket to enter the game, like a pay-to-play system.
In SAN, if you want to promote any level of membership, you must have first bought that level of membership for yourself, otherwise you will not be able to earn any commission even if the person who signs up through your affiliate link goes on to upgrade his or her membership, while you did not.
This makes it a program that tends to be under close scrutiny by FTC (Federal Trade Commission), which has closed down dubious high ticket programs in recent years, all in the digital education scene like SAN, that operate like MLM (multilevel marketing) schemes.
Examples are MOBE (My Own Business Education) and Digital Altitude.
From what I can see, SAN does have a solid product, in terms of its training and mentoring programs. Hence it has been spared, so far.
In fact, many of such high ticket internet education programs have moved away from requiring their members to have purchased the particular level of membership in order to earn from it. I hope SAN will move in the same direction too.
Until then, I do not think it is a good idea buy into their expensive Pro membership just to earn from it, since such an expensive product will be extremely difficult to sell. Spending $2.5K just like that, you may never recover it even if you make one sale. What if you do not make any sale? It won't be an easy task getting people to part with their thousands of dollars of hard-earned money.
Even to earn from the basic membership, you would have to continue to be their paid member. There would be not much value in the basic membership after you complete the 3-week bootcamp course, so to remain as a paid member is simply so you can earn 70% of your customer's fees, provided they remain as paid members too.


Affiliate marketing is not a pay-to-play scheme
Real affiliate marketing does not require you to pay to play the game. Merchants and retailers recognise their affiliates as already doing free advertising for their brands and companies. So you definitely should not have to pay a single cent to start promoting products or services in a regular affiliate program.


Is The Super Affiliate Network an MLM?
This is another question that sparks controversies, as the affiliate program in SAN in a two-tiered one.
When people who join through your affiliate link get others to join the program as well, you will earn a 5% commission.
Though true MLMs have compensation schemes much more complicated than this simple version, but true affiliate marketing should not have anything more than a direct commission for people who purchase a product through your affiliate link.
So you can say SAN is sort of a hybrid between the two, that is why the controversies.


True affiliate marketing
Now, let me present to you what true affiliate marketing should be all about. In fact, it is how I am earning my online income.
You can choose any niche you want
In affiliate marketing, you can choose to focus on any niche you like, whether it's some health issue, or a hobby, or parenting, traveling, etc. Something you are passionate about. You should not have to restrict yourself to promoting the membership of any company, unless that is really what you want to do.
You should not have to pay to promote
Affiliate marketing does not have a cost a single cent, no company should ask you for money in order to help promote their products or services, it just does not make any sense. Companies that do have profits as their first priority, and not their customers.
You should be meeting a need
If people come looking for you, asking how they should deal with their arthritis, and you show them a great product that can alleviate their discomfort, then you are meeting your customers' needs, while making money at the same time, at no extra cost to them, and not in an exploitative manner.
Take a look at some complaints about The Super Affiliate Network, and you will understand what I mean:







As you can see, people are hardselling the product, just to get referrals into the Pro membership to earn the hefty commission out of their poor customers, not because there is any value to be added to their customers' lives, since it would be so difficult to make any money out of this opportunity.


How I get free traffic to my affiliate marketing business
This is another major drawback I see with The Super Affiliate Network, that they mainly teach you to buy traffic, using Solo Ads, and other forms of advertising.
Paid traffic is totally legitimate, but not for beginners, and not for the faint-hearted or risk-averse people like me.
There is no guarantee that you will get any results with paid traffic, since it all depends on the quality of the traffic that see your offers. If you do not make any sales, you could be throwing thousands of dollars down the drain.
I much prefer my method, to get free traffic. Of course there has to be a tradeoff, just like for anything in life.
I do not have to spend a single cent, but my free traffic method takes work. Which I'd gladly do, because at the same time that I work on it, I am also building up a rock solid foundation for my affiliate marketing business, such that it will continue to reward me months and years down the road.
With paid traffic, the moment you stop paying for ads, traffic stops. The main method taught in SAN has no pillars, there is nothing to support yourself on, because you are simply buying other people's email lists, and marketing your offers through them.
There is nothing to this model of business, if you can get what I am trying to say. You do not own anything, nobody knows who you are, there is no way to build a brand for yourself, nobody can find you if they tried to.
On the other hand, I build my business on a solid and deep foundation, such that search engines send free traffic to me, whenever there are people searching for answers related to my niche, related to what I am offering.
So I am right there to meet the needs of these people, who are looking for my offers. That is how I end up with absolutely free traffic that will convert at the highest rate. I do not have to go around selling and promoting my offers to anyone, potential customers come looking for me by virtue of the search engines.
If this sounds good to you, click the link below to hop over to my other post, where I will explain in much more detail how this business model works:


---
Pros of The Super Affiliate Network
1. Real owner who is highly successful
Misha Wilson is a highly successful internet marketer, that can only be a plus point. I believe he truly wants to provide people with the skills and knowledge to succeed, but at the core of his business, I think profit is his first priority.
2. You can start for as little as $1
That's basically like free. If you do not like what you see, then you would have lost nothing, just get out of there within the first 7 days. If you like the training, paying $47 for just one month is a pretty good deal for the quality training in their bootcamp course. If budget is a constraint, then quickly complete the course within that month, so you do not have to continue paying for the basic membership.
3. There is value in the training
The bootcamp course is the core of The Super Affiliate Network, and I believe it would serve any beginner or even intermediate and advanced affiliate marketers well, especially if paid traffic is the way you choose to go.
Beyond that, the training and resources you get would be more specific to promoting this company itself.


Cons of The Super Affiliate Network
1. High ticket program, with a tinge of MLM
You have to buy the expensive Pro membership in order to make commissions from it, when people sign up through your referral links. Even for the Basic membership, if you want to earn commissions, you need to stay as a paying member, on their monthly subscription, with not a lot of value in terms of education and resources beyond the initial bootcamp course.
And then there is the two-tiered commission structure, which resembles the multi-tiered compensation plans in MLMs.
2. Paid traffic
Paid traffic is not my cup of tea, especially when there are ways to get free traffic, which is in fact higher quality than the paid ones, from my experience. The methods taught in SAN also do not help you build out a strong foundation for your business, especially if you are simple promoting SAN as its affiliate.
3. Too expensive
I think this will be the deal-breaker for most people. Whatever beyond the basic membership is really too over-the-top.
---
Is The Super Affiliate Network Scam or legit?
The Super Affiliate Network is not a scam. In fact, its core product, which is the 3-week bootcamp affiliate marketing course inside its Basic membership, has some great value to it, provided you try to complete it within the first month.
---
Recommendation
I do not recommend The Super Affiliate Network as a business opportunity, because of it being a high ticket program. It is risky with such a huge upfront investment, like Legendary Marketer, Six Figure Success Academy, and Super Affiliate System, to name just a few.
Affiliate marketing is a great way to start making some money on the internet, because of its low cost. What's even better is there is actually a free traffic method that can get you real and sustainable results. You must be prepared to put in the work, though.
This real deal does not promise instant results, but instead gives me knowledge and the lifelong skills required to grow a successful online business. Check it out by clicking on the button below:




And for reading all the way to the end of the post, I believe you have it in you to make this work. Here is your FREE PDF Guide: 4 Simple Steps to Making Money Online. Fill in your details to claim it:



If you have any concerns or questions regarding The Super Affiliate Network review, do comment below, and we will start a conversation from there.
---
Please follow and like us: