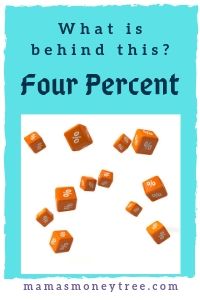 You must be wondering what is Four Percent, with all the controversies and contradictory views surrounding it. What stories are behind its founder, Vick Strizheus?
Welcome to my Four Percent review.
You have landed at the right place. I am not promoting this product, so you can be assured of my honest, unbiased and in-depth review of Four Percent.
Will it really get you what you want, instead of Vick Strizheus getting what he wants, as he puts it? What are the hidden costs in this product? How exactly does it work? Can you apply it to your own business, or do you have to promote Four Percent?
We will answer these and much more.
Without further ado, let's dive right in now!
---
Four Percent Review Summary
Product: Four Percent (used to be called 4 Percent Group)
URL: https://fourpercent.com/
Creator: Vick Strizheus
Product type: Online education platform for entrepreneurs
Price: $49/month + other costs
Scam / Legit? : Legit
Recommended or not? : Not recommended for beginners
Four Percent is a legitimate training platform for internet marketing, with a huge focus on getting paid traffic, which is the main reason why I do not recommend it to beginners.
Moreover, the done-for-you sales funnels means that you need to subscribe to those specific email service providers, funnel builders, etc. which allow Vick to earn his commissions first before you can start trying to make money out of it.
You do not have to be so dependable on his products, or impose unnecessary restrictions on yourself in the choice of services and tools for your online business.
There is a much better way to make money online. Check out my #1 recommendation:




Read on for the detailed review of Four Percent, and why I do not recommend it for beginners.
---
What is Four Percent
Let's find out what is Four Percent by first taking a look at its website.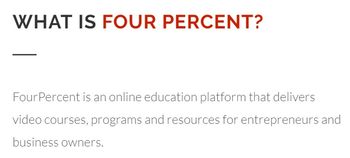 It is an online education platform that provides training and resources to business owners and entrepreneurs.
Four Percent claims to help you become a very influential and powerful promoter, dominate in business, be the master in digital marketing and e-commerce, as well as get the best tools and resources.
In fact, one thing that struck me is how much Four Percent has changed, for the better, in a matter of months. I was looking into this program some time back, but hadn't gotten around to reviewing it.
Now, as I study the platform in order to give it a fair review, I must say I am impressed and pleasantly surprised.
Let me explain why, with some background of the company and its founder.


Background of Four Percent and Vick Strizheus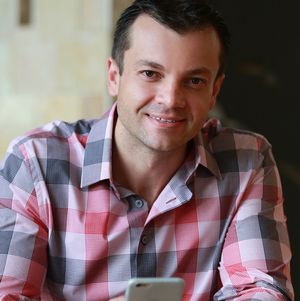 Vick Strizheus did not have a very pretty past, having landed in jail for some insurance fraud, as well as creating some very controversial internet marketing programs like High Traffic Academy, and The Big Idea Mastermind, which was actually a sales funnel for Empower Network, an MLM (multilevel marketing) company which has since been shut down.
During the days of The Big Idea Mastermind, many people called Vick a scammer, as he had allegedly put his own affiliate link into some rotator such that some people who signed up under his referrals actually ended up as his direct referrals. So he was effectively stealing the commissions off his own customers.
Though his past is not something to boast about, I believe there are people who sincerely change after their mistakes.
But looking at the initial 4 Percent Group that he set up, you would think a leopard never changes its spots.
Previously known as 4 Percent Group, it was a product that mainly taught you to promote itself. Not that it is totally bad, but it simply meant you were promoting it to others for your own monetary gains, and not because it would add value to them or their businesses. There was no solid product to the program.
Moreover, it made people dependent on his sales funnels to promote very common internet marketing tools like email service providers, hosting providers, funnel builders, and so on. This did nothing to impart marketing skills to his members so they could apply to any businesses they wanted.
The evolution of 4 Percent Group has been drastic.
Now known simply as Four Percent, it has morphed into a robust and comprehensive training platform, full of educational resources for entrepreneurs, some of which are even free!
The free ones are of great quality too, serving to add value to you, to convince you that the paid programs are worth it. Because… oh boy! They sure are expensive!


Products in Four Percent
These are just some of the training programs available in Four Percent right now: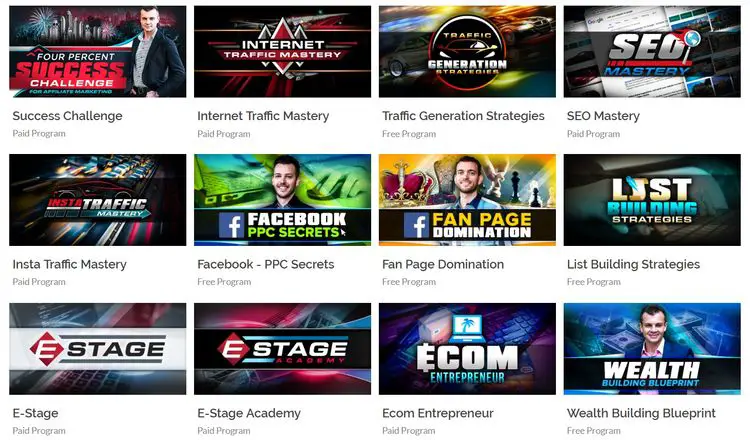 The free ones are great stuff, but definitely not in-depth enough. They are video training that typically last between 45 minutes to 90 minutes, for those that I briefly checked out.
This is to entice you to buy the paid programs, which are simply exorbitant.
For instance, Internet Traffic Mastery costs 'just' $1997, or 3 'easy' payments of $765. You would get 12 hours of training, with this content: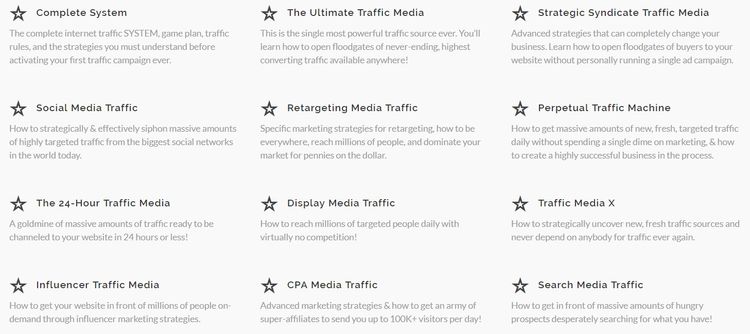 Though comprehensive, I do not think it is in-depth enough, since you would be learning about so many subtopics (influencer traffic, social media traffic, retargeting traffic, display media, CPA, search media, and so on) in just a matter of 12 hours.
Another random pick, E-stage, which is nothing other than some custom WordPress theme 'specifically created for entrepreneurs' (what does that even mean??), costs a whooping $497!
I was quite appalled at the kind of pricing they were charging.
Apart from the pricing being unaffordable to the masses, one thing I am very reluctant to do is to pay to learn traffic methods that require you to pay even more. Let me explain this in the next section.


Four Percent's training focuses on paid traffic
In any business, even brick and mortar ones, traffic is its lifeline. Without traffic, there will be no sales, and no earnings.
There are many possible ways to get traffic, categorised into paid traffic and free traffic. Four Percent's training programs have a strong focus on paid traffic, because that is the faster way to get results.
But for beginners, I strongly advise not to go for paid traffic. You can take the best internet marketing courses on the planet, you would not fully understand a platform until you really try to run some advertising campaigns on it.
Paid traffic is a steep learning curve, where you pay while you learn. Because it takes trials, split-testing, analysing the results, tweaking some parameters, testing it again, more fine-tuning, and so on.
Before you know it, you could be several thousand dollars in the red, and still trying to grasp the demographics and behaviour of your potential customers on that particular platform.
Paid traffic is not for beginners, not for the faint-hearted, not for those without excess cash, not for the risk-averse. It will be a huge upfront investment, which you may or may not be able to recover.
Hence for every beginner, my advice is to go for free traffic. After you start generating a steady income, you may then decide that you can afford to use a few grand to dabble in advertising, to learn the ropes and scale up your business.


How I get free traffic to my business
You may be asking: if one can get free traffic, why would anyone want to pay for their traffic? The answer is simple. For everything in life, there is a trade-off.
Free traffic of course would mean I do not have to pay a single cent in advertising. The catch is that I have to put in more work.
This is something I am willing to do, because as I put in the effort, I am at the same time putting my business in an authority position, such that when people search for answers related to my niche, the search engines would send them to me.
Not only do I get free traffic, this organic traffic are actually people with a strong buyer intent, since they are actively searching for stuff related to my offers. This means that I would have a high conversion rate of people turning into buyers.
Want to know the best part?
This type of free organic traffic is unstoppable, once you get it. That also means you could leave the business alone without doing much intensive work on it, and it would still be making you money! This will become your passive income stream.
The way I do it is the exact way that you landed on my site: build up a website, load it with content in your chosen niche, so that search engines learn to trust you and credit you with authority in the niche.
A website allows you to build a brand and an online presence, without relying on platforms that you do not own, like YouTube channels, Facebook pages, forums, and so on. A website is your very own online property. Anything you create on it adds up, and never goes away.
Do not run away at the suggestion of creating a website. In fact, that is the easy part!
Let me show you this training platform that provides all the resources, tools, along with an entire community of aspiring as well as already successful online income earners. The best part is, you get to start for free:


---
Pros of Four Percent
1. Real owner
Vick Strizheus is a highly successful internet marketer, who knows what he is doing, and what he is talking about.
The fact that he had brought Four Percent through such a rapid rate of evolution for the better tells me that he has foresight, and is beginning to see how sustainable businesses must always strive to add value first, before the earnings will come alongside it.
2. 30 day money back guarantee
This basic refund policy is in place, for people who are dissatisfied with the products.
3. There is great value in the training
There is definitely something that everyone can learn from this marketing guru, as well as his team of experts who contributed to those other training videos.
4. Affiliates do not have to pay to play
This is a refreshing change from the old 4 Percent Group, where affiliates had to purchase a product before they could start earning commissions off it.
Cons of Four Percent
1. Paid programs are too expensive
They are really over the top. You can actually get many other equally good quality training out there on the internet, by forking out just a small fraction of what they are charging here.
2. They teach mainly paid traffic
This is a very high risk method, not suitable for beginners who have not started to make any money online yet.
---
If Four Percent Scam or legit?
Four Percent is definitely a legit education platform. I would recommend it if you are already earning a steady income from the internet from free traffic sources, and are ready to try out paid ads methods.
Other useful but expensive educational and training platforms include The Super Affiliate Network, Legendary Marketer, and Super Affiliate System, just to name a few.
---
Recommendation
My #1 recommendation to beginners in the internet marketing space is to check out a real deal.
This real deal does not promise instant results, but instead gives me knowledge and the lifelong skills required to grow a successful online business, which is exactly what I have done. Check it out by clicking on the button below:




And for reading all the way to the end of the post, I believe you have it in you to make this work. Here is your FREE PDF Guide: 4 Simple Steps to Making Money Online. Fill in your details to claim it:



If you have any concerns or questions regarding this Four Percent review, do comment below, and we will start a conversation from there.
---