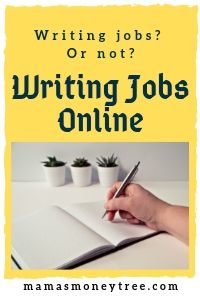 Thinking of being a freelance writer as a career, or already an experienced one but looking for more high-paying opportunities? Looking for Writing Jobs Online reviews, to help you decide if this platform is worth it?
You have landed at the right place.
In this honest, unbiased and in-depth review of Writing Jobs Online (website is
https://www.writing-jobs.net), I will bring you right into the platform, to check out everything that is made available to you when you take on their membership.
Will you really get to make $30 to $120 per hour? Or even $5000 per month as what they advertise? Why is this platform so heavily promoted, unlike the other free giant freelancing sites that are all over the internet?
We will answer these and more. Without further ado, let's dive right in now!
---
Writing Jobs Online Review Summary
Product: Writing Jobs Online
URL: https://www.writing-jobs.net
Product type: freelance writing jobs database
Price: $27/month (there is a 7-day trial for $1)
Scam / Legit? : Legit
Recommended or not? : Not recommended
Writing Jobs Online (also known as writing-jobs.net) is a site that links to other sites and resources where you can apply for job listings. This is not a jobs application platform, it simply collects many writing opportunities on the internet and presents them all to you in one place.
To me, it is not worthwhile to have to pay at all. All the information they provide can be found for free with just a simple search.
If you have a flair for writing, check out my #1 recommendation to making money online:




Read on for the detailed review of Writing Jobs Online, and why I do not recommend it.
---
What is Writing Jobs Online (writing-jobs.net)
To find out what is Writing Jobs Online, let's first take a look at its website: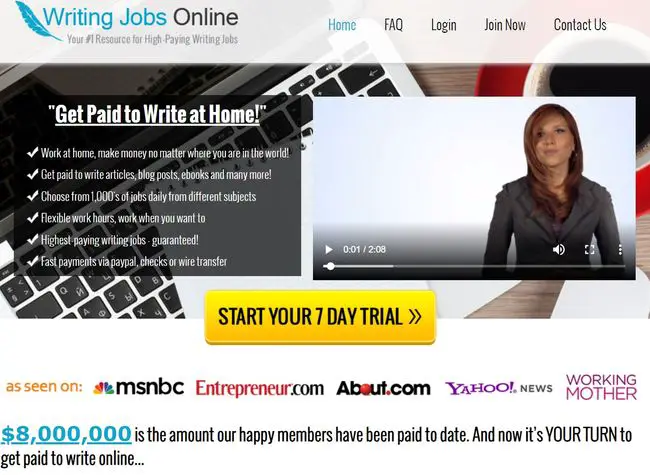 It claims that when you join writing-jobs.net, you will get to earn $30 to $120 per hour, $50 per article, $500 to $1000 for short ebooks. You can get cash from their daily high-paying writing jobs.
You will get to enjoy flexible working hours, work whenever and wherever you want, write content anywhere in the world, with no experience required to join.
It makes itself sound like any other freelance writing job sites, where employers put up their listings, and you get to select a job, submit your work, and get paid through the platform.
But no, Writing Jobs Online does not work like what you may be expecting. We will take a look at what is really inside the members' area.


Inside Writing Jobs Online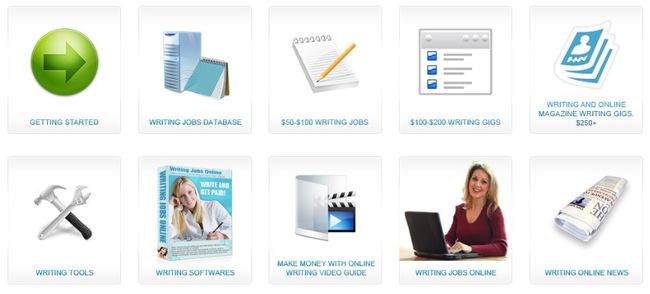 The writing jobs database is not its own database of jobs exclusive to this platform. It simply links out to other sites that you can access for free.
$50 to $100 writing jobs, as well as $100 to $200 writing jobs provide a list of sites, independent from this Writing Jobs Online platform, that you would have to pitch to, by approaching the editors individually, and see if they want to accept your submission. There is no working relationship between those blogging sites and this Writing Jobs Online platform.
Here is a good resource, to websites that pay for your content, if you get accepted.
Its writing tools are not even relevant to freelance writers, they are a list of tools for bloggers. This makes me question whether the website owners really understand what they are doing, or are they just out to make people's money.
Writing softwares include a list of text editors and word processors that you can use for your writing, nothing that your Word Document can't do, really.
The video guide is a very rough guide to looking for writing gigs.
Writing jobs online is a list of writing jobs taken from some free sites.
Writing online news direct you to blog posts that are found on sites that write about freelance writing, from which you can get some great tips and tricks of the trade.
As you can see, this Writing Jobs Online platform has not created any content of its own that can add value to a professional freelance writer. Nor will a beginner find anything useful from here that they can't find for free elsewhere.
The only purpose it serves is to bring lots of resources and job listings in one place, for your convenience, which may save you some time, if it is what you want. To me, I wouldn't pay any monthly subscription for such a membership. I get the feeling that the site owners are in this just for the money.


Other interesting points about Writing Jobs Online
Other websites with very similar designs
I found two other websites with very similar designs to this platform. They are Gaming Jobs Online (https://www.gamingjobsonline.com) and Photography Jobs Online (https://photography-jobs.net).
Their websites layout and design are almost identical to Writing Jobs Online. Even the spokesperson in the sales video is the same person.
Not that there is anything wrong with this, it is just an uneasy feeling I got about these sites' legitimacy.


Dubious association with huge corporations



Frankly, I cannot see any associations they have with these huge corporations, especially CNN, FOX, Wall Street Journal, etc. In fact, from what I can tell, there is no partnership with any organisation requiring writing jobs at all. Writing Jobs Online is just a stand-alone platform.
Although I cannot prove that there is no partnership, this kind of marketing display makes me highly suspicious.


The marketing of Writing-Jobs.net is all hyped up
To earn $5K per month is not impossible, but you have to be a really seasoned writer, who had established your own clientele that trust you and admire your work, such that you can ask for a much higher pay.
You do not see this kind of marketing gimmick on the huge freelancing sites, because they are all about business, setting a robust platform to provide the link between employers and writers. They do not have to sell themselves, they earn a commission when you land a writing job.
Whereas in the case of writing-jobs.net, it is basically an empty shell. So it has to promote itself with hype, to get people to join its membership. It even has an affiliate program, which to me just feels so odd.


They would have your payment details even with the 7-day trial
Since their 7-day trial is not free, they would already have your credit card details as you have to pay $1.
$1 is definitely nothing, they could have provided it for free. To me, its real objective is to get your payment details, something that I would want to be much more careful with.


How a proper freelance writing site should work
It should be free to join, like so many of the freelancing sites out there, including Fiverr, Upwork, Guru, Freelancer, ClearVoice, and so on.
The platform earns a commission off any jobs that are successfully taken. This gives them the incentive to get as many employers on board as possible, to provide more opportunities for their writers, and hence more earning potential for themselves.
On Writing Jobs Online, they earn from your upfront payment of $27 when you first join (I'm guessing most people would cancel their subscription after the first month), when they are not even doing any work to find exclusive jobs for their members. Whether or not you land yourself any job is none of their business.
So they are not incentivised to keep adding value on the platform. They just need to do advertising, show the platform to interested people and entice them to join. Affiliates will also be helping them promote the platform.


The truth about freelance writing
If you enjoy writing, being a freelance writer is a very great career option, as it gives you total freedom in terms of time and space. As a start, you can try to find a few gigs here and there, but without any experience or reputation, you can't expect a full time income from it right away.
This industry is an extremely competitive one. The online nature of the job means you are competing with people from all around the world, who have very different standards of living, who may be able to write very well, have experience, and still ask for a minimum pay, simply because they really need the job badly, and $5 or $10 for an article gives them a decent wage that they are very happy with.
As good as a work at home job may sound, when you really get down to it, you may find that it is not that easy afterall.
As a beginner, you may find that you have to ask for much lower rates than what you deserve. If you are willing to go through the grind for a few months, build up your reputation, get your employers to provide honest and positive feedback about your work so that other potential clients may accept your increasing asking rates, then you can slowly establish yourself as a professional and sought-after writer.
It may take months or years, also depending on some luck.


If you love to write, this is what I recommend
You see, no matter how much you earn as a professional writer, you are trading your time for money. The day you stop working, your income drops straight down to zero.
I can speak from experience, because I was doing freelance writing too. But I have moved away from that, to channel my energy and focus onto my own internet business.
I am still writing, doing what I absolutely love. The only difference is, instead of writing for other people's businesses, now I am writing for my own business.
Want to know the best part?
The model I use to build up this business actually paves the way to a passive income source. Should I slow down on my writing efforts, the income continues to roll in, for the months and years to come, so long as I do not neglect it.
The other plus point is that I get to choose any niche that I am passionate about, to write and build up the business, and still be able to make money from it.
I am now working full time from home, writing and growing my internet business, and making an online income. I started from scratch with zero knowledge in this area. If I can do it, you can, too.
Check out this training platform that provides all the resources, tools, along with an entire community of aspiring as well as already successful online income earners. The best part is, you get to start for free:


---
Pros of Writing Jobs Online
1. All resources on one platform
Writing Jobs Online pulls job listings from other free sites, so that you get to access them from one place. But ultimately, if you want to apply for any job, you still have to get on to those other sites, sign up, complete your profile, put up your proposal to the potential clients, and so on.


Cons of Writing Jobs Online
1. Having to pay
This is a huge turnoff. Payment should come when there is an actual service rendered, or value added.
2. The site is dubious on various grounds
Two other websites that are in different niches have such similar designs to this writing-jobs.net, together with the attempt at associating themselves with the big names like CNN and FOX make me question their legitimacy.
3. Be careful with the 7-day trial
I have a feeling that after the 7-day trial, if you do not cancel your membership, they will continue to bill you $27 each month, without requiring further approval or action on your part. So if you do not intend to subscribe to the platform, remember to cancel your membership before the trial period ends.
4. There is no real value to it
All the information you get on the platform can be found for free on the internet, with simple searches.
---
Is Writing Jobs Online Scam or legit?
I do not consider it a scam, though its sales pitch can be very misleading, and when people find out that it is actually not an exclusive job listings platform through which they can apply for writing gigs, they may then call it a scam.
This platform is not much use to you, just like some others that I have reviewed: Mommy Jobs Online, and Hive Work, to name just a few.
---
Recommendation
If you love writing, like me, I can show you a great way to use your talents and expertise, that will allow you to build up a passive income stream.
This real deal does not promise instant results, but instead gives the knowledge and the lifelong skills required to grow a successful online business, which is exactly what I have done. Check it out by clicking on the button below:




And for reading all the way to the end of the post, I believe you have it in you to make this work. Here is your FREE PDF Guide: 4 Simple Steps to Making Money Online. Fill in your details to claim it:



If you have any concerns or questions regarding this Writing Jobs Online review, do comment below, and we will start a conversation from there.
---