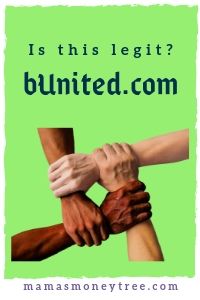 You must have seen people putting their referral links all over social media, and are wondering what is bUnited.com.
Is it yet another scam where only the creators laugh their way to the bank? Or is this a great opportunity that you should jump right into early on?
Welcome to my bUnited review.
To tell you the truth, I was very skeptical when I first saw its referral links all over the internet, promising earnings without providing any detail.
I decided to investigate this platform, determined to expose it so that people stop wasting their time getting others to join.
Guess what?
I had a really pleasant surprise. Some digging around convinced me there could be earning potential here.
Read on for all the details of what I uncovered in this honest, unbiased and in-depth review of bUnited.com, so you can make an informed decision as to whether you want to sign up to this platform.
---
bUnited.com Review Summary
Product: bUnited
URL: https://www.bunited.com (this contains my referral link)
Creators: Jim Jorgensen (as the chairman and co-founder) together with his team
Product type: consumer membership site (similar concept to cashback sites) with a referral scheme
Price: free to join
Scam / Legit? : Legit
Recommended or not? : Recommended to give it a go, but with the understanding that potential earnings may or may not materialise
bUnited.com works much like a cash back scheme, aiming to build up a huge membership so that it can negotiate great discounts with companies, with a noble plan to also get these companies to do their part for the environment.
The idea is that companies will save on their advertising fees since this platform allows them access to such a large customer base. So whatever they pay to bUnited will be redistributed to members.
This idea is not new, but it's the people behind this company that makes me trust it enough to sign up. There is no guaranteed returns though, it depends on how everything works out eventually, as it is still in its infancy stage right now.
Here is my current earnings on the dashboard, not available for payout yet.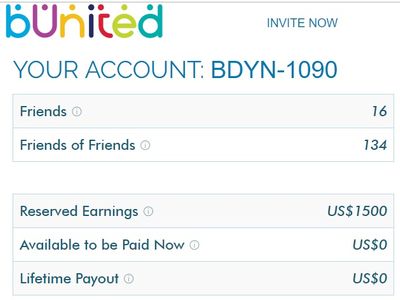 If you want absolute control of your own destiny, and not wait for any company's success before you can get paid, check out my #1 recommendation to making money online:


Read on for the detailed review of bUnited, and why I trust it enough to recommend it to people around me.
---
What is bUnited.com
To find out what is bUnited.com, let's first take a look at its website: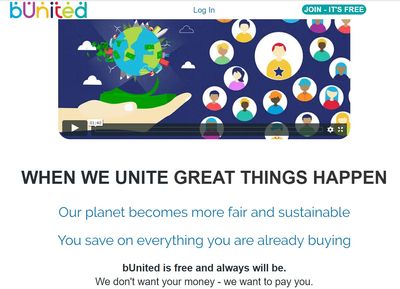 This screenshot says it all. This is what bUnited is all about. Get discounts off whatever you are already buying. In the process, save the planet. On top of that, get paid.
Now, let's get into the details of how it all works.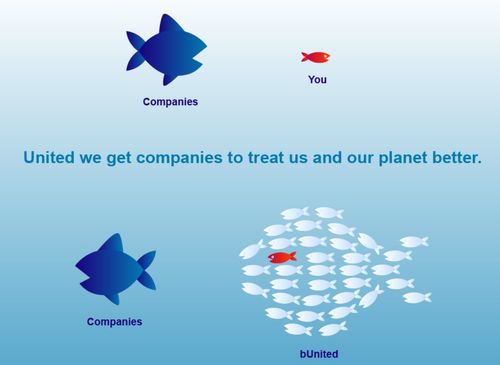 Using the idea that uniting as the largest consumer base, it will call the shots when it comes to negotiating great discounts for stuff that you are already paying for.
Examples are cell phones, cars, insurance, food, entertainment, household products, electricity, health, travel, and many others.
Imagine getting 20% off for these products and services, that would have quite a huge impact on our expenditure.
By partnering with and rewarding companies that want to do their part in world issues like protecting our environment and providing basic needs to the poor, bUnited.com is in for a much larger cause, a world-changing one.
Coming together as one will get consumers' voices heard. bUnited will have the power to reward companies that want the best for their customers and for the planet, and push out of the game those that chase after profits while disregarding the environment and the well-being of consumers.
The thing is, bUnited.com is now in its infancy stage of assembling as many members as possible.
There are not too many companies on board at this moment, because they really need the numbers before they can start negotiating for any deals.

Is bUnited scam or legit?
I have to admit when I first saw its website, I thought it was all rubbish.
I have seen so many platforms that entice people to join and then refer others to join, with the real motive of collecting people's contact information to sell them off, and having no intention to pay out at all.
How do I know this is any different?
From experience exposing scams, I know the real owners behind a program will not reveal their true identity, if they are not legitimate.
bUnited.com is different. It is backed by a solid team of co-founders and advisors from all around the world. Try to search them up, and you will find these are all real people.
This shows just a part of the entire team: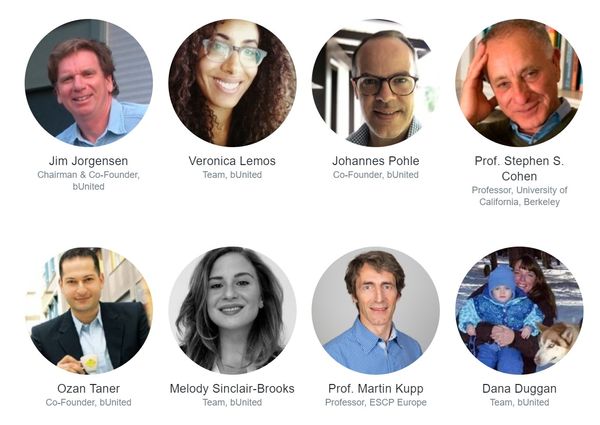 The founder of bUnited.com
Jim Jorgensen is termed a serial entrepreneur, having started over 25 enterprises, two of which reached market caps in excess of $1 billion.
You can read more about him here.
Though many of the companies remained small, some of which even failed, what caught my attention was this internet infomediary community for which he was CEO of, called AllAdvantage.
It rose and fell very quickly within two years, from 1999 to 2001. I found it intriguing that it had a somewhat similar concept to this bUnited. Members received a portion of the advertising revenue generated by their online viewing habits.
Although it ultimately failed, the point I want to make is that it actually paid out over $160 million to its members in its short lifespan. This simply shows that Jim Jorgensen is an honest person with an entrepreneurial spirit.

There are risks associated with bUnited, but it is not downloaded onto us
Just as with any startup, there are major risks involved.
For the model taken by bUnited, they need the initial investment to lay out the systems, infrastructure, their team and stuff, in order to get things going.
If they are able to garner a huge membership, they will then be in a better position to negotiate great deals with companies.
A lot of factors come into play.
The price they are charging companies to get on board this platform is critical, which the companies will then have to weigh against the advertising costs that they get to offset for accessing this group of customers.
No one can foresee how things will work out eventually.
But the best thing is: none of these risks are downloaded to us, as its members. There is no fee we have to pay. If things work out, the earning potential is there.
So why not?


Don't get your hopes too high, though
Back to the point about bUnited.com being an infant enterprise right now. The only company that they have announced to be working with is Vodafone (signed in February 2019).
I'm sure there are many other negotiations in the pipeline, but at this stage, they are talking about growing their membership being the main focus.
So, no discounts yet, and no cashing out of earnings yet, even if you have referred many people to this platform.
Until bUnited.com starts making enough revenue to distribute to its members, which can be many months down the road, there will be zero earnings.

Countries that are included in bUnited.com
These are the countries in which bUnited.com is negotiating discounts with companies.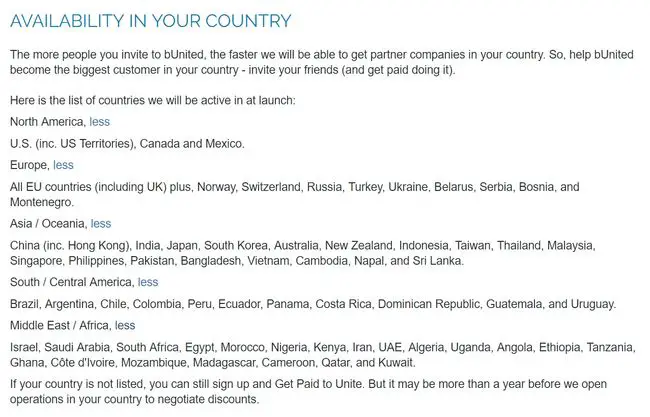 Even if your country is not on this list, you can still sign up and refer people to join the platform. You can earn through the referral program. You just do not get to enjoy any discounts, since bUnited.com has not entered your country to talk with companies yet.
But there is still a chance that they may do so, if they expand their operations.

Potential earnings for referral program
I must say, this is something I am not too happy with: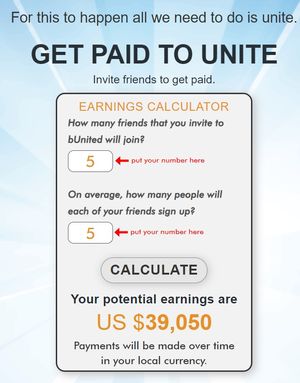 To me, this figure is simply too unrealistic, and gets people's hopes up too high.
This has led to a frenzy of members posting their referral links literally everywhere: social media, forums, and what not.
Without the members explaining to their audience what this is all about and how it works, I do not blame anyone for thinking this is a scam.
For sure, it is appearing very spammy, the way some members are putting it across as an easy way to earn money.
Getting on board this platform, you have to understand these earnings are not guaranteed at all.
Let's say a few months down the road, if bUnited finds that membership is not picking up, and it cannot sustain its operating costs anymore without revenue coming in from companies that they intended to work with, they can shut down the next day, and you would have no control over it.
I'm not speculating this will happen. But you have to accept that anything can happen.
At the end of the day, there is no monetary loss to members at all, except for some hopes dashed.
So do not bank on these earnings.
Even if this platform takes off, many factors will determine how much bUnited.com can ultimately pay its members. They would have to make it profitable for themselves too, for sure.
In the meantime, you can refer others to join this platform with your referral link, if you choose to, and then wait patiently to see how things move from here. Do not bank on an income from this, but whatever earnings that do get distributed to you will be a bonus.


If you need to earn a little extra pocket money immediately, you may want to check out these legit get-paid-to sites: Swagbucks, Societi, and PrizeRebel, to name just a few.
However, if you are looking at making some serious money online, with something that is within your control, and not dependent on any company's success or failure, I want to show you how I am earning my online income, working from home.

My recommended way to make money online
What I am going to show you is not a get-rich-quick scheme. It is about building up your very own internet business, through a proven method that has worked for countless successful internet marketers.
This method requires no face to face selling, you do not have to own any product, nor deal with customers' complaints or refunds. Neither is it MLM.
Everything can be done in the comfort of home, to build up an online asset in whatever niche that you choose, something that you are really passionate about. It can be a hobby, or some health issue, or parenting, or pets, or travelling, whatever.
Are you intrigued to learn what this method is all about?
Click on the link below, which will bring you to another post of mine, where I detail the method at length:
---

Pros of bUnited.com
1. Real owners
The team is made of real people, definitely NOT scammers. What's even better is Jim Jorgensen has vast experience in running businesses, and hopefully he will bring this new platform to great heights.
2. Enjoy great discounts
You can potentially enjoy great discounts from the companies in your country that get on board bUnited.
3. Earn simply by referring people
It should not be that difficult to find people whom you can convince to join bUnited.com. The earning potential is there.

Cons of bUnited.com
1. Nobody knows how things will work out
This platform is still in its infancy, with a long and winding path of uncertainty to walk. But at least the worst case scenario is zero earnings, and not real monetary losses.
---
Recommendation
We should not depend on anybody for our own destiny, nor try to find easy money.
From my experience reviewing products and programs on the internet, this bUnited.com is a surprising exception, where it seems relatively easy to make money, with little work.
But remember, this is the exception.
The internet is full of scammers trying to sell stuff that promise to get you rich in an instant. None of them will work, precisely because they are made to work for the owners, and not for you.
There is no secret formula, no short cut around it.
If you want to make serious money on the internet, you can't get around some serious hard work. It sounds daunting, but it is the only way to achieve what you want.
Let me show you my earnings on a recent day:



That's almost $200 in just one single day. It's nothing to boast about, though, as it's just a small fraction of its full potential. I just wanted to show you the possibilities.
If this looks good to you, let me show you the real deal that got me started with my online journey.
It does not promise instant results, but instead gives the knowledge and the lifelong skills required to grow a successful online business, which is exactly what I have done. Check it out by clicking on the button below:


And for reading all the way to the end of the post, I believe you have it in you to make this work. Here is your FREE PDF Guide: 4 Simple Steps to Making Money Online. Fill in your details to claim it:


If you have any concerns or questions regarding this bUnited.com review, do comment below, and we will start a conversation from there.
---