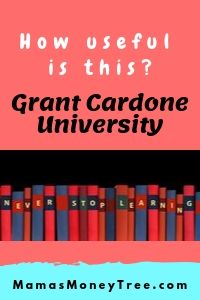 Welcome to my Grant Cardone University review.
This is THE TRAINING for sales people, created by someone of genuine character and integrity, which is so rare in today's world.
I wish I had found this Grant Cardone Sales Training University much earlier on in my life, I would probably be on a very different business path.
But then again, maybe not, since I am an introvert, and am perfectly happy with all the sales that my online affiliate marketing business is generating for me right now.
---
---

Join me in this in-depth review of Grant Cardone Sales University, as I walk you through the content that is covered in the training, its pricing, other products in the program, and whether I think it is all worth it.
Without further ado, let's dive right in now!
---

Grand Cardone University Review Summary
Product: Grant Cardone Sales Training University
URL: https://cardoneuniversity.com/
Creator: Grant Cardone
Product type: training program to improve your skills in sales
Price: $99 per month
Scam / Legit? : Legit
Recommended or not? : Yes, recommended.
Grant Cardone University is a fantastic training program that will level up your sales techniques and skills, following the footsteps of hugely successful Grant Cardone himself.
Whether you are a sales professional or an entrepreneur, this training is perfect for you. You will get to learn the sales process, buyer psychology, closing strategies, prospecting, and much much more.
---
Yes, get Grant Cardone University now
---

What is Grant Cardone Sales Training University
To find out what is Grant Cardone Sales Training University, let us first take a look at its website.



It is a comprehensive curriculum of sales training, with 800+ business courses live weekly training sessions and access to a private community.
This is a highly popular program, with raving reviews everywhere, that vastly surpass the negative ones.
Sales can be a very exciting way of making money, whether you are selling other people's products and services, or for your own business. If you can master the art and science of selling, and are willing to work hard for it, the fortune that can be amassed is huge.
If you are frustrated by the lack of results, or would simply like to scale up your earnings by leveling up your skills, then Grant Cardone University is exactly what you need to move forward.

Who is Grant Cardone
Grant Cardone is a master of sales, a world-renown sales trainer, a New York Times bestselling author, a self-made millionaire, and also a multi-million real estate empire owner.
One of his most famous books – The 10X Rule, is about setting targets 10 times greater than what you think you can achieve, so that you take massive action and end up further along than where you originally thought you could be.
This is simply awe-inspiring.
His beginnings were humble, and in fact, difficult. He was once unemployed and addicted to drugs.
By some miracle, he found the immense strength from within to haul himself out of the muck, and channel all his energy into building up the success that the entire world sees today.
What amazes me even more is how Grant maintains the value of integrity, in a sector that is so often infested with sleazy sales people, who would stop at nothing to get those money.
Not Grant. And it shows in his sales training, how he emphasizes the important of building trust with your customers.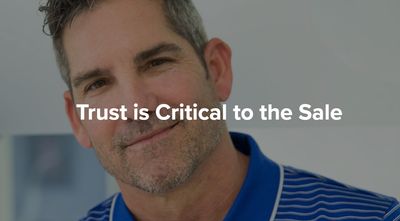 And I really admire him for this. The world needs more people like this.

The Courses Inside Grant Cardone University
These are the sales training courses in this program:



As you can see, a lot of ground is covered, from selling basics, understanding the buyer, the sales process, closing, incoming calls and prospecting to motivation, personal finance, handling objections, and so much more.
The very first thing that Grant taught in 'The Sales Process' is service to the customers. Focus on their needs, and serve genuinely, giving what you can, rather than thinking of whether you will be getting your paycheck through them.
I was floored. From that instant, I knew this guy is the real deal.
This is the way to go, no matter what we do in life. Whether it's a regular job, or our own business, or sales, service and adding value is the way to go. Think about what we can give, and not what we can get.
When we come with the aim to serve, customers will trust us, and sales will come automatically. Well, not exactly, but it will make the closing that much easier.

Signing up
There is a 14-day free trial, where you will get just the first two video modules of each course for free. Each course generally contains between 20+ to 70+ video modules.
It allows you to get a sense of the quality of the training and its format, so that you can make a better-informed decision, if you have tried it out for yourself.
If you are happy with what you see, then you can go ahead to get the $99 per month access to the training platform.
It is not exactly cheap, but I believe it is totally worthwhile.
---
Yes, get Grant Cardone University now
---

If you are constrained by budget, I would suggest you find a month when you can spare more time to go through the training, and try to learn as much as you can within that month, so that you do not have to continue subscribing to the platform.
But if your finances permit, you will enjoy immense value from the private community, as well as the live weekly sessions.
Who is it for?
Grant Cardone Sales Training University is for anyone who is involved in face to face sales and negotiations.
If you own a business, this will help you in clinching deals. If you are a insurance agent, real estate or housing agent, car dealer, or any other kind of sales person whose earnings depend heavily on how much sales you are able to generate for the company, then this is for you.
On the other hand, if your work involves online sales (like what I am doing with affiliate marketing), then this training is not a good match, as it caters to face to face interaction with potential customers, understanding them as individuals, finding out what motivates them, etc. which are a completely different skill set from internet marketing.

Other products in Grant Cardone University
There are other training products inside Grant Cardone Sales Training University, that are sold separately. But I really appreciate that there is no aggressive marketing of those products at all.
They are just there, on a tab that you can click to purchase if you wish.
Those are not cheap, though. Their prices range from about $100 to $2500.
---

To round up this article, let me recap and summarise the pros and cons, before I finally make my conclusion.
Pros of Grant Cardone University
1. Real owner who is hugely successful
I have come to admire Grant Cardone, with his integrity and service to customers as the core mindset behind his sales training. It is not difficult to understand how he has soared to such great heights.
2. Free trial
This is a respectable program that allows people to get right inside to try things out, explore whatever that they are offering, before eventually committing their hard-earned money.
3. Price is alright
At least it is not over the top, like a few grand, even though he offers one of the best sales training ever. So in my opinion, it is worth every single cent that you pay for, and more.
4. Comprehensive, in-depth training that you can apply
If you follow the training closely and implement it, I believe you will see a profound impact on your results.

Cons of Grant Cardone University
1. Only works for face to face sales
To be frank, this is the only down side of the course that I can think of: you cannot apply it to online sales, which is part of what I do, as an affiliate marketer.
I do not have experience with face to face sales, due to my introverted nature. If I had found Grant Cardone Sales Training University earlier, it might have given me the confidence and push to venture into it.
But now I am completely happy with my online business, which not only allows me to hide behind the computer screen 🙂 , but more importantly allows me to enjoy the benefits of automation, scaling up, and having no real limit on my income.
I am not limited by the number of customers I can meet in the 24 hours a day, unlike in face to face sales. I can make sales even when I'm sleeping, or when I'm on vacation.
---
---

Is Grant Cardone University Scam or legit? 
Grant Cardone University is definitely a legitimate training program that teaches all you need to know for making direct, face to face sales.
---
Yes, get Grant Cardone University now
---

See also: ClickBank University, OMG Machines, and The Super Affiliate Network
And for reading all the way to the end of the post, I believe you have it in you to make an online business work. Here is your FREE PDF Guide: 4 Simple Steps to Making Money Online. Fill in your details to claim it:


If you have any concerns or questions regarding this Grant Cardone University review, do comment below, and we will start a conversation from there.
---