Welcome to my review of the Work At Home Bundle from Ultimate Bundles, one of my favorite companies that I trust for their integrity and delivery of high quality products.
These have been difficult times, with the global pandemic changing how the entire world lives. Jobs have been lost, businesses have been affected, people are taking a hard look at how they can secure financial stability in these uncertain times, which will remain for years to come.
I'm fortunate to have had a headstart in the online world, in affiliate marketing to be more specific. If you're just starting to look to the internet for something that can supplement your income, do not worry that it's too late. The online world, though competitive, has opportunities for everyone.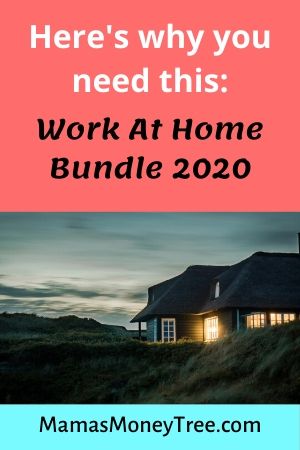 You just need to remain grounded and avoid shiny objects. Know your strengths and weaknesses, and know what you need to do to reach where you want to be, 5 months, or 5 years, down the road.
In this post, I provide an in-depth look at the Work At Home Bundle so that you can decide if it will help you along in your WAH journey. As you will see, I bought the bundle to dwell right into it, so as to give you an exclusive peek.
Without further ado, let's dive right in now!
---

Work At Home Bundle (2020) Review Summary

Product: Work At Home Bundle (2020)
Creator: Ultimate Bundles
Product type: A bundle of 28 digital products (video courses, ebooks, templates, etc.) to help you in your work at home journey.
Price: $47 (additional $10 if you want the cheatsheets)
Rating: 4.7 out of 5
Recommended or not? : YES, I strongly recommend it.
Work At Home Bundle (2020) comprises 5 products on job opportunities, 6 on personal development, 6 on productivity, 7 on side hustles, and 4 on work-life balance.
It provides very high value for your money, even if you only extensively use 3 to 4 out of the 28 products. Many individual courses and other products inside, on their own, are already worth much more than what you pay for the entire bundle.
So sniff out the details, check off the products that will be most useful to you, and it will be easy to understand why I'm highly recommending this bundle.
---

What is Ultimate Bundles

First off, a bit about the company Ultimate Bundles.
Founded by Stephanie Langford and her husband Ryan, Ultimate Bundles' very first bundle (in the healthy living niche) in 2012 was a huge success. Erin Odom joined the team shortly after, bringing her strengths of being a writer, running her own blog and her strong network of bloggers to the table.
In the years and more bundles that followed, the company soared to stardom as they kept striving to bundle the best-value digital products that will serve their customers' real needs, and at the same time offer a platform for fellow bloggers to gain exposure to a target audience.
Besides personal finance and healthy living, they offer bundles in other niches like photography, blogging, travel, homemaking, and more.
Without exception, the value offered in all its bundles is real, because the authors and contributors of the products actually do sell those courses and ebooks on their own platforms separately.

What is the Work At Home Bundle (2020)

The Work At Home Bundle 2020 has just been newly curated, fresh out of the oven in June 2020, and will be available until mid 2021.
So you can be assured that the materials are relevant and are able to address your current concerns, meet existing needs, evolving demands and expectations.
It is divided into 5 product categories: job opportunities, personal development, productivity, side hustles, and work-life balance.
There are many established bloggers and coaches you will find inside this bundle, whose products are selling individually at higher prices than what you will be paying for the entire bundle.
If you were to purchase all the 28 items separately, it would set you back by $1603.90!
That is why I keep reiterating the tremendous value here. And that's not even including the bonuses: SaneBox $25 credit, Beekeeper's Naturals B.LXR Brain Fuel (3 pack) worth $16, and The Maca Team Premium Red Gelatinized Maca Powder (8oz) worth $16.34.
Do note that the bonuses (except the first item) are physical products, for which you would have to pay shipping fees to claim them.

Inside the Work At Home Bundle (2020)

The Work At Home Bundle (2020) is sub-divided into 5 categories. These are the products in each of them:
Job oppportunities
1. From 0 to $1K: How to create your own work-from-home job – an ebook and worksheets by Bethany Lotulelei $3.00
2. How to find real work from home jobs (Plus 150 companies that hire) – an ebook by Anna Thurman $5.00
3. Remote job bundle – a workbook by Chhavi & Amit $17.00
4. The ultimate guide to make and save money at home – ebook by Kylie Travers $9.95
5. Virtual assistant jumpstart: How I went from $0 to $3000 in 3 months – eCourse by Alexandrea Harrelson $297.00
Personal development
6. Become a Powerful, Confident Speaker on Camera – eCourse by Narrisa Mandol $97.00
7. Brand Your Business – eCourse by Jordan Prindle $147.00
8. Business Planning Retreat Intensive: Get Clear & Focused with your Solopreneur Business, All Year Long! – eCourse by Sagan Morrow $99.00
9. Independent Contractor Agreement / Freelancer Contract Template (Template) by Lucrezia Iapichino $87.00
10. Freedom Income Mastermind: 3 Month Membership – Membership Site by Rachel Denning $177.00
11. Professional Media Kit Template – Template by Chelsea Clarke $59.00
Productivity
12. It's About TIME – Management – eCourse by Rebekah Saltzman $47.00
13. It's My Time: The Time Management Planner That Helps You Budget and Save! – Printable by Kris McPeak $19.99
14. Outsourcing Planner – Workbook by Lynette Chandler $27.00
15. Towards Personal Productivity: Approaches and Tools For Enhanced Personal Productivity – eBook by Takis Athanassiou $9.99
16. Work at Home Schedule Templates – Template by Brianna Berner $22.00
17. Work at Home Job Search Trello Templates – Template by Traci Weinhart $17.00
Side hustles
18. Create, Launch and Grow Your Online Presence: An A – Z Blueprint for Turning Your Passion into Viable Income – eBook by Abi Faniran $25.00
19. Create Your Own Side Hustle Income Plan – eCourse by Kerry Beck $97.00
20. Digital Marketing QuickStart – eCourse by Alison Reeves $147.00
21. Fear Not! Confidence-Builiding Insights, Tips & Techniques for Freelance Writers – eBook by Carol Tice $3.99
22. Power Bundle: 1Month – $1K + 5 Side Hustles That Actually Work – eCourse by Amanda Teixeira $7.00
23. Pricing Template and Guide – Printable by Menucha Citron
24. The Work at Home Training Program: The Ultimate Guide to Working at Home, Making Extra Money, and Avoiding Scams – eBook by Bethany Mooradian $9.99
Work-life balance
25. Master the Balancing Act: How to Balance a Job, a Side-Hustle, and a Life with Grace and Success – eBook by Stephanie Johnsen $9.99
26. Stretched Too Thin – eCourse by Jessica Turner $39.00
27. The Work-At-Home Survival Guide – eBook by Caitlin Pyle $17.00
28. Work From Home: Remote Work Made Simple – eCourse by Robert & Laura Mapstead $99.00

An in-depth look at some products

Upon buying the Work At Home Bundle 2020, the first product I dived into was Virtual Assistant Jumpstart, seeing it has such a high value, worth $297 on its own.
There are 6 modules in this eCourse, each comprising a series of videos, PDF downloads, action steps, checklists, etc.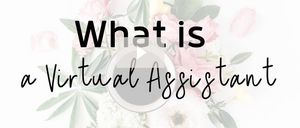 Module 1 introduces the work of a VA, including the qualities you should have to enjoy being a VA. Module 2 helps you look for the one skill that you should master first, while providing a list of the most sought-after services that clients look for.
Module 3 includes naming your business so as to identify yourself, deciding on the pricing structure, setting your rates and testing it. Module 4 teaches you how to find clients, including where to look, how to advertise, and how to prove you're worth it.
Module 5 makes you consider your policies and ground rules, and how to retain your customers so that they keep coming back for more.
Module 6 leads you to establish your brand with a website and resume.
I must say this is a really meaty course, it has content bursting at the seams, and is very much up-to-date. If being a virtual assistant sounds like a possibility to you, this is one course you need to absorb yourself in. It will put you in good standing in relation to your competitors.

The next product I examined was Become a Powerful, Confident Speaker on Camera, an eCourse worth $97.
I needed this for myself because I lack the confidence to present myself in front of a camera, and yet I understand that if I do not leverage on videos for marketing my business, I will be doing it a huge disservice, given how much information people consume on video these days.
There are 52 lessons in all, most of which are video lessons, while the rest are mini guides or other materials in the form of PDF downloads.
The main topics covered are comprehensive:
– fundamentals of a powerful on-camera delivery
– conquering fears
– coping with nerves
– techniques of a powerful, captivating on-camera speaker (from core concept and scripting to structure and using stories)
– going on camera (this includes how you look, your studio or set, principles of lighting and audio, framing yourself, etc.)
– accents and speaking on camera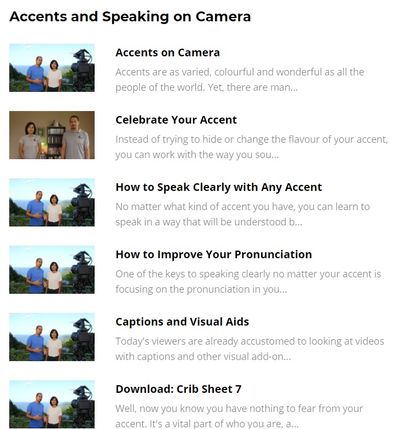 This is yet another course that exceeded my expectations, helping me understand the technical aspects of setting up the equipment, providing me the idea of core concept, and so much more.
I hope the closer look at these two products allow you to sense the sincerity of Ultimate Bundles in over-delivering and only allowing high quality products into their contributors team.
I have access to all the products in this Work At Home Bundle, so if there is any specific information you need about anything that will help you decide whether or not to go ahead with the purchase, feel free to enter your questions in the comments section below, and I will do my best to help you out.

How much does the Work At Home Bundle cost
For so much value in just two of the products that I picked to examine, the entire bundle costs $47. If you would like to get the accompanying cheatsheets, it would cost an additional $10.
I do recommend getting the cheatsheets, because they provide a sort of overview of every single product. At a glance, you can find a particular section of a course or ebook to zoom into, if you need the information fast. This keeps things organized, and saves you lots of time.
Once you make the purchase, the bundle is yours to keep forever. Read on to learn how to use it optimally.

How you should use the Work At Home Bundle
On your dashboard, you will see the access buttons for eCourses, and download buttons for eBooks and cheatsheets.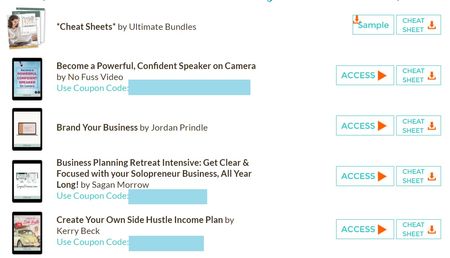 There is also a 'download everything' button near the top of the dashboard, so you do not actually have to download the files one at a time. That will give you all the documents inside a zip folder.
For the eCourses, remember to use the Coupon Codes (where provided) so that you do not end up paying for those individual courses at the product owners' sites.
Do not worry about the amount to be billed. So long as you APPLY the coupon code for checking out the course, it will then indicate as $0 in the bill, or 100% discount, or something to that effect.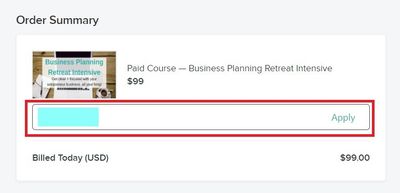 For courses without coupon codes, the access links would have been tagged to indicate that you are an Ultimate Bundles customer, so no worries there.
My suggestion is to NOT try to access the eCourses all at once, as it might be too overwhelming.
For a start, choose 3 to 4 products that will be the most relevant and useful to you, to focus on and get the most out of.
As for the rest, eBooks can easily be stored in your computer for future reading.
One thing to note is that your Work At Home Bundle dashboard will be live for six months after purchase. So just make sure that you gain access to all the rest of the eCourses that you need within that time frame. Each eCourse owner will make their course available to you on their own platform.
---

To round up this article, let me recap and summarize the pros and cons, before I finally make my conclusion.

Pros of Work At Home Bundle

1. Awesome company
Ultimate Bundles is an established company, known among bloggers and customers for the value that they provide, and the win-win situation that they set up for all parties involved.

2. 30 day money back guarantee
Their products are backed by a 30 day happiness guarantee. They really bring the risk down for you to zero.

3. Top notch products
The eCourses and eBooks are created by established bloggers who have their own reputation to protect. And Ultimate Bundles are super picky about who they work with. Thus they will never fail to over-deliver.
4. Study at your own pace
Take your time to study the materials. The eBooks will be with you for life once you download them. The eCourses are also mostly available for life, once you get yourself the access onto the product owners' platforms.

Cons of Work At Home Bundle

1. Overwhelming if you try to study everything
If I have to think of a con, this is it. Driving yourself to complete all the 28 courses and ebooks may possibly drive you crazy, because you will be forcing yourself to consume content that is not highly relevant to you at that point in time.
Just as with everything else in life, PRIORITIZE so that you get the most out of your 24 hours a day. And be kind to yourself.
---

Is the Work At Home Bundle (2020) Worth it?

I'm sure you know my answer by now. YES, the Work At Home Bundle (2020) is absolutely worth it.
It helps you to schedule a productive day working at home, find real work from home jobs with real companies, become a confident speaker on camera, retain your clients as a virtual assistant, and much more.
That's a whole lot of work from home wisdom, if you ask me.
Check out the bundle for yourself, and have fun on your WAH journey!

And if you would like to learn the method that I am using to make an online income while working full time from home, here is your FREE PDF Guide: 4 Simple Steps to Making Money Online. Fill in your details to claim it:

If you have any concerns or questions regarding this Work At Home Bundle review, do comment below, and we will start a conversation from there.
---