Who is this famous (or infamous) internet marketer Anthony Morrison, and is his course Partner With Anthony scam or legit?
Welcome to my review about Anthony Morrison, his courses, books, DVDs, software programs and all other products, in particular Partner with Anthony which is being marketed heavily by many affiliates right now.
To be clear right from the start, I am NO affiliate of anything having to do with Anthony Morrison. I only promote programs that I firmly believe to be of the highest quality.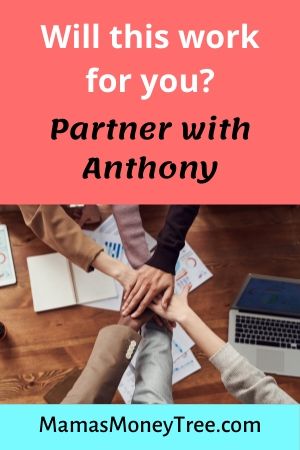 On the surface, especially if you follow his Youtube channel, Anthony Morrison seems like a really great guy who is sincere and genuinely wants to help people succeed, by imparting all the marketing skills and techniques that he had acquired over the years of accomplishing his own stardom.
Sadly, he is ultimately all about money. I'm just glad (and hopeful) that before you let him persuade you to part with your hard-earned money, you are doing your due diligence and researching about him and his products.
Without further ado, let's dive right into the review now!
---

Partner with Anthony Review Summary

Product: Partner with Anthony (PWA)
URL: https://www.morrisonpublishing.com/courses/
Creator: Anthony Morrison
Product type: affiliate marketing training geared towards promoting PWA itself
Price: $7 per month or $97 one-time, with upsells
Rating: 1.5 out of 5
Scam / Legit? : Legit
Recommended or not? : NOT recommended
Partner with Anthony allows you to partner with him, as the name says, to sell the program itself. Your leads will be put through a funnel of aggressive sales tactics that you would have gone through, including sales calls from his team. The money is made (by him) once you're past the low cost entry, as you purchase expensive tools and more advanced training in order to implement what is taught in the course.
At the end of the day, this program does not equip you with the skills to build up your own online business. You will be using your voice to speak for his products, which (in my opinion) are not created in the best interest of their customers.
---
---

Who is Anthony Morrison

So who exactly is Anthony Morrison? Well, he is in fact a highly successful entrepreneur and self-made multi-millionaire who has won more than a couple of awards.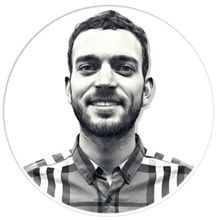 Morrison Publishing is his main company and website through which he sells his courses and software, and you'd better believe there are more than a handful of these!
His training courses focus on email marketing, digital publishing, e-commerce, and various aspects of internet marketing, from search engine optimization to social media. He has built many softwares to help with the automation processes of tasks that may be a struggle for entrepreneurs.
With publishing services as well as live events for students, it is easy to get a bit confused and lost in the vast array of offerings by Morrison Publishing.

Morrison Publishing Software Products
I'm sure this list is not exhaustive, but here are some of the more prominent programs and products sold by Anthony.
His softwares include:
– AutoEngage: automates the engagement process with your audience on Facebook
– Marketer Software: access to many software programs all in one place, from traffic generation and page builder to optin form and list building.
– Mobile Optin: create lead generation pages for your mobile traffic to opt in to your email list.
– Build Redirects: tracking software for your links.
I have not tried out any of these software products myself, but at first glance, they do not look like anything I'd need.
For instance, I firmly believe engagement with your audience has to be genuine, with the top priority as adding value to people who trust and like you enough to follow you. You really do not want to automate replies to their comments on your Facebook posts, which is one of the functions of Anthony's AutoEngage software.
Thus I'm already sensing a misalignment between his philosophy and what it takes to build up a long-term, profitable business that puts customers first.
Take another product: the Mobile Optin. I cannot see any need for this software, because your email service provider will provide the functionality to build landing pages that help you collect your audience's email addresses. And these pages will be responsive to mobile devices.
---
---

Morrison Publishing Training Courses
Here are some of the courses taught by Anthony, not including 'Partner with Anthony' which will be covered in more detail in the next section.
Digital Marketing Academy teaches you to launch your own digital course.
Profit Boosters optimizes various aspects of your business, like more clicks to your links, more opens to your emails, more mobile traffic, higher conversions with your squeeze pages, etc.
Digital Marketing Mastermind ($7 per month) provides access to a private Facebook group for networking with other students and top internet genius partners of Anthony, as well as monthly training and interviews.
Funnel Hacks Bootcamp ($47) is a 6 step formula to creating your own funnel, with a case study of the highest converting funnel, and top conversion hacks.
Success with Anthony 3.0 is an old case study with new sales funnels, email marketing and copy writing techniques that Anthony himself is using right now.
Ambassador Club allows you to tap right into Anthony's business funnels and start generating commissions without even knowing how to create a single page online.
IncomeEDU ($49.95 per month) provides macro level training on things like podcasting, Google Adwords, blogging, and more.
M Insider ($9.95 per month) gives you a monthly newsletter that shows you everything they are testing, their results and analysis, and what they believe to be the winning combinations.
Master Funnel Club gives you 10 new funnels each month, access to niche funnels, and monthly funnel building workshops with their lead designer.

Too Many!
If this does not make you dizzy already, there are books, DVDs, coaching packages (from $1K up to tens of thousands of dollars in price) and live events.
The longer the list became, the more uncomfortable I felt.
This is definitely not the way to help his audience, if he were sincere at all. Bits and pieces of information all jumbled up in a pile, with a price tag to each of them.
If one strategy doesn't work, he will convince you to try another. No Facebook engagement despite automation? Why not learn how to do Google Ads?
Lost thousands of dollars to advertising without seeing any returns? Have you properly built up your email list with Mobile Opt In?
Have an email list that doesn't open your emails? Well, are you blogging?
You see, it is the perfect trap that sets you up for frustration at the lack of results. If one thing doesn't work, it can't be his fault, because you have not tried out the entire suite of strategies that he used to reach success.
You will be sent chasing one thing after another, only to be left deflated and broke at the end of the day, disillusioned by the whole internet marketing industry.
Now, let's just take a closer look at yet another program of his: Partner with Anthony, as it could be what landed you here in the first place.
---
---

What is Partner with Anthony and How Does it Work

Partner with Anthony comprises 13 modules, each of which can only be unlocked 24 hours after you complete the previous one.
This sets back your learning, especially if you had set aside a few days with the intention of completing the training in one sitting.
Except for the technical stuff of setting things up, like ClickFunnels and an email autoresponder (among other things), there is really not much depth to the affiliate marketing training at all.
What you will basically doing is to promote Partner with Anthony, the exact program that is supposed to help you earn.
When your audience click on your affiliate link to purchase this program, you will earn a commission. This simple concept is how affiliate marketing works, and it does not have to be limited to promoting 'Partner with Anthony'.
In fact, I am an affiliate marketer myself. And I know that if I promote stuff just for the sake of money, without sparing a thought for the value the products can bring to my audience, it will be an almost impossible task to build a long-term profitable business, as there will be zero trust for me.

Hidden costs
Back to this program: for you to implement the training, you would have to buy subscriptions for various services, which in turn will make more money for Anthony, or the person who referred you to the program, as you would be using their affiliate links.
To send emails to your list, GetResponse or Aweber start from $15 and $19 per month, respectively.
BuildRedirects is to track the clicks to your links, and costs upwards of $20 per month.
ClickFunnels allows you to build sales funnels, and its price starts from $99 per month.
So you see, there are lots of hidden costs here, most of which you do not actually need when you are just starting out your online business, and especially if you know how to get free traffic to your offers.

Where will you find traffic to promote your affiliate links?
That brings me to the next point: you will be taught to pay for traffic, whether it is with Google Ads, Solo Ads, Facebook ads, or other means. Because this is the faster way to see results, in terms of starting to make sales.
But it does not mean you will start profiting. In fact, if you do not know what you are doing, the hundreds and thousands of dollars per month that you spend to get paid traffic will be washed down the drain. Paid ads is a steeper learning curve than anything else, and is something that you learn as you do (i.e. spend money running the campaigns).
This is not for the faint hearted.
Do not let Anthony (or his brother Adrian) convince you otherwise.
---
---

Red Flags in Anthony Morrison's Programs

There have been numerous complaints about Morrison Publishing's products, most of which are about the pricey upsells, and how the courses are not worth it. Some continued to get billed for other upsells even after they cancelled the frontend products with them. Non-existent support was also a big issue that their customers had to grapple with.
Here are just two unhappy customers who voiced their displeasure on www.flowingfreedom.com.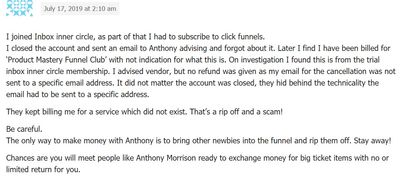 It is very easy to find negative reviews about Anthony Morrison all over the internet.
---

To round up this article, let me recap and summarize the pros and cons, before I finally make my conclusion.

Pros of Partner with Anthony

1. Low cost for some frontend products
Partner with Anthony is priced affordably, at $7 per month. But I would still think twice. Once you provide your contact details, you would have to deal with the aggressive sales calls that would push the upsells into your face.
Moreover, once you provide your payment details, even if it were for some free trial of a service provider that Morrison Publishing is affiliated with, be very careful about the procedure for cancellation. Otherwise they may still go ahead to bill you for the first month, then it would be a hassle to have to go through the refund process.

2. 30 or 60 day money back guarantee
This basic refund policy is in place, but only for SOME products and programs, not all. They include BuildRedirects, initial purchases of IncomeEDU, Digital Marketing Mastermind, Partner with Anthony, and Profit Boosters Program.

Cons of Partner with Anthony

1. You do not pick up real internet marketing skills
Partner with Anthony will not equip you with the knowledge and skills to set up your own affiliate marketing business in any niche you like.
The funnels are done for you, which may sound good on the surface, but it does not add to your professional development. You will not be able to establish your own branding.
And you will be competing with everyone else who buys this program in the clamor for targeted traffic. Who knows, you may even be sending some of the same audience through the same funnel as your competitors.

2. Upsells
The kind of upsells in Anthony's products – one expensive upgrade after another, with incessant emails or sales calls, is not something people take happily to. So I'm not sure why internet marketers can continue to do that unabashedly.

3. Poor support
Even if you take Partner with Anthony as a chance to learn the technicalities of setting up funnels, email autoresponders, trackers and so on, the lack of support is certainly not helpful for a newbie who is trying to figure things out on their own.
---
---

Is Partner with Anthony Scam or Legit?

I will hesitate to call Partner with Anthony scam, since it does deliver some basic knowledge and technical aspects of promoting the program itself with the recommended tools.
But as to whether or not it is the best thing to promote to your audience (since that is what you will be doing if you buy the program), I will leave it entirely up to you to decide.
Similar programs that I had reviewed include Email Processing Homebiz, Prosperity Income Network, Newbies on Fire, Underground Affiliate System, 20K Extra, and DFY Lead Pages, to name just a few.
---

An Alternative
Affiliate marketing is one of the best online business models. I know because I'm a full time affiliate marketer.
It is one of the lowest cost and lowest risk methods to start earning an income from home. You do not have to buy inventory, get a physical store front, or deal with suppliers.
What's even better: you do not even have to fulfill any orders or shipment.
You simply bring customers to the companies that you affiliate with. When a sales is made, you earn a commission. That's the end of your job. Everything else from order fulfillment to customer complaints is handled by the companies themselves.
But that doesn't mean you should just promote anything under the sun. You'd want to build up your own brand and reputation so that you get repeat customers, who will continue to take up your recommendations when looking for products and services in your niche, as they trust your opinion.
It is with this premise that I built up my affiliate marketing websites.
So now, let me extend my humble invitation for you to join me on this online journey.
I am now working full time from home, growing my internet business, and making an online income. I started from scratch with zero knowledge in this area.
You can do this too.
Here's a peek into my daily earnings: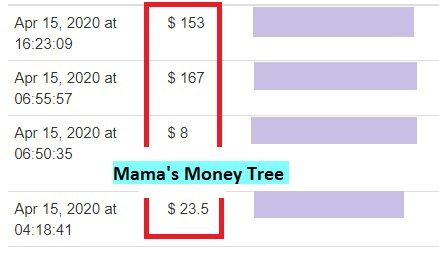 That's $350 in a day. Nothing to boast about, as it is still far from reaching its full potential. I just wanted to show you the vast possibilities here.
Check out this training platform that provides all the resources, tools, along with an entire community of aspiring as well as already successful online income earners:

This real deal does not promise instant results.
Instead, it provides the knowledge and lifelong skills required to grow a successful online business that will sustain itself in the long run.
And for reading all the way to the end of the post, I believe you have it in you to make this work. Here is your FREE PDF Guide: 4 Simple Steps to Making Money Online. Fill in your details to claim it:

If you have any concerns or questions regarding this Partner with Anthony review, do comment below, and we will start a conversation from there.
---