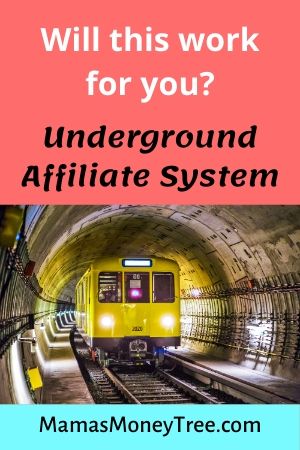 Welcome to my Underground Affiliate System review.
I received an email in my inbox, asking if it's possible to copy and paste my way to a 6 figure income, and claiming that Paul has the fastest way to succeed online.
This can supposedly work for you even if you're a complete newbie and have never gotten any results online before.
Well, that caught my attention, and I decided to check out this super easy method so that I can give you my findings in this honest review.
I'm not its affiliate, neither am I here to bash up every single product I encounter. If it were worthy of my recommendation (I have to first believe it will really add value to my audience) I could have easily promoted it.
Without further ado, let's dive right in now!
---

Underground Affiliate System
Review Summary

Product: Underground Affiliate System
URL: http://www.getundergroundaffiliatesystem.com/index2.html
Creators: Paul OKeeffe and Richard Fairbairn
Product type: affiliate marketing system
Price: $43
Rating: 1 out of 5
Scam / Legit? : Legit
Recommended or not? : NOT recommended
Underground Affiliate System comprises of numerous done-for-you campaigns that promotes webinars and affiliate products in the make money niche.
It is overhyped and will be another huge disappointment if you believe it is the ticket to freedom that it promises. It is what it is. Without targeted traffic landing on your campaigns, you won't make a dime out of this.
---
---

What is Underground Affiliate System

To find out what is Underground Affiliate System, let us first take a look at its website: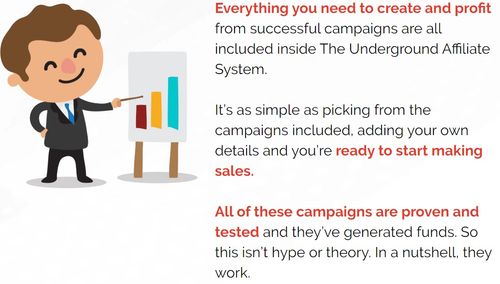 Let's first look beyond the hype and examine the product matter-of-factly.
Underground Affiliate System uses the model of affiliate marketing, which is completely legitimate and can be very lucrative if done right.
Basically you promote existing products to an audience, and earn commissions when sales are made.
It is exactly how my online business works too.
Inside Underground Affiliate System, you get done-for-you affiliate campaigns. They consist of opt-in pages to the various digital products and webinars that you can promote.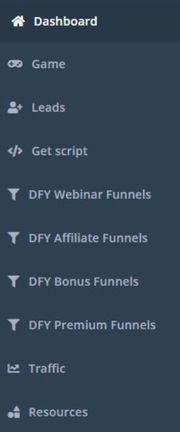 Bonus pages are also provided, and you can take your pick from a large array of bonuses which will entice your audience to pick up the purchases.
Besides these done for you campaigns, you can also build your own campaigns, if you have some other products (outside of what are provided) to promote.
On top of these, you will get affiliate marketing training, in terms of generating traffic to your landing pages.

Red Flags in Underground Affiliate System

1. Hyped up
I totally understand that anyone trying to sell something has to find a sales pitch that attracts their audience.
But it's a completely different story when the sales page is misleading, and comprises half truths.
These guys have been in the internet marketing space for a while, they have built up their own subscribers list, created websites that lay the foundation of their businesses, and found the right advertising campaigns that speak to their audience.
There is no question about it. They are able to generate sales in a short time. That much is true.
But that's only because they have done the legwork, and have gotten themselves established over many months and years.
Without going through all these work, there is no way any DFY campaign will work for the complete beginner, not even the most perfect one.
Are they going to share their subscribers list with you? Or the details of how they run their advertisements to make them profitable?
Especially in the make money niche, do not let anyone convince you that there is some underground secret formula that they are privy to.
No complete newbie will be able to start generating sales within 7 days.
Yes, you can totally set up Underground Affiliate System and get it running within one day, but without any traffic landing on your pages, you will only get crickets all around.
---
---

2. Traffic is the bloodline of every business
The most perfect, high-converting campaigns are not going to make you a single sale if you show them to people who are not interested in your products.
Finding the right traffic takes time and lots of work.
You can get it for free, from search engines. It is called organic traffic, and is the most highly sought after. Not just because it is free, but more because it is made up of ready buyers, as these people are searching for exactly what you are promoting.
Organic traffic makes up 80% of the visitors landing on my site. It is not easy, though.
Paul and Richard will definitely not be teaching this in their training, even though it is the most sustainable way to run an online business.
They will tell you to get paid traffic. Again, they will make it sound easy, omitting to tell you the fact that it is a high risk traffic method.
There is no guarantee that your earnings will exceed your ads cost, and it takes a steep learning curve to run your ads campaigns, tweak the parameters, analyze the results, tweak again, and so on. Until you get an optimized ad copy.
In the meantime, you pay (to run the ads) as you learn, and thousands of dollars can go down the drain before you start recouping those initial costs.
By the time you master the art and science of getting traffic, either free or paid, Underground Affiliate System is no use to you.
You'd be much better off promoting stuff that genuinely add value to your audience.

3. The problem with the make money niche
To sell stuff to people, you've got to look at the demand.
If people are all looking for the fastest and easiest way to get rich, then that is what will sell.
Opportunists bank in on this, creating low quality products that over-promise and under-deliver. That is a big issue in the make money niche. Full of crap (not always, but mostly).
You can sell crappy stuff once or twice to an audience. Do it more, and you will be on their hate-list.
So if you promote the products in the DFY campaigns provided within Underground Affiliate System, you will not be seeing many repeat customers.
Those stuff simply do not work.
To do affiliate marketing, the best strategy is content marketing. And providing as much value as you can (for free) before trying to sell anything to your audience.
With this method, any niche can work for you. There is no reason to limit yourself to the make money niche.
You can carve out a business in anything you are passionate about: camping, knitting, pets, back pains, etc. And you can build it into a profitable affiliate marketing business.
Really, the sky is the limit.
Click on the button to learn how you can get started:

What Underground Affiliate System Does Exactly

What this product does is to give you the perfect little shop in the middle of the desert.
It is useless without any traffic.
You still need to invest the time and energy (if not money) to find targeted traffic to your campaigns.
Do not believe these guys who say anyone capable of pointing and clicking a mouse can do this. There is no copy and paste system that will be your ticket to freedom.
They know it is what people like to hear, so that is what they give you.
I will tell you the hard truth: making money online is not for everyone.
Know that it takes lots of time, effort and grit to make it work. If you do not accept this fact, then you will continue to be at the mercy of people trying to take advantage of the natural weakness in human nature.
---

To round up this article, let me recap and summarize the pros and cons, before I finally make my conclusion.

Pros of Underground Affiliate System

1. Real owners
At least these guys are real people, known in the internet marketing space. It says a lot about accountability, the fact that they are willing to stand behind their product.

2. 30 day money back guarantee
This basic refund policy is in place, for people who are dissatisfied with the product.
Something to take note though: it is stated on their sales page that if they can't fix the issue, they will give you a no-questions asked refund.
To me, this is a conditional refund – only when their system has a problem that they can't fix.

3. You do get your DFY campaigns
Without doing any work, you do get those opt-in pages, and bonus packs that you can use.

Cons of Underground Affiliate System

1. Only works in the internet marketing niche
The DFY campaigns are for products in the make money online niche. This is a space that requires careful sieving to find great quality products that will really help your audience in their make money pursuit.
Looking at the products inside those DFY campaigns, I personally wouldn't promote any of them.

2. Not minimum effort like what it is made to sound
There is no system that you can just take and start generating commissions with. If it exists, no one would have to work at their regular job anymore.
The product would go viral, and everyone would be buying it and living their dream lifestyle.
Why then would these vendors have to keep launching a new product every few months?
The answer is simple. These things live on their own hype. Once the hype dies off, it's time to create yet another secret discovery that even the biggest internet marketers have never heard of.

3. Upsells
If you make your purchase of Underground Affiliate System, you will be faced with these so-called one time offers (OTOs), urging you to upgrade for a better system, more traffic modules, etc.
Do not be in a hurry to get them, for these upsells will always be there. Take your time to use the front end product and find its worth.
If you are not happy with the front end product, the upsells are not going to get any better.
The OTOs in Underground Affiliate System include
OTO1: $67 – Underground Affiliate System Pro
OTO2: $97 for first 30 days, then $9.97 per month – Black Tie Bonus Club
OTO3: $37 – Templates
OTO4: $197 for first 30 days, then $19.97 per month – Underground Traffic Module
---
---

Is Underground Affiliate System Scam or Legit?

Underground Affiliate System is a legitimate product that will give you done for you affiliate campaigns for products in the make money niche.
A previous product by the same vendors include Social Studio.
Other similar products that also give you DFY affiliate campaigns include AffiliXPro, Commission Shortcut, DFY Lead Pages, and Five Minute Profit Sites, to name just a few.
---

An Alternative

Everyone wants to be rich, but guess who will make it?
It's a very natural thing, that's just human nature. I mean, find me someone who doesn't want to get rich fast, and with minimum effort.
I wasn't spared of all the temptations on the internet, hopping from one shiny object to the next.
But when I realized those empty promises are only going to make other people rich, and not me, I stopped looking for shiny objects.
I found a dull-looking object, but I knew in my heart that is the real deal. And from then on, I have never looked back.
An honest, down-to-earth method that will get you there. It's not going to be easy, but it will get you there.
Versus the fast and easy way to empty your pockets and get you nowhere.
Which would you choose?
I am now working full time from home, growing my internet business, and making an online income. I started from scratch with zero knowledge in this area. If I can do it, you can, too.
Here's a peek into my daily earnings:



That's almost $200 in just one single day. It's nothing to boast about, though, as it's just a small fraction of its full potential. I just wanted to show you the possibilities.
Check out this training platform that provides all the resources, tools, along with an entire community of aspiring as well as already successful online income earners:


This real deal does not promise instant results.
Instead, it provides the knowledge and lifelong skills required to grow a successful online business.
And for reading all the way to the end of the post, I believe you have it in you to make this work. Here is your FREE PDF Guide: 4 Simple Steps to Making Money Online. Fill in your details to claim it:


If you have any concerns or questions regarding this Underground Affiliate System review, do comment below, and we will start a conversation from there.
---