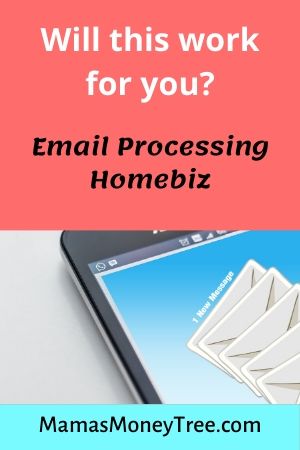 Welcome to my Email Processing Homebiz review.
You may have received an email in your inbox about this great earning opportunity, or seen its advertisement on social media, and are wondering if it is really as good as it sounds.
Can you really make $1,000s per week working from home processing emails? Get paid $25 for every email you process? Why isn't the whole world flocking to this work at home job then?
Well, I'll be upfront here.
The sales page of this product is misleading. This is nothing like the email processing job that they make it sound like. You are supposed to sell this exact product that you are buying, in order to make money. It's much like a cash gifting scheme.

Join me as I walk you through the red flags, as well as the bolts and nuts of this business.
Without further ado, let's dive right into the review now!
---

Email Processing Homebiz Review Summary

Product: Email Processing Homebiz
URL: https://solucom.cl/emailpro/
Creator: unknown
Product type: make money selling the program itself, resembles a cash gifting scheme.
Price: $25 + advertising cost
Rating: 1 out of 5
Scam / Legit? : Borderline legit
Recommended or not? : NOT recommended
Email Processing Homebiz is not an online job, or work from home employment. To make money, you sell the program itself. If you do not have your own audience to promote to, you will have to pay for ads to find traffic to your offer, which is a big risk, without any guarantee that you will get back whatever cost you incurred.
Personally I do not see any value in this program, so I am not promoting it. Its structure closely resembles that of a cash gifting scheme.
---
---

What is Email Processing Homebiz

To find out what is Email Processing Homebiz, let us first take a look at its website: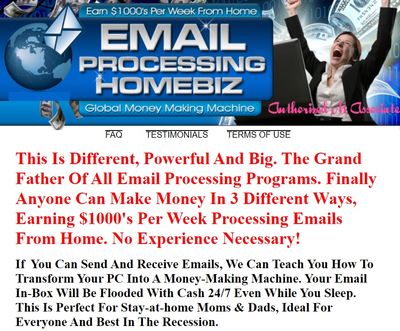 If you can send and receive emails, then you can earn $1,000s per week processing emails, without any prior experience.
$25 per email processed sounds like really easy money, I'd gladly sit in front of my computer all day to process emails, if this were for real.
But what does 'processing emails' entail? And what are the 3 different ways to earn money with this, as mentioned above?


See if you can decipher the various ways to make money.
I find the information very vague, and can't tell the differences between 'processing email on behalf of other companies', 'processing emails on your behalf', and 'Manager Associate of email processing'.
Then there is also the mention about advertising to 950 millions each and everyday. Make sales and build those big downlines? Why does it suddenly sound like an MLM? 'Downline' is a term commonly used in the MLM industry.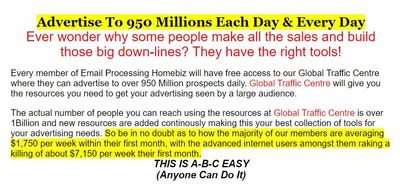 This is beginning to look not as good as what it appeared as at the start of the sales page.

Red Flags in Email Processing Homebiz

1. Scantily clad model
This is not a big thing, but it irked me big time, so I want to point it out.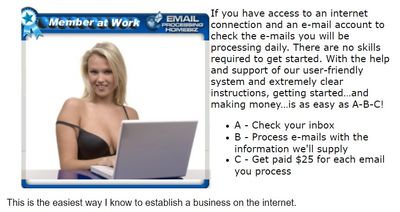 Which legitimate company would sell their opportunity in this way, with such a sleazy picture?

2. They make guarantees
This is a big no-no when it comes to the make money niche.


They made it clear further down the page that this is a global business opportunity, not an employment.
When it comes to making money, there is absolutely NO GUARANTEE. (Even employment these days are not iron rice bowls.)
No one can guarantee you will make a single dime. If anyone tries to do that, you should run in the opposite direction.
And you will be sure to find earnings disclaimers in their terms of use page. Then what's the objective of putting 'guaranteed' in bold print here, if it's not meant to mislead?
---
---

3. No identity of product owner
We do not know who owns Email Processing Homebiz. Or at least I can't find the real identity of the owner.
Any pictures you see on its website are all stock images taken off the internet.

4. No refund
It is stated clearly right at the bottom of the website that the $25 you will be paying is a one-time, non-refundable fee to get access into the members' area.
What if, after trying it out, you figure that this is not for you?
If it were such a great earning opportunity, people would clamber to join and would stay on. They would not ask for a refund.
To me, not allowing for a refund policy or at least a trial period shows how little confidence the program owner has in their own product.
All I see are hype and 'guaranteed earnings' splashed everywhere, just to make you part with your money, without actually caring if you are satisfied with your purchase.

How Email Processing Homebiz Really Works

What this is all about really boils down to buying the product (Email Processing Homebiz), and then selling the same thing to others.
On the surface, it doesn't seem that bad. Spend $25 to sell the same many times to many people. On your first sale, you would have made your money back, since you would make $25 for every sale.
So from the second sale onwards, it would be pure profit, wouldn't it?
Not so fast, though.
Don't forget about your advertising costs. You will be paying for ads on social media platforms, or buying Solo Ads (which allows you to promote your offer on other people's email lists).
In fact, that is how Email Processing Homebiz essentially makes money – when you buy traffic through their Global Traffic Center.
You may also be urged to buy into more training in their members' area.
These are the ways Email Processing Homebiz will profit, since the initial $25 fee gets paid to the person who referred you to the opportunity, and not to the company itself.
Paid traffic is very high risk
If you do not know your way around using paid ads to get traffic, it is a very expensive and steep learning curve.
Paid traffic is something that you learn as you do – running your ad campaigns, studying the results, tweaking parameters or your copywriting, running the ads again, and tweaking again, until you get optimized conversions.
This can easily cost you thousands of dollars before you are able to see meaningful trends and patterns.
If you go in blindly without first equipping yourself with the tools and skills to improve your campaigns with each run, you are just throwing money down the drain.
Paid traffic is an art and a science that takes time and lots of money to master, and is not for the faint-hearted or risk-averse.
If you see anyone doing well with Email Processing Homebiz, they are either skilled in paid traffic, or have already established a foundation for their business that allows them to reach a wide base of free traffic.
Take my website as an example. The fact that you landed here shows that I am getting free traffic, as I have positioned my website to show up to people who are searching for stuff on the internet.
I could have easily promoted Email Processing Homebiz and earned good money with it. But I'm not doing it because I know people who buy it will do so with unrealistic expectations of the earning opportunity, being misled by the sales page.
My point is this: if you want to make some serious money online, equip yourself with this high income skill of getting free organic traffic from search engines, and you can promote anything to your audience.
You will have absolutely no need for low-quality products like Email Processing Homebiz.
---
---

To round up this article, let me recap and summarize the pros and cons, before I finally make my conclusion.

Pros of Email Processing Homebiz

1. Possible to make money
Well, it is possible to profit with this program, if you know your marketing stuff – you are either able to get free traffic to your offer, or know your way around paid traffic.

Cons of Email Processing Homebiz

1. No real value in the product
The tools you get inside Email Processing Homebiz are geared towards promoting itself. Hence I do not see any real value here.

2. Overhyped
I do not appreciate anything that tells you how easy it is to make guaranteed earnings.

3. The problem with paid traffic
It is a high cost and high risk way to run a business, especially for beginners. Hence it is not just about the $25, there are hidden costs that can go sky-high depending on how you run your ads.
If the audience from the Global Traffic Center inside Email Processing Homebiz are really that targeted and can convert well, why do they not use it themselves to sell the program?
The fact is, they are using their members to pay the expensive advertising fees, in order to pre-qualify the traffic. To make a $25 sale, it can cost you many times more.
The people behind Email Processing Homebiz know this. So they would gladly let you earn the $25, as you would have spent much more to send them a 'converted' customer who is very likely to buy the other training programs that they sell.
---

Is Email Processing Homebiz Scam or Legit?

I wouldn't exactly call it a scam, but I would never promote such a program to my own audience either. Its marketing tactics are not to my liking, and the chances of success are unrealistically magnified.
Similar programs include Newbies On Fire, Perpetual Income 365, 1K A Day Fast Track, and Commission Tycoon, to name just a few.
To learn how to detect if a work-from-home program is legitimate, check out my other post here.
---

An Alternative

I know you want to be rich. Believe me, I do too.
It's a very natural thing, that's just human nature. I mean, find me someone who doesn't want to get rich fast, and with minimum effort.
I wasn't spared of all the temptations on the internet, hopping from one shiny object to the next.
But when I realized those empty promises are only going to make other people rich, and not me, I stopped looking for shiny objects.
I found a dull-looking one, but I knew in my heart that is the real deal. And from then on, I have never looked back.
An honest, down-to-earth method that will get you there. It's not going to be easy, but it will get you there.
Versus the fast and easy way to empty your pockets and get you nowhere.
Which would you choose?
I think I can guess your choice. 🙂
So now, let me extend my humble invitation for you to join me on this online journey.
I am now working full time from home, growing my internet business, and making an online income. I started from scratch with zero knowledge in this area.
You can do this too.
Here's a peek into my daily earnings:



That's almost $200 in just one single day. It's nothing to boast about, though, as it's just a small fraction of its full potential. I just wanted to show you the possibilities.
Check out this training platform that provides all the resources, tools, along with an entire community of aspiring as well as already successful online income earners:


This real deal does not promise instant results.
Instead, it provides the knowledge and lifelong skills required to grow a successful online business that will sustain itself in the long run.
And for reading all the way to the end of the post, I believe you have it in you to make this work. Here is your FREE PDF Guide: 4 Simple Steps to Making Money Online. Fill in your details to claim it:


If you have any concerns or questions regarding this Email Processing Homebiz review, do comment below, and we will start a conversation from there.
---