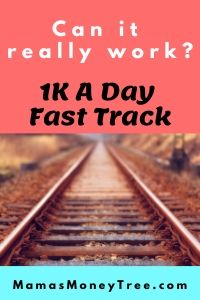 Welcome to my 1K A Day Fast Track review.
Can this expensive product by Merlin Holmes really earn you thousands of dollars per day? What are the secret methods he is teaching that no one is using?
If you have not watched the lengthy webinar, save your time, for I have summarized the main points for you here.
Stick with me till the end as I detail his traffic and monetization methods, along with some red flags that I will point out, and why I think this product is not worth its high price tag.
Remember, those raving reviews by its affiliates just want you to buy through their links, they do not make money using the techniques taught in 1K A Day Fast Track, because it simply does not work without a strong foundation for an online business.

Without further ado, let's dive right into the review now!
---

1K A Day Fast Track Review Summary

Product: 1K A Day Fast Track
URL: https://free.thefasttracks.com/
Creator: Merlin Holmes
Product type: list building and email marketing training
Price: $997
Scam / Legit? : Legit
Recommended or not? : NOT recommended
1K A Day Fast Track mainly teaches you to build a list with a poll on the landing page, so that you get your audience engaged and can use the poll results to give them what they want.
I do not recommend this exorbitantly-priced product because you will be going after paid traffic, which is an expensive and high risk business.
---
---

What is 1K A Day Fast Track

To find out what is 1K A Day Fast Track, you would have to first watch a lengthy webinar by Merlin Holmes.
I will present the gist of it here, as well as what you will be getting if you buy this product.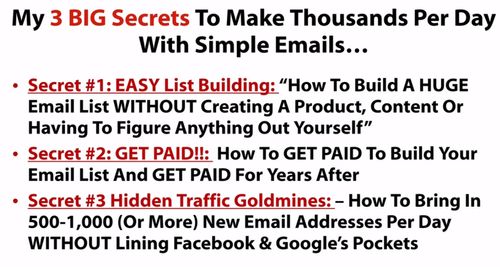 The overarching concept used is email marketing.
It is a legitimate and proven way to sell to people.
As internet marketers have this saying: the money is in the list.
Yes it is, provided you know how to do it properly.
Here in 1K A Day Fast Track, you will be taught to implement a poll on the landing page that you drive traffic to.
To find out the results of the poll after they indicate their choice, your audience would have to provide their email address, allowing you to build up your very own list.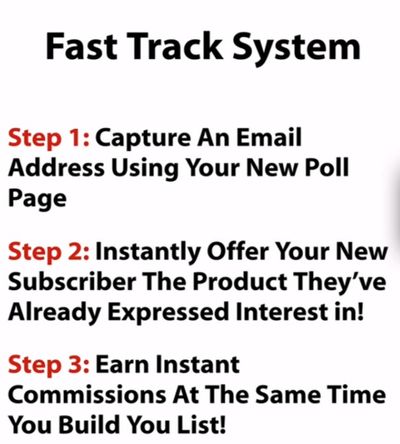 Then, you can start to sell them things that they have indicated an interest in. You will do this through affiliate marketing, so you do not actually need your own products.
Simply by driving sales to existing businesses, you get to earn commissions. This is called affiliate marketing.
The next question is: where do you find traffic to land on that page with the poll?
1K A Day Fast Track will teach you to go for paid traffic. Though it can get you results faster, this can be a very risky method, one that I will never recommend to any beginner in the internet marketing space, as I will examine in greater detail in a later section.
For now, let's see what you will be getting inside 1K A Day Fast Track.

6-week training
This is the content of the training, which has to be studied in sequence, one per week. You will not be able to skip ahead, or go at a faster pace of your own, as these modules will only be unlocked weekly.
Affiliate marketing and email marketing basics
Set up accounts and finding the right ClickBank products to promote
Set up your poll for landing page
Set up your email autoresponder
Set up ads to drive traffic to your landing page
Different paid traffic methods

Poll and thank you pages templates
The poll page template will be nicely done up for you, so all you have to do is replace the text and images with your own, to make them relevant to whatever you are promoting.
After your visitor completes the poll and provides their email address to see the results of the poll, the thank you page will show up, which is your first opportunity to sell them a product that they have indicated an interest in.
Templates for these thank you pages are also available within 1K A Day Fast Track, so that makes your job easier, as you do not have to create the sales page from scratch.

Ad copies
On a selected platform of your choice, you will run ads that drive targeted traffic to the poll page. It can be on Facebook (though Merlin does not recommend it as it is expensive), Pinterest, forums, or any other platform where your potential customers are.
Having templates for advertising copies will again save you tons of work, though you still do have to tweak these as you analyze how your audience respond to these copies.

Email swipes
You will get the email copies that Merlin has found to convert well. You can use them as a base, but certainly do need to make adjustments to make them sound like the authentic YOU.

It all sounds good, so why am I not recommending this?
Well, it mainly has to do with the high price of the training, on top of the way he does not really teach his students to add value to their customers, as well as the traffic method.
---
---

Red Flags in 1K A Day Fast Track

Too expensive
The price tag is out of this world, for an email marketing training along with some tools and templates.
There are so many great quality email marketing courses out there that are considerably cheaper.
Hugely successful internet marketers offer free tips and guides too, like this one by Neil Patel.
My personal take is that 1K A Day Fast Track is just not worth your $1K.

Who is Merlin Holmes?
The creator of this product claims that he is the CEO of of Rockstar Marketing Inc. But on the company's website, it is a plain, simple, single page site that does not have any tabs or menu for navigation.
The only information provided is Merlin's email address.
It isn't assuring, and makes me think twice about believing his story of being a self-made internet multimillionaire.
I may be ignorant, but as far as I can see, there is really too little to go by, for someone who is selling such an expensive product.

Does poll really work? Don't offer freebie? Really?
In his webinar, Merlin urges everyone not to give freebies away as lead magnets to get email signups.
Seriously?
That is what everyone does, including the most successful marketers. And he is telling us not to do that. How do we know his method will work? Why don't we just follow a proven path?
Everybody loves freebies.
Marketers offer some of their best advice and guidance for free. This allows people to see how much value and help they are willing to provide.
This is how they build trust and rapport with their audience.
And Merlin is telling us not to do this.
I really do not buy into his way of thinking about this.
Imagine you were asked for your opinion on the poll page. And right after you indicate your choice, you are asked to enter your email address in order to see the poll results.
Maybe you would provide the information, maybe you wouldn't.
I, for one, would get irritated and put off.
I would rather close the page and not get to find out the poll results.

Email marketing ethic
Email marketing is first about building a relationship, offering content that helps your audience figure out stuff that you know they are concerned about.
Only after your audience get to know, like and trust you is email marketing THEN about pitching and selling great quality stuff that you whole-heartedly believe in.
According to Merlin, this is not the way to do email marketing. You do not have to warm up your audience and let them get to know you.
Being an internet marketer myself, his philosophy sounds so wrong.
If people on your email list do not know you, they will not buy from you, despite you offering them exactly what they want. Because they don't know if you are just trying to make money off them, or genuinely wanting to help them.
They will get onto the internet to search for reviews of the product you are promoting, and buy through someone with a website that they can engage and interact with, and get to trust.

The issue with paid traffic
Paid traffic, whether on Facebook, Google, Instagram, Pinterest, forums, etc. is a high risk and high investment method with a steep learning curve.
No matter which platform you choose to run your ads, you need to sink in a good amount of money.
Run your first campaign, collect enough data to analyze your audience's behavior and preferences, tweak the campaign, run it again, get results, and so on.
It takes at least a few grands for you to make sense of the trends, and learn to optimize the conversion rates. Without the capital and the ability to study the numbers, you will simply be throwing all that money down the drain.
So do not let anyone convince you that paid traffic is easy. It is definitely not for the faint-hearted or risk-averse.
---
---

What 1K A Day Fast Track Does Exactly

1K A Day Fast Track might be referring to Merlin earning $1K a day, if you decide to part with your $1K today.
I'm not here to tear down any product I encounter.
If it were really good, I could have easily written a positive review for it, and get onto its affiliate program to earn hefty commissions.
But I'm not doing it because I do not believe it can really help you earn $1K a day.
What this product will do is to get your hopes high, and get you using some unique and creative twist to a very common approach: email marketing.
Unfortunately, the twist effectively downplays the importance of being authentic and trustworthy to your potential customers.
Therefore, I will not recommend this to anyone.
If it had been much more affordable, it may be alright to buy it for the templates that can be a good reference to creating professional looking landing pages, and writing email copies.
---

To round up this article, let me recap and summarize the pros and cons, before I finally make my conclusion.

Pros of 1K A Day Fast Track

1. Real owner
Merlin Holmes is a real person, who is at least willing to show his face to his audience, and stand behind whatever he is selling.

2. 30 day money back guarantee
This basic refund policy is in place, for people who are dissatisfied with the product.
The thing is, you have to make the decision before you can complete the training, as it is a 6-week course. And without having studied the last two lessons on setting up ads and the various methods of getting paid traffic, your learning of Merlin's method would be incomplete.

3. There is some value in the training
There is definitely something to learn here. Design of landing pages, how to pitch products in email copies, etc.

Cons of 1K A Day Fast Track

1. Priced over the top
In my opinion, the value you get from this product is going to be way below what you pay for.

2. Polling may not work
Do not just take Merlin's word for it. Look around at what other internet marketers are doing. If everyone is offering freebies, there is a reason – because it works.
It gives the marketer a chance to offer the best, for free. Without this, the audience has no way to know how real and authentic you are in wanting to help them.
And then think about whose emails you are drawn to, whose subscriber list you choose to stay on for a long time.
If the person or company were not providing value through their interaction with you, if you had not felt their sincerity, would you have bought from them when an offer comes along?

3. Paid traffic is not for beginners
When you are just starting out trying to make money on the internet, go for free traffic. Only after you are making consistent income from free traffic do you know that your sales funnels are converting well for you.
Then, using the money you have earned, it will be great to re-invest it into your business through paid traffic, which allows you to scale up.
Even then, be prepared to lose money at the start, possibly at least a few thousand dollars, as you learn the ropes. In the long run, it will likely become profitable, which is what every marketer hopes for through running advertising campaigns.
---
---

Is 1K A Day Fast Track Scam or Legit?

1K A Day Fast Track is a legitimate product that teaches email marketing.
Other products I have reviewed that also involve email marketing include Copy My Email System, Instant Email Empire, Email Fire, CB Passive Income, and DFY Lead Pages, to name just a few.
---

An Alternative

When you are trying to make money on the internet, there will be too many people trying to sell you the easy way to make $1K per day.
They give you templates, done-for-you systems, or the secret formula that they just stumbled upon.
Instant commissions! $1K a day! Just a few hours of work each week! And what not.
I wasn't spared of all the temptations on the internet, hopping from one shiny object to the next.
But when I realized those empty promises are only going to make other people rich, and not me, I stopped looking for shiny objects.
I found a dull-looking object, but I knew in my heart that is the real deal. And from then on, I have never looked back.
An honest, down-to-earth method that will get you there. It's not going to be easy, but it will get you there.
Versus the fast and easy way to empty your pockets and get you nowhere.
Which would you choose?
I am now working full time from home, growing my internet business, and making an online income. I started from scratch with zero knowledge in this area. If I can do it, you can, too.
Here's a peek into my daily earnings:



That's almost $200 in just one single day. It's nothing to boast about, though, as it's just a small fraction of its full potential. I just wanted to show you the possibilities.
Check out this training platform that provides all the resources, tools, along with an entire community of aspiring as well as already successful online income earners:


This real deal does not promise instant results.
Instead, it provides the knowledge and lifelong skills required to grow a successful online business.
And for reading all the way to the end of the post, I believe you have it in you to make this work. Here is your FREE PDF Guide: 4 Simple Steps to Making Money Online. Fill in your details to claim it:


If you have any concerns or questions regarding this 1K A Day Fast Track review, do comment below, and we will start a conversation from there.
---