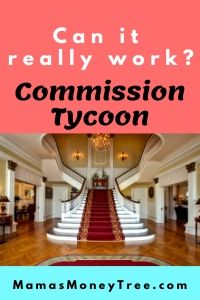 What is Commission Tycoon, this 4-part system for getting hot leads and banking $173 per day, with free traffic included? How is it related to the course called Traffic Domination?
What kind of traffic are they teaching you to get? Will it really work, or will you end up more frustrated like so many other products you may have tried before this?
Welcome to my Commission Tycoon review.
Here in my honest and in-depth article, I will explain what you will be getting inside Commission Tycoon, and why it may not be the best thing for you.
Also, please be aware that those raving reviews you find while doing your research are all written by its affiliates who just want to make money off your purchase. They put up on the pedestal every single product they promote, without genuinely caring about the quality of those products.
Without further ado, let's dive right into the review now!
---

Commission Tycoon Review Summary

Product: Commission Tycoon (a.k.a. Traffic Domination)
URL: http://commissiontycoon.com/fe
Creators: Anthony Mancuso, Wayne Crowe, and Paul Nicholls
Product type: Solo Ads and email marketing
Price: $13
Scam / Legit? : Legit
Recommended or not? : NOT recommended
Commission Tycoon teaches you to get traffic with Solo Ads, and implement email marketing to promote your affiliate offers.
This method can work if you are already an established marketer, with a huge base of loyal fans who trust your recommendations. Without this foundation to your online business, it is very likely Commission Tycoon will fail your expectations.
---
---

What is Commission Tycoon

To find out what is Commission Tycoon, let us first take a look at its website: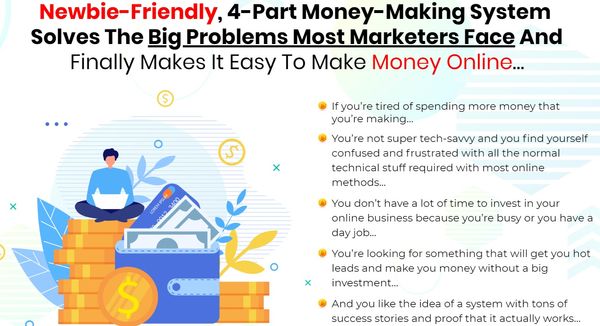 Newbie-friendly, makes it easy to make money online, solves the big problems most marketers face, generate hot leads, easy daily commissions, etc.
A sales page that is plastered with hype warns you that the product vendors could be more interested in making money for themselves than providing you with realistic expectations in the world of internet marketing.
For now, let's take an objective look at what you will be getting inside Commission Tycoon.
The first thing that you will encounter right after checking out the product is entering the Facebook group of Traffic Domination, as well as getting onto Wayne Crowe's Facebook messenger list.
Traffic Domination is also the List Building Training, a course by Wayne Crowe.
This is essentially what you get, packaged under the name of Commission Tycoon.
Here are the video training modules inside Traffic Domination:
Step 1: How it all works
Step 2: How to get your 100 free bonus clicks
Step 3: Get your squeeze pages
Step 4: Connect your Autoresponder (GetResponse)
Step 5: Grab your free email swipes
Step 6: Sign up for the affiliate network
Step 7: Set up your system
Step 8: Buy traffic and start making sales
Step 9: Refer others to earn commissions
Step 10: Advanced training and 100 free clicks
In gist, you will learn to set up a system to promote your affiliate offers through email marketing, using paid traffic from Solo Ads.
There are certain parts that have been done for you, like email swipes (so that you do not have to do your own copywriting), and squeeze pages, which will be helpful for a newbie in internet marketing.
Still, personally I will not use Commission Tycoon.
Let me explain why.

Red Flags in Commission Tycoon

1. Old product in new packaging
If it is Traffic Domination, why don't they just sell it as such? A solid product with happy customers should not have to be re-packaged under an entirely different name.
This makes it seem sketchy.

2. Only works in the make money niche
The traffic that you will be getting, along with the squeeze pages and email swipes, are all designed to cater to the make money online niche.
This means that you will be restricted in your choice of niche. And unnecessarily so.
You see, with affiliate marketing, you can promote products in any niche you are passionate about. Whether it's gardening, hiking, vegan lifestyle, finance, migraine, etc. it can be turned into a profitable affiliate marketing business.
Moreover, a prominent issue with the make money niche is the abundance of low quality products that litter the internet. Where there is a demand, there will be supply. People are always looking for the fastest and easiest way to get rich, so that is what the vendors will serve up.
And we know there is no fast and easy way to get rich that actually works.
---
---

3. The problem with Solo Ads
Solo Ads is the paid traffic method of buying other people's email lists, and sending your offers through them.
Firstly, they are expensive, especially if you are looking for good quality, targeted traffic that is interested in what you are selling.
100 clicks can easily cost you upwards of $80. Out of those 100 leads, you would be lucky to make one sale, as a beginner without a foundation to your business.
If you go for cheaper sources of Solo Ads, they may never convert at all.
There is no guarantee no matter which supplier of Solo Ads you work with. Hence you could be throwing money down the drain.
That is a very real risk associated with paid traffic that you need to understand.

4. There is a catch to your 100 free bonus clicks – added cost
This becomes apparent only as you go through the training of Traffic Domination.
In order to claim your 100 free bonus clicks from Wayne, you need to purchase ClickFunnels using his affiliate link.
ClickFunnels is a popular sales funnel builder that allows you to create nice landing pages to optimize your conversions.
It is not cheap, though.
The lowest pricing tier starts at $97 per month.
This is going to set you back by quite a bit, even before you get any traffic onto those landing pages.
In my opinion, tools like this are great for the intermediate and advanced internet marketer who have already profited sufficiently to be able to use their earnings to re-invest into their business.
It should not be on the priority list of the beginning internet marketer who has not yet generated a consistent online income.

5. Autoresponder cost
This contributes another cost to your business, upwards of $20 per month.
Though you may have heard of some autoresponder service providers who give a free account for the first 1,000 subscribers or so, do note that many actually frown upon affiliate marketing in the make money niche.
So do check out their terms and conditions carefully, as you do not want to get your account banned or terminated.

6. Email swipes do not reflect the authentic YOU
With the email copies written out for you, it saves you time and work.
But these are going to sound very hyped-up and salesy.
And people on your list can sense, from the tone of the emails, that the main objective is to make them buy the products, possibly at the expense of genuinely caring for what their money is worth.
If it is not how you would communicate with a friend whom you care about, then these email swipes may not be the best thing for you or your business.

7. What happens when you send emails to your list
Imagine receiving an email from someone you do not know, trying to sell you some product.
Let's say it catches your attention.
Will you trust that person and take his word for it? And simply buy it off the link provided in the email?
Or would you get onto the internet to do some basic research on the product before making the decision? And guess who you will find?
Yes, those websites that belong to the established internet marketers, with their own reviews of the product, plus whatever bonuses they tend to throw in along with it!
---
---

What Commission Tycoon Does Exactly

If you follow the training in Commission Tycoon, or rather, Traffic Domination, this is what happens:
You throw in lots of money to:
– subscribe to an autoresponder so that you can send out emails to a list,
– possibly buy ClickFunnels so that you can set up those beautiful landing pages
– buy traffic on Solo Ads.
All these work and money, only to send traffic the way of other marketers?!
Because when your leads do their own research on the internet, they will be drawn to those website owners who definitely appear more credible than someone who is just randomly spamming their email inboxes.
To make real money on the internet, a website is the bare minimum you must have.
Few people will tell you this, because they just want to get your money by selling you some done-for-you, easy system that promises the moon which it will never deliver.
---

To round up this article, let me recap and summarize the pros and cons, before I finally make my conclusion.

Pros of Commission Tycoon (Traffic Domination)

1. Real owners
These are real people, well known in the internet marketing niche, who are hopefully able to stand behind their product.

2. 30 day money back guarantee
This basic refund policy is in place, for people who are dissatisfied with the product.

3. You do get your email marketing resources
With the email swipes, some of the work is done for you. And you can learn from these experienced marketers by looking at their copywriting that supposedly converts leads into buyers.

Cons of Commission Tycoon (Traffic Domination)

1. Only works in the internet marketing niche
An online business can work for any niche. But if you use the tools and method taught in Traffic Domination, it is solely for promoting products in the make money niche.

2. Not minimum effort like what it is made to sound
It is not going to be easy daily commissions like what they claim on the sales page of Commission Tycoon.
If you're lucky, you may make a few random sales here and there, hardly enough to cover the high cost of this paid traffic method.
The much greater likelihood is that you are dumping money to send good traffic the way of other internet marketers who are more established, with their websites and all, where people can get engaged on and get to know them and trust them more.
Ultimately, you are selling to real people, who have eyes to see and minds to judge for themselves. If the trust and rapport is not built, the sales will not take off.

3. High investment
Commission Tycoon itself is not expensive, but the paid traffic method taught in there is.
In fact, you could be making losses. This is something you need to get mentally prepared for. Paid traffic is not for the faint-hearted.
That is why I have not dabbled in any form of paid traffic at all.
I am too risk-averse, and prefer to do it the low-cost way.

4. Upsells
There are upsells in Commission Tycoon that will try to make you part with even more of your hard-earned money, so do not think it is just the very affordable front end product. The money is in the one-time-offer funnels.
Do not be pressured into buying, though. They will still be there after you have tried out the front end product to show that it works in getting the results for you.
If the front end is not a good quality product, I don't think you should believe that the upgrades will be any better.
Upsell 1: $37 – Done for you package
Upsell 2: $197 – Underground Traffic Mastery Academy
Upsell 3: $67 – Super Affiliate Classroom
Upsell 4: $297 – $5K Affiliate Shortcut
Upsell 5: $97 – Reseller / License rights
So, that's $700 worth of products in the upsell funnel.
Many upsells in the make money niche do not cover any money back guarantee, so please do your due diligence before getting any of these.
---
---

Is Commission Tycoon Scam or Legit?

Commission Tycoon is legitimately Traffic Domination. I wouldn't call it a scam, but it is definitely not something I'd recommend to anyone, especially beginners trying to make some real money online.
Other products also created by Anthony Mancuso and Paul Nicholls include Supersonic, Golden Ticket, and Proximity, to name just a few.
---

An Alternative

Everyone wants to be rich, but guess who will make it?
It's a very natural thing, that's just human nature. I mean, find me someone who doesn't want to get rich fast, and with minimum effort.
I wasn't spared of all the temptations on the internet, hopping from one shiny object to the next.
But when I realized those empty promises are only going to make other people rich, and not me, I stopped looking for shiny objects.
I found a dull-looking object, but I knew in my heart that is the real deal. And from then on, I have never looked back.
An honest, down-to-earth method that will get you there. It's not going to be easy, but it will get you there.
Versus the fast and easy way to empty your pockets and get you nowhere.
Which would you choose?
I am now working full time from home, growing my internet business, and making an online income. I started from scratch with zero knowledge in this area. If I can do it, you can, too.
Here's a peek into my daily earnings:



That's almost $200 in just one single day. It's nothing to boast about, though, as it's just a small fraction of its full potential. I just wanted to show you the possibilities.
Check out this training platform that provides all the resources, tools, along with an entire community of aspiring as well as already successful online income earners:


This real deal does not promise instant results.
Instead, it provides the knowledge and lifelong skills required to grow a successful online business.
And for reading all the way to the end of the post, I believe you have it in you to make this work. Here is your FREE PDF Guide: 4 Simple Steps to Making Money Online. Fill in your details to claim it:


If you have any concerns or questions regarding this Commission Tycoon (Traffic Domination) review, do comment below, and we will start a conversation from there.
---