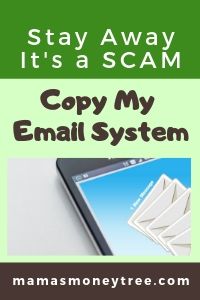 You have probably heard of this through an email that you received, and are checking out how real is Copy My Email System scam. Can you really earn $160 to $440 a day, simply by copying and sending emails from home?
It is the right thing you are doing, sniffing things out before you commit to anything. Even though this seems free, on the surface, even if it ultimately does not take any money from you (it sure intended to), it would have wasted your precious time.
Here, in my honest, unbiased, and in-depth Copy My Email System review, I will be pointing out all the red flags, as well as the trickery operated by this program, that you can expect to be put through, if you get sucked into it.
Let's dive right in now, to take this copymyemailsystem.com (also known as cmeslive.com) apart.
---
Copy My Email System Review Summary
Product: Copy My Email System
URL: http://copymyemailsystem.com or http://cmeslive.com
Creator: "Bobby"
Product type: Email marketing and affiliate marketing
Price: Free, but you will be hit with pricey upsells once you get into the members' area
Scam / Legit? : SCAM
Recommended or not? : Not recommended
Copy My Email System is a big scam. Even the owner of the product, Bobby, who makes his appearance in the sales video, is fake. He is an actor engaged from Fiverr, a freelancing platform.
This product is identical to Instant Email Empire that I have reviewed before. It simply takes on various different names, as people get to know how they really work, and start exposing the scams they are.
If you do not want to waste anymore time and money on scams, do check out my #1 recommendation to making money online:




Read on for the detailed review of copymyemailsystem.com (a.k.a. CMES Live System), and why I call it scam.
---
What is Copy My Email System
Information presented in sales video and landing page
It all started off with getting your name and email address, if you want to even check out their promotional materials: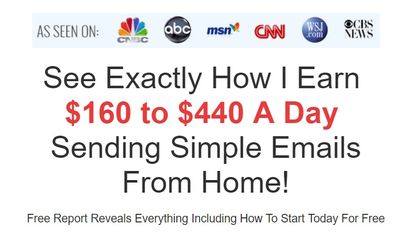 Look at how they try to associate themselves with the big names of the news stations. This is to mislead their audience into thinking that they have been recognised or credited by those news channels. But this is so far from the truth.
After entering my information, I was brought to this sales video, which started off with a news clip: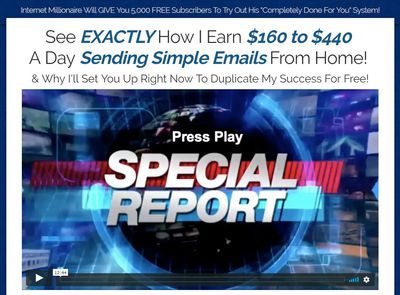 Again, they try to give the false impression that they were associated with the news reports, when the fact is those reports were about working from home in general, and how some people have found success with it, and are enjoying the benefits that come with it.
They have nothing to do with this Copy My Email System or CMES Live System at all.
Next, the star of the show, Bobby, shows up.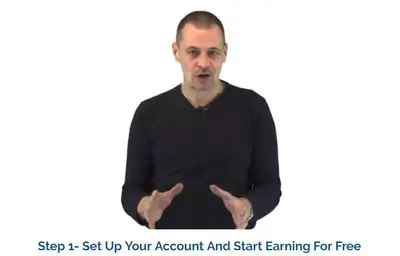 According to what he said, he has been working online successfully for 19 years now. He owns a huge house, big cars, and his wife does not have to work, they get to spend lots of quality time with their two beautiful children. They travel the world, take lavish vacations. All these are possible, thanks to email marketing.
Companies get him to send emails to potential clients, and pay him for the email marketing service.
His business has exploded so much, his email provider does not have the bandwidth to cope with the massive amount of emails that he has to send. So now he is getting your help.
He will help you set up a free account with an email service provider, and provide you with the list of subscribers. You simply send out emails through your account.
Whenever someone clicks on a link in the emails that you send, you earn $0.20. Do this everyday, and your earnings will add up fast.
He also has an affiliate program, where you promote this product, and when a person clicks through your affiliate link, you earn 10 cents.
It all sounds good, very easy job that can earn you some great money. Who does not know how to send emails, right?
Sorry but I have to burst the bubble right now. Bobby is not the real owner of Copy My Email System or CMES Live System. He is an actor that the real owners engaged from Fiverr, to act in the sales video: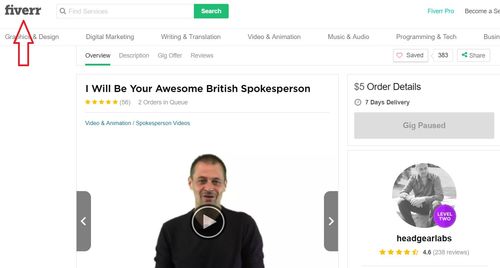 I cannot call this anything else but a BIG SCAM.


How Copy My Email System (CMES Live System) really works
Once inside the members' area, this is the screen I get: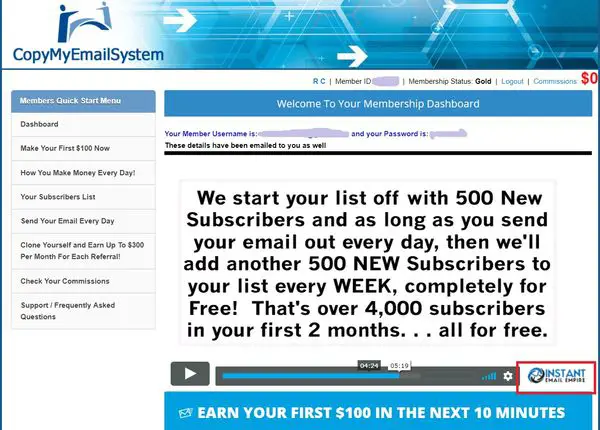 Look at the part on the bottom right corner, in the red box I drew. This is the proof that Copy My Email System is the exact same thing as Instant Email Empire. Why do they need so many different names if it were a legitimate system that really wants to help people make money?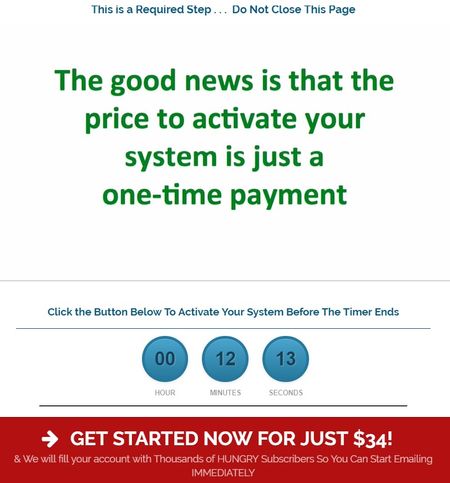 So, the first step I was required to do was to activate my system. For a one-time payment of $34.
Oh. That came as a "surprise". Because before this, they kept repeating that the whole thing is free.
So apparently, after paying this $34, I can start my emailing business. Every Monday, they will channel 500 new subscribers into my account, all for free.
But if you want to jump start your commissions by 10 weeks, you can pay $197 to get 5000 subscribers.
That's not all. Apparently they have a secret source of traffic, which are premium quality, as you will be sure to get results with this: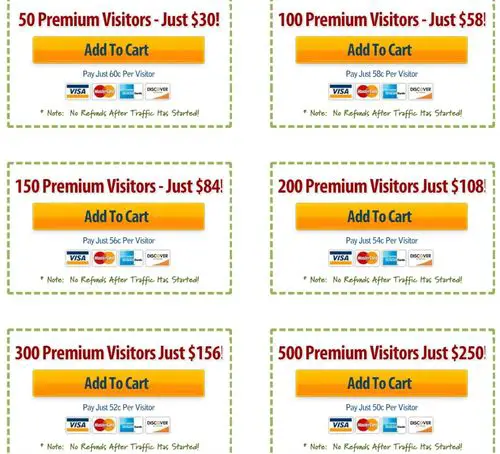 As you can see for yourself now, Copy My Email System is touted as free, since you are helping Bobby to send emails that he is not able to manage in his email marketing business. You supposedly make money in the process, as Bobby wants to share the earnings with you.
However, the fact is that this is a system that is going to take your money instead, as it is full of upsells every step you take.


Why Copy My Email System will not work for you
Because it is made to work for its real owners. There are many people who have used it, by diligently sending emails through the system every single day.
Yes, they did accumulate earnings. But guess what?
When they reached the $500 minimum cash out amount, they are either told that they need to get it up to $1000 before they can cash out, or given some other lame excuse, and then their account gets shut down.
These are real swindlers.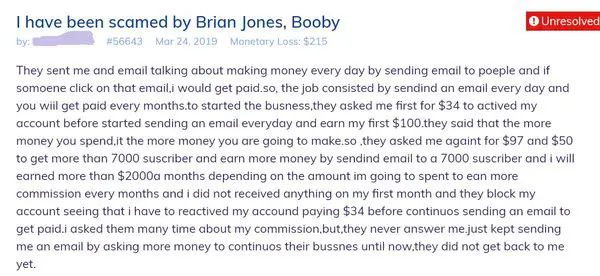 Not one person has made any money on there. So stay away. If you had submitted your payment details on their system, cancel your account and get out of there.


The proper way to make an online income
Hard work. Sorry if this is not something you like to hear, but there is really no getting around this, if you want to find success on the internet.
There is no shortcut, no done for you system that can make you instant earnings without doing much work.
I guess everyone starts off wanting to make it rich fast. It's a very natural thing, that's just human nature.
But when I realised those empty promises are only going to make other people rich, and not me, I stopped looking for shiny objects.
I found a dull-looking object, but I knew in my heart that is the real deal. From then on, I have never looked back.
You can do this too. Check out this training platform that provides all the resources, tools, along with an entire community of aspiring as well as already successful online income earners. The best part is, you get to start for free:


---
Pros of Copy My Email System
There is zero pro with this product
Usually, no matter how bad a product is, I would still at least get to say that there is the money back guarantee that you can fall back on, if you are not happy with it.
But not for this Copy My Email System, or CMES Live System. They never get back to their members on their requests for refunds. So this is the worst of the lot.


Cons of Copy My Email System
1. Owner dares not show up
You know there is definitely something wrong with a product, when the owner has to engage someone from Fiverr to give the sales speech, and pretend to be the person behind the product.
2. Not an ethical way to make money
Even if you really decide to go for this, you will be sending emails to your subscriber list that promote get-rich-quick schemes exactly like this CMES Live System. To me, this is unethical money.
3. No one has managed to cash out any commissions
I have not been able to find a single person who has managed to earn any money from there. After all the work you do sending emails and accumulating $500 in commission, they up the minimum cash out amount, or simply ignore your requests but keep sending you emails to upgrade more and spend more money, or they shut your account.
4. Upsells
In the members' area, everywhere you click is an upsell. Every tab on the menu leads to an upsell, with promises of more subscribers, or better quality subscribers. They keep telling you that you need to upgrade, in order to increase your earning potential.
---
Is Copy My Email System Scam or legit?
Sadly, the Copy My Email System scam is a real one, and a big one at that.
It is a complete waste of time and money, much like some of the products I have reviewed: YouTube Secrets, ViralPay.co, and College Power.
---
Recommendation
I absolutely do not recommend Copy My Email System, or CMES Live System.
Forget getting rich quick. Adjust your mindset to accept that success only comes with hard work, and you will go far.
Check out how I am making my online income, through an honest and effective business model that has worked for countless internet marketers:




And for reading all the way to the end of the post, I believe you have it in you to make this work. Here is your FREE PDF Guide: 4 Simple Steps to Making Money Online. Fill in your details to claim it:



If you have any concerns or questions regarding this Copy My Email System review, do comment below, and we will start a conversation from there.
---