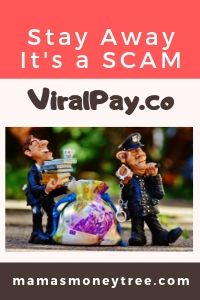 You get paid $10 per referral? Is it really that easy to make money? Or is ViralPay.co scam real?
This is crazy:
You must have seen people posting their referral links to this platform everywhere on social media. And are sniffing around before you actually sign up.
Or you may have signed up yourself, but are now sensing something fishy about it.
Welcome to my ViralPay.co review.
Here, I will be exposing this big scam, by pointing out the red flags, as well as showing you real users' experiences with this fraudulent site.
---
ViralPay.co Review Summary
Product: Viral Pay
URL: https://viralpay.co/
Creator: Unknown
Product type: Fraudulent site posed as an influencer network
Price: free to join
Scam / Legit? : SCAM
Recommended or not? : Not recommended
ViralPay.co is a fraudulent website. Nobody has ever made any money from it, because they call you a fraud when you try to cash out your earnings. Get out of there, as it's a dangerous place. And spread the word around.
If you want to make some serious money online, check out my #1 recommendation:




Read on for the detailed review of ViralPay.co, and why I call it scam.
---
What is ViralPay.co
Viral Pay claims to be the #1 influencer network that can help you make money with social media. And you can start making $500 today.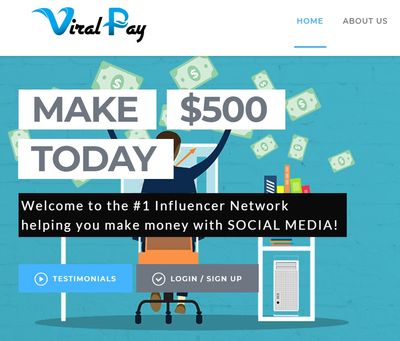 How does ViralPay.co work (supposedly)
Viral Pay claims that they make their money from advertisements and sponsorship products. When members invite friends, more traffic goes to their site, increasing their ads revenue, which they then use to pay members.
How do you earn on ViralPay.co (supposedly)
You simply sign up to their members' area, get your special share link, and invite your friends to join them through your link. You get $10 for every friend that you refer to their platform.
You can also earn by testing out some of the products by the sponsors, in the members' area.
Cashing out in ViralPay.co
Cashing out is supposedly easy. When you are ready to get paid, you will get your earnings through PayPal, CASH app, Western Union, or mailed checks.
But here's the kicker:
NO ONE has ever gotten paid by ViralPay.co. If you are one of the lucky few who have received payment from them, please share your experience here, via the comments section below.


How is ViralPay.co SCAM
They do not state any minimum amount for cashing out. But the first time you try to cash out, they will tell you that you have not completed the tasks requirements: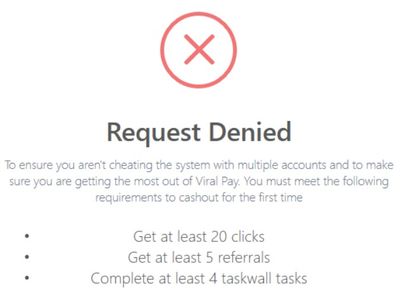 It's a hassle, and a lot of work, which takes up a lot of your time. The tasks include making a video and uploading it on YouTube. Some of the tasks require you to access some websites, which in turn collect your data. I have my doubts about how legitimate those sites are.
So you see, it is not easy to get your $25 signup bonus at all. In fact, I have not seen a single person who has succeeded in cashing out their earnings even one time. And that is AFTER completing all those tasks, you will still be denied your money.
Now, they will call you a fraud, and try to shut down your account.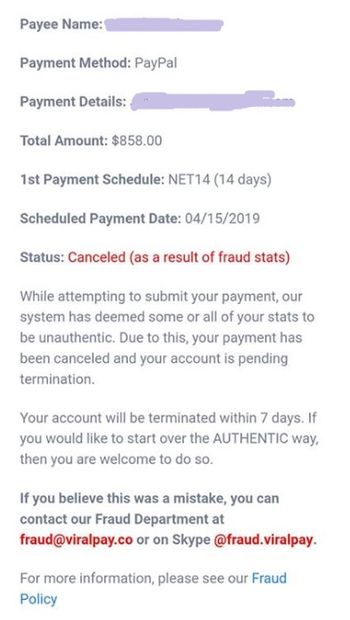 Look at these reviews by real users of their platform: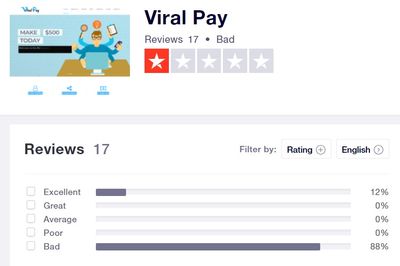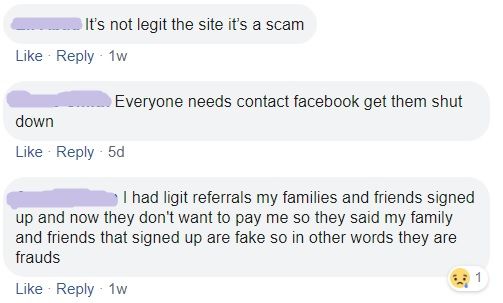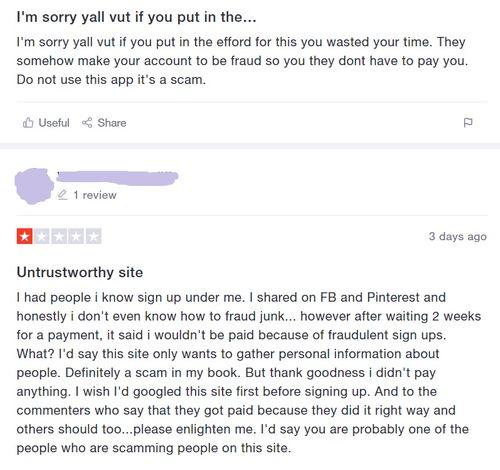 And there goes all your earnings, but more importantly your time and effort, as well as the trust that family and friends put into you when you asked them to sign up through your referral links, by telling them what a good opportunity this is, never suspecting it to be a huge scam.
Even though you have not lost a single cent in this, I'm sure you feel rotten. But you would have learnt a valuable life lesson, so just get out of there, and move on, wiser now to be careful of anything that promises to get you rich quick.
As for Viral Pay, even though they did not take your money, they got all your information, which they will sell to third party advertisers and networks, and that is how they will be making lots of money.
In fact, ViralPay.co is the same scam that has been around for years. They simply change their name when people expose the scam and their reputation gets bad. They simply close the website, and create another one, to continue to scam people, collect their information for selling, etc.
Before ViralPay.co, they called themselves Kids Earn Cash.
So now you know, even stuff that does not take your money can be out to scam you too.


The Red Flags in ViralPay.co
Let me show you the red flags to look out for, so you can tell for yourself if something is suspicious, the next time you come across stuff like this.
On the website of ViralPay, they claim they have been around for 4 years, since 2015.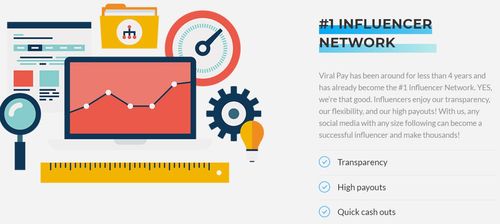 A simple check on their website domain tells me they were just registered, very recently in March 2019.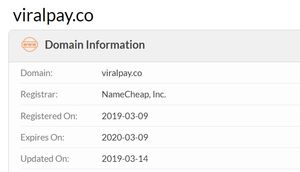 Why do they have to lie about this? Because with such a new website, how will they be able to put up testimonials of 'members' claiming what a great money-making experience they are having with ViralPay.co?
Look at this income claim. Anybody can create this and put in some good looking numbers:




So they obviously needed to get real people to give their testimonials, just look at one of them: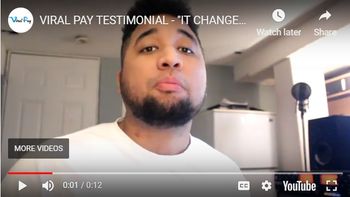 It looks convincing. But in my quest of exposing scams, I have seen their faces many times before. They are actors from Fiverr, hired by Viral Pay to do a gig. This is the same guy's profile on Fiverr: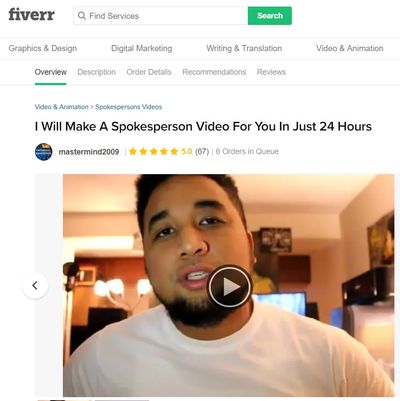 Well, I guess we can safely conclude that no one has made any money with ViralPay.co, otherwise why would they have to spend money to engage Fiverr actors to give their fake testimonials?
Moreover, the owner of the website has not dared to show himself or herself. No information can be found about the person who owns ViralPay.co. And yet the website keeps pointing to its transparency in its dealings with members.
I cannot trust a website that has no one who claims ownership for it.


Legitimate alternatives to ViralPay.co
Here are some honest platforms on which you can earn some extra pocket money. Not much, but at least you know you will get paid for the time and effort that you spend on them to complete their tasks:
Swagbucks
Societi
PrizeRebel
OneOpinion
Inbox Dollars
Vindale Research


If you want to make some serious money online
No matter how great a get-paid-to site is, it can never make you a steady income on which you can depend.
However, it is very possible to make a full time income from home, through other legit means. If that is what you are looking for, then let me show you how I am doing it.
The method I am using is so neat and hassle-free, I just need a laptop or desktop and an internet connection. I do not have to own or create any products, no face to face selling or cold calling, not MLM, no inventory to deal with, no customer complaints to handle.
And the best part is…
This is a very low-cost method. I get all my traffic for free, not a single cent spent on advertising. Moreover, what I am doing is building up my very own online business, in a niche that I get to decide on. I do not have to report to any boss, I choose my own hours.
If this sounds good to you, click the link below to hop over to my other post, where I will explain the business model in much greater detail:


---
Pros of ViralPay.co
I very seldom say this, but there is really no pro to this platform. In fact, there is a risk to stay on it. As your information is there, and the scammers are going to make use of it for their own gains.


Cons of ViralPay.co
1. They do not pay out
Not one person have they paid.
2. People you refer will be put at risk
Your friends, your family, or even people whom you do not know, but have used your referral link to sign up on the platform, would feel betrayed when they finally get to learn that this website is nothing but a huge scam.
3. Your own information is at risk
Your contact details will be sold to third parties, so you can expect to receive lots of spams, trying to sell you things.
There are traps everywhere on the platform, like the tasks wall, on which you are supposed to access other websites. You do not know how secure those sites are.
If you had provided your payment details to ViralPay.co, then please try to cancel it. And keep a close watch on your accounts, you do not know what these scammers can do.
---
Is ViralPay.co Scam or legit?
ViralPay.co is definitely a scam.
---
Recommendation
I absolutely do not recommend ViralPay.co.
If you want to make some serious money online, check out the method I am using.
I am currently working full time from home, on my own online business, in a niche that I am passionate about.
I simply promote other people's products, but yet I do not do it in a way that is pushy or salesy. I add value by writing about my chosen niche. Because of how my method works, I get potential customers who come looking for my offers, I do not have to go and look for them, nor spend any money on advertising.
That is the amazing nature of the internet.
It takes time and effort, but anyone who tells you making money online is easy is out to scam you.
If you think this may work for you, then let me share with you the tools and resources that helped me get started, from scratch, with building my online business to what it is today:




And for reading all the way to the end of the post, I believe you have it in you to make this work. Here is your FREE PDF Guide: 4 Simple Steps to Making Money Online. Fill in your details to claim it:



If you have any concerns or questions regarding this ViralPay.co review, do comment below, and we will start a conversation from there.
---