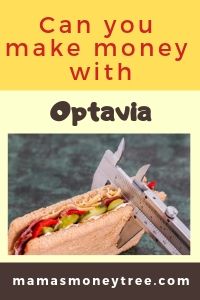 In this post, we will answer the question: is Optavia a scam? And much more…
Can this MLM company that sells meal replacement and weight loss products be the break that you badly need to get away from that 9 to 5 job?
This company seems new, but actually it is an older company, having been rebranded in very recent years.
In this article, I will provide an in-depth review of Optavia, by studying their products and programs, to see if you should be putting these into your bodies, and whether they are worth their over-the-top pricing.
I will also break down its business model, so that you can see its pros and cons clearly, and then make the most informed decision as to whether you want to embrace this business opportunity.

Without further ado, let's dive right in now!
---

Optavia Review Summary

Product: Optavia (previously called Take Shape for Life)
Creators: Dr. Wayne S. Andersen & Bradley T. Macdonald
Product type: Meal replacement and weight loss products, sold through MLM (multilevel marketing) program
Price: $199 to start + $99/year to renew your role as distributor + monthly order
Scam / Legit? : Legit
Recommended or not? : Not recommended
Optavia is a legitimate MLM company selling meal replacement products and programs, for health as well as weight loss. It has strong scientific backing in terms of research, recognition by doctors, and a long history of (mainly) satisfied customers. The only issue is the exorbitant pricing, but this is only normal for any MLM products.
Potential earnings as its distributor are pathetically low, as you will see from some numbers I will be presenting in this article.
---
---

What is Optavia

A brief background of Optavia

It all started off with Medifast, way back in 1980, founded by a medical doctor William Vitale.
He developed his own liquid diet formula for his patients, which he also sold directly to other doctors, who in turn prescribed it to their own patients.
In 2002, Dr. Wayne S. Andersen and Bradley T. Macdonald formed Take Shape for Life, a subsidiary under Medifast, to formulate and implement a personal Coach to Client system, as well as the company's "Habits of Health System".
In 2017, Take Shape for Life was rebranded as Optavia, with most aspects of the company remaining unchanged, except for the introduction of a new line of products, called Optavia Essentials.

Optavia's 4 components towards
lifelong transformation

Optavia prides itself in these 4 components that are key in bringing their clients towards a lifelong transformation of health:

1.Coaches
Okay, this part is rather controversial, in my opinion.
Optavia calls their distributors Health Coaches, but they are simply your upline, or sponsor, or the person who introduced the products or business opportunity to you.
They are not qualified in any way, though they all have to go through a 3 month program (just like you would too, if you decide to join Optavia), to better equip them with the skills and information to guide their clients.
So all they have is this, together with their own experience with using Optavia's products.
This is definitely a great approach, since there is some sort of 'training'.
But to someone who is unaware of how things work within Optavia, he or she would very likely misunderstand a 'Health Coach' as someone who is qualified in nutrition, or something to that effect.

2. The Habit of Health System
This is developed by Dr. Wayne S. Andersen, that helps people cultivate lifelong habits of health, as opposed to searching for quick-fix weight loss solutions.
It is a lifestyle approach that encourages you to replace unhealthy habits with healthy ones.
This is definitely a good thing, something I fully agree with. They are not presenting themselves as creating magical pills that can help people slim down fast without working on other aspects of their lifestyle.

3. Community
An entire Optavia community of like-minded, like-hearted people will support each other, and hold each other accountable, for their progress towards health.
Forms of support include video conferences, nutrition support, focus groups, online help, and so on.
Again, this is something I believe has tremendous value in helping any individual who is trying to lose weight get into shape and find better health.
Weight loss can be a lonely process, especially if people around are not able to understand how insurmountable the task can feel like.
A community can provide the strength, courage and motivation that even the closest family sometimes cannot.

4. Scientifically Proven Fuelings and Plans
There are daily meal plans that are simple enough for anyone to follow, with fuelings incorporated, which are actually the meal replacement products by Optavia.
Its website claims that more than 20,000 doctors have recommended its proven plans and products since their founding.

Personally, I like the idea of these 4 components, especially the Habit of Health System, and community support. These are things that speak to me. It also gives me the sensing that Optavia really does want its clients to succeed in leading a healthier life, and it's not solely about pushing its products and making money.
---
---

Optavia Product Line

Optavia's fuelings include:
– bars
– shakes and smoothies
– drinks
– crunchers, poppers and sticks
– hearty choices (these are pasta)
– soups
– breakfast style (pancake, cereal, biscuit, oatmeal)
– dessert style (cookie, pudding, soft serve treat)
Purposeful hydration: flavoured drinks, in powder form, in sachets.


Snacks and more:
– crisps, popcorn and crackers
– lean and green meals (beef stew, ginger lemongrass chicken, chicken with rice and vegetables, etc.)
– infusers and tea
Optimal Weight packages
Optimal Health packages
There is a wide variety to choose from, so you will never get bored in your pursuit of weight loss.

Optavia: performance and quality

What is also very important is that most user reviews of its products are positive, like this one: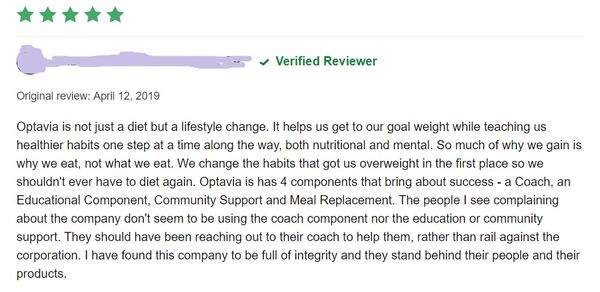 Though this particular one seems to be very much scripted, such that I strongly feel it is written by one of its Health Coaches.
In very recent months, there have been more negative reviews, but it can be attributed to some glitch in their website or some online system, resulting in very frustrated customers, hence this low rating: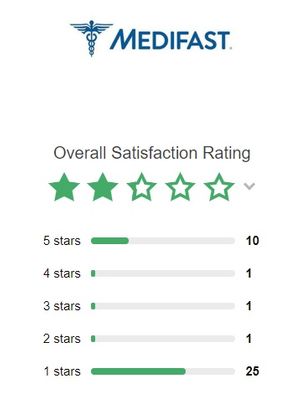 Though with strong scientific backing, Optavia products are still mainly processed foods, in my opinion.
And they are exorbitantly priced.
Mother Nature has already blessed us with foods that heal. All the fruits and vegetables are alive with the goodness of the earth, that can heal our bodies naturally of many ailments.
The fuelings and snacks by Optavia are mostly dead food, highly processed.
Of course many people will disagree with me, but I'm stating my own beliefs and values when it comes to diet and lifestyle choices.
It wasn't difficult at all to find negative reviews about Optavia products causing health issues, like these two here: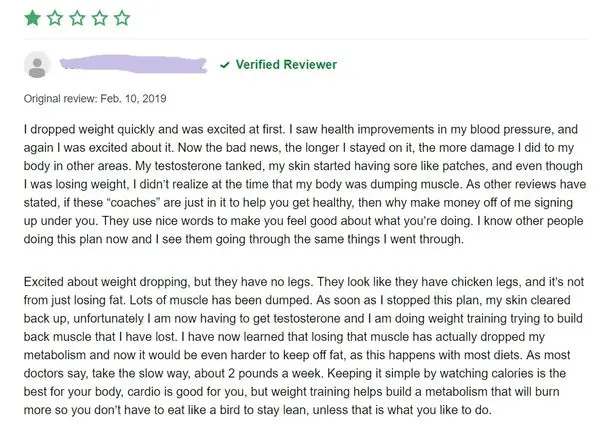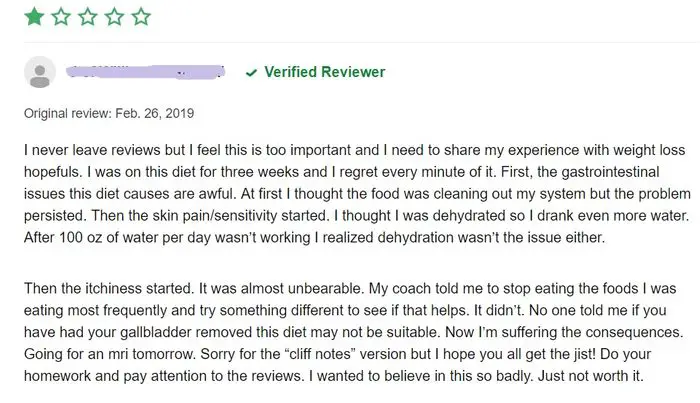 So if you are taking any health supplements or meal replacements from any company, be mindful to be very observant of your own body, listen to it and respond accordingly, as no one can know yourself better.
---
---

Optavia Business Opportunity

To benefit from Optavia's business opportunity, you have to first become their distributor, or what they call Health Coach.

How to become an Optavia Distributor

First, you need to put in an initial upfront investment of $199, to purchase their Health Coach Business Kit. This contains some training and marketing materials that you need to start off with the right footing.
Then, to qualify for commissions, you need to keep up with a monthly order.
On top of that, each year you pay $99 to renew your distributor status.
To some people, it may not seem like a lot, but it can definitely add up faster than you know it.

How to make money with Optavia

The compensation plan with Optavia has a unique feature that sets it apart from other MLM (multilevel marketing) companies. It does not simply focus on recruitment. The people you recruit have to make purchases before you will earn commissions.
This is quite unlike almost all other MLMs, where you are able to climb the ranks simply by recruiting.
In fact, other MLMs will strongly encourage you to earn by recruitment. The more people you pull into the business, the more the company earns through all their membership fees and whatever initial investments they make. And when your downlines recruit even more people, you get to rise up the ranks slowly.
However, with Optavia, there are 3 main ways to make money:
1.Health Coach commissions
As a Health Coach, you will try to recruit people into the business opportunity. When they buy the products, you get to earn a commission off their purchases.
2. Business Coach commissions
As you build your team, you start to guide other Health Coaches, who are actually just your downlines. You will get to slowly climb up the ranks, and your commissions and bonuses will increase.
3. Business Leader commissions
From the rank of Regional Director onwards, you get more substantial income if you have developed some Health Coaches from your team to achieve the rank of Executive Director. That would not be an easy feat at all.

Why Optavia may not work for you

The MLM structure is made to work for its founders and highest ranks, not for you or any other regular distributors just starting out.
You see, it all starts with pricing the products out of reach of the masses. The exorbitant prices make it unaffordable, kicking itself out of the free market.
That is what the compensation structure of an MLM company is for. It incentivizes its distributors, promising them this life-changing business opportunity, so they will buy the expensive products, even if they do not need them, just to remain in business.
They are buying hope for their future, paying to play.
What many people are not able to see is that the lower ranks hardly earn anything. The convoluted compensation plan that only the creators can understand are meant to bring the wealth up through the ranks, to those right at the top.
In fact, the regular distributors are the ones bringing in all the company's revenue.
From out of their very own pockets, without realizing it.
There is no other revenue source for the company.
Distributors are throwing in their money, and at the same time made to believe that Optavia is providing them health and wealth, the opportunity of a lifetime.
Though Optavia is a good MLM company compared to many others, because there is genuine care for its customers and distributors, but at its core it is an MLM, in which 95% of distributors do not make any substantial income.
This figure is not plucked from thin air, I will show you some income disclosure later on.
In fact, a report found on the FTC (Federal Trade Commission) website states an even more appalling figure, that only 1% of all MLM participants will make money.
The fact that you need to pay a company to promote its products is fundamentally wrong.
But it is exactly what is happening with MLMs.
To me, it does not make sense that I'm doing free advertising for the company by promoting the brand and its products to others, and yet I have to pay them.
Hence, I have chosen another business model, and it is called affiliate marketing.
I also promote other people's products.
But there are huge differences between MLM schemes and affiliate marketing.
Firstly, I do not have to pay a single cent to any company. I can promote whichever companies I like, and whatever number of companies at the same time. I do not have to limit myself to one company as is the case with MLMs, since there is zero fee.
Secondly, I do not have to recruit anyone. No need to approach friends or family, or anyone for that matter, to join me in my 'business opportunity', to form a team and build a business together.
None of that.
In fact, what I am doing is building up my very own online business, instead of working for other people's business. I am chasing my own dream, not chasing after other people's dreams and yet made to feel like it's my dream.
I do not have to do any face to face selling. No shoving expensive products that people do not need, right into their faces.
I promote my affiliate offers only to those who need it, to people who are actively searching for what I am providing. So what I am doing has real value, as it is able to meet the real needs of my customers.
Hence it is a sustainable business.
If this sounds good to you, check out another post to learn how it works exactly:
---

Pros of Optavia

1. Established products
Medifast products have been around forever, since 1980. There have been no major issues with them, so I believe the high standard of quality is there.
2. Evergreen niche
Weight loss niche will always be in demand, as long as there are humans around. It will never go out of trend.
3. Great training and support for distributors
I especially like the community aspect of Optavia, as I think it is very important to surround yourself with like-minded people, whether it is about losing weight, or dabbling in this business opportunity. It makes it that much easier to succeed.

Cons of Optavia

1. Exorbitant pricing
The prices of Optavia products are way too high. Each package typically costs between $300+ to $400+, lasting for one month if you follow their meal plans.
2. High upfront investment
An initial investment of $199 may not be high for everyone, but I think it's substantial enough to make one consider carefully before jumping on board, as there is undeniably a risk involved.
3. Most distributors do not make money
This point alone is enough to make me steer clear of MLMs.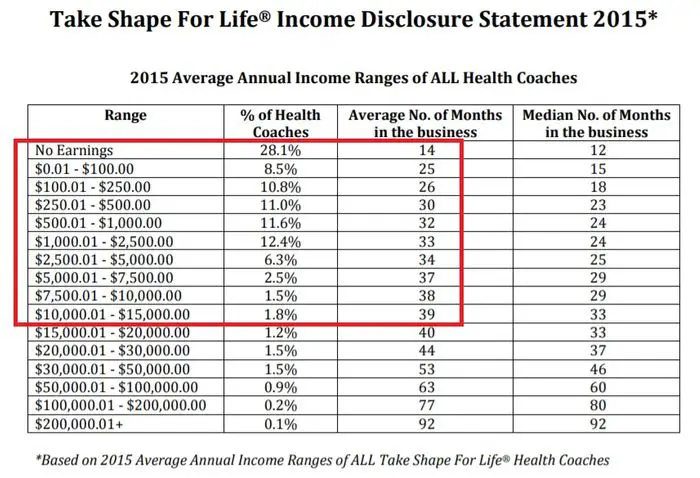 This shows the income disclosure for 2015, when Optavia was still called Take Shape for Life.
The red box includes almost 95% of its Health Coaches making a yearly income of much less than $10K to $15K, which works out to be $1K per month.
That is the highest income of this 95% of distributors, who have worked for more than 3 years, just to reach this level of income.
The vast majority make $2.5K and less, in the whole year. And I believe these are the Health Coaches who have put in full time hours, if not more, to build their teams.
I hope it is clear to you now, MLMs are not worth your time and money. The system is created for more than 95% to lose out.
4. Family and friends start to shun you
As you try to sell the business opportunity to family and friends around you, or try to sell them meal replacement products that they are not even looking for, you can be sure there will be an added level of awkwardness in your interactions with them. They will tend to see the relationship as less than genuine now.

Is Optavia a Scam or legit opportunity?

Optavia is definitely a legitimate MLM company, selling great quality products, and providing excellent support to their distributors.
---

An Alternative

I do not recommend Optavia, or any MLM for that matter. Some MLMs similar to Optavia that I have reviewed include Jeunesse, Modere, 4Life, NeoLife, and Forever Living, to name just a few.
If you want to make money while having the flexibility of working your own hours, from anywhere you want, do check out affiliate marketing.
It has allowed me to work full time from home, while being there for my kids, and not having to miss their growing up years.
Allow me to humbly invite you to check this out:

And for reading all the way to the end of the post, I believe you have it in you to make this work. Here is your FREE PDF Guide: 4 Simple Steps to Making Money Online. Fill in your details to claim it:

If you have any concerns or questions regarding this Optavia review, do comment below, and we will start a conversation from there.
---