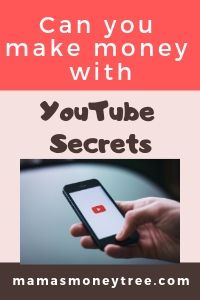 You must have heard of this money-making method that allows you to generate an income from YouTube without creating any videos of your own! Exactly what is YouTube Secrets that can accomplish this amazing feat?
Can you really make money from other people's videos on YouTube, with just 30 minutes weekly updates, and start earning today?
If it sounds too good to be true, then it most likely is.
In my honest, unbiased and in-depth YouTube Secrets review, I will be pointing out the big red flags in this product, and dig right into why it will not work for you.
Without further ado, let's dive right in now!
---
YouTube Secrets Review Summary
Product: YouTube Secrets
URL: http://www.youtubesecrets.com
Creator: "Mike Williams"
Product type: YouTube marketing training
Price: $27/month after first 7 days trial at $1
Scam / Legit? : SCAM
Recommended or not? : Not recommended
I call it a scam only because the owner "Mike Williams" is actually an actor engaged from Fiverr. The real owner is hiding, and dares not show himself or herself for such a low quality and outdated product, for which much of the content can be found for free on the internet.
If you do not want to waste anymore time and money on scams, check out my #1 recommendation to making money online:




Read on for the detailed review of YouTube Secrets, and why I call it scam.
---
What is YouTube Secrets
Let's find out what is YouTube Secrets, by first taking a look at the information presented in its sales video and landing page: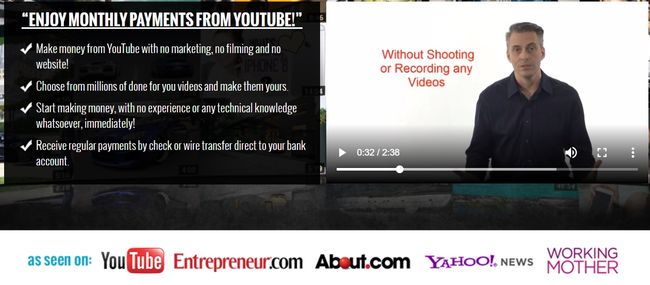 Just by looking at this screenshot above, there are already a few jarring red flags waving wildly at us.
This guy in the video, claiming to be "Mike Williams", the owner of this product, is FAKE. He is an actor that the real owners of YouTube Secrets engaged from Fiverr. He is not making $10K per month.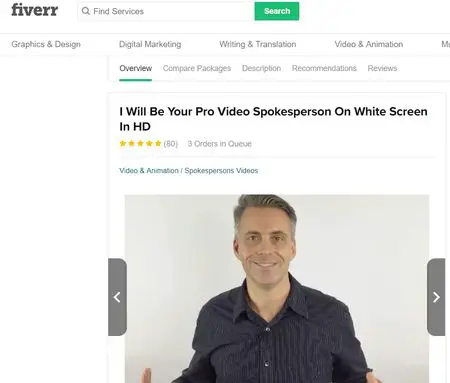 And those associations with big names like entrepreneur.com, About.com, Yahoo News and so on, are all fake. They are there to mislead viewers into believing that the product has been mentioned or credited by those big names. But unfortunately, that is far from the truth.
I want to show you these upfront, so that you do not cling on to any hope that this product will be your answer to great wealth without doing any work.
Anyone who tells you he is highly successful, and wants to share his secrets with you, so that you can take the shortcuts, do minimal work and earn the big bucks fast, then you have to run in the opposite direction, because this person is out to get your money.


How does YouTube Secrets really work
This product basically teaches you to take other people's videos legally, and edit them so you can upload them as your own videos.
Even though it can be legal because you will probably be using videos tagged as "Creative Commons", in which the owners give explicit rights for others to edit those videos in whatever ways they wish, I do not think it is the right thing to do.
Successful internet marketers do not take other people's videos to edit and call their own. They are successful because people love them for their authenticity, and for how they add value to people's lives.
It really does not reflect well on a person who takes anything that is not his or her own creation. It does more harm than good. If one does not have the time, comfort level, or technical expertise to make original videos, then don't.
There are many other ways through which you can make money. In fact, if you look at the successful marketers and influencers, they all start out by quietly establishing their online presence, mostly, if not all, through their own websites.
By the time you hear of them on social media, or their YouTube channel, they would have used their firm grounding and foundation that their websites had established for their businesses, to successfully gain a strong following.


How you can make money through YouTube videos
The method taught in YouTube secrets is one where you get advertisers to place their ads on your YouTube channel, within your videos.
But if you do not have traffic coming to your YouTube channel to begin with, why would anyone want to advertise stuff on your channel?
So you see, it all boils down to traffic. And for any YouTube channel, it does take time and effort to build. It takes consistent effort, to keep making videos, and loading your YouTube channel with content, before the search engines will take notice of you.
When you get a strong following, a good number of subscribers, advertisers will want to place their ads on your channel, and you will be able to make a lucrative income from there.
YouTube Secrets will have no part to play in your success then. Because it is teaching you to take short cuts, promising instant earnings, but this will never come true. The only one making money is "Mike Williams".


The best way to make money online
If you are a beginner in internet marketing, I want to show you a much better method than YouTube videos, to drive traffic and make money online.
You see, you can have your YouTube channel, but you do not own it. You are simply using a space on this video platform. No one knows what the future holds.
It is more secure to work on something that is your own online asset. That is your website. Through hosting and domain name, you are effectively owning a real asset on the internet space.
Whatever content you build on it is there to stay. It offers much more security and stability for all your hard work. At the same time that you build it up, the search engines are going to take notice of you.
When you have gained the trust of the search engines, they are going to send you free organic traffic, which is the best and highest quality traffic. Because these are people actively searching for your content. That is how they landed on your website in the first place.
So you can be sure conversion rates into buyers will be high, since they have strong buyers intent.
With your own website, there are so many other things that you can do besides earning through advertisements: collect emails to nurture relationships with your audience, so you will get repeat customers. You can sell your own products, or promote other people's products.
When your business has taken off, you can then diversify your traffic sources, and start to look at social media, or YouTube channels. But the first priority is your own website.
Without this grounding provided by a website, it is much harder to build trust and rapport with your audience because there is not much substance. Whatever you do on social media tends to wisp up as smoke in no time, due to the flurry of activities on there. YouTube channels can work, but only if it is paired with a solid website.
Now, if you are apprehensive about setting up a website, let me show you a training platform which provides 2 free websites and 10 free lessons to their free starter members. With the technology these days, you do not need to know a single line of coding to create a professional-looking and beautiful website.
I know how awesome it is because it is the exact platform I used to start my online journey, and build up websites from scratch, learn to get free organic traffic, and monetise it. Click on the link below to check it out:


---
Pros of YouTube Secrets
1. 60 day money back guarantee
This basic refund policy is in place, for people who are dissatisfied with the product.


Cons of YouTube Secrets
1. Owner does not show up
I simply cannot bring myself to trust anything for which its owner does not dare to show his or her face to customers, the ones who are bringing them the business, and the money.
It sends a very clear message.
2. Misleads viewers into thinking it is so easy to start earning instantly
"30 minutes a week is all it takes to make serious cash from YouTube."
"… generating monthly payments from YouTube, wired directly to your bank account – starting today!"
All these give the wrong impression that making money on YouTube is such an easy thing.
3. Not a good thing to use other people's videos
Yes, you can find videos whose owners allow you to use and edit. But so can other people. One's reputation will certainly take a trashing when audience recognises those videos as duplicates of many others found all over the internet.
4. Low quality training
The training provided in YouTube Secrets is of low quality, and very much outdated. Some modules were created in 2011, or 2012, and never updated.
So I do not see any reason why it has to be a monthly payment. It's not like you are going to get something new each month, nothing of that sort. What you will get in subsequent months is exactly what you already have from the first month's subscription. So the payment terms make no sense at all.
5. One on one private consultations – with who?
Who is going to provide this one on one private consultations that supposedly comes with this product? The Fiverr actor who acted as Mike Williams? Or the real Mike Williams? Or is the real owner someone with a totally different name?
6. Upsells
The only upsell here is for something unrelated to YouTube Secrets. Priced at $28, Social Media Secrets teaches you how to be a social media manager.
Talk about making money for themselves, and simply throwing in some random product that does not even further the value and functions of the front end product.

---
Is YouTube Secrets Scam or legit?
In my opinion, YouTube Secrets is a big scam, as my trust level plummeted when I discovered Mike Williams is such a big joke.
This product is totally useless to you, very much like these products that I have reviewed: ViralPay.co, College Power, and Empowr, to name just a few.
---
Recommendation
I absolutely do not recommend YouTube Secrets.
Building up your own YouTube channel is a great way to getting another traffic source to your business. But that will be through hard work, consistently creating and uploading authentic videos. Not through the method taught in YouTube Secrets, to ethically steal other people's videos.
If you are going to put in the hard work, you might as well do it on your own website, for a start. As content you build on it will stay forever, unlike on YouTube channels which do not belong to you.
Join me now as I show you how I am making my online income, through my own websites:




And for reading all the way to the end of the post, I believe you have it in you to make this work. Here is your FREE PDF Guide: 4 Simple Steps to Making Money Online. Fill in your details to claim it:



If you have any concerns or questions regarding this YouTube Secrets review, do comment below, and we will start a conversation from there.
---