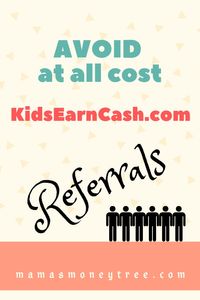 If you have been hearing about this website kidsearncash.com, and are here to check things out, I will tell you now, Kids Earn Cash scam is a real big one. Please stay away from it.
This is crazy:
The amount of scams going around the internet these days, and how rampant they are, is just so absurd. The red flags are obvious to the trained eye, but may not be so to those who do not come into regular contact with digital products and scam websites.
Here, I will show you why I call it a big scam, by taking it apart, and looking at its inner workings. In this article, I will provide an in-depth review of Kids Earn Cash, through the following sections:
---
Kids Earn Cash: Review Summary
Product: Kids Earn Cash
URL: https://kidsearncash.com/
Creator: Unknown
Product type: Influencer referral program
Price: free to join
Scam / Legit? : SCAM
Recommended or not? : Not recommended
Touted as a lucrative influencer program, for you (the influencer) to earn when you invite people to sign up, as well as when you try out new products and services in the members area. They claim to link up with major companies like Target, Amazon, Apple and more, which pay them to send people to their businesses.
This is a complete scam, a big one. Though it does not cheat you of any money, it will waste your precious time, and goodness knows what they will do with all the payment information they have collected. You can be quite sure they will sell your email address to spammers.
If you do not want to waste anymore of your precious time on scams, check out my #1 recommendation to making money online:

Read on for the detailed review of Kids Earn Cash, and why I do not recommend it.
---
What Kids Earn Cash (also KidsEarnCash.com) is made out to be
Kids Earn Cash claims to be an influencer program. When you, as the influencer, signs up for free, you get a sign up bonus of $25! Wow, not bad!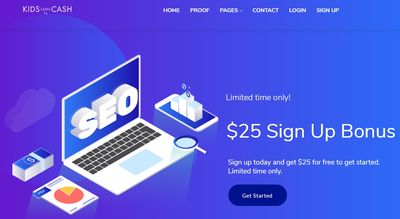 And for each person whom you invite to join the program, you earn $10! That sounds promising!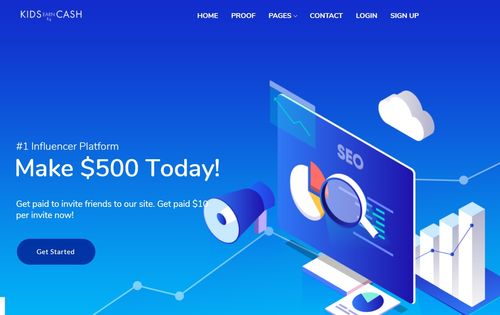 How can it be that good? You do not have to pay a single cent, and yet they pay you so much. It is simply because they are connected to the top brands. Like Target, Epic Games, Amazon, Apple, and many more.
Kids Earn Cash pay you to bring traffic to their site, because you are helping to build awareness and exposure of these brands. They basically get their earnings from the advertisers, which they then share with you for referring people to their platform.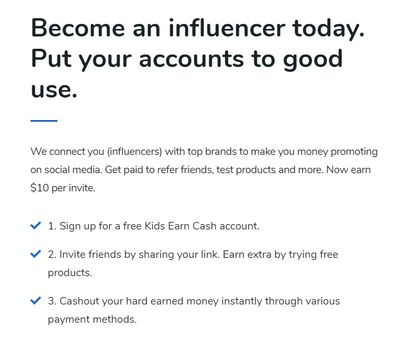 According to them, they have been in business for quite a while, and have built up their brand and popularity. That is why they can afford to pay you $10 for every referral you bring in.
In 3 simple steps, you get to make your earnings: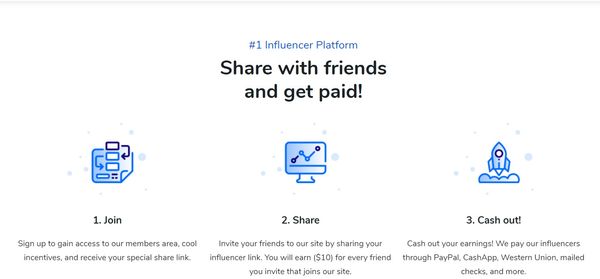 Sign up to get your special referral link.
Invite people to join, through whatever way you like, through your referral link.
Cash out through PayPal, CashApp, Western Union, mailed checks, and more.
All these really sound too good to be true, and my scam scanner antenna is right up, scanning its site for all its big red flags that tell me something is amiss.
Let's dive into the excitement in the next section:
How is Kids Earn Cash Scam?
How do I know the Kids Earn Cash scam is real?
Though the website looks very professional and legitimate, it reeks of a strong fishy smell. Let's take a close look at all the evidence:
Established site? Maybe not…
It is purportedly an established site, having been in business for a while, and having built up their popularity, as written on their site.
That is how they are able to pay you such a high referral fee of $10 per referral.
A quick check shows that the website domain was only registered last month, in February 2019!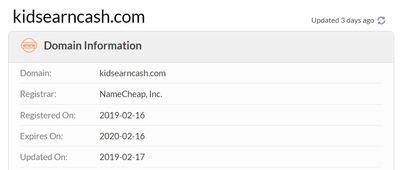 This raises a huge alarm bell. It is in fact such a new website.
No established company that is highly successful would go around changing their domain names. In fact, they will pay a high fee just to secure their domain.
Privacy Policy: another website??
Then take a look at this:

The privacy policy for kidsearncash.com says their website name is kidsgetmoney.co
Oh my! The scammers overlooked this. They simply copied and pasted the privacy policy from the previous scam website onto this new one.
This is what scammers do. They need to change their platform's name and website domain name frequently, because once word gets around that they are dishonest, they change identity to remain in the game.
Contact email is fake!
A quick check of their contact email address shows that it is fake, it does not exist.

So the owners of Kids Earn Cash have no wish of remaining in contact with you. They just want all your personal information and payment details, and get you to refer as many people to them, and their job is done.
You will not get paid
The minimum cash out amount is high, at $150. By the time you reach that amount and try to cash out, only then will you realise that they never had any intention of paying you.
There is no one to contact to resolve your payment issue, because they are uncontactable.
By then, you would have referred some friends and family to this program, thinking it is a good money making opportunity for them.
Testimonials are not real
Look at this guy claiming to have made $11 million, out of which $1.8 million was made in 3 months.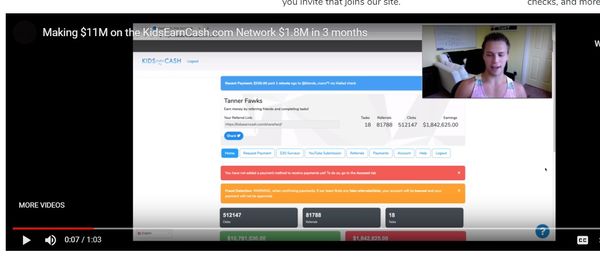 But the website is less than a month old.
So what is he talking about?
Unknown owner
Throughout the KidsEarnCash.com website, there is no owner or group of people identified to be in charge of the program. If they had paid out millions and millions, wouldn't the CEO have been proud to make a statement, to address the new members?
No one, nothing. It just tells me they are all hiding.
It's not always about the money
Though they do not scam you of your money, they got what they wanted: your personal information, payment information, and referrals from which they will be able to gather information of a large number of unsuspecting people.
They can easily sell this list to spammers, at a high price because they can say this comes from a group of people who are interested in making money online.
How to make money online the proper way
If you would like to make some serious money online, do not look for easy ways to make money, because those only serve the creators of the products or platforms.
Because there is no easy way to make money online.
But if you are willing to put in the time and effort, I can show you how I am doing it.
In this business model, you get to own an online asset, which is yours for as long as you wish. You get to choose your own niche, something you are passionate about, it could be a hobby, a health related niche, parenting, pets, anything under the sun.
You do not have to own products, so no need to deal with inventory, delivery, or customer complaints. You simply bring visitors to the virtual doorstep of retailers and any company that you choose to work with, and you earn a commission.
You can work from home, have no boss to report to, and work anytime you like.
If this sounds good to you, and you would like to learn exactly how it can be done, click on the link below:
---
Pros of Kids Earn Cash
1. A life lesson
This is a complete scam. So the only takeaway I can think of is that it can be a life lesson: when something seems too good to be true, it usually is.
Cons of Kids Earn Cash
1. Total time waster
This is the most irritating part: completely wasting your time, if you had tried to refer people to it, by promoting your referral link. Or attempted to earn more by trying out new products and services in the members area.
2. You may start to receive spam emails 
This is something I can be quite sure about. You may start to receive spam from parties whom you do not know at all, or have no connection with, trying to promote some online products that can help you make money fast.
3. Other information could possibly be at risk
I can't be sure about this, but I believe there will be a risk involved, since payment details have been entered. And this platform is totally not trustworthy. So I would try to take some precautions.
4. People whom you referred to the program would be victims too
Your friends and family, or even people whom you do not know at all, but have found out about the platform through your referral link, would have been scammed too.
---
I absolutely do not recommend Kids Earn Cash, also known as KidsEarnCash.com.
If you are looking to earning an online income, I want to show you the proper way to do it. But it requires time, hard work, and patience.
Are you up for it?
If you are looking for get rich quick schemes, there are plenty, but they do not work. Ask any successful person, there will be untold stories of grit and perseverance behind each and every one of them. Not a platform that pays them millions of referral commissions.
If you are ready to take charge of your own future, and get all muddy with all the tough work, which will be so worth it, then let me show you this awesome training platform which helped me get started as a complete newbie, on my online journey.
Click on the button below to check it out:

If you have any concerns or questions regarding this Kids Earn Cash review, do comment below, and we will start a conversation from there.
---