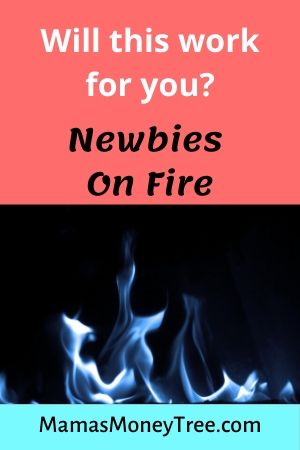 Welcome to my Newbies On Fire review.
Who is Christina Hooper, is she a trustworthy and reputable marketer? Does Newbies on Fire scam you like what some people say, or is it your ticket to financial freedom?
Here I will unpack this program, so as to fill in the gaps on its website, which really does not give a lot of details about how it works exactly.
You will get to see its pros and cons, some red flags, as well as my personal opinions about its legitimacy and your chances of success with it.
At the end of the article, you should have a much clearer idea what it is all about, so that you can make a better-informed decision.

Without further ado, let's dive right in now!
---

Newbies On Fire Review Summary

Product: Newbies On Fire
URL: https://newbiesonfire.com/
Creator: Christina Hooper
Product type: Pay-to-play program
Price: $25 to $1000
Rating: 1 out of 5
Scam / Legit? : Legitimate
Recommended or not? : NOT recommended
Newbies On Fire is a pay-to-play scheme with training products attached to each level of membership. You earn commissions when referrals buy in at your level or lower. Its products are not its main selling point, but the earning opportunity is. This makes it border on a pyramid scheme, so I would be wary about joining.
---
---

What is Newbies On Fire

To find out what is Newbies On Fire, let us first take a look at its website: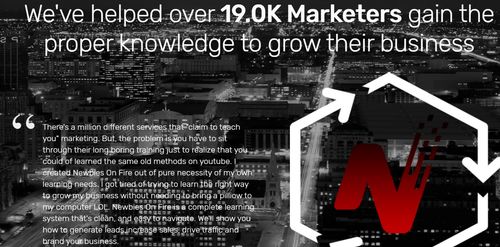 At first glance, it seems like this helps you learn marketing in a not-so-boring way. It is also about generating leads, increasing sales, driving traffic, and branding your business.
Apart from that, there is really not much information we can glean from its website.
It does provide the pricing and a very brief description of each course, but that's about it.
Ranging from $25 for the Starter course to $1000 for the Diamond course, its training materials seem to encompass a wide range of internet marketing topics.
As one has to sign up to find out more details about Newbies On Fire, I decided to check out its terms and conditions first, since I would have to agree to them as part of the registration process.
What stood out was the mention of SMS messages being sent through Christina Hooper Business Consultant LLC to your contacts.
This tells me Newbies On Fire is not the simple marketing training that it tries to appear as on the surface. There is more to it than meets the eye, and the lack of transparent information on its website does not bode well.
Being offered to use its system to send SMS messages to your own contacts led me to a very strong suspicion that this is a program that gets you to buy in, just so that you can earn by promoting itself. The training courses are but a front to the real business model.
More digging around finally revealed the true nature of this program.

How Newbies On Fire Really Works

First, let's take a look at what you get inside each course.
1. Starter course: $25 + $5 admin fee
Here you get a blogging platform, as well as training videos on branding, company name creation, color theme, logo creation, mascot creation, etc.
2. Basic course: $100 + $10 admin fee
This course teaches you about competition research and understanding your audience.
3. Advanced course: $250 + $25 admin fee
Here, you learn to drive traffic and get leads through a social media following. The focus of the training is on using Newbies On Fire's Facebook chatbot.
4. Elite course: $500 + $50 admin fee
This teaches you about creating your own products to sell, and takes you through launching platform and upsells to sales letters.
You will also learn about customer retention, as well as setting up membership platforms.
5. Diamond course: $1000 + $100 admin fee
In this all-new course (launched in early 2020), you will get to learn about Google Analytics, Zapier automation (connects your apps so they can work together), as well as how to use Sendgrid (for transactional and marketing emails).
I believe these courses are legitimate and you will get to learn something, but the increasing costs are off-putting, and may not be for everyone.
Also, one peculiar thing which you may have observed too is how the admin fee keeps increasing as the courses increase in their prices.
That brings us to the next section…
---
---

How to make money with Newbies On Fire

The concept is a very simple one. Whatever Newbies On Fire course you sell, you get to keep 100% of the course fee (except for the 2nd and 4th sale). Only the admin fee goes back to the company.
As for your 2nd and 4th sales, the commissions go to your sponsor (the person whose referral link you would have used when you first buy into this program).
In a similar way, your referrals' 2nd and 4th sales would go to you.
I must say, the program is really enticing. To make 100% commission simply means you need 3 sales to start profiting.
Let's say you spent $30 on the Starter course ($25 + $5 to admin). When you make your first sale, you earn $25. The second sale would be passed up to your sponsor, so you would need the third sale to see a profit out of this venture.
Though it looks simple to achieve on paper, things in real life can be vastly different from the ideal world.
Another catch is that you would have to buy a course before you can make commissions off your referrals who buy at the same level or lower.
Say you spend $250 on the Advanced course, you would make 100% commissions when your referrals buy the Starter, Basic or Advanced courses, but not when they buy the Elite or Diamond courses.
That makes it a pay-to-play program.
Moreover, making 100% commission actually makes it highly resemble a cash gifting scheme. The way this program is structured may also make it into one where people buy for the sake of the earning opportunity, and actually have no practical use for the courses.
Let's also examine the other red flags.

Red Flags in Newbies On Fire

1. No social media presence
For a program with 19K members, it is rather weird that it has no social media presence. The social media buttons on its website are not the specific accounts of Newbies On Fire, but just the home pages of the respective social platforms, like Facebook, Twitter, Instagram, etc.
At least that is the case at the time of this writing.

2. Very new domain
The domain of NewbiesOnFire.com was newly registered in September 2019.

For it to have hit 19K members in just a few months, and without any social media presence, it just feels unreal to me.

3. Refund policy
Newbies On Fire has a 24h refund policy.


This sets off another alarm bell.
If it were such great training that equips you with the tools and knowledge to make money by selling itself or any of your own offers, why would anyone not continue with its membership 30 days or 60 days later?
24 hours cannot be sufficient to finish studying any course and implement what you have learnt.
Does it mean that the program creator lacks such confidence in her own product that she is more concerned with holding on to the money than ensuring the welfare of her customers is well looked after?

4. Income disclaimer
It is stated, loud and clear. "Most consumers never recoup the amount they spend on Newbies On Fire products and services."


Why would you subject yourself to an 'opportunity' that has all the odds stacked against you?
You will see real people on its Leaders Board, making a great income out of this program. Those are either influencers who have already built up a large base of audience for themselves over many years, or they are advanced marketers who are skilled in leveraging the internet to reach out to people who are interested in the program.
They are able to earn from this, not because of what they learnt from the courses inside Newbies On Fire, but because they took the time and effort to build a foundation for their online business.
You can do this too, but not if you go into Newbies On Fire blindly.
Take my website as an example. The fact that you landed on here means that thousands of other people who are researching this product are able to find this article as well.
I could have easily written a raving review, claiming what an easy way it is to make money by using Newbies On Fire. And I would have possibly made it to the Leaders Board too.
But my moral compass steers me away from it.
Because I know most people who sign up would lack the skills to make it work for them. And I do not want my name and reputation to go down the drain.
Hence I only promote stuff that has worked for me, and that I know can work for others as well.
You can do this too.
By equipping yourself with a high-income skill, you can promote anything under the sun. You wouldn't need Newbies On Fire.
Check out the platform which allowed me to pick up that high-income skill:

5. Hidden costs
There are hidden costs associated with Newbies On Fire.
You will be asked to purchase its SMS service so that you can send promotional messages to your leads. This will be an ongoing cost. So it is not as simple as a one-time payment for the training courses themselves.
---

To round up this article, let me recap and summarize the pros and cons, before I finally make my conclusion.

Pros of Newbies On Fire

1. You do get your training courses
Though I do not think they are worth the expensive prices, you do get the training courses in Newbies On Fire.

Cons of Newbies On Fire

1. Resembles a cash gifting scheme
From the way the program is structured, you will see marketers pushing for its sales even if they may be well aware that the product does not serve the best interests of the average buyer.
The mathematics guarantees that majority of participants will lose money with Newbies On Fire.
You see, for you to start profiting, you need three people to buy this program through you. This ratio applies to every member who joins Newbies On Fire.
And you have seen the top earners on the Leaders Board. For them to make that huge amount of money, tens or hundreds, maybe even thousands, will have to lose money.
At some point in time, the membership gets saturated. Everyone who is likely to join has joined. At the bottom of the pyramid, majority lose money.

2. Traffic
And the reason why the average buyer of Newbies On Fire loses money is because they are likely promoting the program to people around them, in their own social circle.
They would be really lucky if one person joins.
Imagine posting this on Facebook and trying to get your friends interested. I seriously do not think it will be effective.
To get traffic to your Newbies on Fire offer, you would have to pay for advertising, if you do not know how to get free traffic.
Paid traffic is a high risk, high cost business that can get you in the red very quickly, especially if you lack experience, and do not know what you are doing.

3. Refund period is too short
Even though it offers a refund, my advice is not to even try it.
To be very honest, I have not seen any product offering a 24 hours refund policy among the hundreds of reviews I have done.
I have a feeling it will be very difficult to get your money back.
---

Is Newbies On Fire Scam or Legit?

I won't go as far as saying that Newbies On Fire is a scam. But I believe its training courses are there to make it seem like they are what its members are after. When in fact, without the earning opportunity behind it, I do not think there will be any demand for those courses, given their over-the-top pricing.
Some similar programs include Too Damn Easy, Press 1 Cash, Instant Cash Solution, Up2Give, Impact Mailing Club, Done 4 You Business, Prosperity Income Network, OPM Wealth, Six Figure Empire, and Digital Income System, to name just a few.
---

An Alternative

I know you want to be rich. Believe me, I do too.
It's a very natural thing, that's just human nature. I mean, find me someone who doesn't want to get rich fast, and with minimum effort.
I wasn't spared of all the temptations on the internet, hopping from one shiny object to the next.
It is easy to get attracted by what seems to be easy money. And if you know them by now, these are the exact stuff that you need to stay away from.
In my search, I found a dull-looking object, but I knew in my heart that is the real deal. And from then on, I have never looked back.
An honest, down-to-earth method that will get you there. It's not going to be easy, but it will get you there.
Versus the fast and easy way to empty your pockets and get you nowhere.
Which would you choose?
I think I can guess your choice. 🙂
So now, let me extend my humble invitation for you to join me on this online journey.
I am now working full time from home, growing my internet business, and making an online income. I started from scratch with zero knowledge in this area.
You can do this too.
Here's a peek into my daily earnings:



That's almost $200 in just one single day. It's nothing to boast about, though, as it's just a small fraction of its full potential. I just wanted to show you the possibilities.
Check out this training platform that provides all the resources, tools, along with an entire community of aspiring as well as already successful online income earners:

Remember, this real deal does not promise instant results.
Instead, it provides the knowledge and lifelong skills required to grow a successful online business that will sustain itself in the long run.
And for reading all the way to the end of the post, I believe you have it in you to make this work. Here is your FREE PDF Guide: 4 Simple Steps to Making Money Online. Fill in your details to claim it:


If you have any concerns or questions regarding this Newbies On Fire review, do comment below, and we will start a conversation from there.
---