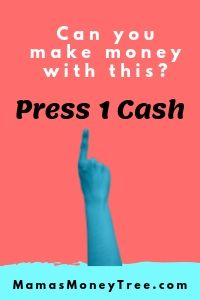 What's the buzz with the Press 1 Cash scam all about? What kind of a program is it exactly? An MLM? Or a pyramid scheme?
Welcome to my Press 1 Cash review.
How do you make $200 on every sale? What is it about pressing 1? What products do you get when you join the program? How much does it cost, and is it even legit?
We will answer all these questions and more, as I walk you through my honest and in-depth review of Press 1 Cash.
Without further ado, let's dive right in now!
---
Press 1 Cash Review Summary
Product: Press 1 Cash
URL: https://www.press1cash.com/
Product type: SMS text message responder, with a 2 level compensation plan
Price: $297
Scam / Legit? : Borderline scam
Recommended or not? : NOT recommended
Press 1 Cash provides you with a personalised SMS text phone number and a messaging responder, so you can promote Press 1 Cash itself, or your own offers.
The operating costs are huge, translating into about $2 per lead. This puts you in a disadvantaged position of very possibly making losses if you do not get a targeted audience to dial your number.
---
---
What is Press 1 Cash
To find out what is Press 1 Cash, let us first take a look at its home page.



I am always very wary when making money online is made to seem like such an easy thing. Because I know for a fact that it is not.
Usually I would call programs like Press 1 Cash a cash gifting scheme. But this particular product has, in a very clever way, covered its tracks by seemingly giving you a system that allows you to market your own business.
The service they offer is your very own customised phone number, which your leads will call to hear a pre-recorded voice message, and press '1' to receive an SMS text that contains your link to whatever you want to promote.

Signing up to Press 1 Cash
To become a member of Press 1 Cash, you pay a fee of $297, of which $97 goes to the company, and $200 goes to your sponsor (the person whose link you sign up with).
It is a one time payment, not some monthly fee, which may seem like a good thing.
But the fact of the matter is there are operating costs that you will incur, as long as you run the system to try to get leads to your offers.

How Press 1 Cash works exactly
Once you pay to become a Press 1 Cash member, you will gain access to the SMS responder system. It comes with your personalised phone number.
You will set up the voice recording that people will hear when they dial your number. This recording can be customised, or you can always use the done-for-you ones.
The person hearing this voice message will then be asked to press '1' to receive more information about the promotion.
When they do, they will receive an SMS message on their phone, which you would have set up to include a link that directs them to whatever you want to promote to them.
This can be your affiliate link, if you are promoting some product or service. Or it could be your own website, if you have one that you are trying to send traffic to.
If you do not have any offer of your own, you can always direct your leads to sign up with Press 1 Cash on your replicated Press 1 Cash website, which will then earn you quite hefty commissions.
The data of all those phone numbers that called through to your Press 1 Cash phone number will be captured, as well as those who pressed '1' to receive more information.
This allows you to bring these leads anywhere outside of Press 1 Cash, so that you can continue to market your offers to them using other platforms or messaging services of your choice.

Operating cost of using Press 1 Cash
When a person calls your phone number and reaches the voice recording, it will incur a cost of $0.99, charged to you through Press 1 Cash.
When the lead presses '1' to receive the SMS text, it incurs another $0.99, regardless of whether they eventually click on the link in the SMS message or not.
So for every single person that calls, you will have to pay either $1 (if they do not press '1'), or $2 (if they press '1').
Though 100 credits will be given to you when you start off, if every lead uses up 2 credits (1 for calling through to your phone number, and 1 for pressing '1'), it means you will only get to reach 50 leads before your credits run out, and you have to start paying with hard cash.

Products in Press 1 Cash
Here is a list of what you will be getting in your Press 1 Cash membership:
Personalised phone number for voice recording and SMS messaging
Automated SMS text messaging responder
100 credits for voice recording and SMS texts
A replicated Press 1 Cash website
A tracking system that captures all the phone numbers of your leads who call through, with other information like whether they pressed '1' or not.

Compensation Plan of Press 1 Cash
The compensation plan of Press 1 Cash works very differently from an MLM (multilevel marketing) scheme.
In fact, how you can make money promoting Press 1 Cash is very straightforward.
You make direct commissions when people sign up with Press 1 Cash through your link (in other words, on your replicated website). The $200 they pay to their sponsor (which is you) gets paid to you directly.
The only exception is your second referral, which means the second person whom you refer into Press 1 Cash. The $200 commission will go to your sponsor instead.
This also means that for every single one of your direct referrals, the second person whom they recruit would send the $200 to you.
The kind of compensation plan is also called reverse 1-up, where the commissions from one of the referrals get passed up another level.
Though it does sound lucrative and seems like an attractive opportunity, let me now explain why in reality things are not as simple as they seem.

Why Press 1 Cash will not work for you
Traffic
Traffic is the bloodline of every business, be it online or offline.
Without traffic, it does not matter that the other aspects of the business are perfect, there will be no one to take up the offers.
So the most imminent question would be: where are you going to market your phone number for people to call you? Is it on Craigslist? On some forum? Or social media platform like Facebook, Instagram, or Twitter?
Have you seen posts like that, where you have to call a number for some service or promotion? Would you pick up the phone to dial the number?
One main issue with this method of marketing is that you must make sure you stick within the rule of the platform. Many do not allow users to just promote their offers like that, as they want you to go through paid channels, by advertising on the platform, since this is where they get their revenue from.
---
---
Huge operating costs
You are not going to pay to put up your phone number, because this makes it unsustainable from the onset.
You see, with Press 1 Cash, you are already paying to run their SMS text messaging system, which works out to be about $2 per lead.
This is already a huge amount to incur, even before you start making any money.
If 1000 people dial the number, and all of the press '1' to receive the text message, you would have spent $2000, with absolutely no guarantee of any returns.
On top of this, if you are going to incur another sum to advertise your phone number on whatever platform you choose, you are digging an even deeper hole for yourself to try to climb out of.
Cold leads do not convert well
However, if you do not spend money to get paid traffic to see your phone number, then just posting on free channels and platforms will not get you any targeted traffic.
People who see your number are not those who are looking for your service or product that you are promoting, hence the conversion rates are going to be really low.
Even if someone actually dials the number and opts to receive the SMS text message for more information, do you think he or she will take up your Press 1 Cash offer, and spend $297 without even knowing you?
Leads have to be nurtured. Without any chance for interaction and gaining their trust, it is highly unlikely anyone learning about Press 1 Cash for the first time through your replicate website will be so easily convinced to buy into it.
---
To round up this article, let me recap and summarise the pros and cons, before I finally make my conclusion.
Pros of Press 1 Cash
1. You do get a phone marketing system
You do get this SMS responder system, that you can use to promote any product that you may have, like any affiliate links, etc. Or you can use it to promote Press 1 Cash itself.
2. Commissions are high
If you choose to promote Press 1 Cash, the commissions are high, at $200 per sale (except for the second referral you bring in, whose commissions will go up to your sponsor).
Though it may sound lucrative, in reality very few people will eventually buy into it, due to the high cost.

Cons of Press 1 Cash
1. High cost to run the SMS responder
It does not just cost a one time fee of $297. To run the SMS responder system, you have to keep on paying almost $2 per lead, regardless of whether or not a sales is ultimately made.
If you ask me, the real winners here are the owners of Press 1 Cash.
2. Where do you find targeted traffic
Free traffic is usually not targeted, unless they come from the search engines. Paid traffic makes this Press 1 Cash system no longer sustainable, as you will incur another huge upfront cost on advertising your phone number.
There is absolutely no guarantee that you will be able to recover all your initial costs, which means you could end up in a worse position than before you started out.
---
Is Press 1 Cash Scam or legit? 
Though I do not recommend Press 1 Cash, I'd have to say it is still a legitimate system that allows you to promote whatever you want, and not just itself.
It seems to be created more for the interest of its owners, rather than its customers, just like many other products out there: Cents for Freedom, Digital Income System, and Infinity Traffic Boost, to name just a few.
---
The proper way to make money online
I guess everyone starts off wanting to make it rich through the fast and easy way. It's a very natural thing, that's just human nature. I wasn't spared of all the temptations on the internet, hopping from one shiny object to the next.
But when I realised those empty promises are only going to make other people rich, and not me, I stopped looking for shiny objects.
I found a dull-looking object, but I knew in my heart that is the real deal. From then on, I have never looked back.
I am now working full time from home, growing my internet business, and making an online income. I started from scratch with zero knowledge in this area. If I can do it, you can, too.
Here's a peek into my earnings on a recent day:



That's almost $200 in just one single day. It's nothing to boast about, though, as it's just a small fraction of its full potential. I just wanted to show you the possibilities.
Check out this training platform that provides all the resources, tools, along with an entire community of aspiring as well as already successful online income earners:


And for reading all the way to the end of the post, I believe you have it in you to make this work. Here is your FREE PDF Guide: 4 Simple Steps to Making Money Online. Fill in your details to claim it:


If you have any concerns or questions regarding this Press 1 Cash review, do comment below, and we will start a conversation from there.
---