Welcome to my Done 4 You Business review. This is about the high ticket affiliate program run by Matt Graham.
I'm glad you are here checking this out (and I really hope you have not bought into this expensive program yet). I am not promoting this, you will not find my affiliate link for this program anywhere, because I do not recommend this program at all.
In this post, I will attempt to explain how Done 4 You Business works.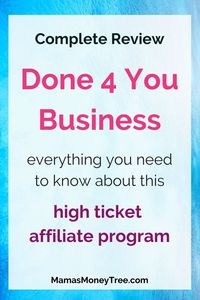 The fact is, there are hidden costs running into more thousands of dollars than the entry fee to this "business".
We will examine the nuts and bolts of Done 4 You Business, so that you can see the truth clearly to learn how it works exactly.
Without further ado, let's dive right in now!
---

Done 4 You Business Review Summary

Product: Done 4 You Business
URL: https://cg20.logintosystem.com/index.html
Creator: Matt Graham
Product type: high ticket affiliate program
Price: $3,247 to $21,847 for membership (not including advertising costs)
Rating: 1 out of 5
Scam / Legit? : I'll leave you to decide for yourself
Recommended or not? : NOT recommended
Done 4 You Business is a high ticket pay-to-play program for which you pay a hefty sum to join, only to promote itself. You will incur advertising costs, and trained 'coaches' will do the job of selling the program to your leads. This is the so-called autopilot aspect of the system.
With a payment structure that nudges you towards the highest tier, coupled with high pressure sales tactics from your 'coach', you will possibly burn a humongous hole right through your pocket with an infinitesimal chance of patching it back.
---
---

What is Done 4 You Business

To find out what is Done 4 You Business, let us first take a look at its website: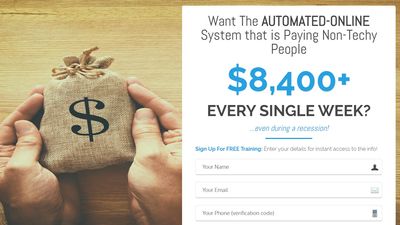 It is a typical sign up page where you enter your name, email address and phone number.
But wait… $8,400+ every single week? Based off an automated online system that is paying non-techy people, even during a recession? Who wouldn't want it if there was really such a good thing in this world?
The other detail that would make me stop in my track is providing my phone number to a program that I hardly knew anything about yet.

What is Presented – Plenty of Hype
Once in, you will land on a sales page, where Matt waves checks of $14K each at you.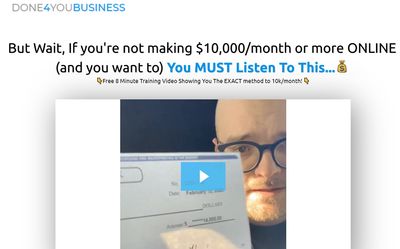 He then goes on to sell the system to you: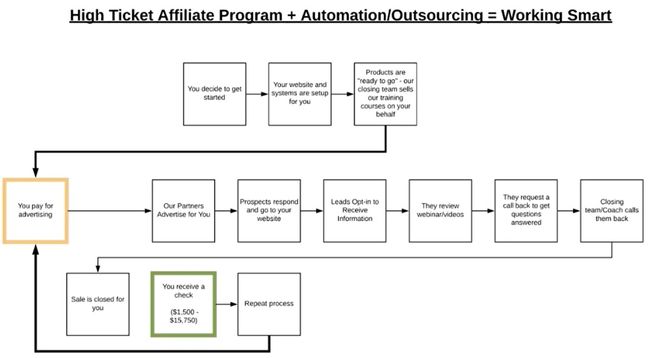 It sounds really simple. And that's precisely what he wants you to believe.
Once you hop on board, your website will be set up for you, the system is ready to go. All you need to do is pay for advertising.
You do not even need to go through any training to learn how to make your advertising campaigns work for you, as Matt's partners will run those for you.
The prospects who are interested in learning more about the program will land on your website, who will watch the videos, and request a call back to find out more details.
The sales team (a.k.a. coach) will close the sale on your behalf, and the commission goes to you (between $1,500 and $10,500).
That's it. Without having to lift a finger or even answer a phone call, automation and outsourcing is what gets you working smart, and having the money roll in.
Matt did stress on one point, though. To make money, you need to consistently spend on advertising. The more you spend, the more you earn.
I have a big issue with this, but before we get to that, let's go right to the internal mechanisms of Done 4 You Business.

How Done 4 You Business Works Exactly

In gist, Done 4 You Business is a 4-tier affiliate program. It has no products or services of tangible value that I can find. You are simply buying into the rights to promote the program itself.
And by the way, this program used to be called Secrets of the Wealthy.
As you can see below, the webinar for Done 4 You Business actually leads you to Secrets of the Wealthy. It is in fact the same program, now marketed under a completely different name.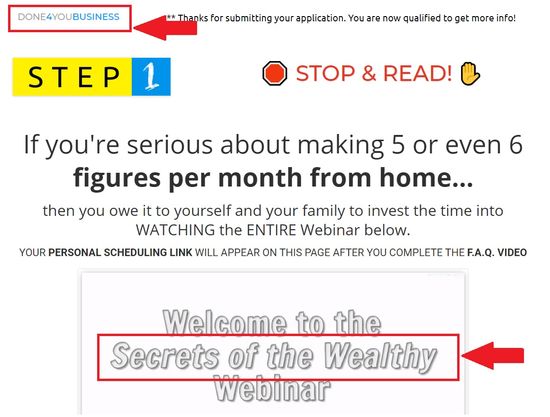 Oftentimes, when this happens, it could mean the original program had received too many negative reviews, such that its name had been tarnished and couldn't be sold anymore. So the creators simply slap on a new book cover, but they are essentially selling exactly the same thing.
---
---

The 4 product levels
These are the product levels found in Done 4 You Business: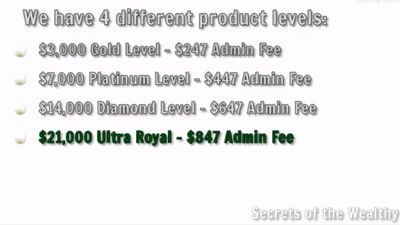 Gold level costs $3,000 + $247 admin fee. If someone signs up under you, regardless of their level, you make $1,500 in commission for every sale.
Platinum level costs $7,000 + $447 admin fee. If someone signs up under you at the Gold level, you earn $1,500. If any of your referrals join at Platinum level and above, you get $3,500 in commission.
Diamond level costs $14,000 + $647 admin fee. Your commission per sale will be capped at $7,000.
Ultra Royal costs $21,000 + $847 admin fee.
So basically you earn the full 50% commissions only when your referrals buy into the same level as you did, or lower.
If they buy in at a higher level, you lose part of the commission that you would otherwise be entitled to, simply because you hadn't bought in at that higher level. For instance, if you bought Platinum, but someone using your affiliate link signed up at Diamond level, you would make only $3,500 instead of $7,000.
The sales coaches would use this point to sell you the higher levels aggressively. Not that they genuinely care about how much you make, but because their own earnings depend on which level you sign up to.

What is in the product?
Well, Matt will say this is an e-learning platform, with a done-for-you system, a business-in-a-box.
You will get a website that is hosted for you, some marketing letters that you can use if you have your own email list, and a members' area with a tracking system for your leads and sales.
There are also some training videos, of which I find hard to see the relevance. Examples include how to create content fast, Twitter mastery, Facebook marketing, video marketing, etc. These can give people the impression that they are getting a lot out of this, but from what I see, there is no focus. They simply add to the chaos and confusion in the world of internet marketing.
To be very frank, even the website and members' platform are useless if you are not promoting Done 4 You Business itself. So there is no value here in these products outside of selling this program.

Red Flags in Done 4 You Business

Paid traffic is a very high risk business
The expensive product fees and admin fees are not the only things you have to fork out money for.
What will really burn a hole right through your pocket is advertising cost, which is recurring.
Paid traffic is a steep learning curve to master. That is why Matt has asked you to leave it to their experts.
Then you should ask yourself: are you going to sink in thousands of dollars per month on advertising, only to go blind and not have any control over any aspect of the advertising campaigns?
How will you know you can actually trust them? How will you know on which platforms those advertisements will run on? Is the traffic targeted? If it isn't, they are simply helping you throw money down the drain.
The truth is this – Matt is transferring all his business risk to his paying members, by making them pay for advertising for his business.
If the returns on investment were really so high with their advertising channel, they should just pocket the earnings for themselves.
As it is, there is no advertising cost incurred on his part. All he does is wait to collect admin fees with every single sign up. He takes zero risk. So it's a sure win for him.

What about all those testimonials?
To be honest, the testimonials that appear on the Done 4 You Business sales page do seem legit.
It is possible that those people really made money with the original program Secrets Of The Wealthy, but they have to be the advanced marketers who run their own advertising campaigns, or already have free traffic at their fingertips. For them, making a killing with this program could have been an easy task. Not because of the program itself, but because of their prior expertise in internet marketing.
From my personal viewpoint, this is unethical.
Because the vast majority of the people who sign up under them will not have the means to get the kind of targeted traffic that is needed to recoup the losses from the initial investments.
Having said that, if you think you have it, don't let me stop you.
---
---

To round up this article, let me recap and summarize the pros and cons, before I finally make my conclusion.

Pros of Done 4 You Business

1. Possible to make money, IF…
If you are an advanced marketer, you probably wouldn't be here reading this. You'd be able to see through the program for what it is, and know that you have it within your capability to make money off this. Albeit at the expense of others who may not be as well-versed in this area as you are.

Cons of Done 4 You Business

1. Crazy expensive
Even the lowest level is beyond many people. And the program creators know it. That is why many will be encouraged to take loans.
If you ask me, it is a crime for any kind of program to target people who cannot afford it.

2. No solid product
Training videos are put together in a haphazard manner, covering a huge range of topics in internet marketing, and will most likely not get you anywhere.
With everything else done for you, from website to advertising, you will be heavily reliant on the platform, and would not have seen any kind of self-development in terms of skills and knowledge.

3. Paid traffic is not for the faint-hearted
Take a look at these comments left by some members on another site, who took up Secrets Of The Wealthy, for which Done 4 You Business is the rehashed version.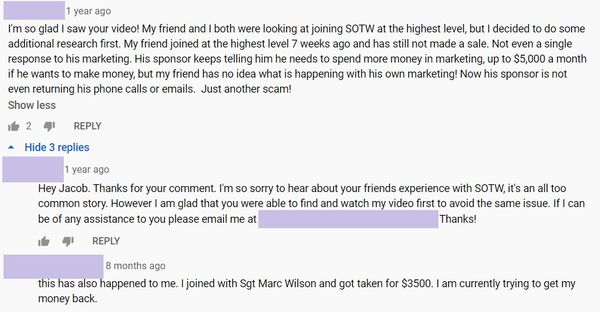 So you see, advertising is not something that anyone can just afford to play around with, much less hand over the money along with 100% control of the advertising campaigns to people who have yet to earn your trust.
---

Is Done 4 You Business Scam or Legit?

I wouldn't call Done 4 You Business a scam, as I had never stepped foot into it. What I can offer you are my thorough review and personal views, based on having reviewed hundreds of products, programs and companies in the make-money niche.
Let me just leave you with a reiteration of this one last point: If the advertising campaigns run by their partners are really so lucrative, why don't they just run those themselves, reach the same target audience either way, and keep a much larger share of the revenue?
Done 4 You Business is similar to these other high ticket affiliate programs:
– Prosperity Income Network
– OPM Wealth
– Six Figure Empire
– Digital Income System
– Newbies On Fire
---
---

An Alternative

I know you want to be rich. Believe me, I do too.
It's a very natural thing, that's just human nature. I mean, find me someone who doesn't want to get rich fast, and with minimum effort.
I wasn't spared of all the temptations on the internet, hopping from one shiny object to the next.
But when I realized those empty promises are only going to make other people rich, and not me, I stopped looking for shiny objects.
I found a dull-looking one, but I knew in my heart that is the real deal. And from then on, I have never looked back.
An honest, down-to-earth method that will get you there. It's not going to be easy, but it will get you there.
Versus the fast and easy way to empty your pockets and get you nowhere.
Which would you choose?
I think I can guess your choice. 🙂
So now, let me extend my humble invitation for you to join me on this online journey.
I am now working full time from home, growing my internet business, and making an online income. I started from scratch with zero knowledge in this area.
You can do this too.
Here's a peek into my daily earnings: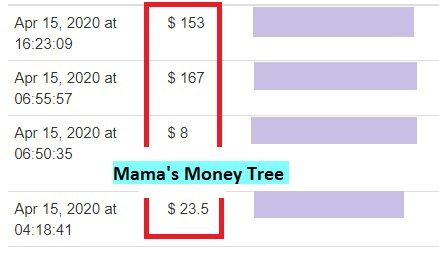 That's $350 in a day. Nothing to boast about, as it is still far from reaching its full potential. I just wanted to show you the vast possibilities here.
Check out this training platform that provides all the resources, tools, along with an entire community of aspiring as well as already successful online income earners:

This real deal does not promise instant results.
Instead, it provides the knowledge and lifelong skills required to grow a successful online business that will sustain itself in the long run.
And for reading all the way to the end of the post, I believe you have it in you to make this work. Here is your FREE PDF Guide: 4 Simple Steps to Making Money Online. Fill in your details to claim it:

If you have any concerns or questions regarding this Done 4 You Business review, do comment below, and we will start a conversation from there.
---