In this DesignCap review, we will take a look at the features of this new graphic designer to understand all the praises that it is receiving from its users.
I will break down its various pricing plans, and address its pros and cons, so that you make an informed decision with realistic expectations.
To be very transparent, DesignCap upgraded me to their Plus Plan so that I can do a thorough review of their software.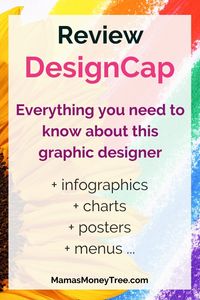 After exploring the interface and creating a few designs of my own, I decided this is really something worth promoting to my readers.
Whether you are a student, homemaker, business owner, entrepreneur, or employee, DesignCap can be a fantastic tool in your creative endeavors. I am using it mainly for marketing my business, as well as in my personal life.
Without further ado, let's dive right into the review now!
---

DesignCap Review Summary

Product: DesignCap
Parent Company: PearlMountain Limited
Product type: graphic designer tool
Price: free option available, $4.99/month for Basic Plan, $5.99/month for Plus Plan
Rating: 4.7 out of 5
Recommended or not? : YES, strongly recommended
DesignCap is a very versatile and user-friendly graphic design tool that is affordably priced, with a free option available for you to try out (though I have to admit the free option has very limited features).
With a huge range of templates for numerous purposes, from infographics and flyers to charts, invitations and social media posts, you will find it a very handy addition to your arsenal of softwares for your creative productions.
---
---

What is DesignCap

DesignCap is an online graphic design software, created to help you accomplish your creative goals.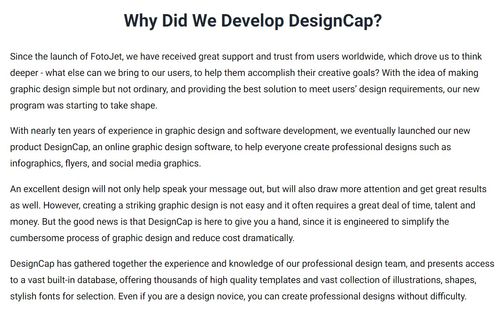 It aims to provide a simple user experience, yet helps you maintain your style and professionalism with striking graphic designs that leave an impression.
DesignCap is developed by PearlMountain, a company that has been in the research and development of graphics and multimedia software since 2006, so they know what they're doing. I did a review of another of its products, FlexClip.
Whether you are doing up pins for Pinterest, banners for Facebook or Youtube, rushing out a presentation or resume, designing a menu, brochure, logo or business card, DesignCap has your back.

How DesignCap Works Exactly

To start, get signed up to a free DesignCap account.
It's super simple – just enter your email address and password, and verify your email.
Then, in these 3 easy steps, you will have made your first creative project on the platform:
Choose a template (from thousands of designs, if you're on a paid plan).
Customize your design (with simple and powerful editing tools).
Export – you can do this by saving the file onto your computer, or sharing it online.
We will go into the details of these 3 steps in a later section, but this is the gist of it.
Though this may look like something other graphic design tools (like Canva, PicMonkey, etc.) can do too, the truth is it has a number of strengths that they do not.
So stick around as we will dwell into its nuts and bolts later. For now, let's look at an another very important aspect: pricing.

DesignCap Pricing

This is its pricing plan, if paid yearly.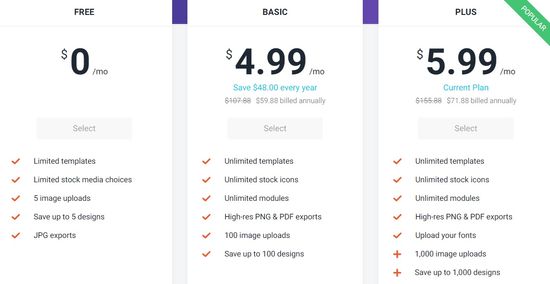 As you can see, its Free Plan is really quite limited.
You have access to a small library of templates and stock images, and can only save 5 designs in your account (these can be deleted when you do not need them, to make space, so long as there are not more than 5 at any one time).
The other main restriction will be its file export format, where only JPG is allowed. This may or may not work for you, depending on how small your font goes. So this can be an issue with report, menu, brochure, etc. types of projects.
Hence the Free Plan mainly serves to let you experience the platform at no cost, try out its user interface, and understand its capabilities, so that you make your buying decision based on the most well-informed choice.
The pricing plans shown in the image above are for annual payments.
If you're paying monthly, the prices will go up, which is a bummer but this is definitely what most businesses are doing. So…
Basic Plan will cost $8.99 per month, if paid month by month.
And Plus Plan will cost $12.99 per month, which becomes rather steep (in my opinion) for a graphic designer.
If you have many projects on hand, such that you need to save more than 100 designs in your account at any one time, then going for yearly Plus Plan will be the most worthwhile.
Otherwise, if it is more for your personal use, or for marketing as a small business owner, then you can possibly try out a month of the Basic Plan, before deciding if you would want to go all out for its yearly plans.

DesignCap Features
Templates
You can definitely start creating your own design on a blank slate if you like, but to me, the most valuable part of DesignCap lies in its extensive library of templates, for these purposes:
chart
infographic
presentation
schedule
resume
report
card
invitation
poster
flyer
business card
menu
brochure
logo
leaderboard
Facebook ad
Facebook cover
Facebook post
Youtube channel art
Youtube thumbnail
Twitter header
Tumblr banner
Email header
Instagram post
Pinterest graphic
If this isn't impressive enough, let's just take a look at the first item on the list – chart.
Look at all these different formats of presenting your data: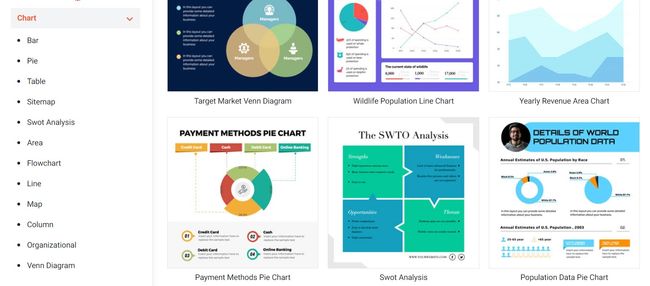 You simply enter the figures that you want to present, in the desired format, and then edit it to your liking.
Just imagine what this can do for your work, business, or school projects.
Another glimpse into its menu templates (47 of these in the library currently):

And now its infographic templates (there are currently 192 of these):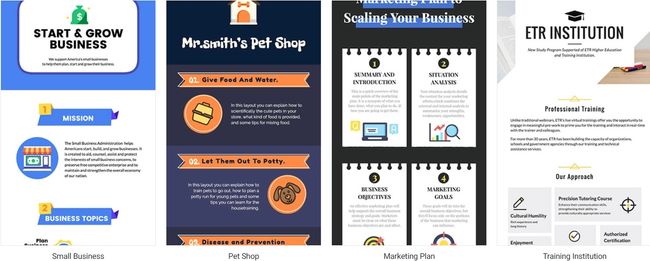 One thing I know is I'll be diving right in to really use the infographic templates for my blogs (see here for how to start a website) and for marketing my content.
Infographics is a huge thing, as it is attention-grabbing and allows you to showcase your content at a glance. The problem is really knowing how to design a sleek and professional-looking one. Now, with these templates, I know I will have the confidence to venture into this aspect of creative design.

Editing Tools
Apart from the usual elements, photos, uploads, text and background that you can add and edit, there are two special features that I want to highlight.
One is 'chart'.
Charts can be added to any of your design projects. So you can showcase some data in your presentation, infographic, Pinterest graphic, menu, etc. (basically anything). I think this is really cool.
Next is its modules, which allows you to add timelines, diagrams, SWOT analysis, statistics, comparison tables, customized icons with text, and social icons, among other things.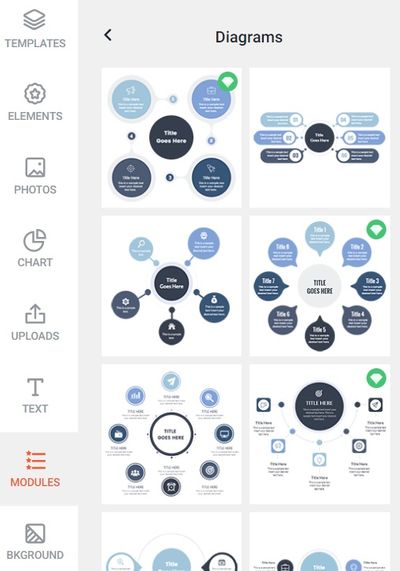 See how the capabilities of DesignCap far exceeds many popular graphic design programs, including Canva, which I use almost everyday.

Saving and exporting your work
There is a 'save' button that you should use to save your projects.
Just for the sake of trying it out, I exited the program without saving my work. It was still there when I went back in. So it looks like there is an autosave function in place, but I really wouldn't bet on it, especially if your projects are time-consuming ones.
On the paid plans, you can choose to download your work in one of these three formats: JPG, PNG, or PDF.
There are various file sizes that you can choose from: small, medium, large, and extra large.
If you like, you can actually share your design onto your social media accounts from within your DesignCap workspace.
It can be linked to Facebook and Twitter. Not Instagram, though. But there is a share link that you can grab, to post on anywhere else you wish.

How DesignCap compares with Canva
I decided to include a small section on this, as I personally use Canva a lot, for creating Pinterest images and featured images for my blog posts.
In terms of features and capabilities, DesignCap has so much more – from charts and timelines to diagrams and comparison tables, these already make its paid plans so worthwhile.
And it is cheaper than Canva Pro, which costs $9.95 per month when paid annually.
Of course Canva Pro comes with premium stock images. Whereas with DesignCap, as far as I can tell, the images are the same as the free ones from Pixabay (there may be other sources that I may not have identified).
---

To round up this article, let me recap and summarize the pros and cons, before I finally make my conclusion.

Pros of DesignCap

1. Many great features, templates, and capabilities
The vast number of templates in its library allows you to do so many things. From infographics and charts to social media posts and reports, get ready to impress your bosses, clients, professors, teachers, and friends.

2. Free Plan
I personally have very high regards for programs that offer a free plan to try things out, allowing customers to really experience the platform for themselves before they actually make any purchases.

3. User-friendly interface
There is nothing complicated about the dashboard and workspace within DesignCap. Everything is intuitive and simple to grasp.

Cons of DesignCap

1. Free Plan does not get you far
The Free Plan of DesignCap is really quite limited, considering what you can actually do with Canva's free plan. But the point of this plan is really to just let you experience the platform.
And the paid plans are priced very affordably, so I do not see its cost as a big issue, just pointing out its Free Plan is not meant to serve most people's needs fully.

2. Stock images are not premium
As far as I can tell, the photos inside the DesignCap library can be found for free elsewhere. But do not forget there is already immense value just from its vast choices of templates and other features.
---

Is DesignCap for you?

Will charts help with your monthly reports submission to the bosses?
Will diagrams help in your undergraduate thesis? Will comparison tables help you present your science or geography projects better?
Will infographics help you market your business better?
If you had answered yes to any of these questions (and this list is nowhere near exhaustive), then DesignCap is for you.

I hope this DesignCap review has been helpful to you. If you have any concerns or questions, feel free to comment below, and we will start a conversation from there.
---