Welcome to my FlexClip video maker review.
This article gives you a complete look at the free video maker software, from its functions and features to its pricing options, along with its pros and cons.
Whether for business or personal use, this versatile and user-friendly video maker may be the answer to your creative calling, without having to engage a professional videographer, and yet allowing you to produce stunning and impactful results.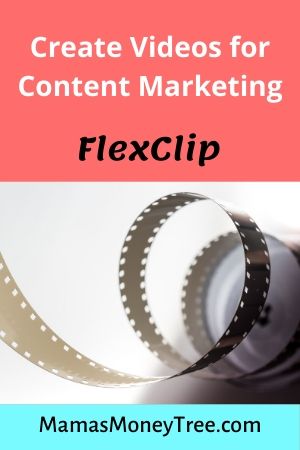 Having said that, it does have its limitations, just like any other video maker software out there.
I gave it a test drive in order to produce a fair and honest review, and I'm happy to say that my positive experience with the platform and its customer service has prompted me to decide to promote FlexClip.

Without further ado, let's dive right into the review now!
---

FlexClip Video Maker Review Summary

Product: FlexClip
URL: https://www.flexclip.com/
Parent Company: PearlMountain Limited
Product type: Video maker
Price: free option available, $4.99/month for Basic Plan, or $7.99/month for Plus Plan
Rating: 4.5 out of 5
Scam / Legit? : Legitimate
Recommended or not? : Yes, recommended as a cost-effective video maker for personal or business uses.
FlexClip is an easy-to-use video creator stocked with photographs and video footages in its library, that allows you to produce custom videos to promote your brand and products, showcase your wedding or holiday highlights, and more for your business and personal life.
It helps you make short, stunning videos of professional standard. However, its editing functions are basic and rather limited. You also cannot import video clips that are larger than 400MB in size. Hence, it doesn't really work well as a video editor if you have your own video recordings. In its free plan, the maximum video duration is only 1 minute.
---

What is FlexClip

FlexClip is an online video maker that allows you to create business videos or personal video stories that you can share with friends and family.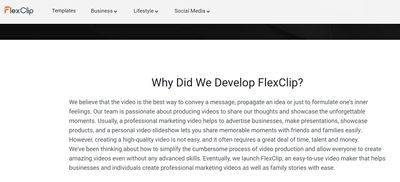 Its parent company is PearlMountain Limited, which has been in the research and development of graphics and multimedia software since 2006. Some of its other programs include DesignCap graphic editor and DesignEvo logo maker.
FlexClip had been around since 2012, and is a handy tool to quickly (within minutes) put together attractive videos for various purposes, serving a wide range of niches and topics.
Whether it is for a Youtube video for your channel, or Facebook, Twitter or Instagram videos, an explainer video for your business products or school project, a corporate video, advertisement, real estate video, birthday or wedding invitation video, baby video, or travel video, FlexClip has templates, stock images and video footages in its library that can serve your needs.
---
---

How FlexClip Works Exactly

The user-interface of FlexClip is intuitive and easy to grasp, even for a non-techy person like me. In 3 simple steps, you can get your very first video up and running:
Step 1: Add media – upload your own photos or videos, or choose from the stock library.
Step 2: Customize – add music, text and voiceover to add your unique style and character.
Step 3: Download – download the video file onto your computer and start sharing it online.
Now, let me go through these steps in more detail, highlighting some pointers to take note of.

1. Add media
You can choose to start from scratch, or use any of the ready-made templates according to the style and format of your choice, as well as the topic of your content.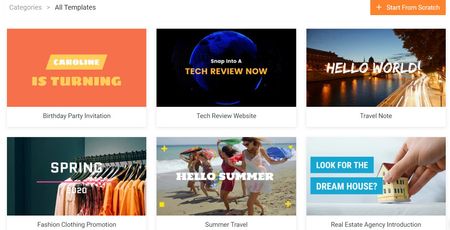 Then you simply upload your own local media from your computer, or choose photographs or video clips from the FlexClip stock library to be added to your storyboards.
I was truly impressed by the vast amount of resources in its library. For instance, in the health category alone, there are 34,470 videos to choose from. In the food category, there are about 73,800 photographs.
On the other hand, I met with some challenges when trying to use my own media.
For instance, uploading of video files are limited to 400MB in size. Moreover, in trimming and cutting sections of my own video recordings to be used, for each storyboard (there is no limit to the number of storyboards you can have in each video) you can only select a clip that is up to 1 minute in length.
Under the free plan, the maximum total duration for each video is 1 minute. Under the Plus plan, the maximum total duration for each video is 5 minutes.

2. Customize your video
Here, you can add dynamic or simple text, overlay, company logo, etc.
Its stock music options are plentiful. You can also record your own narration. There are simple transitions between storyboards that can be applied.
If you take any of the paid plans, you get to apply your own watermarks in the videos, instead of the default FlexClip's watermark.

3. Download video
Your video can be downloaded with the options of 480p, 720p, or 1080p (for the Plus plan), depending on the desired resolution.

FlexClip Features and Pricing

Here are the three pricing plans for FlexClip – Free, Basic and Plus.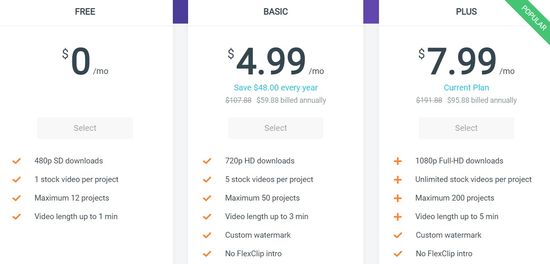 The fantastic thing about FlexClip is that it has an entirely free plan, which may work perfectly for you if your videos are all going to be less than 1 minute in length.
At a very reasonable cost of $4.99 per month for Basic Plan or $7.99 per month for Plus Plan (if billed yearly), you get more features like custom watermark, no FlexClip introduction in the video, increased video length, more video projects, etc.
So if a video maker using stock images, stock videos, and some short clips of your own recording is what you are looking for, then FlexClip is a great fit.
What really works to your advantage is the availability of its completely free version for you to try out, get access to its delightful media library and its video creation tools and functions, so that you can better decide if its upgraded plans will meet your needs.
---

To round up this article, let me recap and summarize the pros and cons, before I finally make my conclusion.

Pros of FlexClip

1. Established company
The parent company has been established in the market for a good number of years. FlexClip itself has a great track record, with the vast majority of its users being very satisfied with the software.

2. Free plan to try out
Give it a go before you actually decide whether or not to take up its paid plans. Even at the highest pricing tier, it is still a very affordable tool for what it can potentially do for your business, as well as your personal interests.

3. Easy to use
This must be the biggest selling point of FlexClip, and what its customers all rave about.
It is very intuitive to use, even for first timers who have not handled any video maker before, it will not take you long to produce your very first creative project.
The storyboards within each video are also very easy to re-sequence, as it is a drag-and-drop process. Hence editing is a breeze and is fun, unlike the tedious affair it tends to be on many other video editors.

Cons of FlexClip

1. Can only produce short videos
The longest video you can create with FlexClip is 5 minutes, even on its Plus Plan. Depending on your needs, this may or may not work for you.

2. Limitations when using own video recording
If you intend to upload your own videos to be incorporated into your FlexClip projects, you may face some stumbling blocks in terms of file size, the duration of each video clip that you can cut into each storyboard, etc.

3. Editing features are basic
You can call this a double-edged sword. It is precisely because its editing features are basic that FlexClip is so fun and easy to use. This also means it lacks the capabilities for more sophisticated editing tools, like filters for photographs, more enhanced transition effects, etc.
---
---

Is FlexClip for you?

The short answer – YES, FlexClip is for you if it can meet your needs.
It is for you if the extensive library of stock pictures and stock videos includes categories that specifically meet your content topic(s). It will save you lots of time scouring the internet for suitable clips and images to use.
FlexClip is for you if you are looking to send impactful, to-the-point messages that are short and concise, using professional-looking media.
It may not be suitable as a video editing tool for your own video recording. Neither is it good for professional videographers whose clients expect completely original work.
I hope this review has been helpful for you.
If you have any concerns or questions regarding this FlexClip video maker review, do comment below, and we will start a conversation from there.
Here are some related posts that may be of interest to you:
– what is content marketing and why it is so important
– is making money online for real
– how long does it take to monetize your content online
– my personal story

If you would like to have a copy of my FREE PDF Guide: 4 Simple Steps to Making Money Online, fill in your details to claim it:
---