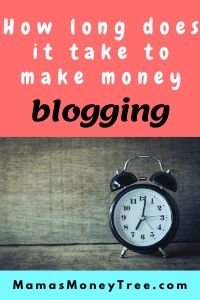 This is a question asked by many beginners: how long does it take to make money blogging?
'It depends'. Is what you will hear most of the time.
And that is true for a fact. There are too many variables, no one will be able to say for sure when you will start making money with your blog or website.
But I will try to provide some average numbers here, along with sharing my own experience.
The short answer is
– in the first 3 to 6 months, your first dollar may come in
– in one year, you can possibly be making a consistent part-time income
– in 1.5 to 2 years, you can realistically build things up into a full time income.
These are the average figures I see around me.
There is no reason to believe you can't do much better than this. Similarly, there is no guarantee that everyone's website will follow this timeframe.
Only using organic traffic
Bear in mind I'm talking about a site that is built from scratch, just using content and SEO (search engine optimization) to bring in organic traffic. That is how I personally prefer to do it.
If you bring in social media traffic that is targeted, and even paid traffic, then there is a much higher chance to start earning faster.
Social media traffic
The problem with social media traffic is the need to hustle on those platforms regularly, which means time taken away from creating content on the website that will contribute towards SEO, which is especially important at the infancy of a blog's life.
Paid ads
As for paid traffic, I would be reluctant to invest before I am making a consistent income. There are risks involved, and a steep learning curve. You may spend more on ads than the earnings it brings in.
Minimalist online business
So for a brand new site, I find it best to keep it as low-cost as possible. Though it's hard work, the effort put into creating content optimized for search engines will pay off big time in the long run.
Once things take off, you should certainly use one or two social media platforms to build a fan base for your brand. Paid traffic done right will also allow you to scale up your earnings.
---

Now, back to the question of how long it will take to make money with your blog.
The variables at play include:
the niche you choose (the more competitive it is, the longer it takes to see results)
the time and effort you are able to commit (if you have a regular job, do be kind to yourself, and give a longer timeframe)
traffic method (free or paid)
the monetization methods (are you creating your own products, what type of products, or are you doing affiliate marketing with digital or physical products, etc.)
conversion rate (even when you are getting a good amount of traffic, are you able to convert some of your audience into buyers)
---

The numbers with my very first website

As a complete newbie, I created my very first website (not this one) back in February 2018.
With the right tools that put me at an advantageous position for SEO, the site was indexed by Google within a week.
And from there, I simply chugged along with SEO, writing 2 to 3 optimized articles every week.
I got my first sale with the Amazon Associate Program in May 2018 – a whooping $0.79!


I was ecstatic, and jumping for joy. I wanted to tell the whole world, but ended up just texting the people closest to me. They wondered if I was alright to be so excited about 79 cents.
The money is nothing, I know. You must be thinking I'm crazy to show this here.
But what mattered to me at that time was proof of concept. It showed me that affiliate marketing works.
And I could actually make it work, by following what was taught on the training platform that I found.
If I can earn 79 cents, then I can earn $79, and $7,900, and $79K.
My life changed that day. I knew this was what I wanted to do.
So it took me three months to make my first sale, without any content promotion on social media or anywhere else. Just pure organic traffic.
In the next six months, the organic traffic to my site went beyond 100 visitors per day.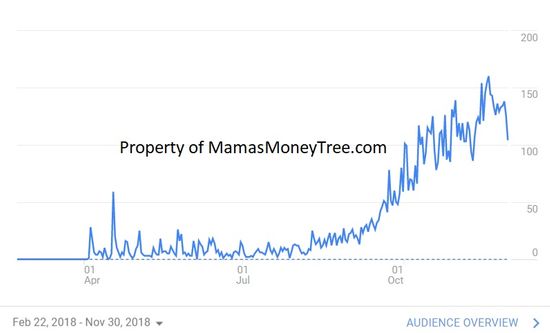 Within the next couple of months, my email list went beyond 2,000 subscribers. I hadn't studied email marketing at that time and wasn't ready for this huge list.
I turned off the subscription form as I feared disappointing people on my list.
It was a silly thing to do, but it showed me that although results are slow with SEO, once you get there, it's unstoppable.
Things have progressed a lot in my online journey since then, as I created more websites, never stopped learning, and matured as an affiliate marketer.
---

I wrote this post wanting to inspire you, I hope it has not discouraged you instead.
One of the biggest factors to making money online is having the right mindset.
Do not be impatient to start earning, for it is precisely this that causes most people's downfall – they give up too early when they don't see results in a few short months.
When they could be so close to success without ever realizing it.
If you were willing to give yourself that many years in school, college, and possibly university just to land a job that you hate, why wouldn't you give your online business a few years to simmer its way to a profitable online income for you?
I'll leave this thought with you, and sign off for now.
If you're ready to start an online business, check out my #1 recommended training platform.
---