Welcome to my Extreme Marketing Alliance review.
If you have been led to this program from some social media posts, advertisements or through your email inbox, and are wondering what it is all about, you have come to the right place.
First of all, I will be very upfront with you that I am in no way associated with Extreme Marketing Alliance (EMA). I will not be trying to promote the program to you.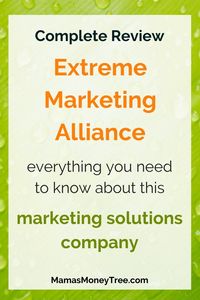 The objective of this post is to provide you with some information – whatever I have gleaned about EMA and its creator, so that you can make a much more informed decision.
This will be a rather short post, so stick around till the end as I present to you my findings.

Without further ado, let's dive right in now!
---

Extreme Marketing Alliance Review Summary

Product: Extreme Marketing Alliance
URL: https://www.extrememarketingalliance.com/
Creator: [name deleted]
Update September 2020 – as advised by the law firm representing EMA, the name of EMA's owner has been removed from this article.
Product type: unknown (whatever the owner is promoting at that point in time)
Price: typically upwards of a few grands
Rating: 1 out of 5
Recommended or not? : NOT recommended
Extreme Marketing Alliance is a registered company to promote whatever its owner is into at any point in time.
Due to the secrecy of its marketing strategy, I'd strongly suggest that you steer clear of EMA. This advice is also based upon my detailed review of Done 4 You Business.
---
---

What is Extreme Marketing Alliance

To find out what is Extreme Marketing Alliance, let us first take a look at its website: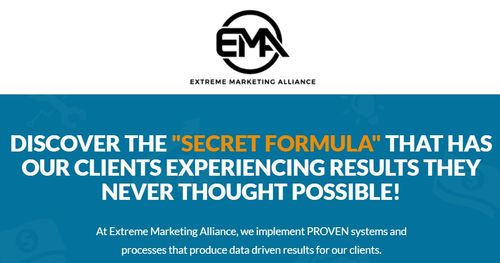 A secret formula, implemented through proven systems and processes that produce data-driven results for its clients.
Though it sounds vague, this is pretty much how organizations do their introduction – to make their work sound all-encompassing so that they can cater to as large an audience as possible. Nothing wrong with that.
The subsequent parts of the home page should provide a more detailed explanation of what they are offering. But, no…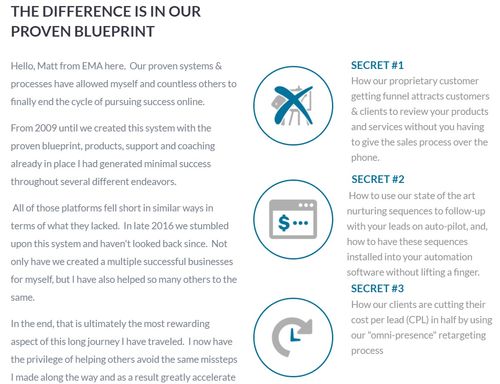 By the end of the page, I still had no inkling of what they are doing, and what I will be getting into if I were to sign up with them.
The best thing is, there are no other pages on this website. No 'About us' page, no contact details, nothing.
The only thing left to do is to schedule a phone call with them: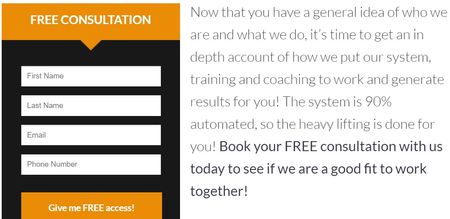 This is something that completely puts me off personally, as I have never liked to provide my phone number to people who have not yet earned my trust.
Upon entering my information, clicking on 'give me free access' led me to a calendar for scheduling my phone call with the company, which I tried doing but was given a notification that there were no available slots.
To me, the phone call could only mean one thing – aggressive hard-selling tactics by their well-trained sales team.

How Extreme Marketing Alliance Works

I have to admit I am writing this review through tainted glasses, because of what I had just learnt about another program called Done 4 You Business (which I believe to be somehow connected to EMA).
You can read my detailed review of it in this linked post, but to summarize it here, Done 4 You Business is a high ticket affiliate program for which you would pay $3K+ to $21K+ for no solid products or services, but only for the rights to promote the program itself.
It was previously called an entirely different name – Secrets of the Wealthy.
This is why I am suspicious and wary. If you read my detailed review, you will also understand why I do not think Done 4 You Business is a good program at all.
And this is what led me to believe that Extreme Marketing Alliance is simply an outer shell that serves to act as the marketing platform for whatever it is that its owner is promoting at the moment.
---
---

Red Flags in Extreme Marketing Alliance

With whatever limited information provided on EMA's website, it does point towards Done 4 You Business:
– 90% automation so all the heavy lifting has been done for you;
– you do not have to conduct the sales process over the phone (in Done 4 You Business, the sales team takes the phone calls and does the closing of sales for you)
– their clients are cutting their CPL (cost per lead) in half (in Done 4 You Business, it is all about advertising to get leads to your offer)

Empty Facebook page
The Facebook page of Extreme Marketing Alliance is void of content.
The page was created in June 2016.
There was one single post in July 2016, and then three in February 2018. That's it.
It just seems very strange that any legit business would carry itself this way.

A complaint
Outside of the Extreme Marketing Alliance website, there is really nothing much we can go by when it comes to online feedback about this company. Not even the positives.
But here's one complaint I found on the website of GratefulAffiliate:


What about its positive testimonials?
The testimonials you see on the website of Extreme Marketing Alliance, all those people raving about the company and how it has helped them, are possibly advanced marketers who have their own traffic sources, and have genuinely profited through his Secrets of the Wealthy and Done 4 You Business.
But for every person they bring in, I dare say it is much more likely than not that he or she will lose money, because most people lack the skills and knowledge to market the programs effectively to targeted online traffic.
And yet they are told to invest even more, thousands of dollars per month, on advertising. It's just like telling people to dig an even deeper hole for themselves that they will never climb out of.
So how can these programs be any good if their participants have to lose money to the program creator and his group of elite marketers?
---

To round up this article, let me recap and summarize the pros and cons, before I finally make my conclusion.

Pros of Extreme Marketing Alliance
There is not a single pro I can say about EMA, because they make you expose yourself to their high pressure sales tactics without providing any information on what you may be getting into.

Cons of Extreme Marketing Alliance

1. Founder is connected to programs that I do not think highly of
Secrets of the Wealthy and Done 4 You Business are no good, in my humble opinion.

2. Not transparent
A company that is honest and trustworthy will respect its customers' rights to make well-informed decisions, by providing all the details they need, and giving them their own time and space for careful consideration BEFORE asking for their phone numbers.
---
---

Is Extreme Marketing Alliance Scam or Legit?

I do not have the evidence that Extreme Marketing Alliance is out to scam people, but I am highly suspicious of them, and would advice you to steer clear.
Other high ticket programs that work in a similar manner to Done 4 You Business that the owner of Extreme Marketing Alliance is running include:
– Prosperity Income Network
– OPM Wealth
– Six Figure Empire
– Digital Income System
– Newbies On Fire
---

An Alternative

I know you want to be rich. Believe me, I do too.
It's a very natural thing, that's just human nature. I mean, find me someone who doesn't want to get rich fast, and with minimum effort.
I wasn't spared of all the temptations on the internet, hopping from one shiny object to the next.
But when I realized those empty promises are only going to make other people rich, and not me, I stopped looking for shiny objects.
I found a dull-looking one, but I knew in my heart that is the real deal. And from then on, I have never looked back.
An honest, down-to-earth method that will get you there. It's not going to be easy, but it will get you there.
Versus the fast and easy way to empty your pockets and get you nowhere.
Which would you choose?
I think I can guess your choice. 🙂
So now, let me extend my humble invitation for you to join me on this online journey.
I am now working full time from home, growing my internet business, and making an online income. I started from scratch with zero knowledge in this area.
You can do this too.
Here's a peek into my daily earnings: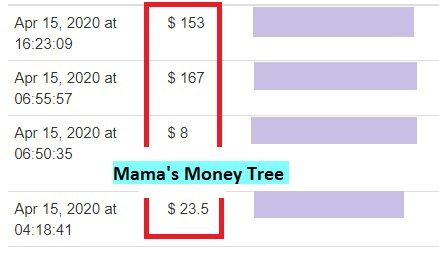 That's $350 in a day. Nothing to boast about, as it is still far from reaching its full potential. I just wanted to show you the vast possibilities here.
Check out this training platform that provides all the resources, tools, along with an entire community of aspiring as well as already successful online income earners:

This real deal does not promise instant results.
Instead, it provides the knowledge and lifelong skills required to grow a successful online business that will sustain itself in the long run.
And for reading all the way to the end of the post, I believe you have it in you to make this work. Here is your FREE PDF Guide: 4 Simple Steps to Making Money Online. Fill in your details to claim it:

If you have any concerns or questions regarding this Extreme Marketing Alliance review, do comment below, and we will start a conversation from there.
---