If you are wondering: Is Vector Marketing a scam, then this next question may also be burning in your mind: Is Cutco Knives a scam?
Welcome to my Vector Marketing review, which is in fact the marketing arm of Cutco, a direct sales company that manufactures knives, cutlery, and kitchen accessories.
Many people mistake Cutco for an MLM (multilevel marketing) company, when in fact it is entirely different from that.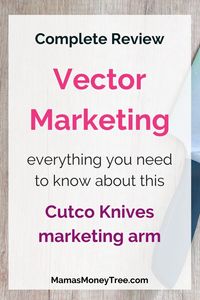 Even more people claim that Vector Marketing is a huge scam, targeted at vulnerable college students.
In this honest and in-depth review, we will examine the quality of Cutco products, the legitimacy of recruitment tactics used by Vector Marketing, and the business opportunity in becoming a Cutco sales representative.

At the end of the article, I hope you go away knowing much more clearly about whether Cutco is for you or not.
Without further ado, let's dive right in now!
---

Cutco Knives and Vector Marketing Review Summary

Product: Cutco (with Vector Marketing being its sales arm)
Product type: Single level direct sales company for knives, cutlery and other kitchen accessories
Price: free to join and start promoting after completing their training
Scam / Legit? : Legit
Recommended or not? : Recommended if you are looking for some face-to-face sales experience. Not recommended if you are trying to build up a substantial income out of this.
Vector Marketing recruits college students on a massive scale, by advertising on their campus grounds, not divulging that they are actually interviewing for a position as Cutco's sales representative.
It can be a rich learning ground for someone who wants to gain some sales experience, but if you consider it as a business to try to earn a long term substantial income out of, I think it is too time-intensive, since you have to do home visits for demonstrations.
---
---

What is Cutco

A brief background of Cutco

Cutco was established in 1949, with its headquarters in Olean, New York. Its commitment to quality is seen through its fine craftsmanship, and its signature designs like its Wedge-Lock handle.
Its Forever Guarantee provides a lifetime sharpening of its knives, so you do not ever have to buy another kitchen knife after getting Cutco. All you need to do is send your knife back to Cutco, and pay a small charge for postage and handling. This guarantee applies to consumer / in-home use.
In some countries, they even offer a 50% off the retail price for replacement of damaged or broken knives due to your own misuse, which is fantastic.
And that is why customers love Cutco!

Cutco Product Line

Knives that come in all shapes and sizes, this is the flagship product line of Cutco.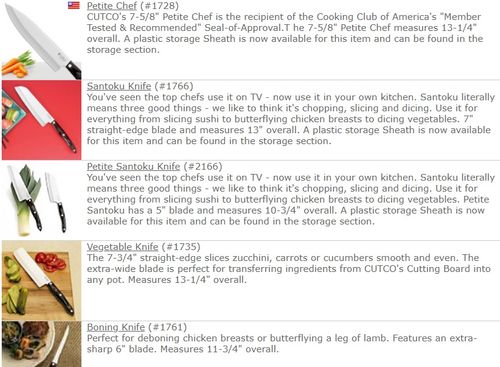 From cheese knife and slicer to carver and paring knife, Cutco has everything that will serve your cutting needs in the kitchen.
Kitchen sets put together varying numbers of pieces of knives, shears and other accessories, cutting boards, and storage blocks. They cost in the hundreds to upwards of a thousand dollars.
Gift sets can include kitchen tools, carving fork, carving knife, etc. and are for those with a smaller budget.
The garden tools product line include trowel, weeder, pruners, etc.
Sporting knives are for fishing and hunting.
Other accessories include things like knife sharpener, vegetable peeler, pizza cutter, ice cream scoop, potato masher, ladle, spatula, cutting board, wooden block storage for knives, etc.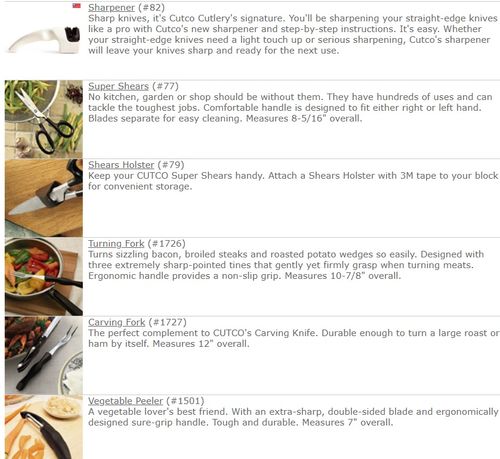 As you can see, Cutco has practically everything to meet all your kitchen needs.

Cutco Product Quality and Feedback

If we are only talking about Cutco physical products (not Vector Marketing), all I can find are happy customers.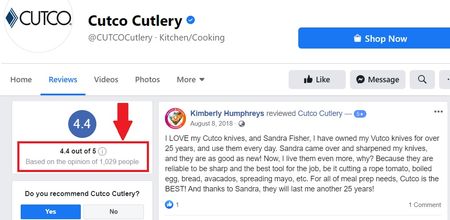 On its Facebook page, 1,029 people gave it an average rating of 4.4 out of 5.
Customer service receives plenty of raving comments too.
So when it comes to Cutco, they deliver what they promise – every customer will be a satisfied customer forever.
What is the issue, then? Why are some people calling them a scam? And how does Vector Marketing come into the picture?
---
---

Cutco Business Opportunity
Cutco is a direct sales company. It distributes its products through independent sales representatives, who earn commissions based on how much they sell.
The Cutco opportunity is often misunderstood as being an MLM (multilevel marketing) or a pyramid scheme, when in fact it does not have the pertinent features of these models.
You will not be rewarded by recruiting more sales reps into the company. Hence the sole focus of the sales rep is to make sales.
If you are interested in MLM companies, here are some that are in the same niche as Cutco, selling household appliances and products:
– Vorwerk
– Enagic Kangen Water
– Tupperware

What is Vector Marketing
Vector Marketing started off as one of the independent groups of direct sales representatives for Cutco.
They saw huge success with their approach and strategies. So in 1985, Cutco bought over Vector Marketing and established it as its marketing arm, replicating its game plan for all its offices.
This is where Vector Marketing's bad name comes in.
They primarily target college students, undergraduates, and fresh graduates – people who are looking for some side income, or have loans to pay off.
What's worse is its frequently misleading recruitment campaigns, which do not make it explicit that they are a direct sales company.
In fact, a group called SAVE (Students Against Vector Exploitation) had been formed to prevent innocent young people from falling victim to the 'scam', as the experience by the vast majority of the sales reps is that they do not make money, despite the work taking up much of their time.
But the good thing is – it seems that is something of the past. Well, it had better be, considering the law suits they had been through for misleading representation.
At least on their website, they are transparent about it. And they also make it clear this is not some get-rich-quick opportunity. But do students they approach even know they are Vector Marketing in the first place?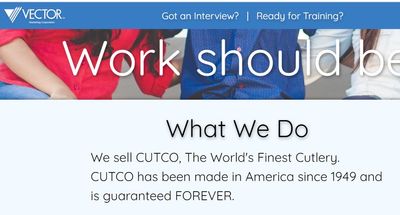 Still, the number of complaints that abound on the internet about Vector Marketing is not a good sight.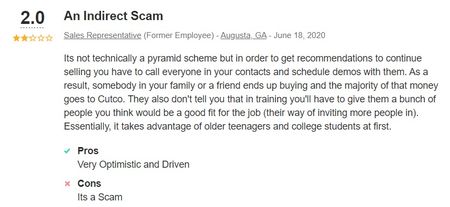 Even right now, in mid 2020, people are still saying that Vector Marketing is exploiting very inexperienced teenagers and students.
There are always two sides to a coin, and I will discuss something surprisingly positive about selling for Cutco in a later section. For now, let's first examine the earning opportunity.

How to become a Cutco Distributor

First you go through an 'interview' which you would unquestionably pass, because they do not require you to have any kind of work experience. In fact, sitting through a presentation describes it more accurately.
Chances are, you'd get recruited on the spot.
Then you would attend meetings, and complete 3 days (thereabouts) of unpaid training. During this period, you'd be asked to list down family and friends' contacts, so that you could schedule appointments with them to do demonstrations of Cutco products at their homes.
You would get a knife set on loan to you for free, as long as you are an active sales rep, as shown from the reports you would be submitting to your manager about the home demonstrations.

How to make money with Cutco

Since this is a direct sales structure, the compensation plan is very straightforward. Your pay will be the commissions based on the amount of sales you make.
For sales of $1,000 and below, you earn 10% commission.
For sales of $1,001 to $4,000, you earn 15% commission.
For sales of $4,001 to $7,500, you earn 20% commission.
This increases as the amount of sales you make increases.
One awesome thing about working for Cutco is that you will supposedly get a guaranteed basic pay too, whether or not you make any sale.
You will get paid $12.50 to $17.50 per qualified appointment, depending on location. "Qualified" as defined by Vector Marketing includes being married, above age 30, and so on.
This amount is not much, considering the average appointment typically lasts about an hour. You would also take into account travelling time, transport expenses, etc.
But it is still better than nothing, which is the case with most other direct sales companies.
The thing is, though it looks very good on paper, the reality can sometimes be rather far. It is not uncommon to hear of Cutco sales reps who never got to receive their basic pay, especially when they were not able to close any deals.
For whatever reasons, like unqualified leads, or sales managers disappearing on them, they just never get the 'guaranteed' basic pay into their bank accounts.
Here are just some of the feedback by unhappy sales reps: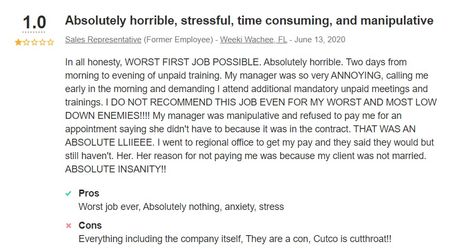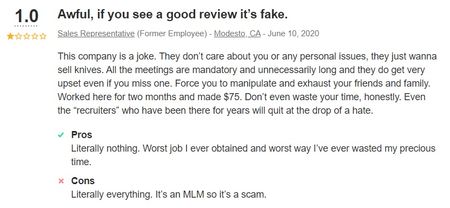 There are definitely some positive ones, but on the whole, many sales reps are not able to make money with this company.
Why is that so? It is the question we will explore next.
---
---

How Cutco may or may not work for you

Why is it so difficult to make it as a Cutco sales rep? And what is the flip side to the coin?

Door to door sale
Can you imagine telling someone you do not know that you would like to go to their home for a knife demonstration?
It can work for friends and family, but once you exhaust the warm market in your social circle, you would definitely have to venture out into the cold market if you want to build a sustainable Cutco business.
And the fact that you are selling knives doesn't really help with making home visits to people you don't know.
Moreover, this way of doing direct sales is so outdated and time-consuming.
Recently, Cutco representatives have been allowed to do virtual demonstrations (due to the global pandemic). It does save you some travelling, but that doesn't really change the fact that you need to set aside at least an hour per potential customer.
In this internet age, when you should be leveraging online traffic to scale your business, the Cutco way of doing things is really inefficient use of your precious time.

Are you cut out to be a salesperson?
Sales is not for everyone, especially when it comes to face-to-face persuasion and negotiation.
You should know yourself best.
I am an introvert, and I know from my years of existence in this world that I can never do face to face sales. It will be too stressful for me.
If you are fresh out of school and willing to take the adventure of trying things out, then go for it. However, if you are the sole breadwinner of your household, then you have to question yourself seriously whether you have the character traits needed for sales, and be much more prudent in your decision.

Saturated market
"Forever guarantee" is definitely a great thing for customers.
But maybe it's not so great for sales reps.
Because it means people will only have to buy Cutco knives once in their lifetime. You will hardly get any repeat customers, unless they are gifting the products to other people.
Having been around for a long time (since 1949), coupled with the fact that these products do not come cheap, people who are Cutco's target audience and can afford these knives would have already bought them from some sales reps.
So personally, I do not think there is a massive market for this company. With the thousands of new reps that they recruit each year, it's no wonder that so many drop out of their system. It's one of those companies that's just cruising along, still profitable because of its marketing strategies, and finding its biggest market in young families, especially those with kids.

The flip side of the coin
You will experience the tough world when you sell for Cutco. Ironically, it is also when you are willing to toughen it out that you will glean life's most important lessons, and acquire skills that will bring you far.
You will learn A LOT about facing rejection, and how not to take it personally.
From the scripts that Vector Marketing provides, you will learn about framing a sales pitch, and that selling is ultimately about the human psychology.
In fact, you may score very high if you can write 'Cutco sales rep' as your past experience on your resume, as that is precisely what some companies are looking out for – the tenacity you would have developed by having gone through the grind in Cutco.
See these well-known people who sold Cutco knives when they were younger.
---
---

Now let me summarize this article with the pros and cons of Cutco, before I make my final verdict.

Pros of Cutco (and Vector Marketing)
1. Established company with fantastic products
By promoting Cutco, with its well-known reputation, you know you are bringing the best quality kitchen knives and other accessories to your customers.
2. Good training ground
Cutco can be a great place to start, if you are interested in sales and entrepreneurship. You will learn an abundance about marketing and human behavior.

Cons of Cutco (and Vector Marketing)
1. Difficult to sell
With its high price tag, not everyone can afford a Cutco knife.
And after you cross the first hurdle to schedule an appointment with a stranger to do a home demonstration of your knives, you may likely end up empty-handed after the one-hour session, if they can't be convinced to buy from you.
2. Many unhappy sales reps
The sensing I get from the many feedback by Cutco sales reps on the internet is that they are pressured to perform, by their sales managers who do not really care about their welfare.
Of course everyone's experience is different, depending on who you get as your sales manager. And there are definitely positive ones.
But ultimately it does boil down to how the top management of a company cascades down its values towards its staff and independent sales reps. If there is no concerted effort to put the welfare of sales reps as one of the top priorities, it will show.
3. Family and friends may start to shun you
I don't know about you, but I'd feel extremely uncomfortable to mix my business and personal life. Exposing my family and friends to whatever I'm promoting is just not me, even if the products are great.

Is Vector Marketing a Scam?
Many people are calling Vector Marketing a scam, especially those who had been through its sales reps journey, from interview and training to actually trying to sell Cutco products.
To me, Vector Marketing is not a scam. I can understand how their marketing strategies and high pressure tactics put people off, but I get the sensing that they have finally recognized the harm it is doing to their business, and are changing for the better.
I'm still not promoting Vector Marketing nor Cutco, though. Unless you are looking for some good training and work experience in sales.
---

An Alternative
If you are looking for a side income, and even the possibility to build it up beyond a full time income, allow me to show you something that has brought me to this point in my journey: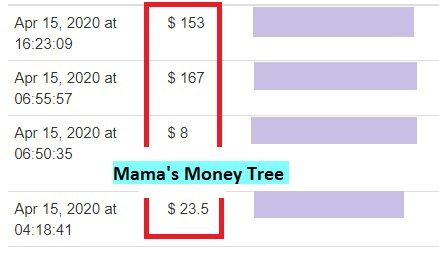 That's $350 in a day. Nothing to boast about, as it is still far from reaching its full potential. I just wanted to show you the vast possibilities here.
And that is what I mean when I said taking your business online allows you to scale up – do the work once, and let it continue to bring in the income.
This is not a get-rich-quick scheme. It requires tons of hard work.
If you're ready for this, take a look at the awesome training platform that has taught me everything I needed to get started. It provided all the tools, resources and an entire support community to see me through the toughest parts of setting up an online business. And the rest is history.
And for reading all the way to the end of the post, I believe you have it in you to make this work. Here is your FREE PDF Guide: 4 Simple Steps to Making Money Online. Fill in your details to claim it:
If you have any concerns or questions regarding this Vector Marketing review, do comment below, and we will start a conversation from there.
---