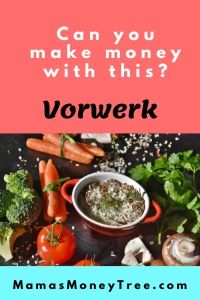 Some of my friends are promoting Thermomix as its Consultant through their Facebook accounts, which got me digging around to find out what is Vorwerk.
As it turns out, this is an MLM (multilevel marketing) company that sells household appliances and fitted kitchens. Its flagship products include the Thermomix blender-cooker and Kobold vacuum cleaner.
What are your chances of success with direct selling of Thermomix or any other Vorwerk products? Can it really become a side income which you can ultimately build into a full-time endeavor?
How does its compensation plan look like, and is it created to work to your advantage if you just put in the time and effort?
We will answer these questions and much more, in my honest and in-depth Vorwerk review of its products and business opportunity. Then you can make a better-informed decision about whether to join this MLM company or not.

Without further ado, let's dive right in now!
---

Vorwerk Review Summary

Company: Vorwerk
URL: https://corporate.vorwerk.com/en/home/
Creator: Carl Vorwerk
Product type: MLM (multilevel marketing) company that sells household items like carpeting, Kobold vacuum cleaners, Thermomix blender cum cooker, etc. It also carries cosmetics, skin and bodycare products, and perfumes.
Price: It depends on what you are promoting specifically, as well as the country you are in. For instance, to be a Thermomix consultant, you have to buy a starter kit (in the range of $100+) on top of owning a Thermomix yourself.
Scam / Legit? : Legit
Recommended or not? : Not recommended
Vorwerk is a great MLM company that focuses on its products, which are definitely of excellent quality. They are expensive though, catering to a higher end market, which limits your earning potential, in my opinion.
Unless you are selling smaller items like its Jafra line of cosmetics, which allows you to tap on internet traffic to boost your sales, the bulky vacuum cleaners and blender-cookers require demonstrations at events and parties to fully showcase their capabilities.
This makes it cumbersome and very time-consuming, with returns that depend heavily on your warm market. So do bear these factors in mind when deciding whether or not to take up any distributorship for Vorwerk products.
---
---

What is Vorwerk

A brief background of Vorwerk

Founded in 1883 and headquartered in Wuppertal, Germany, Vorwerk started off manufacturing gears and motors for gramophones.
These were later modified and incorporated into its very own vacuum cleaner, birthing the high-performance Kobold, and the rest is history.
At the same time, Vorwerk continued its production and sales of carpets and upholstery fabrics, the mainstays of its business in the initial years.
Further diversification saw it enter the services sector, as well as the launch of the Thermomix food processor in 1971, and Vorwerk Fitted Kitchens in 1974.
In 2002, Vorwerk introduced the 'Feelina' ironing system. The latest line of products is Jafra Cosmetics, an American cosmetics manufacturer that it acquired in 2004.
Though wide-ranging in terms of the products offered by the company, each division is marketed separately, either through online or direct sales.
Hence you can be a Thermomix Consultant, Kobold Consultant, or Jafra Consultant, all with its own compensation plan, which may further differ according to your geographical location.
Thus Vorwerk does not present any documentation of its compensation plan on its official website. You would have to get the details from the country-specific sites of whatever product line that you would like to promote.
Or you could get in touch with a consultant in your area if you know one, I'm sure he or she will be able to fill you in on all those commission percentages as well as the MLM structure and progression plan.
Meanwhile, here I will try to explain it briefly, quoting some typical numbers where possible, so that you get an overall picture of what it entails to be a Vorwerk consultant.

Vorwerk Product Line

To be a direct sales consultant of Vorwerk, there are three main lines of products that you can choose from. Owning the product is a requirement to promoting it, so go for something that you are ready to buy for yourself, and foresee yourself using it extensively at home.
To succeed at direct sales, you really need to understand the product that you are selling, and be passionate about what it can do and the benefits it can bring, be it to your health, appearance, or cleanliness of the home.
If you are not all fired up about the product, imagine how difficult it would be to convince your potential customer to part with a hefty amount of their hard-earned money.

Thermomix
This unique food processor combines heating and mixing, allowing you to achieve blending, grinding, whipping, kneading, stirring, steaming, and precise heating all in one machine.
I was truly amazed by its functionalities simply by looking at my friends' posts about their Thermomix cooking adventures on Facebook. They could 'bake' with it, make curries, cook up an entire meal of healthy steamed dishes all using one machine, without ending with multiple pots to wash up, and an oily kitchen to clean up.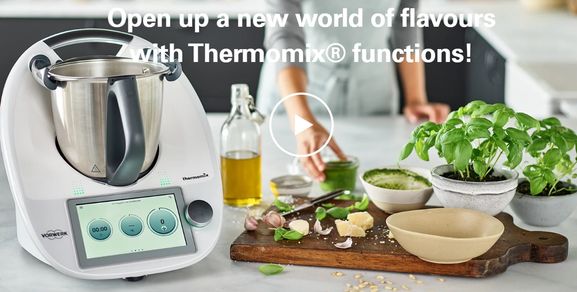 Why do I sound like I'm promoting Thermomix? Haha…
Well, I'm not, and I do not even own one.
But I can see how attractive the machine sounds to someone who loves to cook. Thus I believe it won't be too difficult to sell it to people in your social circle, since you will know whether they meet the following criteria.
Firstly they must enjoy cooking. Secondly they must be able to afford it comfortably. At about $2K (this will differ depending on your country), it is not something accessible to the masses.
Hence you will find that your contact list gets exhausted pretty quickly, if you were trying to set up appointments for home parties and such.

Kobold vacuum cleaner
Depending on the specific model you choose, these typically cost upwards of $1K.
They are high-performance machines, designed for cleaning all types of flooring, from carpets to hard floor. There is even a vacuum and mop in one, a cordless one, a window cleaner, and a hand held vacuum.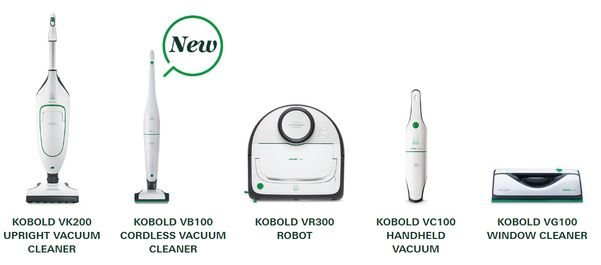 JAFRA Cosmetics
Jafra cosmetics products include skincare, fragrance, makeup, bath and body.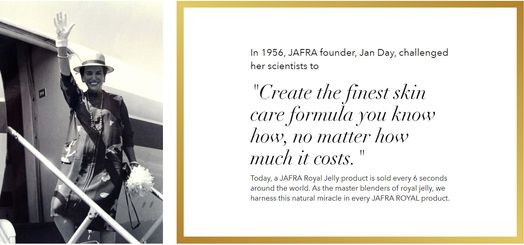 The selling point for these exorbitantly priced items is the use of royal jelly, the complex product made by worker bees and fed to the queen bee.
For instance, a bottle of 30 ml hydration serum costs $42.
It may be effective in doing its job, but you can't deny that the pricing takes it out of reach of many people.

Vorwerk Product Quality and Feedback

When it comes down to product quality and performance, whether it's Thermomix, Kobold or Jafra, Vorwerk has not failed its customers.
The vast majority of users are happy with what they had bought.
There is one stark issue, though – its customer service. It appears there have been some grouses over poor after-purchase service on a review site.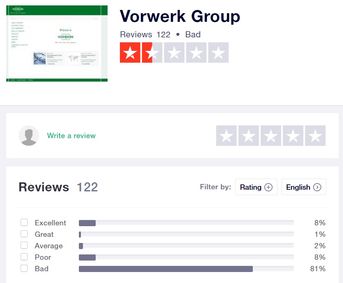 These are just two of the complaints that are in English: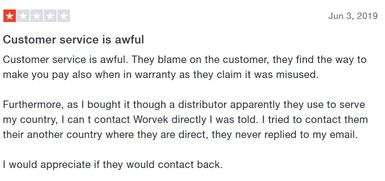 ---
---

Vorwerk Business Opportunity

How to become a Vorwerk Distributor

To promote Thermomix or Kobold, you would need to buy the food processor or vacuum cleaner yourself, together with a start up kit that will help you set up your business.
For Jafra, you can choose one of three business kits which cost $49, $99 and $129. The products included in those kits are worth much more than what you would be paying for, so they are quite good deals.

How to make money with Vorwerk

Thermomix
For every machine you sell, you get to earn $220 in commission. This increases to $380 after hitting 5 sales in the month.
When you rise in rank, you will manage other consultants, and get to earn a commission too when they make sales.

Kobold
I was not able to find information pertaining to the commission rates for Kobold vacuum cleaner consultants. If you are a distributor, do feel free to share some details with us, through the comments section below.

Jafra Cosmetics
A Jafra Cosmetics consultant can expect to earn between 25% to 50% in retail commission, depending on your rank and productivity.
There are additional commissions and bonuses when you recruit consultants into your team.
If you are considering promoting Jafra, or if you are already doing it but with limited success, you need to get online, where everyone (including your potential customers) is.
Simply selling to your social circle should not be the way to market an MLM business anymore. With the internet, if you do not leverage on it, you are doing a disservice to your business.
With Jafra, as its product quality is good, I believe there will be people who really need it, or are willing to try it out, for health and beauty purposes. And before purchasing, they will be doing their research online.
If you can show up to answer the questions they are asking on the search engines, then you have landed yourself some potential customers.
With sufficient sales volume, just the retail commission alone is going to make you a nice income.
See how you can increase your Jafra sales with free search engines traffic:

---

Why Vorwerk may not work for you

Face to face selling
Personally, I cannot see the potential to scale up your business with Thermomix or Kobold, because of the need to host parties or sign up for events where you could set up a stall for demonstrating the machines to people.
Not only is this method of marketing cumbersome and possibly a logistical nightmare, do not forget there will be expenses incurred.
And there is no guarantee of any earnings. Which means all that time, money and effort could be for naught if it's not your lucky day.

You have to recruit to maximize your earning potential
Though there is an applaudable focus on retail commission, especially for the Thermomix consultant, Vorwerk is ultimately an MLM at the core of its business.
To reap the maximum reward out of the business opportunity, you would have to recruit more consultants into your team.
The thing is, when you are just starting out, the bonuses and commissions for recruiting are disproportionate to the time and effort you put in. Most of the revenue gets passed up to your uplines.
Only after you have worked your way to the top ranks will you then benefit from the labor of your downlines.
Some people may have the skills to make this work, but to me personally, it is a very exploitative way to make an income. You would have to convince people to take up an opportunity while knowing most of them would give up faster than you can say Jack Robinson.
---

To round up this article, let me recap and summarize the pros and cons, before I finally make my conclusion.

Pros of Vorwerk

1. Established company
Vorwerk definitely has great products that can serve the higher-income audience well. Having been in business for more than 130 years in the MLM industry is no mean feat!

2. Good focus on retail
Because its products are of high performance and functionality, there is a demand for them. This should be the way every business is run – based on solid products and services that add value to customers and have a real contribution to society and the economy.

3. Training for consultants
Consultants need to be properly trained for whatever product they are promoting, in order to best represent its capabilities and the brand name of the company. Vorwerk takes care of this by providing adequate training to its consultants.

Cons of Vorwerk

1. Exorbitant pricing
Its over-the-top pricing limits the size of the market that consultants can promote to. If you were to depend only on your circle of family and friends, you will run out of business pretty fast.

2. High upfront investment
With the exception of Jafra which has a relatively low startup cost, the requirement to own a Thermomix before you can promote it, for instance, simply means you land yourself in the red even before you start any marketing efforts.
Unless, of course, you were going to get the machine anyway, regardless of whether you get to profit off it or not.

3. Need to recruit
To maximize your earning potential, you will be encouraged to get people into the business as you try to sell the products.
I wouldn't be comfortable doing this until I know I have acquired the skills required for success, and am able to impart these knowledge and skills to my team.

4. Less opportunity for scaling the business
Due to the nature of the business, selling vacuum cleaners and food processors which boast of unique features and functionalities, it is very unlikely that anyone would simply buy them online.
I, for one, would much prefer watching a real life demonstration, where I can ask questions, and see it in action for myself.
This makes it a rather restrictive business model, considering there are so many other ways of making money online that do not have to rely on face to face selling.

Is Vorwerk Scam or legit? 

Vorwerk is definitely a legitimate MLM company selling household appliances and cosmetics, among other product lines.
Like many other MLM businesses (Amway, Nu Skin, Vantel Pearls, and Mary Kay, to name just a few), it relies heavily on face to face selling, making it that much more difficult to reach any market beyond your geographical location.
Hence I do not recommend Vorwerk as a business opportunity.
---

An Alternative

It is a fact that MLMs are much more difficult to succeed in than any beginning consultant is led to believe.
Let me show you another business model, the one that I am using right now, to make money from home.
I am also promoting companies' products, but I do not have to buy them or purchase any starter kits to start promoting them.
In fact, I can promote as many companies as I like, all at the same time, because I do not have to pay a single cent to any of them.
It gets better:
There is absolutely no face to face selling, and no recruitment at all. I will never face any rejection, or spend lots of futile time away from my family trying to persuade people to join me.
If this sounds good to you, check out my other post to learn how this business model works exactly:

And for reading all the way to the end of the post, I believe you have it in you to make this work. Here is your FREE PDF Guide: 4 Simple Steps to Making Money Online. Fill in your details to claim it:


If you have any concerns or questions regarding this Vorwerk review, do comment below, and we will start a conversation from there.
---