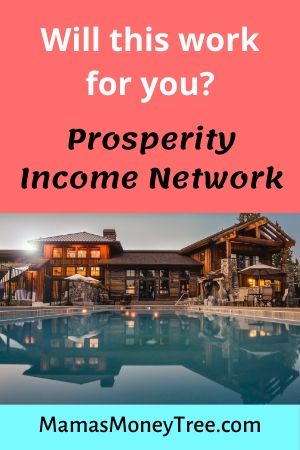 What is the Prosperity Income Network scam? How exactly does it work to take your money?
Why does its website lack so much information? What does it sell, really? And is there even a remote chance that you can earn from this?
Welcome to my Prosperity Income Network review.
Here, I will explain the entire program, going right into the bolts and nuts of its workings, so that you can get a clear picture of its operation.
I will also analyze the numbers, to help you see how the chances are stacked against you, and how this scheme is unethical.

Without further ado, let's dive right in now!
---

Prosperity Income Network Review Summary

Product: Prosperity Income Network
URL: https://prosperityincomenetwork.com/
Creator: unknown
Product type: high ticket affiliate program with marketing training as a front for its products
Price: $500 (+ $97 admin fee) to $25K (+ $997 admin fee)
Rating: 1 out of 5
Scam / Legit? : NOT legit, bordering on pyramid scheme
Recommended or not? : NOT recommended
The digital products inside Prosperity Income Network are not its main business. It is simply a program that gets its affiliates to promote itself to others. It is a pay-to-play scheme, where you earn the full commissions only when you buy in at a higher or the same level as your referrals.
With no real value in its products, its legitimacy is questionable. Most people will lose money with it, as it is designed to be so.
---
---

What is Prosperity Income Network

To find out what is Prosperity Income Network, let us first take a look at its website: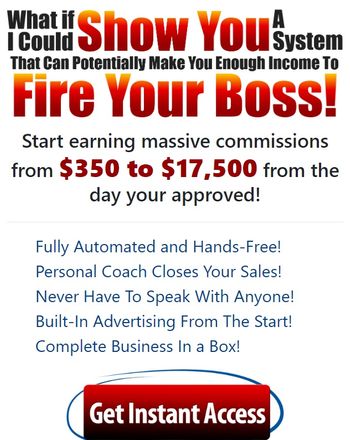 This is all there is on its home page. I was in awe that any company could even think of selling their program this way.
Its sole purpose is to lure people in with promises of huge earnings, without a single bit of information about how it works.
Hands-free system to put thousands into your pockets with selling or talking to anyone?
Passive automated system that works, with Success Coaches to handle all sales?
If it were for real, I think the whole world would be in this program by now.
Once you provide your contact details to register for access, you will then learn more about the program.
I personally do not like this way of being sold to. I much prefer having access to some basic information freely on the company's website, before deciding if I want to get on their email list.
At least people deserve the right to make an informed decision in their own space and time, without being hounded all over their inbox.

How Prosperity Income Network Really Works

Digital training products
Inside Prosperity Income Network, its products that come along with its membership include training on a wide variety of internet marketing topics:
– email copywriting
– Solo Ads and other forms of paid traffic
– Youtube marketing
– Pinterest marketing
– product creation, and more.
These products are made available in 6 different levels of library access, depending on what membership level you buy into.

How to join Prosperity Income Network and make money with it
You join the program by buying into any of these membership levels, and get to make commissions when referrals sign up through you.
1. Starter
Price for this is $500 + $97 admin fee. $350 commission is paid for every sale, and you get 1 position in its traffic rotator.
2. Deluxe
Price for this is $2K + $197 admin fee. $1,400 commission is paid for every sale, and you get 2 positions in its traffic rotator.
3. Premium
Price for this is $3.5K + $297 admin fee. $2,450 commission is paid for every sale, and you get 3 positions in its traffic rotator.
4. Master
Price for this is $6K + $497 admin fee. $4,200 commission is paid for every sale, and you get 4 positions in its traffic rotator.
5. Diamond Elite
Price for this is $12K + $697 admin fee. $8,400 commission is paid for every sale, and you get 5 positions in its traffic rotator.
6. Executive Elite
Price for this is $25K + $997 admin fee. $20,000 commission is paid for every sale, and you get 6 positions in its traffic rotator.
One important thing to note is that you only get paid the full commission if your referral buys in at your level or lower.
For example, let's say you buy the Master membership level. When a referral joins the Premium level, you earn $2,450 in commission. If another referral buys the Diamond Elite, you make $4,200 and not $8,400. At the Master level, $4,200 is the maximum commission that you are entitled to.
The remaining outstanding commission gets passed upward to your sponsor, or his or her sponsor, whoever is the next in your upline that owns the Diamond Elite membership.
---
---

Red Flags in Prosperity Income Network

1. Products are useless
The training courses in Prosperity Income Network are not worth anything close to the fees charged for its membership.
They will not get you started on your own online business, nor will they help with any existing business.
They are placed there simply to front this program, to appear legit for selling some training.

2. How do you find referrals
Many people are able to see Prosperity Income Network for what it is: a pyramid scheme, bordering on a gifting scheme. So most will not want to get involved. It will not be an easy feat to get referrals at all.
Another option is paid traffic, but it is something I would caution against, because it is a very high risk venture that can quickly bleed away any reserves in cash you may have.
The people who successfully market Prosperity Income Network know how to get free traffic to their referral links.
Just as an example, consider my website. The fact that you landed here means many others did, too. I get all this traffic for free, because that is how I deliberately position my website and my business.
If I had lacked my moral compass, I would have written a positive review about Prosperity Income Network instead, and tried to promote it to my readers with my referral link, making myself rich as a result.
Do you see what I'm getting at?
If you learn the high income skill of strategically showing up when people are looking for some answers, then you would be able to recommend or not recommend (whichever is genuinely the better option for your audience) some product they are searching for.

3. Traffic rotator
How the traffic rotator works is simply to rotate members' referral links among the traffic that they get.
And where do they get the traffic from? Well, the company buys the traffic, but you wouldn't know the source, and how targeted this traffic is.
It is unlikely to have a good conversion rate.

4. Most people lose money
It is not my own prediction. It is the way the program is designed.
Let's say you buy into one of the membership levels. Regardless of the level, you need at least two referrals to buy in at at least the same level as you, in order to start profiting (since each referral earns you a 70% commission, and you still have your admin fee to cover too).
If people are buying in at below your membership level, then you would need to find even more referrals, to just break even.
Since this ratio holds true for every single member, it becomes a pyramid shape, where those at the bottom are losing money.
And when recruitment stalls, which happens when everyone likely to join the program has already joined, then the scheme collapses, leaving majority of its members in the red.

5. The program creator is the ultimate winner
For every person that joins, the program creator gets to keep the admin fee, as well as 30% of the membership fee (since 70% gets paid out as commission).
That is for EVERY SINGLE PERSON that joins.
He (or she) can never lose, there is no way for that to happen. The structure of the scheme is designed for the creator to be the sure winner once it starts running.
While everyone else has to dig a hole for himself or herself to climb out of. And yet they are promised a hands-free system that puts thousands in their pockets without selling or talking to anyone.
Oh, and not forgetting that admin (the creator) also gets whatever outstanding commission that gets passed up when people buy the higher membership levels and yet no one in their upline are at that same level to qualify for the commissions.
---
---

To round up this article, let me recap and summarize the pros and cons, before I finally make my conclusion.

Pros of Prosperity Income Network

1. Possible to make money
If you enter the game early, you stand a better chance of earning from this.
But it is unlikely because those reserved spots are usually for people within the closed circle of the program creator, who are placed right near the top of the pyramid without having to buy their way in.
They know their internet marketing stuff well enough to reach out to a massive group of audience who are keenly interested in what they are promoting.
If you have that kind of high-income skill too, this can work for you.
But remember it will be at the expense of many innocent people who are badly in need of money, thinking they have stumbled upon some rare opportunity. So, why not promote something that can genuinely help others instead?

Cons of Prosperity Income Network

1. Traffic is key
If you are going to be promoting Prosperity Income Network, where will you find people to promote to? Without traffic landing on your offer, this opportunity will not take off.
Paid traffic is very high risk, and can burn a big hole in your pocket very quickly. Returns are not guaranteed, especially if you have no experience with running advertising campaigns.
The traffic rotator that comes with Prosperity Income Network may not be targeted enough to get you any sales at all. Think about it. If the traffic comes from a good source that converts well, why do the creators of the program not use it for themselves and make all the profits?

2. The odds are stacked against you
The reward structure of the program is designed to let most people lose money.
For one person to profit, at least two persons have to lose their money. And this is barely covering his or her initial investment.
If someone was convinced to buy in at a higher level of membership, whilst his or her referrals only bought in at the lowest level, then this person would need many more referrals to just break even.
Hence this program is unethical. It gives people false hope, especially the exact people who lack the skills required to make this work.
---

Is Prosperity Income Network Scam or Legit?

Prosperity Income Network is not a good program to get involved with.
Whether it's a scam or not, I will leave it up to you to decide. Some people can earn from it, most will be worse off than before they found this program.
Products similar to Prosperity Income Network include Newbies On Fire, OPM Wealth, 1 Day Work Week, Six Figure Empire, Done 4 You Business, Digital Income System, and My 20 Dollar Travel Business, to name just a few.
---

An Alternative

I know you want to be rich. Believe me, I do too.
It's a very natural thing, that's just human nature. I mean, find me someone who doesn't want to get rich fast, and with minimum effort.
I wasn't spared of all the temptations on the internet, hopping from one shiny object to the next.
But when I realized those empty promises are only going to make other people rich, and not me, I stopped looking for shiny objects.
I found a dull-looking one, but I knew in my heart that is the real deal. And from then on, I have never looked back.
An honest, down-to-earth method that will get you there. It's not going to be easy, but it will get you there.
Versus the fast and easy way to empty your pockets and get you nowhere.
Which would you choose?
I think I can guess your choice. 🙂
So now, let me extend my humble invitation for you to join me on this online journey.
I am now working full time from home, growing my internet business, and making an online income. I started from scratch with zero knowledge in this area.
You can do this too.
Here's a peek into my daily earnings:



That's almost $200 in just one single day. It's nothing to boast about, though, as it's just a small fraction of its full potential. I just wanted to show you the possibilities.
Check out this training platform that provides all the resources, tools, along with an entire community of aspiring as well as already successful online income earners:


This real deal does not promise instant results.
Instead, it provides the knowledge and lifelong skills required to grow a successful online business that will sustain itself in the long run.
And for reading all the way to the end of the post, I believe you have it in you to make this work. Here is your FREE PDF Guide: 4 Simple Steps to Making Money Online. Fill in your details to claim it:


If you have any concerns or questions regarding this Prosperity Income Network review, do comment below, and we will start a conversation from there.
---