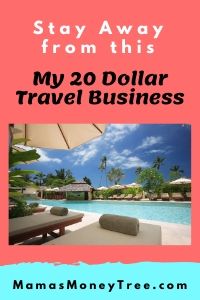 You may have seen people going crazy with this company on social media, and wildly promoting it, making you wonder if My 20 Dollar Travel Business scam is real.
Welcome to my My 20 Dollar Travel Business review.
Travel the world while earning at the same time? Who wouldn't want that?
Sadly, too many scams of this nature are proliferating on the internet. They all prey on people's desire to lead a carefree life, by offering an earning opportunity in an illegitimate scheme.
Here I will give you a lowdown of what this MLM opportunity is all about, whether it is in fact a pyramid scheme, and what your chances of making money with it are. Then you can decide for yourself if My 20 Dollar Travel Business is worth your time, effort and money.

Without further ado, let's dive right in now!
---

My 20 Dollar Travel Business Review Summary

Product: My 20 Dollar Travel Business
URL: https://www.my1dollarbusiness.com
Creator: Steve Gresham
Product type: MLM company selling the membership to a travel portal
Price: $1 (for first month only), $20/month or $100/month
Scam / Legit? : It is possibly an illegitimate pyramid scheme
Recommended or not? : NOT recommended
My 20 Dollar Travel Business is an MLM company with no retailable products, since the only thing it sells is the membership to a travel portal for discounted prices for hotels, cruises, condos, etc.
Though it does not cost a lot to join as its member and start promoting it, I see its earning potential as rather low too. Hence it is not worthwhile to get yourself involved in this program which will collapse on its own, if it has not been busted by the authorities by then.
With such a scheme, at any point in time, the majority of its members are losing money.
---
---

What is My 20 Dollar Travel Business

Many MLM companies in the travel niche have sprouted within the past few years, providing people with opportunities to work from home by creating travel plans and handling the bookings and other logistics for their clients, earning a commission in the process.
My 20 Dollar Travel Business is not one of those.
Why do I say that? Well, we just have to take a look at its founder's background to understand what it is all about.

A brief background of Steve Gresham

Ever wondered why the official website of My 20 Dollar Travel Business is on a domain called My 1 Dollar Business?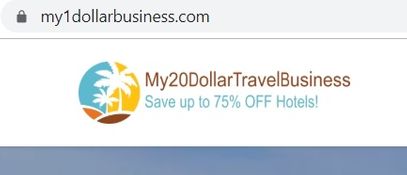 Well, the answer to this queer observation is a simple one.
Before founding the current company, My 1 Dollar Business was Steve Gresham's previous company, which had collapsed, as it was running a pyramid scheme, and recruitment had dried up.
Even prior to that, his 'baby' was Savings Highway, yet another pyramid scheme that had died a natural and inevitable death.
Apparently, he had some shady past with even earlier companies like Movie Club Plus and Better Universe, as can be seen from this post on BehindMLM.

My 20 Dollar Travel Business Product

My 20 Dollar Travel Business is nothing more than a membership plan that gains you access to a travel portal that offers great discounts off hotel deals, condo rentals, cruises, and car rentals.
When you become its member, you also get to take part in its MLM business opportunity, which will be covered in greater detail in a later section.
There are no retailable products to this company, as anyone who wants to use its travel platform has to be signed up as a member.
Moreover, I really do not believe they offer any discounts that can beat those you can find on legitimate travel platforms like Expedia, Booking, Agoda, etc.
Just take a look at the videos put up by people promoting My 20 Dollar Travel Business. There is not a single one that is able to show us the travel portal in the members' area, that can 'wow' us through the promised savings and discounts.
Everyone is just talking about how awesome the business opportunity is.
So I guess it is not too difficult to figure this part out.
---
---

My 20 Dollar Travel Business – Business Opportunity

How to become a My 20 Dollar Travel Business member

To become its member, you simply sign up to any one of these memberships:

Trial member
This costs you only $1, but it is just for your first month. From the second month onwards, you will be automatically put on the Gold membership of $20 per month, or you can choose to take up the Platinum membership.
Trial membership does not provide access to the travel portal.
It gives you a chance to start earning commissions from your referrals.

Gold member
At $20 per month, you will get access to the travel portal, on which you can enjoy the discounts of your holiday bookings.

Platinum member
This membership costs $100 per month, and gives you perks like the chance to win a $3000 Dream Vacation.
To achieve the Dream Vacation, you need to accumulate 12 points, from your own Platinum membership (1 point for every month that you are a Platinum member) and 1 point for every personally referred member who joins (not upgrades) at the Platinum level.
The Dream Vacation is worth $3000 of accommodation, whereby you get to choose from 10 luxury resorts in Mexico, or a Deluxe Vacation in Orlando, Florida, or :as Vegas Nevada.

How to make money with My 20 Dollar Travel Business

Fast Start Commissions
Once you become a My 20 Dollar Travel Business member, you get to earn 50% commission on every referral's sign up membership purchase, regardless of your own membership level.
This means even if you were a trial member for the first month, paying just $1, you stand to earn $50 in commission if someone you refer to the company signs up as a Platinum member.
Although it sounds cool, do remember that everyone else will naturally just take up the $1 trial membership for their first month, since the potential to earn is the same whether they were on the trial, Gold or Platinum level.
It means you practically earn 50 cents commission for everyone you bring in.
Definitely not as great as they try to make it sound.

Residual commission for each personal referral
From the 2nd month onwards, each of your personal referral earns you 20% commission. As everyone would have been automatically upgraded to the Gold membership at least, that means you earn $4 per referral, as long as they have not quit the program from the second month onwards.

5% Payout on 2×10 matrix
2 of your personal referrals will be placed under you, each of whom will get 2 of their personal referrals placed under them, and so on, 10 levels deep, in a pyramid-like structure.
This means if the entire matrix is filled, you get to earn 5% commission from 2048 members.
Say these are all Gold members, then your monthly income will be $2K!
If all members in the matrix are Platinum members, then your monthly income becomes $10.2K.
With just a $20 per month investment, this opportunity definitely sounds enticing! And that is precisely why people are fervently promoting this program anywhere they can, on YouTube videos, Facebook, and other platforms.
But hold on, not so fast.
Before you scramble to sign up and put up your links everywhere too, let me point out some pitfalls in this scheme, so that you can take a more balanced view of it.
---
---

Why My 20 Dollar Travel Business may not work for you

$2K per month, $10.2K per month.
These are figures parked there to lure people into the scheme. These have no meaning if the 2 by 10 matrix is not filled up.
People will see through this as a pyramid scheme (which is illegal, by the way), many may drop out of the program, leaving many gaps in the matrix.
Hence it is very likely that you will never be able to hit that income potential.
Even at a low entry of $20 per month, it is still possible to be making losses.
And even though $20 is a small sum, it is a recurring fee, all for the chance to make a profit out of the scheme, not for any tangible product or service.
Ultimately, the one who is guaranteed to laugh his way to the bank is none other than Steve Gresham. He is the only confirmed winner in this scheme, as he earns off every single member who signs up.
You see, for you to start earning from your 2nd month onwards, you need 5 personal referrals on the Gold membership, so that each one earns you $4 in commission.
That will barely cover your own $20 per month on the Gold membership.
In other words, for you to earn, 5 persons have to lose money. For them to earn, 5×5 = 25 have to lose money.
So at any one point in time, when you take the program apart, the vast majority of members are losing money.
How is this a legitimate or ethical way to earn a living or a side income?
---

Pros of My 20 Dollar Travel Business

1. Low cost
$20 a month is still affordable for many people, until they find that it seems to add up too quickly, when the returns are not as great as anticipated.

2. Possible to make money
An experienced online marketer will find it easy to prey on the vulnerable, who are new to the internet money-making niche, and do not know how to make this program work for them.
The other criteria to profit out of this: being void of ethics and integrity.

Cons of My 20 Dollar Travel Business

1. Pyramid scheme
Since nobody can access the travel portal without becoming a member of the program, this is quite obviously a pyramid scheme. The travel engine is just a disguise, a front to cover the pyramid operation.

2. Not as easy as it sounds
These days, people are even (rightfully) skeptical of free stuff, not to mention something that requires $20 per month for no tangible product in return, except an opportunity to earn, which may not actualize.
If you do not know how to leverage on the internet to get traffic to your referral link (apart from splashing it all over social media platforms and getting yourself banned), then this is not going to work for you.

3. Majority of members are losing money
The compensation plan of My 20 Dollar Travel Business is designed to make the majority of members lose money.

4. What then, after it collapses
My 20 Dollar Travel Business is destined to collapse, just like My 1 Dollar Business.
It's just a matter of when.
What, then?
How about the referrals whom you would have brought into this opportunity? If there are some friends and family, how will they trust you again?

Is My 20 Dollar Travel Business Scam or legit? 

My 20 Dollar Travel Business is not a legitimate travel MLM company. In my opinion, it is a pyramid scheme that you should avoid.
Examples of similar schemes include GoFounders, Infinity Residuals, and Cents for Freedom, to name just a few.
---

An Alternative

On the internet, there will always be people offering easy money, they are in fact trying to take your money.
If you want to make some serious money online, you have to stand on your own feet, and be prepared for some serious work.
There is no short cut around hard work, but you will understand how worthwhile it is when you finally see results, and are able to enjoy the liberating feeling of working full time from home.
Here's a peek into my daily earnings:



That's almost $200 in just one single day. It's nothing to boast about, though, as it's just a small fraction of its full potential. I just wanted to show you the possibilities.
What I'm doing is not for everyone though, because building your very own home-based business requires commitment to lay a strong foundation before you can see the fruits of your labor.
If you think this could be for you, click on the button below to hop over to another post where I explain the method in great detail:


And for reading all the way to the end of the post, I believe you have it in you to make this work. Here is your FREE PDF Guide: 4 Simple Steps to Making Money Online. Fill in your details to claim it:


If you have any concerns or questions regarding this My 20 Dollar Travel Business review, do comment below, and we will start a conversation from there.
---