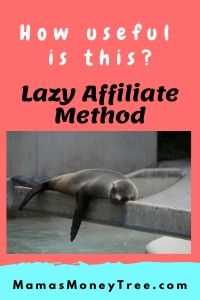 In this post I'm going to give you an honest and in-depth Lazy Affiliate Method review.
If you have been trying to find success with affiliate marketing, it's likely that you have bought at least a few products and training, some of which worked, others did not.
Will this Lazy Affiliate Method be your breakthrough? Can you really make money just by working 30 minutes a day?
I will not be trying to sell you this product, so you will find my review to be vastly different from its affiliates, who have nothing but praises for it, as all they want is to push the product to you.
In fact, there are a number of things I really like about Lazy Affiliate Method. And at the same time, I want to share my insights about why it will not work for everyone. Then you can make the best informed decision for yourself.

Without further ado, let's dive right in now!
---

Lazy Affiliate Method Review Summary

Product: Lazy Affiliate Method
URL: https://lazyaffiliatemethod.com/lazy-affiliate-method-sales-page/
Creator: Kevin Fahey
Product type: done for you (DFY) affiliate marketing funnels
Price: $27 + upsells
Scam / Legit? : Legit
Recommended or not? : It is ok, though I wouldn't use it for myself. Recommended only if you already have good traffic to your website, but you are not able to convert the traffic into buyers.
Lazy Affiliate Method provides great squeeze pages for your website, along with thank you pages, lead magnets, professionally written email sequences, and affiliate offers sprinkled in them.
Created by a highly successful internet marketer, and at a cost that is reasonable, I'd say it's worth giving it a try if you are having problem converting your traffic.
But if you have not been been able to get traffic to your affiliate marketing business yet, then this is what you may want to look at:

---

What is Lazy Affiliate Method

To find out what is Lazy Affiliate Method, let us first take a look at its sales page.



To tell you the truth, my first impression of it wasn't that fantastic.
I have never liked anything 'done-for-you', because it doesn't help you learn any skills, and makes you rely on the product.
I also do not like how Lazy Affiliate Method is portrayed to be a get-rich-quick solution for newbies, with very little work – just by working 30 minutes a day, you can supposedly earn passive commissions on complete autopilot.
If you believe what they claim, it is likely that you will end up disappointed with it.
Still, let's get behind those hype to see what you will actually get when you purchase Lazy Affiliate Method.

DFY affiliate marketing conversion tools

The DFY tools that you will get within Lazy Affiliate Method include:
A unique funnel strategy
High converting capture page – this is a page for you to collect your website visitors' emails.
Irresistible lead magnet – a free gift that will entice people to sign up to your email list.
High converting affiliate offer – so you do not have to source for affiliate programs or products to sell, these are supposedly the ones that will make you good money.
Killer follow up sequence – 8 weeks of follow up email sequence that you can send to your list, to sell your affiliate offers to them.
There are 15 training videos that come with Lazy Affiliate Method, all teaching you the proper steps to set up the various tools.
It's great to have a successful internet marketer do up all these conversion tools for you.
Knowing how to convert your audience into buyers is a critical step in any affiliate marketing business, and can take a steep learning curve, together with lots of trial and error.
Fahey provides the shortcut which can possibly get you results faster than if you were to do this on your own.
And I do believe they can work, if you are at the right stage of your affiliate marketing business that requires you to summon these tools.
Take a look at these real people who have seen results with Lazy Affiliate Method, and have provided their testimonials on its sales page: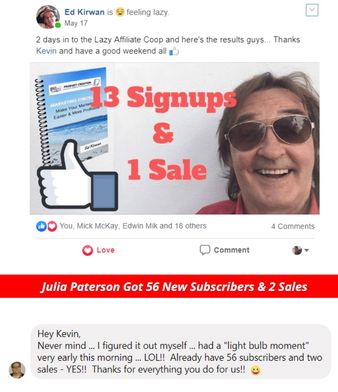 Wait!
Don't rush to buy Lazy Affiliate Method just yet.
I wish to provide you a run down of all the considerations, before you can tell for sure whether or not this product is a good match for your needs at this stage of your business.

Some considerations before you buy Lazy Affiliate Method

We will start with the most important question, one that will make or break the potential deal with Lazy Affiliate Method.
And by the way, to use all the tools in this product, you need to already have your own website onto which you can install and run these capture pages and other stuff.


1. Are you already getting traffic to your website?
Traffic is the most basic requirement to succeed at any business. It is even more basic than conversions.
Without traffic, no one lands on your pages, no one enters your email list, and you will have no one to sell to.
It's as simple as that.
There is no point buying professionally done up landing pages, setting up email sequences, when there are no eyeballs on your website. All the effort and money will just go to waste.
Fahey completely understands that, and that is why he is offering traffic training in one of the upsells inside Lazy Affiliate Method. He will cover 6 free traffic methods, and 3 paid ones.
Paid traffic is something I would always advise any beginner to steer clear of, because it is a risky technique that requires a steep learning curve.
You need to throw in the money to run advertising campaigns, learning what work and what do not, sniffing out your audience, their preferences and behaviour, and where to find them. All the while dumping money to learn all these.
Unless you have thousands of dollars to spare, paid traffic can wait until you are making good money just from free traffic. By then, you can use paid traffic to scale up your business.
So free traffic is the best. Not only because it is free, but also because there is one particular traffic stream that is the most sought after.
It is highly targeted, and consists of ready buyers.
To learn how to get this free targeted traffic stream to your website, you have to check this out:

2. Are you in the make money niche?
The DFY email sequence and affiliate offers are targeted for the make money niche, promoting stuff that people trying to make money online will be interested in.
So if this wasn't your intended area, then you may have to start off with a brand new website that is in this niche if you really want to do this.
For instance, if your website was in the pets niche, targeting an audience of pet lovers, you simply can't use the tools in Lazy Affiliate Method, it won't work.

3. Are you using Aweber for your autoresponder?
The email sequence in Lazy Affiliate Method is catered for marketers using Aweber. If you are already subscribed with this email autoresponder provider, uploading the pre-written emails is just a matter of a few clicks of the mouse.
However, if you are not with Aweber, then you would have to manually copy and paste the email content into the work area of whichever autoresponder that you are using.
Aweber costs $19 per month, at the lowest pricing tier.

4. Are you already on OptimizePress or Thrive Themes?
Another limitation of trying to use Lazy Affiliate Method is that you have to get one of these page builder tools, in order for the capture pages to work.
OptimizePress costs $97, and Thrive Themes cost $17 per month.

As you can see, there are additional costs behind using the product, and I'm not even talking about its upsells yet.
These are extra tools that you will have to purchase, whether you're ready or not, whether you have properly evaluated them and see them as the best options to do the work or not, you need them to run Lazy Affiliate Method.
It is precisely why I never go for DFY products.
I prefer to have complete control over the various aspects of my business, instead of having it dictated by others, which may not be in my best interest because nobody understands my audience like I do.

5. Are you in this for a sustainable income? Or just a quick fix?
With DFY tools, there is no learning. It does not add value to you as an internet marketer.
If you want to make money online, and sustain this income, it is essential to keep learning and growing. Short cuts and DFY products may be interesting and may get you short term results.
Ultimately you need to know your audience, speak their language and offer tons of value to gain their trust, before they will trust your recommendations to convert into buyers through your affiliate links.
---
---

To round up this article, let me recap and summarize the pros and cons, before I finally make my conclusion.

Pros of Lazy Affiliate Method

1. Real owner who is successful in what he does
Kevin Fahey is a sincere and established internet marketer, who has put his name in front of the product that he has created. That says much about its trustworthiness.

2. 14 day money back guarantee
This basic refund policy is in place, for people who are dissatisfied with the product.

3. DFY tools can possibly work for you
If you are at the stage of getting a good amount of traffic but they don't seem to convert well at all, it may be worth trying out Lazy Affiliate Method, to see whether your audience responds to it.

4. Reasonable price
At $27, I would say it is quite affordable. Even if it does not work, the financial loss is not too great.

Cons of Lazy Affiliate Method

1. Only works in the make money niche
If the niche of your affiliate marketing business is not in make money online, then it may be difficult to work the tools of Lazy Affiliate Method into your offers.

2. Not minimum effort like what it is made to sound
30 minutes a day to make this work is seriously overhyped. Generally I do not like how the sales page and sales video make this sound like such an easy way to make a passive income on autopilot.
I am an affiliate marketer myself. I know this is too far from the truth.

3. Having traffic is a prerequisite for it to work
For conversion to take place, first and foremost the traffic must be of a good quality – targeted and interested in what you are offering.
Without this, no sale will be made.

4. Other operating costs involved
As you decide to take up Lazy Affiliate Method, do bear in mind that there are other costs to factor into your business, like the email autoresponder and page builder.

5. Upsells
Inside the members' area, you will be met with several upsells:



Upsell 1: $27 – 15 Monetization Methods
Upsell 2: $37 – 10x Traffic
Upsell 3: $1 to start, then $29.95 per month – IM VIP Training
So it looks like you will be spending more than what you anticipated, if you are going for the full suite.
---

Is Lazy Affiliate Method Scam or legit? 

Lazy Affiliate Method is not a scam. It is a legitimate product, with tools that may work for your affiliate marketing website.
Some other recommended internet marketing products include Income School, Grant Cardone University, The Super Affiliate Network, ClickBank University, and Four Percent, to name just a few.
---

An Alternative

Everyone wants to be rich, but guess who will make it?
It's a very natural thing, that's just human nature. I mean, find me someone who doesn't want to get rich fast, and with minimum effort.
Affiliate marketing is a great way to make an online income, because it allows you to bring your work anywhere.
With a low barrier to entry, competition is stiff, and not every affiliate marketer will succeed.
It takes grit, and a willingness to delay gratification, to lay the foundation that will allow you to build an empire.
Success stories are not made of DFY emails, because you have to speak to your audience with a genuine heart.
I built up my affiliate marketing business from scratch.
It is hard work, there is no denying that. But it is so worthwhile when you reap the rewards that will pay big time.
Here's a peek into my daily earnings:



That's almost $200 in just one single day. It's nothing to boast about, though, as it's just a small fraction of its full potential. I just wanted to show you the possibilities.
Check out this training platform that provides all the resources, tools, along with an entire community of aspiring as well as already successful online income earners:


This real deal does not promise instant results.
Instead, it provides the knowledge and lifelong skills required to grow a successful online business.
And for reading all the way to the end of the post, I believe you have it in you to make this work. Here is your FREE PDF Guide: 4 Simple Steps to Making Money Online. Fill in your details to claim it:


If you have any concerns or questions regarding this Lazy Affiliate Method review, do comment below, and we will start a conversation from there.
---