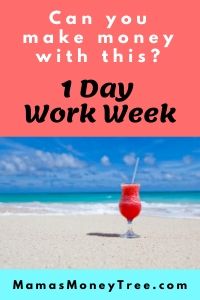 Welcome to my 1 Day Work Week review.
What is this system that automates your online business, 'funnelizes' your marketing and drives a tsunami of targeted traffic your way?
The skeptic in me first balked at the product name 'One Day Work Week'.
Surely it is all hype, out to get your money. 'Automation' doesn't spell good too. Basically when a product is made to sound like it can make you rich in a jiffy, you'd better be suspicious of it.
So join me in this honest and in-depth look at 1DayWorkWeek.biz, as we unravel the mystery behind the real working of this program, as you would have realized its sales page is too sparsely informed for anyone to make a fair decision.

Without further ado, let's dive right in now!
---

1 Day Work Week Review Summary

Product: One Day Work Week
URL: https://www.1dayworkweek.biz/
Creator: J.Joshua Beistle
Product type: Pay-to-play affiliate program, some traffic training
Price: $19.99 per month to promote as its affiliate (no product) to upwards of $1K depending on which product level you purchase.
Scam / Legit? : Legit
Recommended or not? : NOT recommended
1 Day Work Week is a training program for internet marketers with various product levels. The content includes mindset, funnels, paid and free traffic, and a traffic store.
You can pay to be its affiliate without buying any product, or simply buy products without promoting it, or you can top up an affiliate fee upon your purchases to promote the company.
Though with legitimate training products, I find the prices to be way too high, they are not worth the money. Moreover, affiliate programs should not require you to pay a single cent to promote them, hence I am not comfortable with this aspect of the business.
---
---

What is 1 Day Work Week

To find out what is 1 Day Work Week, let us first take a look at its sales page.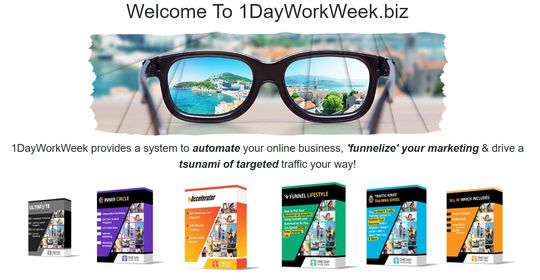 Apart from these various product packages shown on the sales page, there is no other information, not even how much they cost.
To learn more, you would have to get an existing member's affiliate link, and then create your own account through the link.
I have never liked this way of selling, whereby the only means to obtain information is through getting in touch with someone on the inside.
It puts you through one-sided sales pitches, possibly never allowing you the chance to research more about the company and its products in your own space and time before you are pressured into making the purchase.
This is a red flag you should never ignore, when a company chooses to not be fully transparent about what it is offering.

What is inside 1 Day Work Week

Affiliate fees apply if you are just trying to promote the products, without buying them for yourself. It costs $19.99 to become an affiliate, and then a recurring $19.99 every month.
The commission rates you earn will be considerably lower than if you had bought the products.
These are the various training products inside 1 Day Work Week, with just the product prices. If you wish to promote them and earn commissions, you would have to pay an additional $19.99 on top of the product price, and then a recurring additional $19.99 every month.

Starter Level: $99.99 first month, then $49.99 per month
You will get the marketing system and funnels that promote 1 Day Work Week itself, along with access to the VIP Traffic Store, support, and a Manager who will strongly persuade you to upgrade to a higher product level, in the name of making for commissions for yourself.

Inner Circle Level: $199.99 first month, then $149.99 per month
This provides live monthly marketing and mindset training, funnels to promote 1 Day Work Week, access to support and VIP Traffic Store, and of course your Manager.
Effectively you are paying $100 per month more than the Starter Level, just for the live monthly training. Even if the quality of the training is solid, I think it is still too big a recurring sum to fork out.

Funnel Lifestyle Level: $699.99 first month, then $49.99 per month
This provides training on funnels and automation so that you can scale up your business without having to put in a proportionate amount of work.
If you want to include the Inner Circle in this product level, it will cost $799.99 first month, then $149.99 per month.
---
---

Traffic Kings Level: $1,399.99 first month, then $49.99 per month
This traffic training series includes various forms of traffic sources, from paid traffic like PPC, Solo Ads, etc. to organic traffic, local, and social media.
Again, if you would like to include the Inner Circle, it costs $100 more for the first month, as well as every subsequent month.
Traffic Kings series does not include Funnel Lifestyle, which has to be bought separately if you wish to.

"All In" Level: $1,999.99 first month, then $149.99 per month
This includes Traffic Kings, Funnel Lifestyle and Inner Circle, all in one, at a discounted price.

Commissions
Basically you earn about 40% to 50% in commission when your referral buys a product, provided you also bought the product and have paid to be an affiliate of the program.
---

My personal take on 1 Day Work Week

As a training product …
As a training program, I feel that 1 Day Work Week is WAY overpriced.
And the reason for it?
Much of what you are paying actually goes up to the person who referred you to the product, as his or her commission.
In that sense, the value that you get out of the product is worth much less.
Why should you have to fork out a huge sum to support the entire incentive structure of the company, if you are not trying to earn from it yourself?
Beistle has created some big programs before, like Dream Style Vacations Club and JubiRev, both of which are no longer around. They were MLM schemes that focused on recruitment, even possibly Ponzi schemes.
I'm not saying 1 Day Work Week is anything similar, because I do see legitimate products fronting this company.
But I just cannot see beyond it being a money spinning machine for its creator.
There are fantastic training courses out there which are much cheaper, created by experienced internet marketers who are actually huge successes at what they are doing, so they set out to teach others their methods.
Hence I get a strong sensing that this 1 Day Work Week exists more as an earning opportunity.

As an earning opportunity …
You see, great products will sell themselves, people will buy them because of the value they offer.
Genuine affiliate programs are free to join, you should not have to pay a single cent, since you are effectively doing free advertising for the company. They should be thankful to you instead.
In the case of 1 Day Work Week, you are made to become the customer first, before you are allowed to promote the company and earn commissions.
That makes it a pay-to-play scheme.
Although it sounds very enticing and lucrative that you get to make about 40% to 50% in commissions, bear in mind that in reality, it may not be so easy.
You need to get high quality, targeted traffic landing on your affiliate link.
Paid traffic is a terribly risky business, you could be spending upwards of a few grands, and yet not see any returns on your investment, especially if you are new to it and do not know what you are doing.
Free traffic from social media is usually not targeted enough, so they tend to not respond to your offers.
The most sought-after traffic is free organic traffic. Not just because it is free, but also because traffic from search engines are actively looking for something related to what you are offering, hence they are the most ready buyers, with strong intent.
It takes hard work, though.
I know because it is the exact kind of traffic I go for, and precisely how you landed on this page.
These are things that Beistle will not tell you, because all he wants is to make it seem like it is so easy to make money with his automation systems, working just 1 day a week, so that you will buy from him, hoping to strike it rich when in fact he is the only one guaranteed to profit out of this.
---
---

To round up this article, let me recap and summarize the pros and cons, before I finally make my conclusion.

Pros of 1 Day Work Week

1. Possible to earn if you are an internet marketing expert
If you know how to drive quality traffic to your affiliate link for 1 Day Work Week, it is very possible to make money out of it.
But remember, it will be at the expense of people who purchase the products through you, since the vast majority will have no idea of how to find targeted traffic, then will have to throw even more money down the drain to try and make it work for themselves.
Many may end up in a deeper hole than before they found 1 Day Work Week.

Cons of 1 Day Work Week

1. Pay-to-play program
Pay-to-play programs are exploitative, in my opinion. They make you think you have struck gold, without realizing you have been made the customer of the company, with no guarantee that you will recoup any initial investment.

2. Too expensive
Even as a training program, 1 Day Work Week is overpriced.
---

Is 1 Day Work Week Scam or legit? 

1 Day Work Week is a legitimate program that offers training in traffic and funnel marketing. However, to promote it, you would have to pay to become its affiliate.
Similar programs include Easy 1 Up, The Freedom Formula, and Four Percent, to name just a few.
---

An Alternative

Everyone wants to be rich, but guess who will make it?
It's a very natural thing, that's just human nature. I mean, find me someone who doesn't want to get rich fast, and with minimum effort.
I wasn't spared of all the temptations on the internet, hopping from one shiny object to the next.
But when I realized those empty promises are only going to make other people rich, and not me, I stopped looking for shiny objects.
I found a dull-looking object, but I knew in my heart that is the real deal. And from then on, I have never looked back.
An honest, down-to-earth method that will get you there. It's not going to be easy, but it will get you there.
Versus the fast and easy way to empty your pockets and get you nowhere.
Which would you choose?
I am now working full time from home, growing my internet business, and making an online income. I started from scratch with zero knowledge in this area. If I can do it, you can, too.
Here's a peek into my daily earnings:



That's almost $200 in just one single day. It's nothing to boast about, though, as it's just a small fraction of its full potential. I just wanted to show you the possibilities.
Check out this training platform that provides all the resources, tools, along with an entire community of aspiring as well as already successful online income earners:


This real deal does not promise instant results.
Instead, it provides the knowledge and lifelong skills required to grow a successful online business.
And for reading all the way to the end of the post, I believe you have it in you to make this work. Here is your FREE PDF Guide: 4 Simple Steps to Making Money Online. Fill in your details to claim it:


If you have any concerns or questions regarding this 1 Day Work Week review, do comment below, and we will start a conversation from there.
---