Two years ago in November 2018, my neck stretched long as I waited impatiently for the Wealthy Affiliate Black Friday Special.
I already knew it would change my life.
For I was already on its monthly membership of $49 per month for a good part of the year.
The amazing things that this all-in-one training, tools and community platform did for my online journey was well beyond my expectation.
That was what sealed my decision with its Black Friday sale, long before the weekend arrived.
To be frank, it's quite a no-brainer.
A discounted price of $395 per year (for what would otherwise be $588 if you add up the monthly fees) to run your very own online businesses, with all the training and infrastructure in place, there is no other place that you will find a better chance at success.
I mean, this works out to be just $1.08 per day.
Within my first year making money online, I've already made many times over.
This investment in my affiliate marketing education has paid for itself, and so much more.
Take a peek into my daily earnings: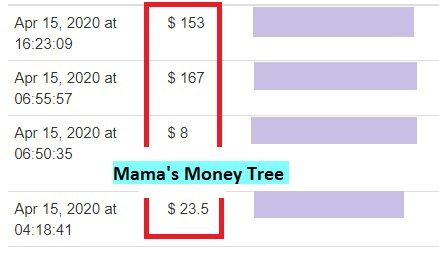 That's $350 in a day. Nothing to boast about, as it is still far from reaching its full potential. I just wanted to show you the vast possibilities here.

Now, allow me to briefly share my story.
---

How I stumbled upon Wealthy Affiliate

It was in early 2018. I had just left my job to stay at home for my kids, who were dealing with some chronic health issues.
Eager to still contribute to the household income so that I could take some of the burden off my husband, I started looking around, rather blindly.
I almost got sucked into an MLM 'opportunity', you know how they tend to hide the true nature of the business when you go for those rah-rah talks?
Saw through it, thankfully. So continued my search on the internet, as I just wanted something that could let me work around my kids' schedule. I did not want to lose sight of my priorities.
I took on some freelance writing jobs, which were good but there was still something missing. I felt like I was at others' beck and call.
So I still dug around mindlessly, as I carried on taking up writing assignments.
Then I found it.
I had struck gold, and I knew it the moment I took up Wealthy Affiliate's free starter membership.
I stayed up that night to study the training, had my very first website set up and running in minutes, and spent the next few days absorbing the free section of the training like a sponge.
Before the week ended, I took up its premium membership, and the rest is history.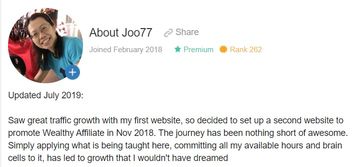 Let me now explain the business model that Wealthy Affiliate teaches – affiliate marketing.

Affiliate marketing – how it works

The concept is a very simple one.
When you bring customers to a company, or a store, and a sale is made, you earn a commission.
That's it.
I told you it's simple, didn't I?
By leveraging on the millions of existing products and services in the market, and choosing a niche that you want to focus on, it is possible to make a full time income (and more) from this.
Affiliate marketing is taking place everywhere around us.
When you refer someone to your insurance agent, or real estate agent, and you take a cut off their transaction, that is affiliate marketing in action!
Except that here, we take it a notch further, by tapping on FREE internet traffic, which is the gist of what is taught at Wealthy Affiliate.
Without this technique, people go for paid traffic, for which the risk is very high, and there is a possibility that you run out of funds before you see any returns on your investment.
---
---

Inside Wealthy Affiliate

Wealthy Affiliate is not just a training platform.
It is not just a forum, a live chat, a community where the most elite affiliate marketers are gathered.
It is not just a website builder, keyword research tool, search engine optimization tool, hosting provider, and domain registrar.
Wealthy Affiliate is all of the above, and much more.
This table shows what you will get to enjoy as a Premium member, except now the pricing is the lowest it will ever get.



Call it the top university of affiliate marketing, it really is.
EVERYTHING you need to set up and run a successful affiliate marketing website is here. You do not need anything else.
What's more:
Wealthy Affiliate has been around since 2005.
This speaks for itself.
The internet is such a competitive place. If not for the fact that Kyle and Carson, the founders of the company, are so stubborn about delivering nothing but the best value to their customers, it would not have survived, much less still be thriving and growing after all these years.
So, what is so special about the Wealthy Affiliate Black Friday Special?

This is an annual event that has been taking place every single year, over just 4 days.
The Wealthy Affiliate Black Friday Special dates for 2020 are 27 to 30 November.
It is THE OFFER OF THE YEAR – definitely not to be missed!
At $395 per year, this is almost 33% discount from the $49 per month (which works out to $588 per year).
It will not go any lower than this.
Take action now, and get started on your affiliate marketing journey.
I'll see you on the inside, to help and guide you along as your personal coach.
---