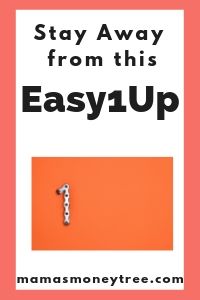 Kudos to you that you are trying to find out more about the Easy 1 Up scam. There is definitely a lot more to what they appear to be.
Welcome to my Easy 1 Up review.
What exactly is Easy 1 Up, and how does it work to make you the big money and fast? Is it even legitimate?
Can this really be your personal ATM? Doesn't that sound like all fluff and hype?
Join me in this honest and in-depth review of Easy 1 Up, as I walk you through all the red flags, as well as what the exact business model is all about, so that you can make an informed decision for yourself, whether or not you want to get involved in this.
Without further ado, let's dive right in now!
---
Easy 1 Up Review Summary
Product: Easy 1 Up
URL: https://easy1up.com
Creator: Peter Wolfing
Product type: MLM program, with digital products that are PLRs
Price: Product packages ranging from $25 to $1000 (each one plus another 10% admin fee)
Scam / Legit? : Bordering on scam (pyramid scheme, cash gifting), though they use low-quality products to protect themselves
Recommended or not? : Absolutely NOT recommended
Easy 1 Up is a high ticket MLM program, that requires members to buy themselves into a package level before they can earn commissions off their referrals who also buy into levels lower than or equivalent to theirs.
Their products are low-quality PLRs (private label rights), meaning they are not even created in-house. Those products can be found at a much cheaper price on affiliate networks.
The main way to earn with Easy 1 Up is to recruit others to buy into those product packages, and then get them to also promote the program.
There are many ways to make money online that are much more ethical. Check out my #1 recommendation:


Read on for the detailed review of Easy 1 Up, and why I do not recommend it.
---
What is Easy 1 Up
To find out what is Easy 1 Up, let us first take a look at its website.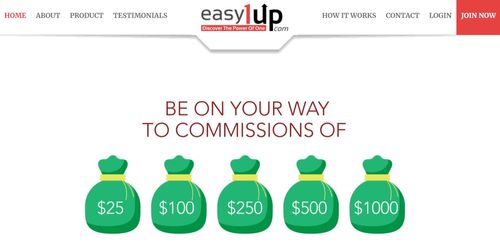 They make it sound really easy and exciting. They claim Easy 1 Up to be a system that does all the calling, telling, and explaining for you, to allow you to earn these attractive commissions of up to $1000 for each sale!
Remember the old adage stays true to this day: if it sounds too good to be true, it probably is.
Through 5 different courses, Easy 1 Up supposedly helps entrepreneurs tip their competition by learning and developing new strategies.

Product packages in Easy1Up and their pricing
These are their product packages:
Elevation Basic: $25 +$5 admin fee
Elevation Elite: $100 + $10 admin fee
Vertex: $250 + $25 admin fee
Vertex Elite: $500 + $50 admin fee
Vertex Pro Connect: $1,000 + $100 admin fee
As you can see, it is not cheap, especially as you go for the higher levels of product packages.
You can be sure that you will be persuaded to take the higher packages, as it will supposedly increase your earning potential significantly.
Let's now study how you will make money off Easy 1 Up.

Easy1Up Compensation Plan
The compensation plan of Easy 1 Up is quite easy to understand.
Basically, when you bring in a referral who buys any product package, the entire package price goes to you (not including the admin fee), provided you had bought in at that level of your referral, or higher.
This means that if you bought a Vertex Elite, and your referral actually bought the Vertex Pro Connect, then you will lose out of the $1K of commission.
You will only make $500 commission which is what your package entitles you to, with the balance paid to the next person in your upline who had bought at the Vertec Pro Connect level.
In this sense, you will be strongly encouraged to buy at the highest level possible, so that you do not lose out on the great earnings.

2nd referral is passed up
In the Easy1Up compensation plan, your 2nd referral will be passed up to your sponsor, such that whatever packages this referral buys, the commissions are credited to your sponsor.
In a similar fashion, the 2nd referrals of all your referrals will also be passed up to you.

Admin fee goes to the program owner
The 10% admin fee for every single sale goes to the owner of Easy 1 Up, and that is how he makes money.
Though the amount seems small compared to the 100% commission that is promised to members, ultimately he is the winner who walks away laughing to the bank, as I will explain later on.

What are actually in the product packages of Easy1Up
The 5 different levels of product packages all seem solid on the surface.
But there was something that irked me when I studied the training they offered inside. It dawned on me that there is no systematic training. The topics they chose to include in the packages all seem too haphazard.
It ranges from network marketing and affiliate marketing to eCommerce (dropshipping), email marketing, social media marketing, and free traffic sources, etc.
Confusion is the word, along with the impression that everything is just thrown together to make people think they are getting lots of value for their money.
When in fact, it couldn't be further from the truth.
As I probed deeper, the ugly truth was finally revealed.
It turns out that all the training materials are PLRs (private label rights), meaning they were bought off someone else, with the licensing rights to sell them off as their own.
Just take a look at the content boxed up in blue in Easy1Up Vertex Live, that costs $2000.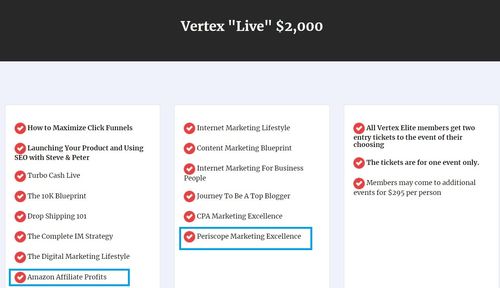 These are PLRs available at a very low cost of $27 for Periscope Marketing Excellence, and $37 for Amazon Affiliate Profits.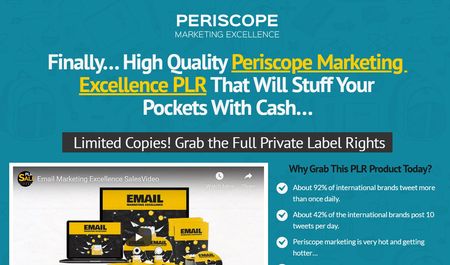 Can you just imagine the amount of profits that Easy 1 Up is generating here?

The issue with PLRs
There is absolutely nothing wrong with selling PLRs, they were intended to be retailable by anyone who buys them.
The thing is, they all come from different sources, with different quality.
Take Periscope Marketing Excellence for example. Its creators are not exactly the best reputable people in the industry. I know because I have reviewed their other products before. Justin Opay, for one, does not really care about whether he provides value to his customers, he had gotten himself quite a long line of dissatisfied customers.
Moreover, PLRs are generally outdated in their content, especially when it comes to topics like internet marketing, paid traffic, social media marketing, etc. where things change so fast.
Surely you can't expect a dead document to deliver whatever you need to gain an edge over your competitors.
You're much better off scouring the websites of the experts in each field for their blogs, which are usually chock full of rich and relevant advice.
No value in the product packages of Easy 1 Up
Hence my conclusion is that the products of Easy 1 Up is not the focus in their program at all, since they are too random, confusing and low-quality, put together so haphazardly.
It cannot be intended for any existing business owner, who will easily be able to see through the fact that it can't help them much at all.
As for beginners, it's even worse. Easy 1 Up will throw their minds into further chaos than before they started on the courses in the packages.
Moreover, to put in zero effort and pride into their products, for a program that claims to be the leading player in network marketing and internet marketing is really such a shame and disgrace.
To me, it looks very much like this is just a cover to escape the label of an illegal pyramid scheme for which there are no products, but simply a focus on recruitment and the promises to earn from it.

Is Easy1Up a good earning opportunity?
So if the focus is on recruitment, can you really profit from this opportunity?
To be frank, there will be people who are able to make money from this. They could have gone in when the company was just starting out, everything was new, and it was easier to pull people into the scheme.
They could also be well-versed in marketing, and are gifted with the talents that great sales people have.
Let's face it, who can resist the 100% commissions, right?
The thing is, with how the world is going these days, people do not easily fall for such schemes anymore.
The more gullible and trusting ones would pay to play the game, only to find out it is not easy to recruit any referral at all.
You have to dig a hole to climb out of
The initial payment for the 'product packages' just to get yourself the right to earn commissions means that you are digging a hole for yourself to climb out of, as you are just starting out.
This is never a good thing for any newbie.
Any pay to play system puts its members at a great disadvantage right from the start, and I think this is very exploitative and unfair.
There is always the largest group of people losing money
You are made to lose money at the onset. To gain it back, you have to recruit at least one, and it barely allows you to break even, because there is still the 10% admin fee you paid out that you have not yet recovered if you only had 1 referral.
Then your 2nd referral is passed up to your sponsor.
So to start earning a profit from Easy 1 Up, you have to find a 3rd referral who would join you to start recruiting people and do the same as you.
In this sense, at any one time, the number of people losing money to the scheme is always the largest group.
Should the company close down because such a scheme cannot sustain itself when recruitment stalls to a plateau, then majority of members who just joined or who just cannot get their 3rd referral into the game would have lost their money.
It will be worse for people who take up the more expensive product packages. It will be even more difficult to recoup those losses.
Even if any member is making money, it is at the expense of these innocent people who are just hoping for a better future with their investment.
So this is a very unethical way of running a business, especially since the products are of no tangible value to anyone at all, that's in my opinion.
Who is the ultimate winner in Easy 1 Up?
I think you can guess it quite easily. The owner, Peter Wolfing.
If you join Easy1Up, you take up all the risk of the business, with your upfront investment. Then you do all the hard work of trying to recruit people into the scheme.
What does Peter Wolfing do?
With zero investment on his part, he just needs to convince people into the scheme, so they will pay him while marketing his company and recruiting for him, earning him even more!
The 10% admin fee that he pockets actually adds up pretty fast, because he receives this fee from every single person who joins, regardless of who their sponsors are.
In a way, he is very smart, by enticing members with the 100% commissions, so they will work their butts off for this.

The proper way to make money online
I guess everyone starts off wanting to make it rich fast. It's a very natural thing, that's just human nature. I wasn't spared of all the temptations on the internet myself.
But when I realised those empty promises are only going to make other people rich, and not me, I stopped looking for shiny objects.
I found a dull-looking object, but I knew in my heart that is the real deal. From then on, I have never looked back.
I am now working full time from home, growing my internet business, and making an online income. I started from scratch with zero knowledge in this area. If I can do it, you can, too.
Here's a peek into my earnings on a recent day:



That's almost $200 in just one single day. It's nothing to boast about, though, as it's just a small fraction of its full potential. I just wanted to show you the possibilities.
Check out this training platform that provides all the resources, tools, along with an entire community of aspiring as well as already successful online income earners. The best part is, you get to start for free:
---
To round up this article, let me recap and summarise the pros and cons, before I finally make my conclusion.
Pros of Easy 1 Up
1. It is possible to earn
If you are an experienced marketer, and have no qualms about exploiting the innocent who are just trying to make better lives for themselves and their families, then Easy1Up can possibly make you some profits.

Cons of Easy 1 Up
1. Pay to play system is not good
You should not have to pay a single cent to help a legitimate company promote their products. Requiring you to pay an initial amount in order to start earning, to me, is exploitative.
2. Products are not worth promoting
The low-quality PLRs found in Easy1Up are not useful to people, whether budding entrepreneurs or existing business owners.
3. Most people are losing money at any one time
Since it requires at least 3 referrals for anyone to start making money from this scheme, it is easy to see that at any moment in time, there are more people losing than earning.
It is not a favourable position to put yourself into.
---
Is Easy 1 Up Scam or legit? 
Well, they do have products, albeit low quality ones, so I guess no one can fault them on this. Hence I can't call them a scam. But I hope this review can help you make clearer and better informed choices for yourself.
Similar programs that I have reviewed include Best Easy Work, Club Cash Fund, 6 Figure Stamp Club, and 8 Figure Dream Lifestyle, to name just a few.
---
Recommendation
It is possible to make a full time income online. There are many legitimate ways.
I want to show you the business model that I am using.
This real deal does not promise instant results, but instead provides the knowledge and lifelong skills required to grow a successful online business, which is exactly what I have done. Check it out by clicking on the button below:


And for reading all the way to the end of the post, I believe you have it in you to make this work. Here is your FREE PDF Guide: 4 Simple Steps to Making Money Online. Fill in your details to claim it:


If you have any concerns or questions regarding this Easy 1 Up review, do comment below, and we will start a conversation from there.
---