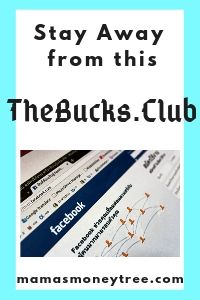 What is TheBucks.Club scam that is spreading like wildfire? What kind of danger lurks beneath this suspicious website? Can you really earn $500 a month with this?
Welcome to my TheBucks.Club review.
This new platform claims to be a social media marketing company that specialises in Facebook advertising, but my observations show that it is up to no good.
I will walk you through all the red flags on its website, in my honest and in-depth review, which also points out the possible dangers for people who decide to use it as a money-making opportunity.
Without further ado, let's dive right in now!
---
TheBucks.Club Review Summary
Product: The Bucks Club
URL: http://thebucks.club/
Creator: Unknown
Product type: Rent Facebook ad space to make money
Price: free
Scam / Legit? : SCAM
Recommended or not? : NOT recommended
TheBucks.Club may actually make you money, or maybe not, it depends on your luck as to what kind of people are using your Facebook ad space.
It is a risky thing to do, because you are compromising your online safety and security. No legitimate company would go around looking to use some individual's Facebook account to run their ads.
If you do not want to waste anymore time on dubious 'opportunities' and possibly getting into trouble, here is my #1 recommendation to making money online:


Read on for the detailed review of TheBucks.Club, and why I do not recommend it.
---
What is TheBucks.Club
To find out what is TheBucks.Club, let us first take a look at its website: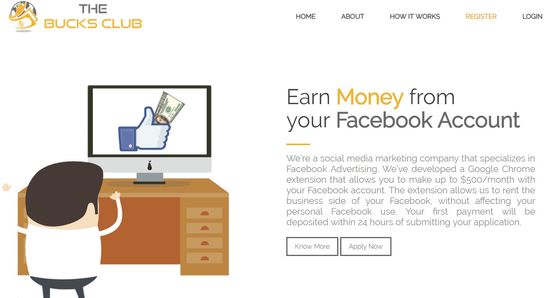 Claiming to be a company that does social media marketing, The Bucks Club uses a Google Chrome extension to tap into the business side of your Facebook account, if you sign up with them.
They claim that this can make you up to $500 per month, with the first payment coming through within the first 24 hours of submitting your application.

How to qualify for TheBucks.Club
Not everyone can qualify for TheBucks.Club.
Your Facebook account must be at least 1 year old, with at least 100 friends, and an untouched ad account.
This is all that can be gathered from its website, before signing up. Now, let's examine the red flags that I had found.

Huge red flags on TheBucks.Club
Lack of detailed information
There is no indication about how much you would be paid, do they go by a monthly fee for renting out your account, or number of ads placed, or what?
This information is not clearly made known, and I find this rather fishy.

Menu on its website does not bring you anywhere
The main menu items on its website like 'About' and 'How it works' does not send you to a different page to learn more about the program.
After clicking the main menu, you'd still be on the same page, staring at the exact stuff that you had already read.

Lack of information about who is running this platform
There is no information about who are the people behind TheBucks.Club. This does not bode well, as there is no one to take responsibility and be accountable for the platform.

Fake email addresses
There are two email addresses provided on the website, both can be found on their terms and privacy policy page.
A simple check revealed that these email addresses are fake. Any emails you try to send to them will never get through.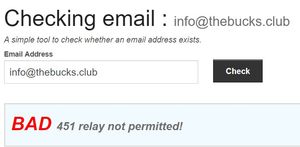 It was never their intention to get in touch with you, right from the onset.
So why should you trust a platform like that?

New domain
A check on the domain revealed that it was registered in February 2019, which means it is a relatively new site, new business.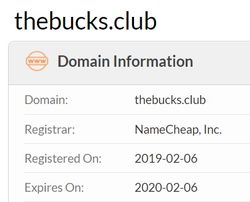 Not a very big issue, but a point to take note of. Since well-established and long-standing companies tend to be more legitimate and trustworthy, in general.

What does TheBucks.Club want out of you?
Since they never asked for a single cent from you, how can this platform scam you?
These days, a scam does not have to cheat your money directly. It could be anything illegitimate, and indirectly earns them money, while lending your hands to do the dirty job.

Facebook ads laundering
This is one of the possibilities that could occur when you rent out the ad space of your Facebook account.
There are people whose Facebook account had gotten banned because of violating Facebook's terms of service, or engaging in fraudulent or suspicious activities.
These are the people who need a clean account, if they want to get their offers and promotions out to a targeted audience on Facebook.
It is also precisely why your ad space has to be 100% clean, not having run any ads on it before. They do not want any prior history of your ads to affect the approval of their ads.
Moreover, being more than a year old and with more than 100 friends, it looks just like the account of any person off the street. Not blacklisted, no reason to suspect there may be any funny business going on.

You may say: But Facebook approves every ad!
Yes, they do, by algorithm. With the vast number of ads going on the platform each day, there is no way they can get people to sit there to manually approve every single ad.
That is why the ad launderers are looking for clean accounts that would not raise any suspicions, and are in the safe zone of the Facebook algorithm.
There are people earning from this. Not TheBucks.Club specifically, not as far as I know of.
But I do know there are people earning through this kind of ad laundering schemes.
That does not mean it is the right thing to do.
It also does not mean they will not get into trouble in the future.
If the person running ads inside your account had gotten his or her Facebook account banned, there must be a reason for it. Then you can expect yours to be flagged too, sooner or later.
Facebook did not let us to set up accounts to profit from it. Facebook accounts are not even our property to begin with.
Imagine you were renting an apartment to stay in. Since the property is not yours, you are not allowed to rent out one of the rooms to another person, unless of course it is spelled out in your tenancy agreement that you are allowed to do so.
No matter how legit and honest that person trying to get you to rent that room to him is, the act of you subletting it out puts you in the face of the law, not him.
Do you see how the onus is on us, as Facebook account holders?
Whatever ads they put up through our accounts will be traceable to our IP address. We are responsible for any illegitimate stuff that they may be promoting.
When our accounts get banned, they go scott free, since no one knows who they are. They just need to look for another clean account for their acts.
Why would you want to put yourself in this kind of vulnerable position?
If it's just for the money, then that's really not worth it, in my opinion. There are too many honest and legit ways to make money, you don't have to resort to this.

PayPal email information
I will never provide my PayPal email to people or companies that I do not trust, let alone people who do not tell me who they are.
You see, the people behind TheBucks.Club have not shown their faces at all.
Nobody knows who those people getting into your Facebook ads space are.
As long as they have your PayPal email information, they can do stuff with it. I do not know what, but if they have the ill intention, they can.
And ESPECIALLY do not use the same password for TheBucks.Club account as your other important accounts like email account and PayPal account! It is too risky.

Your online safety and security is at risk
What their Google Chrome extension really does when you install it is not something we can easily and thoroughly understand.
It could be reading or stealing all your files and other important data.
You really never know.
Would you even allow a friend full reign of your desktop or laptop without monitoring what files they are accessing?
I won't.
If you won't too, then why would you want to give that privilege to a complete stranger?

The proper way to make money online
I hold firm to my belief that there are so many better and much more legitimate ways to make money than TheBucks.Club.
I guess everyone starts off wanting to make it rich fast and with little effort. It's a very natural thing, that's just human nature. I wasn't spared of all the temptations on the internet myself.
But when I realised some things online are deeper than they seem, and can actually do more harm than good, I stopped looking for shiny objects.
I found a dull-looking object, but I knew in my heart that is the real deal. From then on, I have never looked back.
I am now working full time from home, growing my internet business, and making an online income. I started from scratch with zero knowledge in this area. If I can do it, you can, too.
Here's a peek into my earnings on a recent day:



That's almost $200 in just one single day. It's nothing to boast about, though, as it's just a small fraction of its full potential. I just wanted to show you the possibilities.
Check out this training platform that provides all the resources, tools, along with an entire community of aspiring as well as already successful online income earners. The best part is, you get to start for free:
---
To round up this article, let me recap and summarise the pros and cons, before I finally make my conclusion.
Pros of TheBucks.Club
1. Possible to make money
Yes, it is totally possible to make some money with TheBucks.Club, without getting into trouble for a while, if you are really lucky.

Cons of TheBucks.Club
1. A stranger inside your Facebook ads account
If this sounds alright to you, then I guess this article had failed its purpose.
2. You do not know what the browser extension is doing inside your device
To me, this is a much higher risk compared to your Facebook account possibly being banned.
This involves all your files, data and information that you have in your desktop or laptop.
They can say all they want about it only accessing the Facebook ads space, but seriously, I think in this situation, common sense and objectivity must prevail over blindly trusting someone who does not show his or her face.
3. If you're unlucky, you do not get paid
There are people who value your Facebook account because they get much more returns by being able to run ads for their products. So they will pay you to continue renting it.
On the other hand, you can be sure there will also be unscrupulous ones who run away after placing ads, or creating havoc for your account.
That leaves you not just without the rental fee they promised you, you may end up having to pay for their ads, since those ads were run from within your account!
The risk is real, so to me this is a no-brainer.
---
Is TheBucks.Club Scam or legit? 
I say this is a scam, NOT because you will not get paid (although there is a risk), but because the activity is not legit.
The payment they are offering is to compensate for the high risk you are taking, by agreeing to get involved in their dirty work.
Similar programs I had reviewed include Painted Dreams Marketing and Blue Skies Marketing.
---
Recommendation
There are too many great ways to make money online these days.
Let me show you the method that I am using, so you can decide for yourself if this is something you might want to do to earn an online income.
This real deal does not promise instant results, but instead provides the knowledge and lifelong skills required to grow a successful online business, which is exactly what I have done. Check it out by clicking on the button below:


And for reading all the way to the end of the post, I believe you have it in you to make this work. Here is your FREE PDF Guide: 4 Simple Steps to Making Money Online. Fill in your details to claim it:


If you have any concerns or questions regarding this TheBucks.Club review, do comment below, and we will start a conversation from there.
---