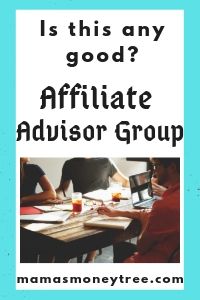 What is Affiliate Advisor Group that promises a foolproof system for you to make up to $5000 a week? Does such a program really exist?
Welcome to my Affiliate Advisor Group review.
If you think things are sounding too good to be true, and are checking it out to find out if this is a legit product, you have landed at the right place.
Here in my honest and in-depth review, I will walk you through some red flags on their marketing pages, as well as examine what you will actually get if you purchase Affiliate Advisor Group.
This will help you make a better informed decision for yourself.
Without further ado, let's dive right in now!
---
Affiliate Advisor Group Review Summary
Product: Affiliate Advisor Group
Creator: Unknown
Product type: affiliate marketing training and duplicate website
Price: $37 + upsells
Scam / Legit? : This is a poor quality product, though I won't go as far as calling it a scam
Recommended or not? : NOT recommended
Affiliate Advisor Group is basically some training on affiliate marketing, along with a website and 'personal coach' who is really some sales person trying to convince you to get the upsells.
This is a low quality product, with an owner who is only interested in filling his or her own pocket, by using marketing materials that are all hyped up.
If you do not want to waste anymore time and money on products that promise the moon but will not deliver, check out my #1 recommendation to making money online:


Read on for the detailed review of Affiliate Advisor Group, and why I do not recommend it.
---
What is Affiliate Advisor Group
To find out what is Affiliate Advisor Group, let us first take a look at its landing page.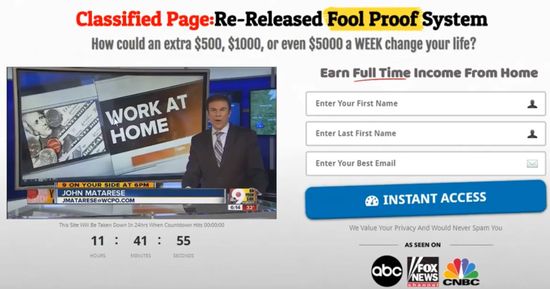 Unfortunately, the first impression I had of its sales page is a rather poor one.
$5K a week is an obvious bait just to get people excited so they would bite.
How do I know $5K a week is not possible? Well, I'm an affiliate marketer, so I know how things work exactly (I will explain more about affiliate marketing later).
Affiliate marketing is a totally legit, and in fact, very lucrative way to make money online. Earning $5K a week is very much possible, but definitely not for a complete newbie who is just starting out.
With a few years of experience and hard work, you can possibly earn that amount. But not before you learn the ropes, and take consistent action.

TV news
I have seen many low quality products make use of news clips to boost their credibility. These are real news clips, but they touch on the topic of working from home in general, having nothing to do with Affiliate Advisors Group per say.
The intention is to make it seem like they are very much legit and recognised by the media, when in fact it is a plot to gain their audience's trust prematurely.
The same goes for those big names they place on their sales page, including American Broadcasting Company (ABC), Fox News, and CNBC.
Affiliate Advisor Group had never been featured on any of these channels before.
To me, this is a very sneaky and dishonest way to appear credible.

Fake testimonial
In their sales video, there is this Sarah, who is earning lots of money from what she learnt at Affiliate Advisor Group.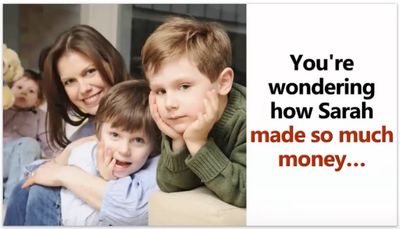 As it turns out, Sarah is none other than a stock photograph taken off the internet.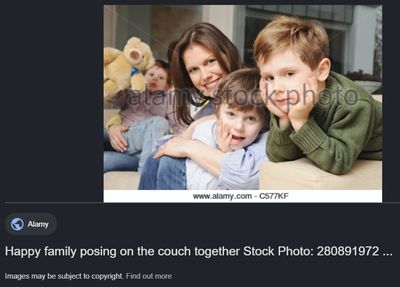 Well, it looks like there is not a single real person who is finding the training and website by Affiliate Advisor Group valuable and useful enough to provide their real testimonial?

Coaching… really?
The VIP Coaching included in the program is another sales gimmick.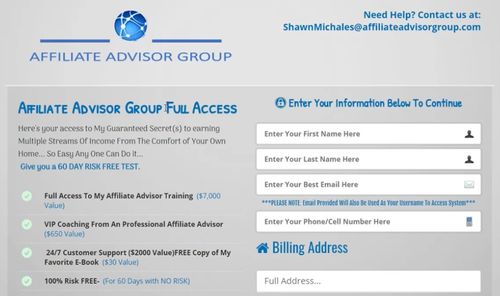 What you will actually get is a sales person who will make a commission when you buy into the upsells of Affiliate Advisor Group.
So he or she will be pestering you to get those expensive upsells, there is no professional coaching to talk about at all.

What is affiliate marketing?
Affiliate marketing is a very legitimate and great way to make money online these days. It is exactly what I am doing too. Let me explain it very simply.
When you send customers to a company and they buy the products, the company pays you a commission. It's that simple.
The beauty about it is that all the work can be done online, from the comforts of your home.
You need your own website, so that you can create content on it, in the chosen niche of your own preference. When traffic lands on your site and click through your affiliate links to purchase some products or services, you earn.
It is simple, yet not easy.
It takes hard work to build out your website, so that you can get free traffic landing on your site.
Duplicate website will not work
You see, the website provided by Affiliate Advisor Group will be a duplicate website that all its customers will get exact copies of.
Search engines will never rank this kind of websites, as they want original content to serve up to their users.
Unless you use paid traffic
If you want to skip the hard work in creating content, you must have the financial resources to drive paid traffic to your duplicate website.
Paid traffic is a risky venture, definitely not recommended for beginners who do not know their target audience well at all.
It takes experience working in your niche, by interacting with your website visitors, in order to understand them – theirs needs and preferences, before you know how to target your advertisements to this specific group of audience who will respond to your ads.
To blindly run ads is to throw hundreds or thousands of dollars down the drain.
I run my affiliate marketing business without spending a single cent on paid traffic. I may do so in future to scale up the business, but until now, free organic traffic has served me really well in giving me a good head start.
How I get free organic traffic
Search engines favour websites that are consistently producing quality, comprehensive content that can answer their readers' questions, and solve their problems.
So this is exactly what I do, in order to get high rankings in the search engines.
I also target specific keywords that will allow my website to show up when people search for stuff related to what I am offering.
Thus when they have a question, or a need to be met, a problem to be solved, etc. my website shows up with the relevant content, with sufficient details to serve them fully, and enough authenticity to gain their trust, then these readers will convert into buyers.
When they click on the links to products that I recommend, I earn a commission at no extra cost to them, everyone wins.
This method absolutely works, but it takes time and effort to build up a website.
People who tell you their product can make you $5K in one week are just concerned about making money for themselves. They are not presenting the real picture to you.
Yet, many people will try to sell their products this way, because it is what people like to hear: instant big bucks with zero work, all done for you website, get it now!

The bottom line…
I guess everyone starts off wanting to make it rich fast. It's a very natural thing, that's just human nature. I wasn't spared of all the temptations on the internet myself.
But when I realised those empty promises are only going to make other people rich, and not me, I stopped looking for shiny objects.
I found a dull-looking object, but I knew in my heart that is the real deal. From then on, I have never looked back.
I am now working full time from home, growing my internet business, and making an online income. I started from scratch with zero knowledge in this area. If I can do it, you can, too.
Here's a peek into my earnings on a recent day:



That's almost $200 in just one single day. It's nothing to boast about, though, as it's just a small fraction of its full potential. I just wanted to show you the possibilities.
Not $5K a week yet, but what I'm showing you is reality, not some sandcastles in the air that cannot stand their ground.
Check out this training platform that provides all the resources, tools, along with an entire community of aspiring as well as already successful online income earners. The best part is, you get to start for free:
---
To round up this article, let me recap and summarise the pros and cons, before I finally make my conclusion.
Pros of Affiliate Advisor Group
1. 60 day money back guarantee
This basic refund policy is in place, for people who are dissatisfied with the product.
2. You do get some basic training
Well, you do get some generic training on affiliate marketing, as well as the duplicate website.

Cons of Affiliate Advisor Group
1. Hyped up marketing
I really dislike its sales pitch, which borders on dishonesty. It is obvious they are trying to get your money at all costs, including compromising their own integrity.
2. Not minimum effort like what it is made to sound
Affiliate marketing takes hard work, no matter what traffic source you go for. Free organic traffic takes lots of content building on your website.
Paid traffic takes a steep learning curve on the platform that you choose to run your ads. It cannot be learnt from textbooks. You have the run your campaign, analyse the results, tweak parameters to try and improve on the returns on investment, run it again, and the cycle goes on.
Before you know it, you could have burnt a huge hole in your pocket, even before you start earning anything.
Thus I always advise beginners to go for free traffic first, stack up some profits, then with a comfortable excess you can start to learn a bit of paid traffic without too much pressure to have to recoup your invested amount.
3. Upsells
Once you pay for the front end product of Affiliate Advisor Group, you will be bombarded with their upsells.
Since they will have your mobile number (which is required for you to enter during your purchase), you can expect to get calls from your 'coach', who will likely be quite aggressive in selling you expensive upgraded versions of their products.
---
Is Affiliate Advisor Group Scam or legit? 
I would hesitate to call it a scam, but I would strongly recommend that you steer clear of Affiliate Advisor Group, as it does not have your best interest at heart.
It is similar to some other products I have reviewed, like 12 Minute Affiliate, Secret Affiliate Machine, 10 Minute Paydays, and Home Income Millionaire, to name just a few.
---
Recommendation
If you want to succeed online, you have to differentiate the real deals from the scams.
There is no easy way to fast cash. If such a thing exists, everyone would be rich by now.
Making money on the internet is a marathon that requires the right training and resources, as well as the right mindset, patience and commitment.
This real deal does not promise instant results, but instead provides the knowledge and lifelong skills required to grow a successful online business, which is exactly what I have done. Check it out by clicking on the button below:


And for reading all the way to the end of the post, I believe you have it in you to make this work. Here is your FREE PDF Guide: 4 Simple Steps to Making Money Online. Fill in your details to claim it:


If you have any concerns or questions regarding this Affiliate Advisor Group review, do comment below, and we will start a conversation from there.
---