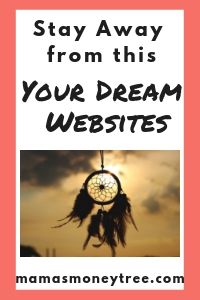 Here in this article, we will examine this Your Dream Websites scam, to see how true it is. Can you really make $1K per day starting today? Or is this another useless product just out to get your money?
Welcome to my Your Dream Websites review.
If you are sensing that this sounds too good to be true, then you are probably correct.
Join me as I walk you through all the red flags in the sales video, and uncover how Your Dream Websites works exactly, so that you can make a better informed decision for yourself.
Without further ado, let's dive right in now!
---
Your Dream Websites Review Summary
Product: Your Dream Websites
URL: http://yourdreamwebsites.com/
Creator: "Jake"
Product type: Subscription to some internet marketing tools like Click Funnels, an autoresponder, and some affiliate marketing networks.
Price: $37 + monthly subscription of marketing tools going into hundreds of dollars per month.
Scam / Legit? : SCAM
Recommended or not? : NOT recommended
Your Dream Websites teaches you to set up various marketing tools that are going to cost you up to hundreds of dollars per month in subscription fees. Those are all legitimate tools, but you won't need them as yet, if you are just starting out trying to make money online.
The main ingredient to a successful business is missing: traffic.
Its sales video is full of lies, giving no indication of the method that will be taught. They keep telling you they have set up your website, done all the work for you, and you just have to check your account for money coming in.
If you simply follow what is taught in Your Dream Websites, by setting up all the tools and then wait for money, I'm sorry to disappoint you, but you will not be earning a single cent.
If you do not want to waste anymore time and money on useless products, check out my #1 recommendation to making money online:


Read on for the detailed review of Your Dream Websites, and why I do not recommend it.
---
What is Your Dream Websites
To find out what is YourDreamWebsites.com, let us first take a look at its sales page.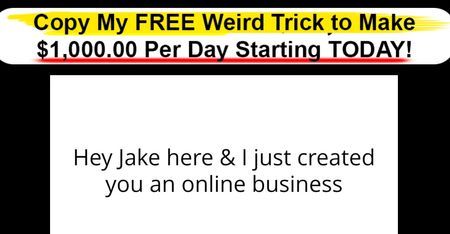 Red flags
No real owner behind the product
"Jake" is not even the real owner behind Your Dream Websites. He hasn't made a single appearance throughout the sales video. This just tells me the product is not to be trusted.
There is no indication of what exactly you will get after purchasing the product, or what method will be used to make you the $1K per day, starting from today.
You don't need to lift a finger
The entire video is all hype, insisting that they have done all the work for you, set up the website for you, and even showed you the 'proof' that your site is already making $136 within 5 minutes of being set up.
This is about as much nonsense as you can get out of any crappy product, I don't think it gets any worse than this.
Fake scarcity
Fake scarcity is used as a tactic too, with "Jake" claiming that he only wants 15 people in on this. So if you pass up the opportunity, your account will be given to the next person in line.
Fake testimonials
The video testimonials are fake, I recognise them as actors hired from Fiverr, after having reviewed hundreds of products.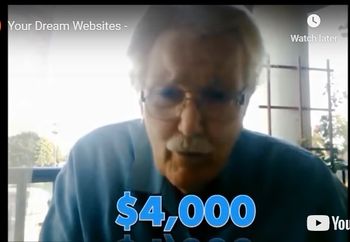 There are others that are simply stock photos.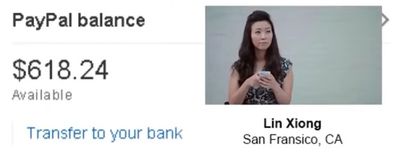 It seems that "Jake" cannot find a single real person who is actually making money from Your Dream Websites? So much so that he has to resort to all these fake testimonials?
At the end of the video, I still had no inkling what is in Your Dream Websites.
It is made as a lure, to bait people's natural tendency towards instant gratification, with little to no effort.
It does not allow you the chance to make an informed decision for yourself, since there is no information at all about how exactly the product will work to make you the money.
And this is what I have set out to provide you with: the real picture of what you will be getting inside Your Dream Websites.

What exactly do you get with Your Dream Websites
It goes by a different name
Once you get into the members' area of Your Dream Websites, it becomes obvious that we are looking at a product named entirely differently.
It is called Instant Profit Sites.
This doesn't bode well. It simply means that there are various sales funnels, marketed under different names, all leading to this Instant Profit Sites.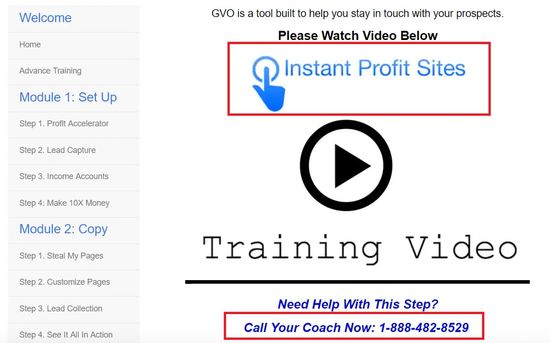 It goes to show that this is a low quality product, where the owner is sneakily trying to hide the feedback by real users from new potential customers.
Subscribe to tools that will earn "Jake" a good commission
In module 1 of the training, you will be taught to subscribe to these four tools: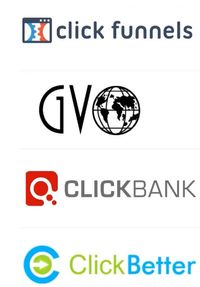 These are legitimate and useful tools that can enhance your marketing efforts, but you are lacking a key ingredient, that I will discuss later.
Click Funnels is a funnel builder that allows you to build landing pages to send people to. You can do stuff like collecting their email addresses, or promote your affiliate links, etc.
The cheapest subscription plan is $97 per month.
Global Virtual Opportunities (GVO) provides web hosting and email marketing services, that also requires a monthly subscription, the amount depending on the specific plan that you take.
It is also an autoresponder that allows you to manage your email list, craft and send out email sequences to promote stuff to your list, etc.
You can be sure Your Dream Websites has their own affiliate links for both Click Funnels and GVO in their members' area, such that when you subscribe to these services, you are in fact using their affiliate links.
Thus "Jake" earns commissions from everyone who follows through his training. These are recurring commissions, making the initial payment of $37 for the front end product seem like just an appetiser!
To be frank, there is nothing wrong with getting people to sign up for services using their affiliate links, since their customers do not have to pay any extra. Affiliate marketing is a legitimate business model.
In fact, it is exactly what I am using too.
What is not so ethical is that they do not make it explicit and transparent enough that you will be subscribing through their affiliate links. There is a lack of disclosure in this aspect.
ClickBank and ClickBetter are affiliate networks, free to sign up to. They are platforms for vendors to put up their products, so that affiliates can promote them, and earn a commission when sales are made.

Where do you get traffic?
This is a stark problem with the training in Your Dream Websites.
So, you've got your funnels set up, your email autoresponder all ready to go, and your affiliate links included inside your email campaigns and landing pages.
What now?
Do as "Jake" says, and just keep checking to see if money rolls in?
You really can't get any further from making money with this.
If no traffic lands on your funnel pages, you can't build your own email list, and there is no one to send your email marketing sequences to, all you will be getting is the sound of crickets.
Your Dream Websites got it all wrong.
All it wants is for you to subscribe to those tools, so that "Jake" earns a monthly commission out of your subscription.
These tools do not serve a single purpose if you do not first learn how to set up the foundation for your business – getting traffic.
If you have the right traffic source, you do not need a funnel builder, an email autoresponder can also come in during the later part of building up your business.
These are not the essentials. Though they are, to "Jake".

How I get free traffic to my business
It all starts with a website. Without a website, you can never establish your brand and an online presence, your business will never take root and be established on the right footing.
Check out the 5 compelling reasons why everyone and every business needs a website.
With a website, I build authentic content on it, in my chosen niche. As it gets established, and gains the trust of the search engines, my website will show up to people searching for stuff related to my niche.
The power of free organic traffic (from search engines) is immense, because people are actively searching for what I am promoting.
So they are ready buyers, with the highest possibility of converting into actual customers on my site, if I can provide answers to their questions.
With this, I do not need Click Funnels. It is a legit and great tool, and I may use it in the future, but I am currently happy without it.
As for email autoresponder, I subscribed to one only after populating my site with content, because I'd want to send people to an established site, not a barren one, otherwise I would be wasting all that money.
If you do not get free traffic…
Without your own website, you will not be able to target free organic traffic.
Your only other option is paid traffic, which means yet another huge cost. If you follow what is taught in Your Dream Websites, you will find that your initial investments are already huge, even before you start earning your first dollar.
These are on top of the heavy risks involved with paid traffic, because there is just no guarantee that you can recoup your money put into advertising.
Especially if you are a beginner in internet marketing, it will be a steep learning curve at the start, and paid traffic is something that you pay as you learn, since you can't master it just by reading textbooks.
You have to choose a platform to run your ads, and learn from mistakes and experience as you run those campaigns, tweak parameters to better target your audience, run it again, tweak again, and so on.
By then, you'd be another few hundred or even thousands in the red.

What's the bottom line?
I guess everyone starts off wanting to make it rich fast. It's a very natural thing, that's just human nature. I wasn't spared of all the temptations on the internet myself.
I mean, $1K a day, starting today, who doesn't want it?
But when I realised those empty promises are only going to make other people rich, and not me, I stopped looking for shiny objects.
I found a dull-looking object, but I knew in my heart that is the real deal. From then on, I have never looked back.
I am now working full time from home, growing my internet business, and making an online income. I started from scratch with zero knowledge in this area. If I can do it, you can, too.
Here's a peek into my earnings on a recent day:



That's almost $200 in just one single day. It's nothing to boast about, though, as it's just a small fraction of its full potential. I just wanted to show you the possibilities.
It's still far from $1K a day, but hey, it's a real figure that I'm actually making, not plucked from thin air.
Check out this training platform that provides all the resources, tools, along with an entire community of aspiring as well as already successful online income earners. The best part is, you get to start for free:
---
To round up this article, let me recap and summarise the pros and cons, before I finally make my conclusion.
Pros of Your Dream Websites
1. You do learn how to set up some legit tools
As you go through the training, you do learn how to set up those tools like Click Funnels and GVO. But then again, I don't think you need to pay to learn it, information is in abundance on the internet.
You should even research which email autoresponder would best suit your needs, instead of simply going with the service provider dictated by Your Dream Websites.

Cons of Your Dream Websites
1. It does not have your best interest at heart
This is quite obvious. They keep trying to convince you that everything is set up for you, you just have to follow their instructions, and money will start rolling in.
This is what I'd call irresponsible marketing.
2. Monthly costs to be incurred for the tools are not explicitly made known
Before buying the product, you are not made known about having to pay more than a hundred dollars for the tools they get you to subscribe to in there.
Do you think it would change the buying decision of many of their customers?
Yes, I would think so.
3. Traffic is not taught
You are left hanging when it comes to getting traffic to your affiliate links. On its own, Your Dream Websites will not get you anywhere, much less start making $1K a day right now.
---
Is Your Dream Websites Scam or legit? 
I call this a scam, because the intention to mislead is too blatant. Its owner is sneaky about too many things for me to give it any good words.
Similar products I have reviewed include Affiliate Advisor Group, Your Income Profits, and Secret Profit Club, to name just a few.
If you have the budget to hire the experts to start the engine by building a website for your online business, I'd say go for Human Proof Designs.
Otherwise, go for the most cost-effective method, my #1 recommendation below.
---
Recommendation
What matters, in any business, is authenticity, the sincerity to help people, and knowing how to get targeted traffic so that you can meet their needs, and potential customers will learn to trust you.
I want to show you the training platform that has shaped my entire online journey.
This real deal does not promise instant results, but instead provides the knowledge and lifelong skills required to grow a successful online business, which is exactly what I have done. Check it out by clicking on the button below:


And for reading all the way to the end of the post, I believe you have it in you to make this work. Here is your FREE PDF Guide: 4 Simple Steps to Making Money Online. Fill in your details to claim it:


If you have any concerns or questions regarding this Your Dream Websites review, do comment below, and we will start a conversation from there.
---