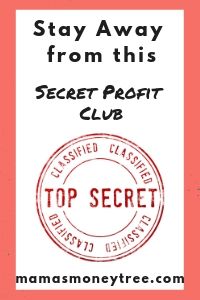 If you are wondering what is Secret Profit Club, you may have seen their sales video which boasts of making you $19.5K today!
How could anyone have missed such a grand opportunity? Or is it the ultimate scam? We will reveal the answers to these questions and much more, in my honest and in-depth Secret Profit Club review.
Hint hint: if something sounds too good to be true, it usually is.
Knowing where this is going to lead from here, we will peel off its mask to see what exactly lies beneath its glitter and glamour.
Without further ado, let's dive right in now!
---
Secret Profit Club Review Summary
Product: Secret Profit Club
URL: https://secretprofitclub.com/welcome
Creator: "Jack Robertson"
Product type: Affiliate marketing training, along with other types of marketing
Price: $9 + upsells
Scam / Legit? : SCAM (mainly because of its utterly unrealistic income claims)
Recommended or not? : NOT recommended
Secret Profit Club does provide you some training, but these are rehashed, too generic and put together haphazardly that will not allow you to follow a clear method. It would more likely throw you into greater confusion than before you went through their training.
Its sales video makes income claims that are out of this world, shrouds itself in a cloak of secrecy so that people's curiosity would be piqued, and has no qualms about luring people to make ill-informed decisions.
If you do not want to waste anymore time and money on scams, check out my #1 recommendation to making money online:



Read on for the detailed review of Secret Profit Club, and why I do not recommend it.
---
What is Secret Profit Club
To understand what is Secret Profit Club, let us first take a look at its home page: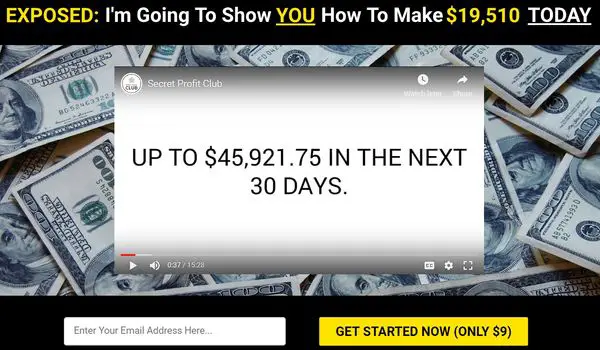 Look at how absurd the income claim is. $45.9K in the next 30 days, which is your very first month in the business, whatever it is. I can tell you very frankly, this is not possible.
If it were true, everyone would be millionaires by now.
The first 5 minutes of the video is spent enticing you with huge earnings, claiming this person from UK made however much money in her first month, that person from Canada made his fortune with this system, etc. and lots of other nonsense I hope you would never believe.
He claims to be "Jack Robertson", the owner of Secret Profit Club. But he never showed his face, nor was there anything to show that he is a real person.
Then began his sob story, which is so typical of all these kind of scams on the internet. This tactic lets the viewers feel a kinship to "Jack" as he had been through hardship before, so would be able to identify with his viewers, understand how they feel and know what they need.
Long story short, he discovered this method that turned his life around, and hence set up the Secret Profit Club to help people like himself, who need it the most.
The next 15 people to sign up get to pay just $9. Fake scarcity here, it will always be $9 even weeks or months down the road, if the page still exists.
Throughout the entire video, he never lets in on the exact method used to make money. So you are expected to buy blind, buying a black box to surprise yourself.
Would you trust "Jack", who has deprived you of your right to make an informed decision for the purchase?

What is behind Secret Profit Club
What exactly do you get when you buy Secret Profit Club?
Well, nothing more than some generic training about various types of marketing, from Amazon affiliate marketing, social media marketing, list building, and Facebook marketing to SnapChat marketing, Bing Ads, etc.
It is such a haphazard concoction of anything related to internet marketing that it makes you Jack of all trades. You can't possibly implement any of these properly, as they never went in depth in any area.
What you pay $9 for, you can get for free all over the internet, of much better quality.
At best, you learn a bit about the various platforms on which you can do marketing. That is, provided you had not been completely confused over which path to take first, what business model will work best for you, etc.

Why Secret Profit Club will not work for you
Amidst the atrocious income claims, look at what they wrote in fine print, right at the very bottom of the page:



Well well, so the typical purchaser does not make any money using this system. Why buy it then? Just so "Jack" is the only one making money?
Next, take a look at how new its website domain is: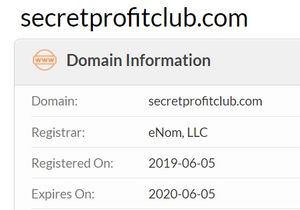 Newly registered in June 2019, which is this month, I absolutely do not trust it. How can anyone be making such big bucks from it, when it is so newly launched?
Making money online is possible, but it can never happen overnight. Anyone who tells you they are able to help you make thousands of dollars overnight are trying to scam you, it's as simple as that.

The proper way to make money online
I guess everyone starts off wanting to make it rich fast. It's a very natural thing, that's just human nature. I wasn't spared of all the temptations on the internet myself.
But when I realised those empty promises are only going to make other people rich, and not me, I stopped looking for shiny objects.
I found a dull-looking object, but I knew in my heart that is the real deal. From then on, I have never looked back.
I am now working full time from home, growing my internet business, and making an online income. I started from scratch with zero knowledge in this area. If I can do it, you can, too.
Here's a peek into my earnings on a recent day:



As you can see, more than $100 a day is very do-able. And this is not even at its maximum potential yet, I'm still growing this business every single day.
Check out this training platform that provides all the resources, tools, along with an entire community of aspiring as well as already successful online income earners. The best part is, you get to start for free:
---
Pros of Secret Profit Club
1. 60 day money back guarantee
This basic refund policy is in place, for people who are dissatisfied with the product. To me, this is the greatest plus point, as it means you can get to look through their training materials, before deciding if you really want to keep it and progress with their training.
2. You do get your generic training
If generic stuff is what you are looking for, to learn the various marketing platforms that are available on the internet, then this may help a bit. But then again, you can get this kind of information and much more, very easily and for free, if you just do a basic search on the internet.

Cons of Secret Profit Club
1. Income claims are just giant baits
Nobody will ever make the sort of money claimed on their sales video, just by going through the training in Secret Profit Club. The only ones laughing their way to the bank are the people behind this product.
2. Utter confusion
As if the internet is not chaotic or noisy enough, Secret Profit Club adds a lot more noise to its customers, by throwing random, unrelated methods together, which have no coherent relationship at all.
3. Upsells
The purchase of the front end product is definitely not the last you will hear of them. Right after you buy it, even before you get a chance to unpack the black box and see for yourself what is actually inside, you will be bombarded with pricey upsells, which are just more useless products.
Upsell 1: $99 – Secret Profit Club 2.0
Upsell 2: $79 – Secret Profit Club Pro
Upsell 3: $49 – Secret Profit Club Social
If the front end product cannot even live up to its expectations, please do not bother about the upsells, which are created to dig even deeper into your pocket.
---
Is Secret Profit Club Scam or legit? 
Secret Profit Club is a scam, that's my opinion.
It is as useless as some other products I have reviewed, like ReferralPay.co, Home Income Millionaire, and CashLoad.net, to name just a few.
---
Recommendation
Fortunately, there are many legitimate ways to make money online.
I want to show you the method that I have chosen, which is also what I think is the best, as it is such a neat and hassle-free method.
It is not MLM, you do not have to recruit anyone to earn, you do not need to own or create any products, do any face to face selling, handle any inventory, deliveries, or customer complaints.
You can totally enjoy the luxury and comforts of working from home, never stepping foot out of your house if you do not wish to.
Everything that I know about this business model, I learnt on an awesome training platform, that also provides all the tools and resources that I needed to succeed.
This real deal does not promise instant results, but instead provides the knowledge and lifelong skills required to grow a successful online business, which is exactly what I have done. Check it out by clicking on the button below:



And for reading all the way to the end of the post, I believe you have it in you to make this work. Here is your FREE PDF Guide: 4 Simple Steps to Making Money Online. Fill in your details to claim it:


If you have any concerns or questions regarding this Secret Profit Club review, do comment below, and we will start a conversation from there.
---