If you are questioning what is GSP Crypto, you would very likely have checked out their website, and found them to appear very legitimate.
I will be upfront here. After poking around a bit, I do not trust them at all.
Update 9 March 2020: It appears the GSP Crypto website has already been shut down.
Update 23 July 2019: Many people have been scammed by GSP Crypto, as can be seen from all the comments below. If you are one of them, please report them to your local authorities, as well as to ICCC (Internet Crime Complaint Center), which works with the US FBI.
One of the readers on my website requested me to check out GSP Crypto, that is how I discovered the ugly truth that those people behind the platform do not want anyone to know.

In my honest and in-depth GSP Crypto review, I will show you all the red flags, so that you can decide for yourself if this platform is a trustworthy cryptocurrency investment company, or if you are safer just steering clear of it.
Without further ado, let's dive right in now!
---

GSP Crypto Review Summary

Product: GSP Crypto (claimed to be a subsidiary of Global Services Plus Pte Limited)
URL: https://gspcrypto.com/?a=home
Product type: Crypto currency investment platform
Rating: 0 out of 5
Scam / Legit? : SCAM
Recommended or not? : NOT recommended
GSP Crypto appears to be very legitimate because it is able to provide documentation of its parent company being registered with an authority in Singapore.
However, the parent company itself seems dubious, GSP Crypto has a website design that is too similar to another that I wouldn't trust, called Luno Crypto Limited (LunoCryptos.com).
The earning potential claimed on its home page is too good to be true. There has been some negative reviews from real users. And most importantly, its contact email is fake.
---
---

What is GSP Crypto

To find out what is GSP Crypto, let's first take a look at its home page: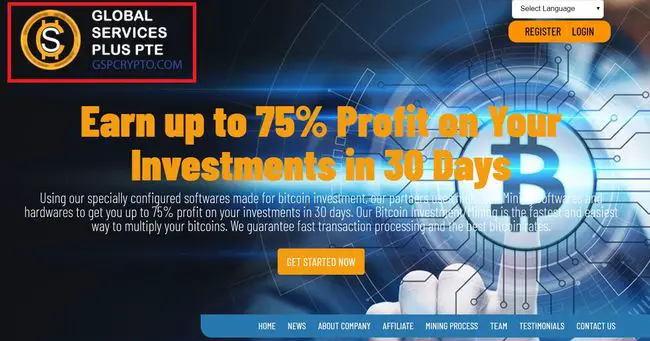 It is basically a Bitcoin investment platform. The first thing that struck me was the very high returns on investment presented on the page, a 75% profit on your investments in 30days?! Who wouldn't want that? Won't everyone get rich on this, then?
I'm not about to waste time (yours and mine) explaining how their mining process works. All that does not matter, if nobody is going to be able to cash out any profits from their website.
I will jump straight in to point out all the red flags that are screaming at me to tell you to stay far away from this site.

Huge Red Flags in GSP Crypto

1. Parent company seems very dubious
GSP Crypto claims to be a subsidiary of Global Services Plus Pte Limited, an investment company registered in Singapore, under the Accounting and Corporate Regulatory Authority (ACRA). It even has documentation of this.
Though this makes GSP Crypto seem very legit, there was something nagging at me. I do believe the registration of the parent company is real. But the very strange thing is when I tried to do a search on them, it turned up NOTHING.
Not even a website. Would an investment company that calls itself 'Global Services Plus' not even have its own website, when its subsidiary has such a seemingly well-developed one?
Curious and perturbed, I clicked on the link for Global Services Plus, found on the top left corner of the homepage of GSP Crypto (where I drew a red border around, if you refer to the screenshot of the home page shown in the section above).
Again, it turned up nothing. Clicking on that link did not send me anywhere away from GSP Crypto's homepage, but simply opened up the chat box at the bottom of the page.
Just this observation about the seemingly non-existent parent company is enough to give me a very uncomfortable feeling about GSP Crypto.

2. Testimonial does not seem real
You can disagree with me, but a single video clip that lasted 11 seconds long is hardly anything reliable, under their 'testimonials' section. It is just this guy making some general statement about having his money work for him, instead of him working for money.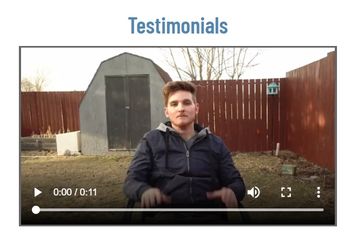 3. News section
They make it look like they were in the news.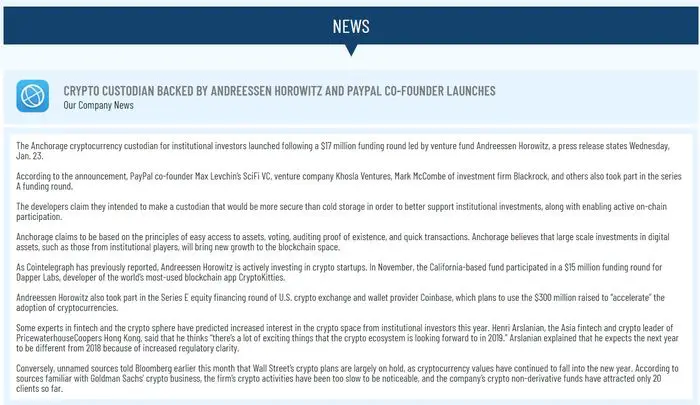 But again, this is just some general article about the crypto industry, there is NO mention of GSP Crypto or Global Services Plus in it at all.
Well, I never!

4. The Team behind GSP Crypto
Next, let's take a look at their team: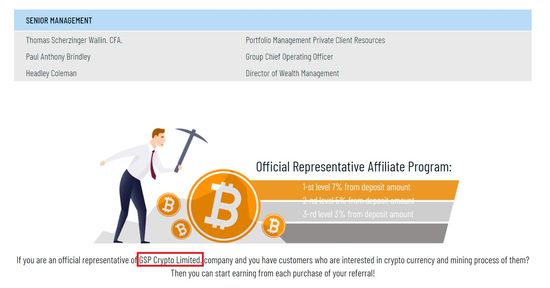 Looks legit enough, until I tried to probe deeper. Look what I discovered.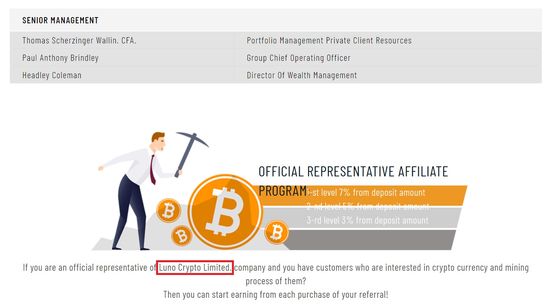 Hmm, why are the same three people behind two different companies? Why are the designs of this section on GSP Crypto and Luno Crypto (LunoCryptos.com) identical?
If more than $303 million has been paid out, as claimed by GSP Crypto, why aren't their corporate leaders busy enough with one company?

5. Contact email is fake
This will be the deal buster. Are you ready for it?



The people behind GSP Crypto had no intention of getting in touch with you at all, right from the start. This is very revealing, and I guess I go not have to say more.
---
---

Feedback from real users

Here are some reviews from people who have actually tried using the investment platform:



I have not been able to find a single positive review about GSP Crypto anywhere, so it seems not a single soul has made money here.

If you really want to invest

If you really want to invest your money, go with the established platforms and companies.
Anything that promises excessively high yield cannot be trusted. Investment is a risky business, especially if you do not know the industry or the companies that you are dealing with.
Cryptocurrency is a relatively new and extremely volatile sector. Many scammers are hopping on board and trying to lure people with big potential earnings.
Even with the safest platforms, the risk is your own to take, and be responsible for.
Do not invest anything that you cannot afford to lose.
If it is money for your family's next meal, or next month's rent, DO NOT do it.

The proper way to make money online

There are many great ways to make money online, depending on your needs and interests. If you need something that pays the bills, and cannot find a job in your area, the internet is a good place for freelancing job opportunities.
The list is endless: freelance writer, website designer, human resource manager, social media manager, video gigs creator, copywriter, etc.
Just make sure you go on the established and legitimate platforms, like Freelancer, Upwork, Guru, Fiverr, and so on.
The bottomline is: you cannot escape hard work if you want to make money.
Once you have a job that pays for the house and the daily necessities, there are much bigger things you can do on the internet, which you can grow into a full time, and even passive income.
But you have to be very mindful that the internet is the wild west. It can be noisy, chaotic, and difficult to tell the real deals from the not-so-good ones.
I guess everyone starts off wanting to make it rich fast. It's a very natural thing, that's just human nature.
But when I realized those empty promises are only going to make other people rich, and not me, I stopped looking for shiny objects.
I found a dull-looking object, but I knew in my heart this is it. From then on, I have never looked back.
I am now working full time from home, growing my internet business, and making an online income. I started from scratch with zero knowledge in this area. If I can do it, you can, too.
Here's a peek into my earnings on a recent day:



That's almost $200 in just one single day. It's nothing to boast about, though, as it's just a small fraction of its full potential. I just wanted to show you the possibilities.
Check out this training platform that provides all the resources, tools, along with an entire community of aspiring as well as already successful online income earners:
---

Now, let me recap all the good and bad points about GSP Crypto, before concluding my post.

Pros of GSP Crypto
There is not a single pro to this platform. It will cause more harm than good, as it eats up your hard-earned money.

Cons of GSP Crypto
1. You will not get back your investment
It will be a total waste of your time and money, from what I can see of the website. It tries very hard to appear legitimate, and lures with potential earnings that are too good to be true.
2. Dubious parent company
I do not understand the point of showing a registration certificate for a company that does not even have a website. How is it offering 'Global Services' if it is not online?
If you happen to have any information of the parent company, do drop me a comment below, I will be very interested to take a look.
3. Contact email is not real
They can always go make their email real after they realise they might be losing 'customers' because of it. But it does not change the fact that as of this writing, their contact email does not exist, they have never intended for you to get in touch with them, especially when you face obstacles trying to get your capital back, or in cashing out your profits.
---

Is GSP Crypto Scam or legit? 

As far as I can tell, it is a scam. Its parent company seems too suspicious, and nobody has made a single cent on the platform.
It is as useless as some other platforms I have reviewed before, like Yestor.net, Seven Dollar Click, and Notion Cash.
---

An Alternative

I want to show you how it is possible to make an online income, and at the same time provide authentic value to people, by helping them.
When we are genuine in caring for and helping others, money will roll in at the side.
This real deal does not promise instant results, but instead provides the knowledge and lifelong skills required to grow a successful online business, which is exactly what I have done. Check it out by clicking on the button below:

And for reading all the way to the end of the post, I believe you have it in you to make this work. Here is your FREE PDF Guide: 4 Simple Steps to Making Money Online. Fill in your details to claim it:


If you have any concerns or questions regarding this GSP Crypto review, do comment below, and we will start a conversation from there.
---