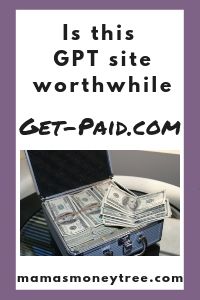 Exactly what is Get-Paid.com that allows you to earn from home? Is it a legitimate get-paid-to (GPT) site that actually pays out? Or is it going to be a waste of your time?
Welcome to my Get-Paid.com review.
There are so many GPT sites around these days, it is impossible to work through each and every one of them. Some are scams, others are legitimate but pays peanuts for all the time you put in, and yet others make your time more worthwhile.
If you are looking to earn some extra income with GPT sites, the trick is to find just one or two great ones, that pay the highest returns, and focus your energy on those.
Here, you will get an honest and in-depth review of Get-Paid.com, detailing the numerous ways through which you can earn on the platform, how you can cash out, its earning potential, etc. By the end of this review, you should be able to make a better-informed decision, as to whether Get-Paid.com is for you or not.
Without further ado, let's dive right in now!
---
Get-Paid.com Review Summary
Product: Get-Paid
URL: https://www.get-paid.com/how-it-works
Product type: get-paid-to (GPT) site
Price: free to join
Scam / Legit? : Legitimate
Recommended or not? : Not recommended, unless you want to spend lots of time just to earn a little extra pocket money.
Get-Paid.com is a legitimate and established GPT site, with generally positive reviews. The various ways that you can earn on it include taking surveys, completing tasks, watching videos, responding to ads, referring people, etc.
There are various cash out options, and the minimum threshold for cashing out is $1, which is a great thing. Still, like any GPT site, you are not going to make even a part-time income out of it, much less a full time one.
If you are looking to make some serious money on the internet, here is my #1 recommendation:



Read on for the detailed review of Get-Paid.com, and why I do not recommend it, even as a tiny stream of side income.
---
What is Get-Paid.com
To find out what is Get-Paid.com, let us first take a look at its home page.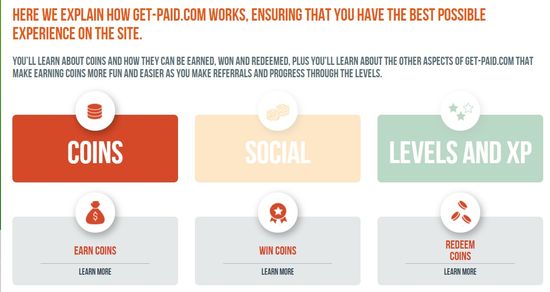 On Get-Paid.com, there are a few ways to earn coins, which can later be converted into cash or gift cards. The activities that allow you to earn include completing surveys, watching videos, clicking on ads, filling out business cards, playing games, doing tasks, downloading stuff, and more.
We will now take a look at some of the main ways through which you can earn on Get-Paid.com.

How to earn on Get-Paid.com
Completing surveys
As with any site that allows you to earn by completing surveys, you would have to be prepared to take pre-qualifying surveys, that will assess how suitable you are as a survey participant, based on the demographic profile and customer behaviour pattern required by the products or services companies.
This means you may be disqualified right from the start, which is in fact better than being disqualified only when you are halfway through it.
You just have to be aware and mentally prepared for this, if you want to do surveys on any site.
Another thing about taking surveys on Get-Paid.com is that you have to discern what kind of information you are comfortable divulging, as some may require details about your phone number, posting address, household income, etc.
It seems that the amount of spams coming through the surveys are causing some people enough disturbance to voice out about it.

Doing tasks and taking up offers
Offers vary widely in the types of activities that you are to accomplish. Some examples are shown here: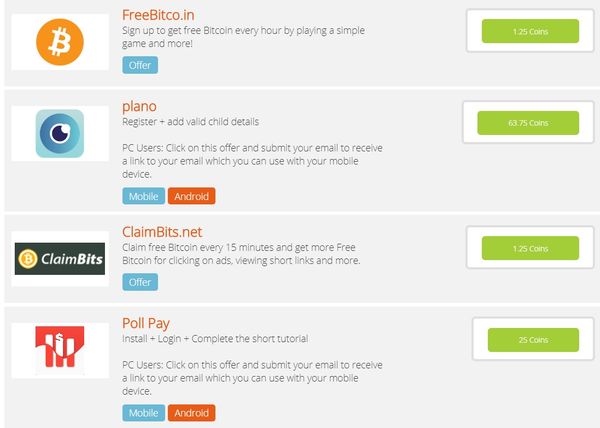 As you can see, one of them involves adding valid details for one of your children. Some other offers involve Bitcoins, if that is something that would interest you.
Offers can also include watching some video ads, or downloading and playing games up to a certain level. No matter what offer you choose to do, it is important to read the terms and conditions carefully, to ensure that you are able to fulfill the requirements, otherwise you would just be wasting your time.

Filling business cards
This is something rather unique to Get-Paid.com, and something that many members seem to enjoy doing. Some other GPT sites call it micro-tasks.
The tasks are simple. Whatever is displayed on the left hand side, you are to type it into the box on the right.



Each correct entry earns you 10pp, with 100pp earning you 1 coin.


Although it is a very easy way to earn coins, but this is going to be very time-consuming if you want to make anything substantial out of it, as you will see when I explain how coins can be converted into cash in one of the later sections.

Referring people
Supposedly, you can earn up to 30% of your referrals' earnings (without affecting how much they make), and up to 20% of their referrals' earnings.
It sounds rather lucrative, but remember, you get to earn this only if your referrals and their referrals are active on this platform.
Moreover, the term 'up to' tells you that there are conditions to be met, which in this case simply means you have to reach higher levels on the platform, which will be explained in the following section.
At the start, when you are at the beginners' levels, you only get to earn 10% of your direct referrals' earnings, and 5% of their referrals' earnings.

Leveling up with XP
In Get-Paid.com, there is another unique feature, which is called Experience Points (XP). If you are into computer games and most forms of video games or online games, you would be familiar with this. Basically you earn enough points to level up, which would get you perks and bonuses.
As you gain XP in Get-Paid.com, you get to earn a higher commission when your referrals and their referrals earn, as well as generally more coins for whatever surveys, offers, and other activities that you engage in.
This motivates members to be active on the platform, in order to level up, and increase their earning potential.

Earning potential on Get-Paid.com
As you go about completing the various activities on Get-Paid.com, you may feel satisfied with the many coins that are rewarded. Unfortunately, these coins do not convert at a good rate into cash.
In order to earn just $1, you need to make 500 coins. Which is a lot, considering the relatively small amount of coins credited for each survey, task, and even business card entry, where 10 entries make you just 1 coin. This means you need to type 5000 entries, just to earn $1.
Even if you are so efficient as to enter 1000 business cards an hour, it would still take you 5 hours to make that $1. Is it really worth your precious time and all that hard work?
Surveys and other stuff are similarly low paying.

Cashing out on Get-Paid.com
The minimum threshold for cashing out is a low $1, which is really an advantage and great motivator for users to be more active on the platform.
The different payment modes include PayPal, WebMoney, PerfectMoney, Bitcoin, and various gift cards.
The minimum amount for gift cards is $5. Merchants include Amazon, Starbucks, Walmart, iTunes, etc.

Feedback by real users of Get-Paid.com
Feedback from users is generally very positive.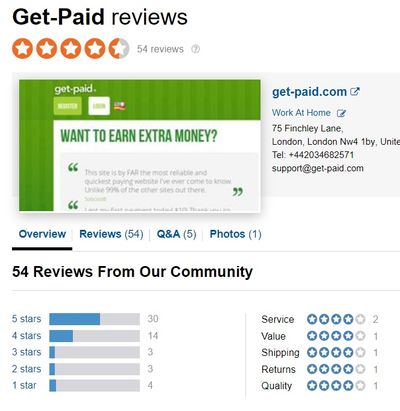 For most people, payment is fast and goes through very smoothly without any problem. Everyone is able to appreciate the low minimum threshold for cashing out, allowing them to earn almost daily.
Still, my biggest issue with Get-Paid.com is its low earning potential. You would have to spend hours and hours on the platform just to earn that few extra bucks, which to me is simply not an efficient or smart use of anyone's time.
When it comes to GPT (get-paid-to) sites, you are spoilt for choice, there are so many others that pay much higher, including:
– Swagbucks
– InstaGC.com
– OfferNation
– RewardingWays
– PrizeRebel
– PointsPrizes.com
to name just a few.
In my opinion, these sites listed above give a much higher earning potential. But personally, I have never spent any time on survey sites or GPT sites, except to try them out just to write reviews about them, as I find the earnings to be not worthwhile compared to all the time that I have to put in.
Let me show you a far better way to make money online, something that can be built so big, it can some day replace your full time income and more.

The proper way to make money online
If you can afford the time trying to make some extra income on GPT sites, then you have what it takes to build something much bigger. You have the time, and you are willing to put in the effort, so I believe this will work for you.
This is not MLM, neither do you have to recruit anyone. There is no face-to-face selling, you do not even have to own any products, deal with any inventory, handle customer complaints, etc.
Everything can be done online, in an area of your own chosen passion. You do not have to work for any company, you are answerable only to yourself.
If this sounds good to you, here's a peek into my earnings on a recent day:



As you can see, more than $100 a day is very do-able. And this is not even at its maximum potential yet, I'm still growing this business every single day.
I am now working full time from home, growing my internet business, and making an online income. I started from scratch with zero knowledge in this area. If I can do it, you can, too.
Check out this training platform that provides all the resources, tools, along with an entire community of aspiring as well as already successful online income earners. The best part is, you get to start for free:

---
Pros of Get-Paid.com
1. Established and legitimate GPT site
Get-Paid.com is an established GPT site that has proven to be an honest platform, paying out to its members where payment is due. In this respect, you do not have to worry about investing the hard work and not getting paid.
2. Low minimum threshold for cashing out
Being able to cash out at $1 is a great plus point, as it means you can see the tangible rewards very quickly.

Cons of Get-Paid.com
1. Hassle to convert from coins into cash
The conversion of 500 Get-Paid coins into $1 cash is not as intuitive as other GPT sites that use points system, as those other sites commonly have their conversion rate as 100 points to $1, which is much more easier to calculate mentally.
2. It would take some time to earn 500 coins
This is the main issue with Get-Paid.com – its very low earning potential. You would have to complete a number of surveys or tasks, or 5000 business cards entries, in order to make just $1. Not a wise way to spend our precious time, and the main reason why I do not recommend it.
---
Is Get-Paid.com Scam or legit? 
Get-Paid.com is definitely a legitimate GPT site. Its 500 coins to $1 conversion sort of hides the fact that it is actually not easy at all to make any substantial amount of extra income on this site.
---
Recommendation
GPT sites are not going to earn you even a part time income, even if you put in full time hours.
Let me show you the proper way to make some serious money online.
This real deal does not promise instant results, but instead provides the knowledge and lifelong skills required to grow a successful online business, which is exactly what I have done. Check it out by clicking on the button below:



And for reading all the way to the end of the post, I believe you have it in you to make this work. Here is your FREE PDF Guide: 4 Simple Steps to Making Money Online. Fill in your details to claim it:


If you have any concerns or questions regarding this Get-Paid.com review, do comment below, and we will start a conversation from there.
---