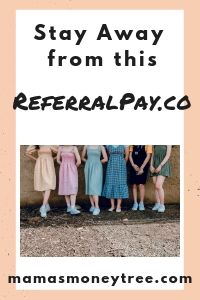 What is ReferralPay.co, this influencer network that can make you $500 per day? Have you really struck gold, or is this a malicious platform that is going to do you more harm than good?
Welcome to my ReferralPay.co review.
When something seems too good to be true, it usually is.
In my honest and in-depth article about Referral Pay, I will show you all the red flags, that tell me in an instant that this platform is an outright scam, with the potential dangers that may be beyond our expectation.
Without further ado, let's dive right in now!
---
ReferralPay.co Review Summary
Product: ReferralPay
URL: ReferralPay.co
Creator: Unknown
Product type: 'influencer network'
Price: free to join
Scam / Legit? : SCAM
Recommended or not? : NOT recommended
ReferralPay.co is a huge scam that will never pay anyone. It uses attractive potential earnings to lure people in, so that they sign up and provide their names and email addresses.
The crooks behind this ReferralPay.co will then sell this contact list at a high price to third party advertisers. As you try to complete the tasks on the platform, you may also be exposed to malware and other fraudulent sites, which may compromise your device's security, as well as your personal details.
If you do not want to waste anymore time on scams, check out my #1 recommendation to making money online:



Read on for the detailed review of ReferralPay.co, and why I call it scam.
---
What is ReferralPay.co
To find out what is ReferralPay.co, let us first take a look at its home page: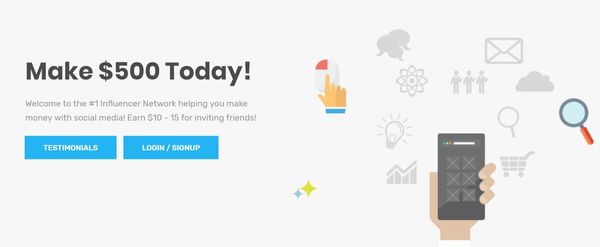 Apparently you can earn $500 today, and make $10 to $15 by inviting friends to join this influencer network.
Even if people do not join, just by having them click on your referral link, you already get to make $2 to $5 for every single click!
Right now, you may be wondering what you have been missing out on all this while. What took you so long to find ReferralPay?
Well, let me assure you, you were in fact safer staying off this platform. I will explain why I say this in just a while, in the following section.
To top things off, they give you $25 signup bonus, just to join them for free. Where do they get all this money from, to pay all its new members?
Well, they say that the more people joining their platform, the more ads revenue they earn, as their sponsors get increased exposure for the products that they are promoting.
And having been in this business for a while now, they are able to command a high paying rate from advertising companies, and in turn they share their profits with their members.
Sounds like a perfect plan, except it is not. No legit referral platform has paid out such high fees to its members. So far, ALL platforms that promise such big earnings are outright scams, blatantly lying on their websites.

Huge red flags in ReferralPay.co
The first time I set eyes on ReferralPay.co, I knew right away it is not legitimate, as it shares too many uncanny similarities with other scam websites like Kids Have Money, Kids Earn Cash, ViralWork, ViralPay, etc.
Take a look at the page I was brought to when I clicked on the 'blog' tab on ReferralPay's website: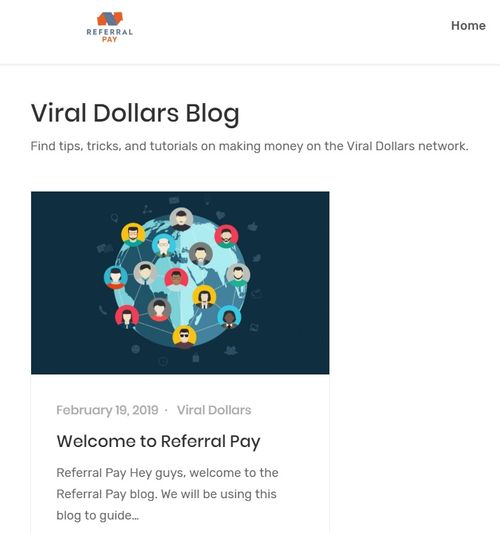 It is obvious that they are related to Viral Dollars, which is yet another scam. The same people behind these scams will keep changing their name, and registering for new website domains, as the reputation of existing scams take a nose dive when members who realise no one is getting paid start to expose them.

They lie about their years in business
Claiming to having started in 2015, their parent company, Zindex, was founded in 2005.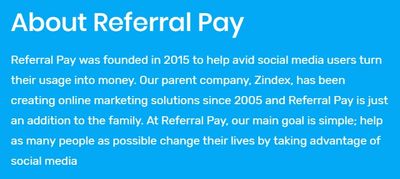 It does not take too much work to discover that Zindex does not exist. It is something made up, plucked from thin air.
Moreover, the domain of Referral Pay was so newly registered, on 23 May 2019, that is less than a month ago, as of this writing!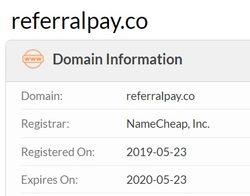 And yet they can blatantly lie about having been in business since 2015, with 225K members and $60 million paid out.
I'm appalled at the atrocities that are taking place all over the internet, and yet people who are new to the internet marketing scene would likely fall for it, myself included, if I had seen all these while trying to find ways to make some money online.
These people target the natural human weakness of wanting instant gratification, craving to earn big money the very same week or month, with little to no effort.
There is more shocking news about Referral Pay:

Fake email address
Their email address provided for contact and support is fake. It does not exist.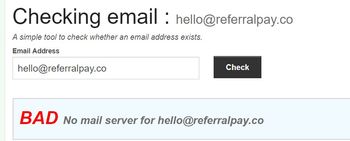 It should be obvious by now, they never had any intention of getting in touch with you. They will never communicate with you openly and honestly, because they have been hiding right from the start, ready to run away anytime, once things go downhill.
These red flags are huge, and point towards a strong intent to deceive their website visitors.
But some people may ask: how do they scam us if they never asked us for a single cent?
These days, scams come in many forms. It does not have to cheat you of your money. It could be a whole range of dubious activities, from selling your contact information to third party advertisers, to leading you to click and land on yet other shady sites.
What ReferralPay.co really wants from you
What they really want is to get your contact information, and for you to do the dirty job for them, of getting as many people to sign up as possible, through your referral link, so that they collect a massive list of people's contacts.
This list will make them loads of money, as they will be able to sell all the contact details to third party advertisers at a very high price, since they can show that people on their list are all very interested in making huge bucks on the internet, with minimum work.
So you can expect to receive lots of spam in your inbox, for promotions of products that promise to get you rich fast, but you know they will never work, because such things do not exist. These empty promises serve only to make money for their creators, not you.
What's more?
As you use the ReferralPay.co platform to try and earn as much as possible, by completing tasks, you will land on dubious sites that may possibly infect your computer or other devices with malware, or attempt to collect even more personal information from you, like your mailing address, phone number, etc.
At the end of the day, you will not earn a single cent from Referral Pay. Nobody has gotten paid at all.
Instead, what you may be getting lots of will be pamphlets in your letter box, untimely sales phone calls by random strangers, etc.

The proper way to make money online
Ditch Referral Pay. It is going to do you more harm than good.
I guess everyone starts off wanting to make it rich fast. It's a very natural thing, that's just human nature. I wasn't spared of all the temptations on the internet myself, when I first started out.
But when I realised those empty promises are only going to make other people rich, and not me, I stopped looking for shiny objects.
I found a dull-looking object, but I knew in my heart that is the real deal. From then on, I have never looked back.
I am now working full time from home, growing my internet business, and making an online income. I started from scratch with zero knowledge in this area. If I can do it, you can, too.
Here's a peek into my earnings on a recent day:



As you can see, more than $100 a day is very do-able. And this is not even at its maximum potential yet, I'm still growing this business every single day.
Check out this training platform that provides all the resources, tools, along with an entire community of aspiring as well as already successful online income earners. The best part is, you get to start for free:

---
Pros of ReferralPay.co
There is not a single plus point to this platform. Stay as far away from it as possible, and try to delete the referral links that you have put up on social media, forums or anywhere else, because as long as the links continue to sit wherever they are, they will continue to do their job for these crooks.

Cons of ReferralPay.co
1. Complete waste of your time
All the time and effort you may have put into getting people to sign up using your link, or engaging in the tasks on the platform, would have gone to waste because they are not going to pay you a single cent.
2. You will receive lots of spam
Unsolicited emails, sales phone calls, etc. will plague your otherwise peaceful life. Though a minor irritation to many, it is still an infringement to your privacy.
3. People whom you tried to refer would lose their trust for you
Over time, your referrals would soon discover what a big scam this Referral Pay website is. By then, they may lose their trust for you, especially if they are your family and friends.
---
Is ReferralPay.co Scam or legit? 
It is definitely a scam, based on all the deception on its website that I had pointed out to you. Please do stay far away from it, as it will do more harm than good.
---
Recommendation
Do not believe anyone who tells you that there are ways to make lots of money very quickly, and that you do not have to work for it.
Remember, there is no free lunch in this world. If it were so easy, everyone would be millionaires by now.
I want to show you a hard way. I know by saying this, many people will leave this page. But I owe it to my readers to present the real deal that will lead you to achieve what you want.
This real deal does not promise instant results, but instead provides the knowledge and lifelong skills required to grow a successful online business, which is exactly what I have done. Check it out by clicking on the button below:



And for reading all the way to the end of the post, I believe you have it in you to make this work. Here is your FREE PDF Guide: 4 Simple Steps to Making Money Online. Fill in your details to claim it:


If you have any concerns or questions regarding this ReferralPay.co review, do comment below, and we will start a conversation from there.
---